Need a quick dessert? Keep this recipe for these easy raspberry pie stacks in your back pocket!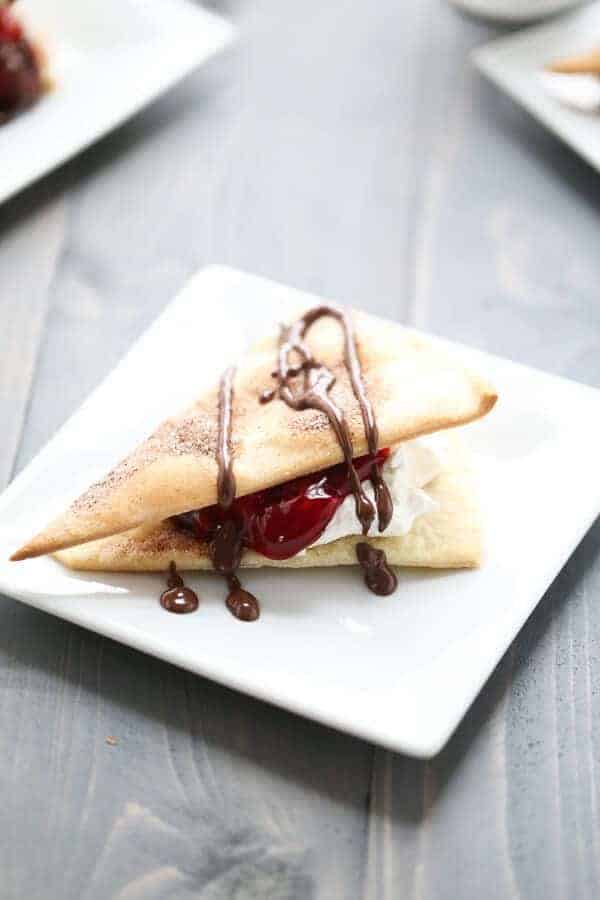 Picture this: you've been invited to a friend's house for dinner.  The dinner is later that day and you've been asked to bring dessert.  What do you do?  Sure you could pick up a pie at the grocery but no one really gets excited about store-bought pie.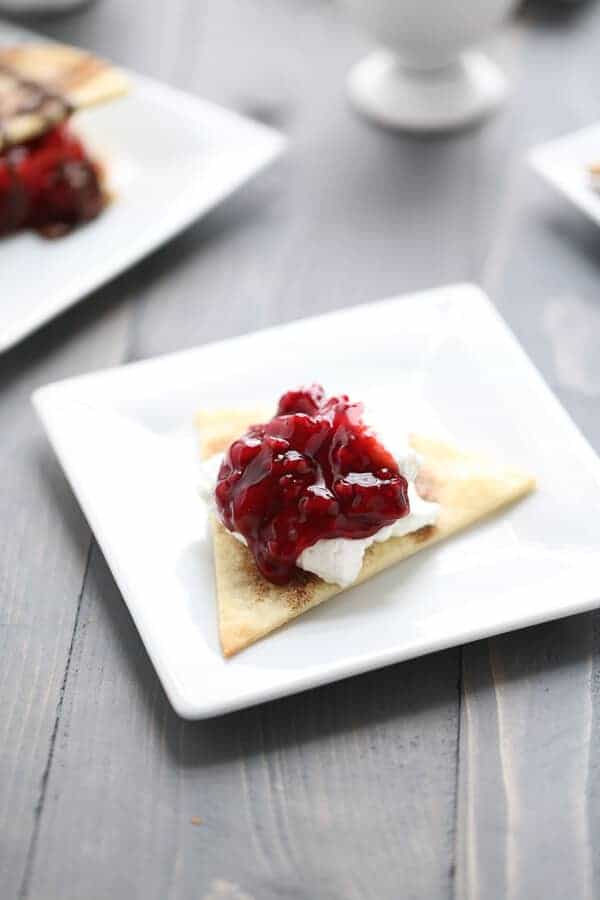 With a tiny bit of effort you can whip up a semi-home dessert that people WILL get excited about!  I've doctored up  cake mixes for these Cherry Coke Cupcakes and these Cake Batter Bark Blondies, both were easy and well received.  Don't get me wrong, from scratch recipes are preferred, but sometimes life just gets in the way.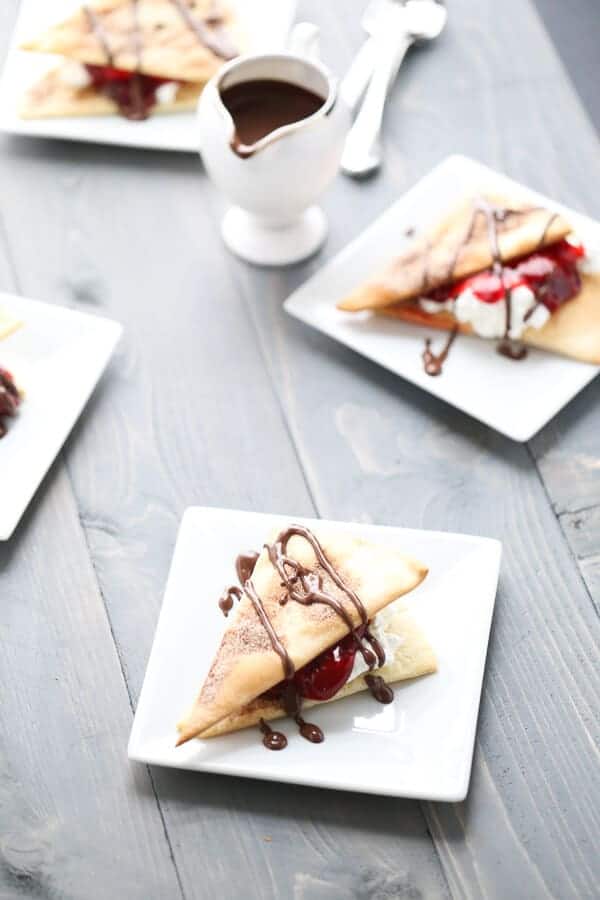 I've mentioned in my pantry post that one thing I always keep handy is pie filling ( I use Lucky Leaf).  Pie filling is not just for pie my friends.   I've made dessert bundles and pavlovas with canned pie filling.  It's the perfect way to add sweetened fruit to any dessert without much effort.    While pre made pie dough is technically not a pantry staple, it is certainly something I always keep handy. If you have pie dough and you have pie filling, you have a plethora of dessert options at your finger tips.
This recipe was inspired by a Cooking Light recipe I tasted years ago.  To make this raspberry pie dessert, roll out the pre made pie dough and cut them into wedges.   Spray each wedge with non stick spray and sprinkle with a simple cinnamon sugar mixture and bake for just a few minutes.  While those cool,  prepare your whipped cream.  To assemble, top a wedge with whipped cream, Lucky Leaf Raspberry Pie Filling and a second wedge of pie dough.  Drizzle each dessert with a quick chocolate sauce (homemade or store-bought) and dessert is served!
A few recipe tips:
Try to keep your pie dough wedges the same size.   This makes assembly and serving much easier.
Use a pizza a cutter to cut the dough into wedges, it makes cutting your wedges a breeze.
The pie dough toasts quickly, keep a close eye so that they do not burn.
Always chill your bowl and your beaters prior to making whipped cream.
Raspberry Pie Dessert Stacks
6
adjust servings
Raspberry pie filling is tucked between two wedges of pie crust and drizzled with chocolate. Dessert, couldn't be easier!
Ingredients
1

package pre made pie dough, thawed

2

tablespoon sugar

2

teaspoons cinnamon

1 1/4

cup heavy cream

3

tablespoons sugar

1

cup Red Raspberry Lucky Leaf Pie Filling

1/2

cup semisweet chocolate chips
Instructions
Preheat oven to 450 degrees.
Roll out both each pie crust and cut into equal sized wedges (like a pizza). Each dough circle should yield 6 triangles.
Combine sugar and cinnamon in a small bowl. Spray wedges with non stick spray and sprinkle with cinnamon sugar mixture. Bake 5-8 minutes or until lightly golden. Remove and let wedges cool.
Using a whisk attachment, beat heavy cream until it begins to thicken. Add sugar and continue to whisk until cream is thick and stiff peaks form.
Melt chocolate chips in a microwave safe bowl for 45 seconds or until melted.
To assemble. Place one wedge (sugared side up) on a plate. Top with a large spoonful of whipped cream, a spoonful of pie filling and a second pie wedge. Drizzle with chocolate before serving. Serve immediately.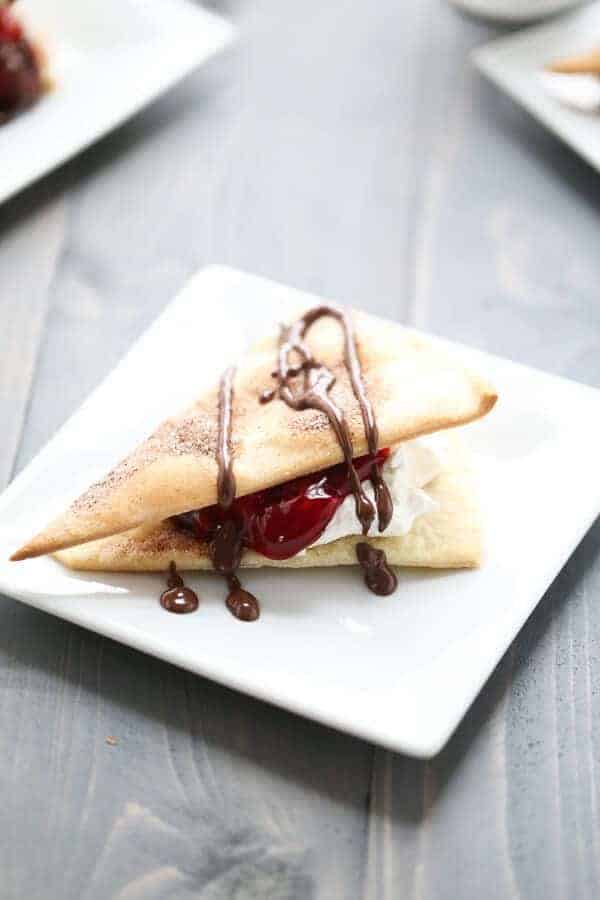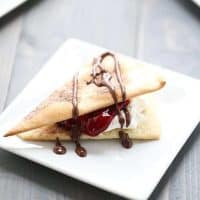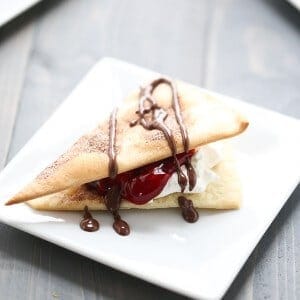 Disclosure: I received compensation from Lucky Leaf for recipe development purposes. All opinions are my own. For more Lucky Leaf recipes and product information,
click here
.