Creamy, smooth and perfectly spiced pumpkin ice cream pie topped with candied pecans!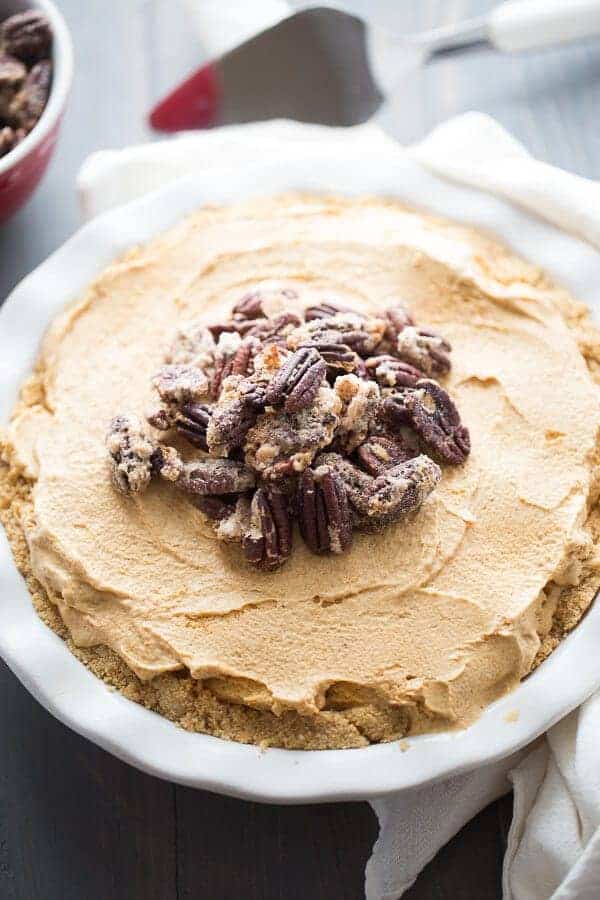 I did something I haven't done in ages; I bought a pumpkin from the grocery store. I know it doesn't sound like a big deal and on the surface it isn't a big deal at all. It's what this act signifies that gets me just a tad weepy.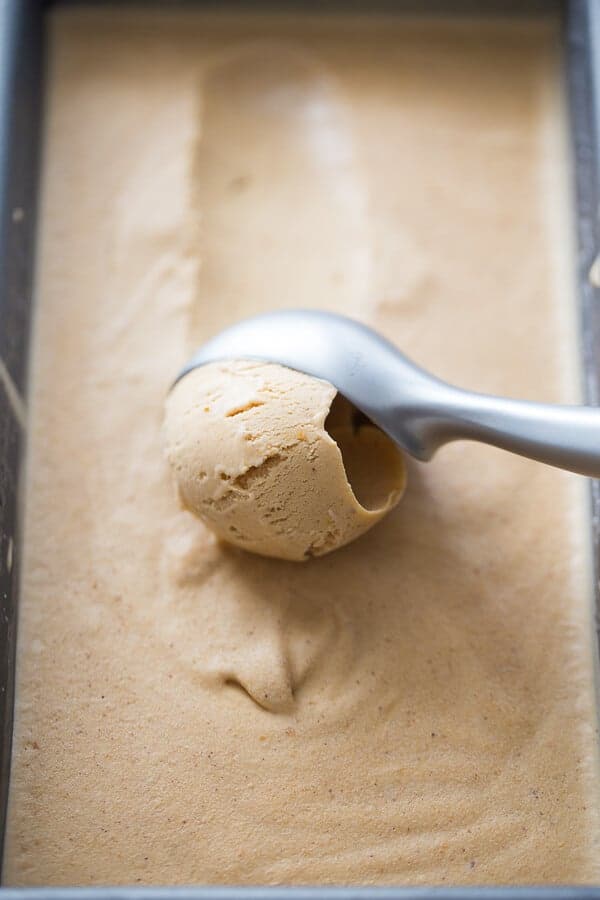 This will be the first October in 11 years that we won't be taking the kids to the pumpkin patch. Again, poor me right? It's just that this means the kids are getting older. They've outgrown our autumn tradition of pumpkin patches and hayrides. The truth is we've become a very busy family of five who no longer has time for picking pumpkins. I'm not even sure that if we did have the time that anyone (besides myself) would want to go.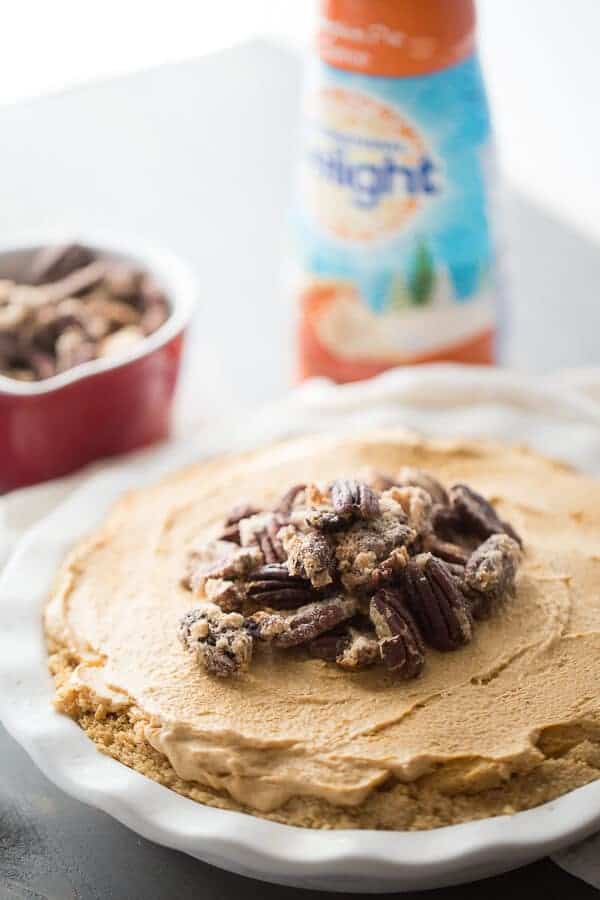 I would go year after year because I will also remember propping up my babies against the plump pumpkins to get the perfect picture. I'll remember their first costumes and holding little hands while trick or treating. I'll remember holding them close on the hayrides and sharing my hot apple cider. I will remember everything.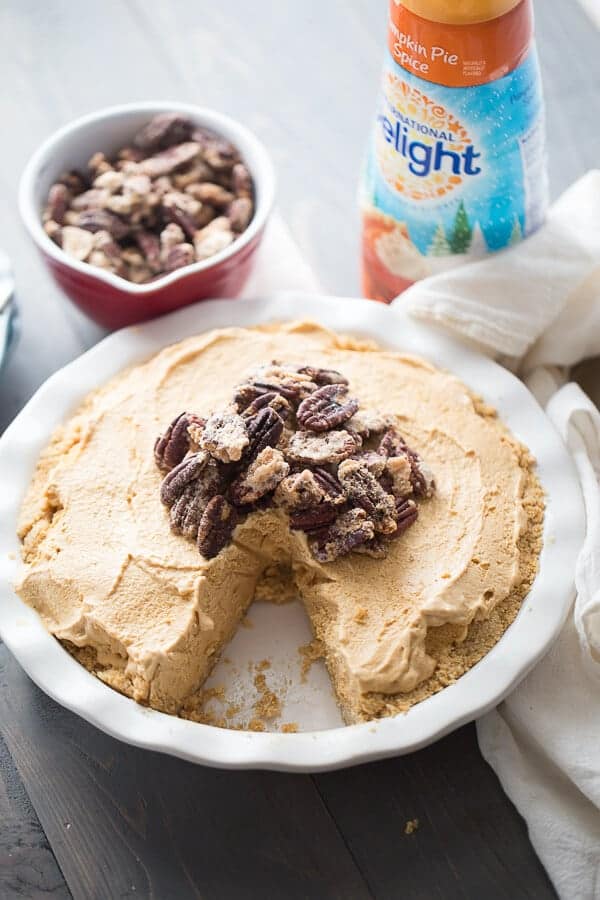 They rest of the family will remember THIS pumpkin ice cream pie! This pie is made with creamiest pumpkin ice cream you have ever tasted! It tastes silky and delicious with just the right amount of "spice". My secret ingredient is International Delight's Pumpkin Spice Coffee Creamer. This ice cream is custard based; which means it is made with eggs and cream that are combined and cooked on the stove. One thing to remember with this type of recipe is to be sure you are not cooking at a high temperature; you do not want your cream to boil over. Cook and whisk low and slow.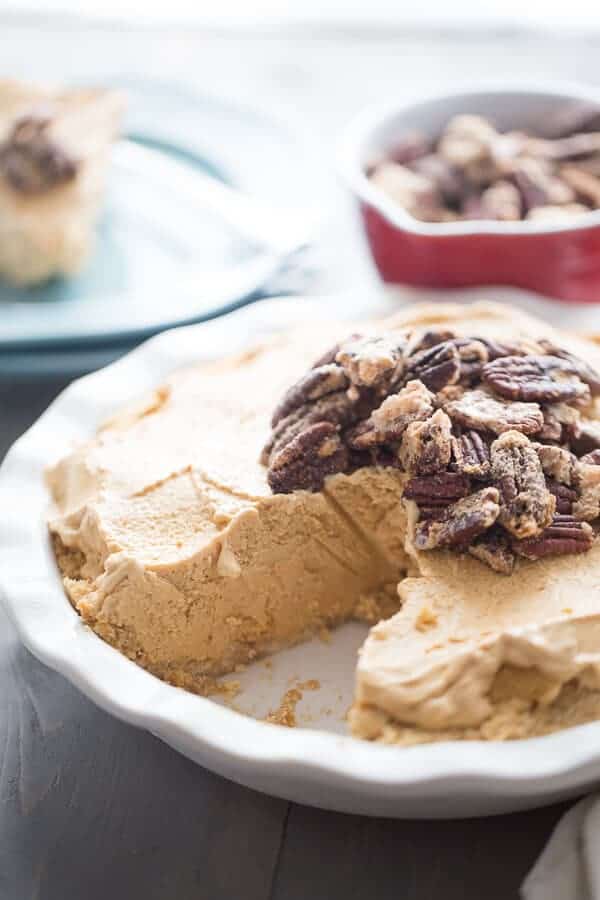 This recipe does require you to temper your eggs. Tempering your eggs means that you will whisk your eggs in a separate bowl. After your cream mixture heats, you will pour a small amount of cream into the eggs and whisk the eggs until the cream is incorporated. Doing this will prevent your eggs from curdling as soon as they touch the hot liquid. Creating a custard base ice cream does take a bit more time, but the first bite of ice cream pie will convince you that it is well worth it all!
The crust for this ice cream pie is the same crust I used for my banana cream pie; it's a very basic baked graham cracker crust. Bake the crust while you prepare your custard. Let it cool before you pour in your ice cream.
I topped this ice cream pie with candied pecans. Candied nuts are delicious and a snap to prepare. You may even want to make extra for snacking on the side! While you are at it, try these seasonally spiced candied almonds!
This ice cream pie is a nice change from your traditional fall pumpkin pie. You'll enjoy all the cinnamon spice of pumpkin pie but in an exceptionally creamy and light ice cream instead!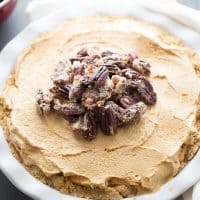 Pumpkin Ice Cream Pie
Total Time:
4 hours
10 minutes
Pumpkin spice flavored ice cream pie topped with crunchy sugared pecans.
Ingredients
1 3/4 cups graham cracker crumbs
1/3 cup sugar
1/2 cup butter, melted
2 cups heavy cream
2 cups International Delights Pumpkin Spice Creamer
1/2 cup brown sugar
1 cup pumpkin puree
1/2 teaspoon vanilla
5 egg yolks
1/8 teaspoon nutmeg
1 teaspoon cinnamon
1/4 teaspoon ginger
1 egg white
1 cup pecans
1/4 cup sugar
pinch of ground cloves
Instructions
To prepare the crust, combine graham cracker crumbs and melted butter in a bowl and stir until graham crackers crumbs have moistened. Press crust into a pie plate and place in the freezer for one hour. When ready, bake in a 375-degree oven for 10 minutes. Remove and let cool completely.
Meanwhile prepare your ice cream. In a saucepan, combine the heavy cream, coffee creamer, brown sugar, pumpkin, and vanilla. Whisk mixture over medium heat just until the edges start to bubble. Do not lot mixture boil.
In a separate bowl, whisk egg yolks, nutmeg, cinnamon, and ginger together until blended. Carefully ladle or pour a cup of the cream mixture into the egg yolks. Whisk until combined. Pour egg mixture back into the saucepan with the cream and continue to cook over medium heat until the mixture thickens enough to coat the back of a spoon.
Pour custard through a strainer to discard any solids. Place ice cream in an ice bath until it cools to room temperature. Once the ice cream has cooled, pour the ice cream into a bowl, cover the surface with plastic wrap and refrigerate for at least one hour or up to overnight. Once the custard has chilled, churn ice cream in an ice cream maker according to manufacturer's directions. Place ice cream in a freezer safe container until it just begins to harden.
Once the ice cream has begun to freeze, scoop the ice cream into your prepared crust, smoothing the ice cream to fill in the entire crust. Place the pie back in the freezer until it is completely set.
While the pie is in the freezer, prepare your pecans.
Preheat your oven to 350 degrees. In a bowl, whisk the egg white until it light and foamy. Stir in pecans, sugar, and cloves, turning to coat. Place nuts on a baking sheet coated with cooking spray and bake in the oven for 10 minutes, stir and bake another 10 minutes. Remove pecans from oven and let cool.
To serve the ice cream pie, remove pie from freezer a few minutes before serving, top with pecans.
Nutrition Information
Yield

8
Serving Size

1
Amount Per Serving
Calories

772
Total Fat

55g
Saturated Fat

25g
Trans Fat

1g
Unsaturated Fat

27g
Cholesterol

213mg
Sodium

249mg
Carbohydrates

68g
Fiber

4g
Sugar

53g
Protein

7g

Want to create a little delight? Connect with International Delight on:
Facebook | Twitter | Pinterest | Instagram
Sign up for Delightful Moments here for coupons, games and recipe ideas.
This conversation is sponsored by International Delight. The opinions and text are all mine.