This beer bread will make you feel like a baking expert!  It's incredibly tender and soft.
The pumpkin ale gives this beer bread a deep rich flavor that is perfect for fall!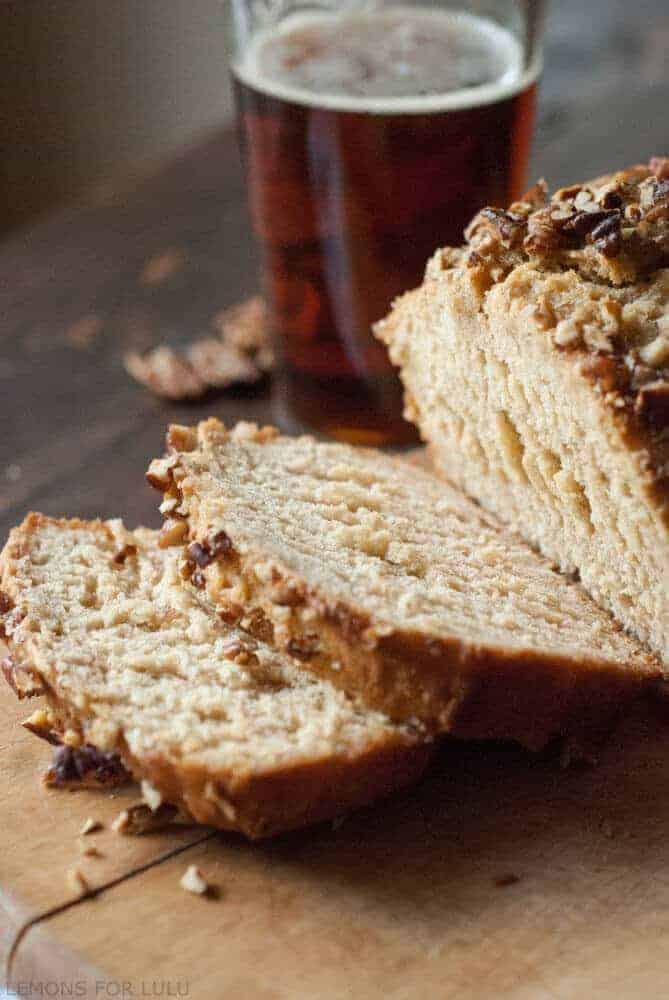 I used to be convinced that you weren't a "real" baker unless you mastered the art of baking bread.  I thought this way because of how often I heard the word "artisan" preceding the word bread.  That alone made me feel that bread baking was a real science or an art.
Sometimes bread intimidates me.  There are so many ways to fail after all.  Between the type of flour or the yeast, the weather and the time involved, it can be a recipe for disaster.
The first few times I tried my own bread it came out of the oven golden and gorgeous.  I could hardly wait to slice into it.  That first slice would be so warm that the butter would melt as soon as I rested it upon that soft, airy slice.  The bread would be so pillowy and perfect.  Unfortunately for me, that is not what happened.  Instead, I baked a brick.  My bread was nothing but a dense, golden loaf of concrete.
My attempts have not all been failures.  I have found an easy recipe that usually yields solid results.  It is my go to bread when I'm craving homemade.  It is very basic, not "artisan" but hey, we can't all be artists.
Like most bread recipes, it just takes time.  My day is just not always conducive to kneading and proofing.  But I have a secret floury, hoppy weapon; beer bread.  Beer bread is the cliff's notes of bread.  It is everything you love about homemade bread but it only takes a fraction of the time.
I have made beer bread with cheddar and bacon (A-mazing), I have made beer biscuits with orange and sage (outstanding) and now I have made beer bread with Pumpkin Ale.  I have to say this is going to be a fall staple.
This bread is incredibly soft and light.  Because of the color, you expect it to be dense, but it is the opposite.  The pumpkin ale gives this bread a rich flavor.  The beer and the brown sugar both give this bread a wheat-like color.  But don't let the color fool you.  The brown sugar keeps it sweet and the toasted pecans add unexpected texture.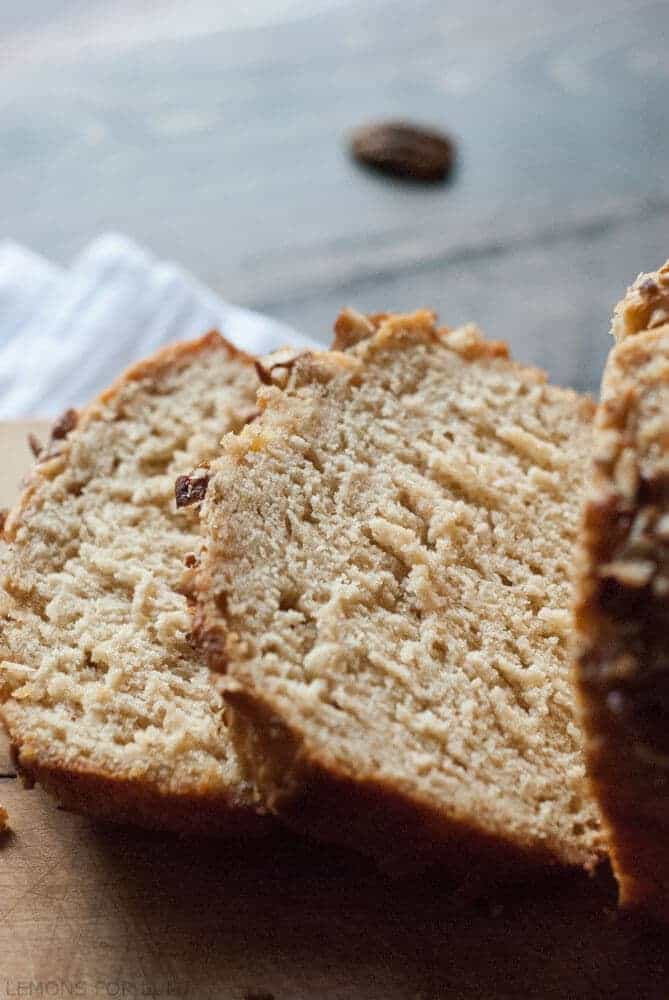 * Notes about the recipe.  You do not have to use pumpkin ale.  I wanted the seasonal flavor, but you could easily use your favorite lager.  I wouldn't use a light beer, however.  If you use a lighter beer, you may want to omit the honey.
If you do not have self rising flour,  you could use all-purpose flour and add 1 tablespoon baking powder along with 1 teaspoon salt.  You could easily reduce the sugar as well.
NEVER MISS A RECIPE! SUBSCRIBE TO MY EMAIL TODAY!
FOLLOW ME:
FACEBOOK | TWITTER| GOOGLE +| BLOGLOVIN | INSTAGRAM
Don't forget you can save each of these recipes to your personal recipe box , create your own meal plan, or add ingredients for each recipe to your shopping list! Just use the "Save Recipe" on all my recipes!
Beer bread is the easiest bread around! With a hint of pumpkin ale, this beer bread is all we love about fall.
Ingredients
3

cups self rising flour

1/2

cup brown sugar

1

tablespoon honey

1 12

oz. bottle Pumpkin Ale

1/2

cup chopped pecans, toasted

1/4

cup butter, melted
Instructions
Pre heat oven to 350. Grease a 9x5 loaf pan and set aside.
In a bowl stir together flour, sugar, honey and beer. Pour into prepared pan. Top bread with nuts and bake for 45 minutes. Remove, pour melted butter over bread and return to oven for 10 minutes.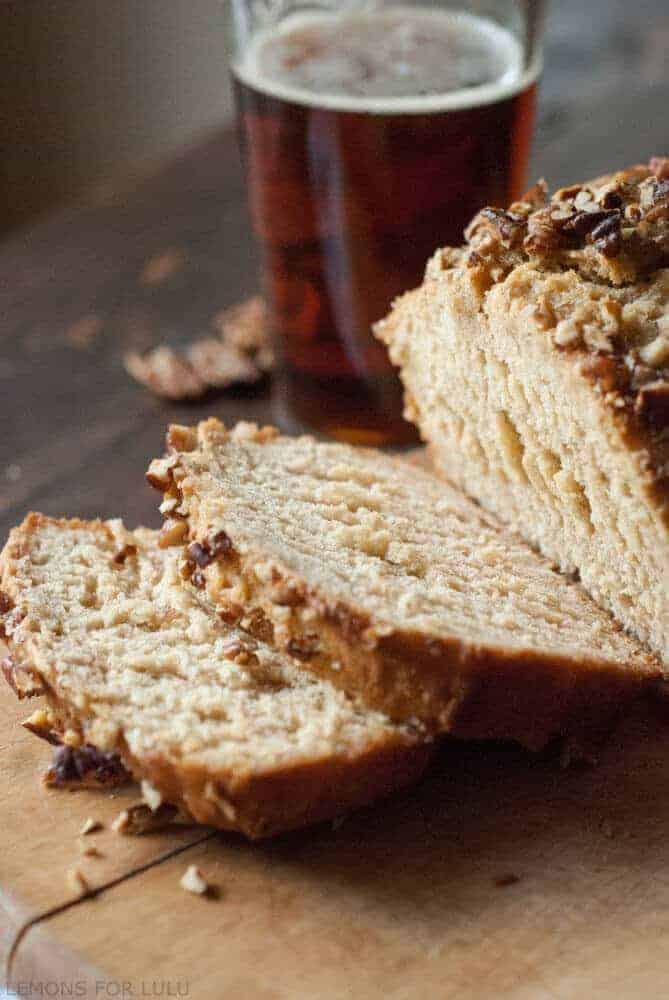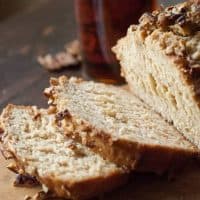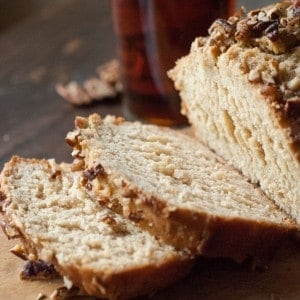 SEE THIS ON MY PINTEREST BOARD!
Follow Tanya Schroeder @lemonsforlulu.com's board Bread of Life on Pinterest.
I may be linking this up to these parties and to The Weekend Potluck!