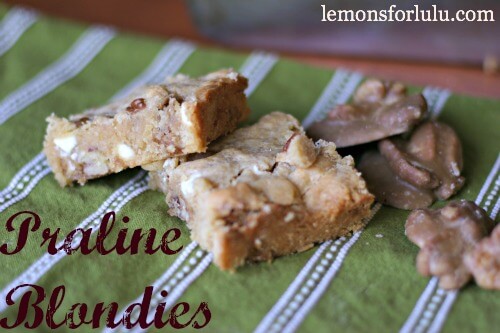 I will not go to Target, I will not go to Target, I will not go to Target,  I WILL NOT GO TO TARGET!
This has been my mantra.  I cannot spend any more money at Target!!!!  But wouldn't you know, I have ONE last gift to buy???  How did this happen?  I made a list and checked it twice.   Alas, I have one, itty, bitty gift left.  A gift that will cost me at least $50 dollars.  We all know we can't walk out of Target without at least spending $50!  Oh well, I'll cut my losses and go…quickly.
I may have to buy some more pecans while I'm there.  I made the loveliest pralines.  They were caramely-sweet and delicious.  I put them into blonde brownies to keep myself from devouring each and every praline crumb.    Pralines are so easy and make excellent gifts.  These blondie brownies were equally easy, but will not be given as gifts.  They are simply too good.
Pecan pralines add quite a bit of sweetness to the blondies.  You may want to cut these into small squares!  Although I typically omit nuts from my baked goods,  I like the crunch from the pecans.  Of course, I simply could have added pecans to these blondies, but shoot, where's the fun in that?
If you'd like a little Lulu in your life, please subscribe via email, RSS, Facebook or Google +.  I love staying in touch with friends!
You might enjoy these too!
White Chocolate Toffee                                                        

Lemons for Lulu
German Chocolate Bourbon Brownies                              

Lemons for Lulu
 Praline Cookies with Browned Butter Frosting              Sweet Pea's Kitchen
24
adjust servings
Soft, blonde brownies sweetened with brown sugar, white chocolate and home made pecan pralines
Ingredients
1

cup butter, softened

1 1/2

cups brown sugar

2

eggs

1

T vanilla

3

cups flour

1

t baking powder

1 1/2

cups white chocolate chips

1 1/2

cup pralines, chopped

FOR THE PRALINES

2

cups brown sugar

1/4

cup water

1/4

evaporated milk

2

cups pecans, chopped

2

t vanilla

3

T chilled butter, cut into pieces.
Instructions
Preheat oven to 350. Lightly grease a 13x9 pan, set aside.
In a mixer, beat together butter and brown sugar until creamy. Mix in vanilla and eggs until well incorporated.
In a small bowl, combine flour and baking powder. Slowly add flour mixture to butter mixture, beating until well blended. Stir in chocolate chips and pralines.
Pour batter into prepared pan. Batter will be very thick. . Bake for 25-30 or until set. Edges will pull away, but brownies should still be moist.
For the pralines:
Combine sugar, milk and water in a large saucepan. Bring to a boil on medium heat, stirring constantly. Cook until mixture reaches 235 degrees on a candy thermometer. Remove from heat and stir in pecans, vanilla and chilled butter. Quickly drop mixture by tablespoons onto a wax paper lined baking sheet. Let cool completely to set. Makes about 3 dozen candies.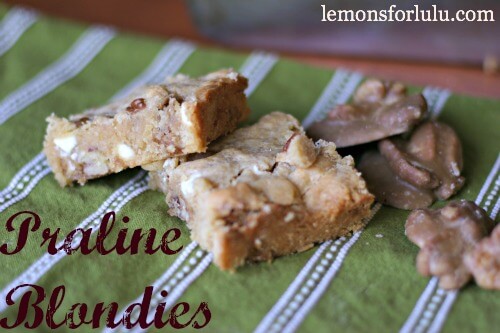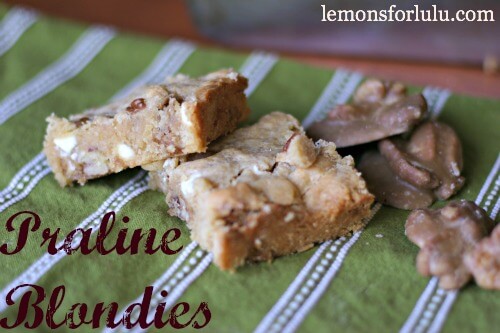 I'll be linking this recipe up to
these
fabulous sites as well as to:  
Jam Hands
,
The DIY Dreamer
  and