Buttery, flakey fillo dough is filled with cream cheese, pistachios and apricot preserves for an unforgettable appetizer!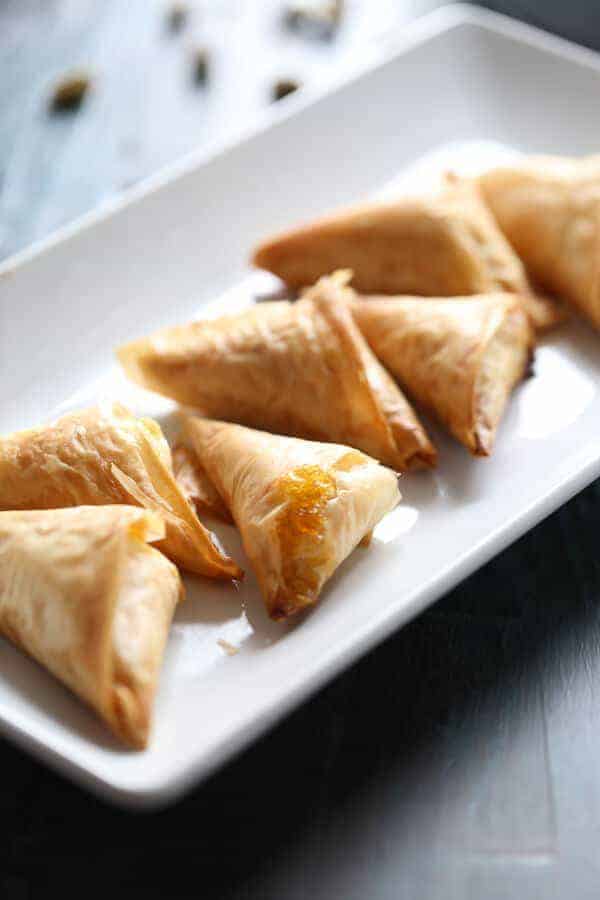 Every family has one item that shows up at all major family meals. Some people always have rolls or bread, while for others, it may be a condiment or a sauce. And still for other families a meal wouldn't be complete without a jello salad or a fruit salad. I'm sure most of us aren't even sure why these traditions exist, but we aren't going to be the ones to break away.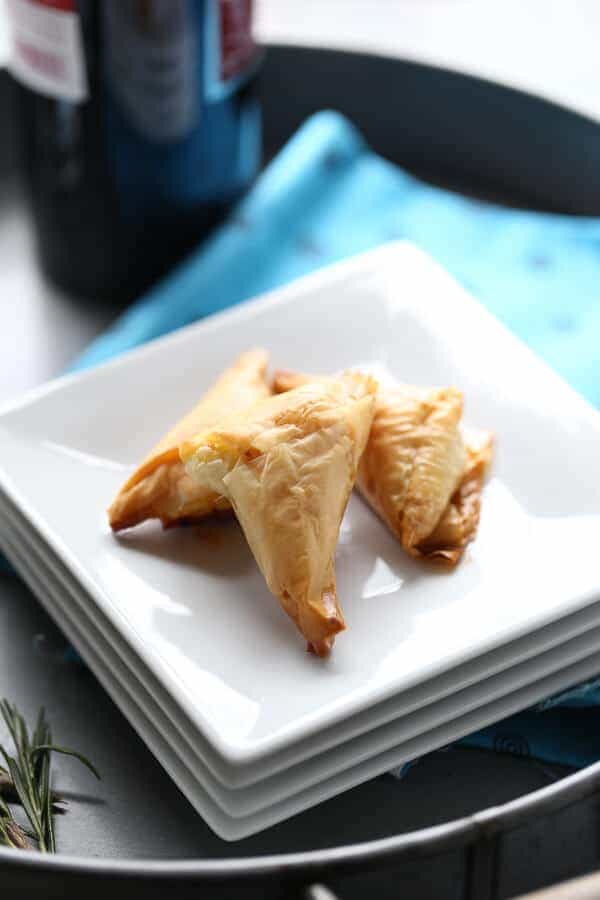 For my own family, a meal isn't a meal without some sort of Greek savory pie. Spanakopita is the standard, but cheese and meat pies follow closely at its heals. I love spanakopita. My mom's is the best. It is rather labor intensive (I had to come up with my own lazy man's version), but boy is it phenomenal. I think the one thing that makes it or any of my mom's savory pies so great is the thin, buttery fillo dough. I could make a meal just out of the fillo dough.
The hardest part about fillo for me is not the prep, although it can be intimidating if you are new to fillo, it's refraining from picking off each layer of freshly baked dough and shoving into my mouth. There is nothing quite like fillo fresh from the oven. The aroma is slightly nutty, while the taste is buttery and soft. It practically melts in your mouth.
While I love appetizers like hush puppies and hot, melty dips, an appetizer made with fillo dough is a true treat. I am very excited to share these triangles with you today. They are stuffed with cream cheese, goat cheese, pistachios and apricot preserves. While the combination sounds rather sophisticated, any cheese lover will swoon over these.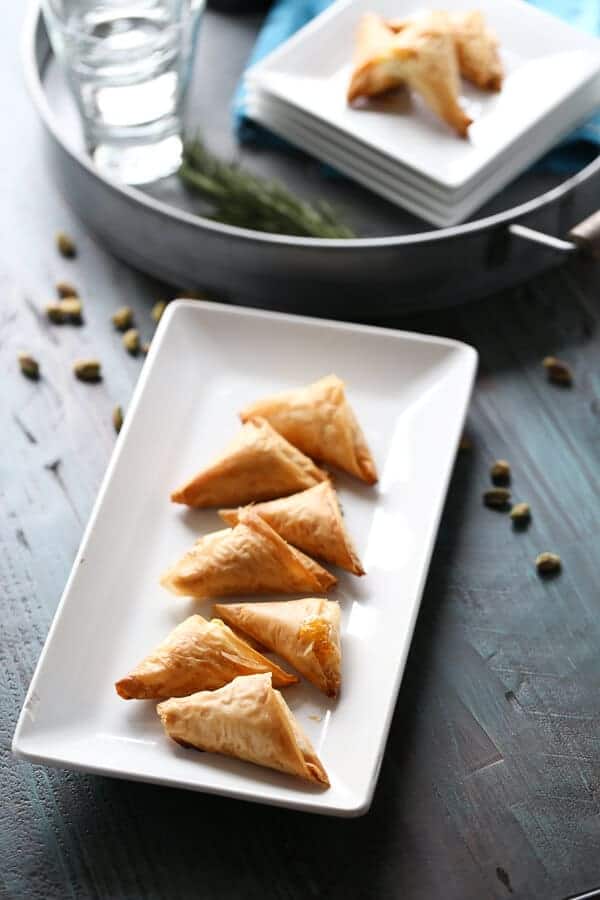 I'd like to say that these cream cheese triangles will make an appearance at our holiday dinner table from now on. However I have a feeling they'll be gone before we get to the table!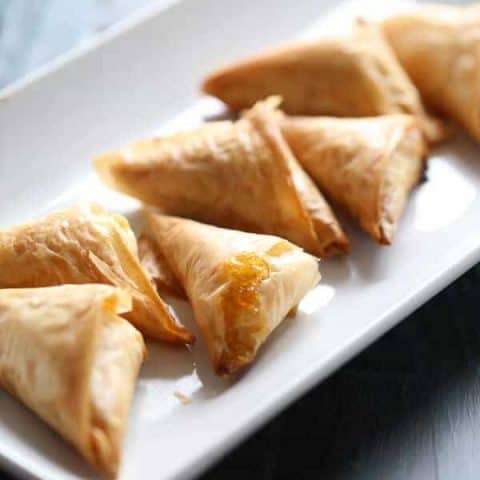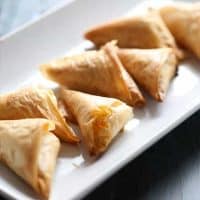 Pistachio & Cream Cheese Fillo Triangles
Total Time:
1 hour
5 minutes
Flakey fillo dough is filled with a savory sweet filling that is absolutely captivating!
Ingredients
1 lb box Athens® Fillo Dough
1 lb butter, melted
1 8oz block cream cheese, softened
2 oz goat cheese, softened
1 teaspoon chopped fresh rosemary
1 teaspoon orange juice
1/2 teaspoon orange zest
1/4 cup chopped pistachios
3/4 cup apricot preserves
Instructions
Preheat oven to 350 degrees. Line two baking sheets with parchment paper and set aside.
In a mixer bowl, combine cream cheese, goat cheese, rosemary, juice and orange zest. Beat until creamy and well combined. Fold in pistachios.
Unroll your fillo dough and cut it into three equal parts vertically. Cover dough with plastic wrap and a moist towel.
Remove 2 sheets of fillo, brush butter over surface and fold dough. Place a 1/4 teaspoon of apricot preserves on the bottom center of your fillo strip. Top preserves with a generous teaspoon full of cheese mixture. Fold filled corner over towards the left side of dough to form a triangle; the the tip of the triangle will face the bottom left. Continue folding triangle up and over gently so that the filling does not come out. Work until you have one, neat little triangle. Butter the top of the triangle and place on a baking sheet.
Continue with remaining dough, cheese and preserves.
Bake fillo triangles for 20 minutes or until golden.
Nutrition Information
Yield

60
Serving Size

1
Amount Per Serving
Calories

105
Total Fat

8g
Saturated Fat

5g
Trans Fat

0g
Unsaturated Fat

3g
Cholesterol

21mg
Sodium

105mg
Carbohydrates

7g
Fiber

0g
Sugar

2g
Protein

1g
Notes about the recipe:
When you first unroll your fillo, cut it into thirds, vertically. Cover your dough with plastic wrap and a moist towel. This will ensure that the fillo dough does not become dry and brittle. Fillo dough loves moisture, which brings me to my next point.
I use quite a bit of butter when I work with fillo. I liberally brush butter over every piece of dough. Butter can be heavy, if you prefer to use olive oil or even cooking spray, then please feel free. Just be sure to coat each piece.
Do not worry if your dough tears. The folds will hide any imperfections.
Speaking of folding, do not press down on your filling as you fold. You do not want to have your filling ooze out of the corners. A light touch is all you need.
This recipe yields 60 triangles, however the recipe can be cut in half quite easily.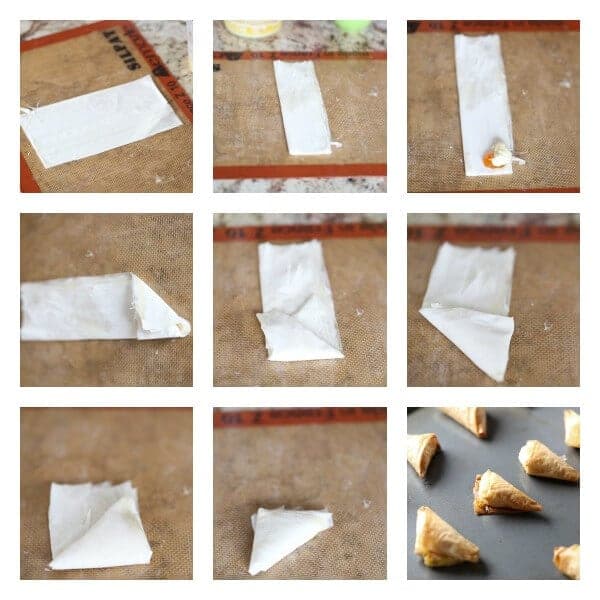 Disclosure: I received compensation from Athens Foods for recipe development purposes. All opinions are my own. For more Athens Foods recipes, click here