Pistachio Brittle with a hint of cardamom and a sweet layer of chocolate!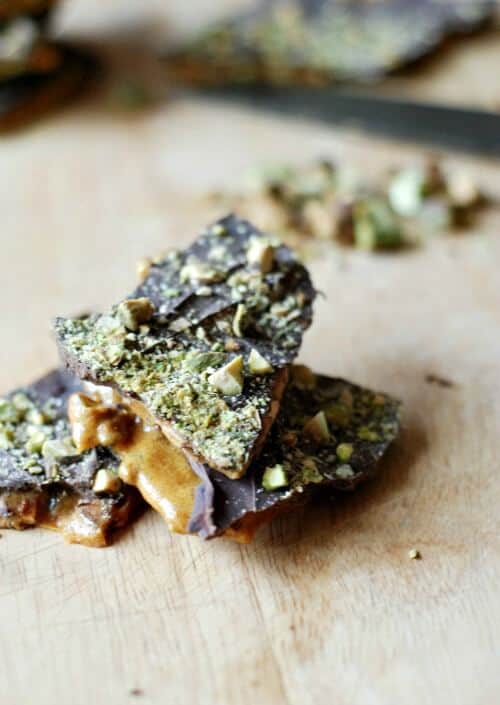 This is not a Christmas post. I'm not quite ready for that yet. But I was in the mood for some brittle. And since I love pistachio's, that's what I threw into my brittle. Making this brittle got me thinking about how there's always a big push for peanut brittle at Christmas. Why exactly is that? I don't know about you, but I personally enjoy peanuts and candy ALL year around! But you don't see peanut brittle advertised in July, do you?
Fruit cake is another very seasonal item. I know it's very traditional at Christmas time and I tried to research why it only rears it's head during the holidays, but quite frankly, I lost interest. I don't really like fruit cake and aside from my mom, I don't know anyone who actually enjoys fruit cake. It could actually be a lovely dessert that is simply misunderstood. I'm afraid I'll never know. It's the whole candied fruit thing that messes with me.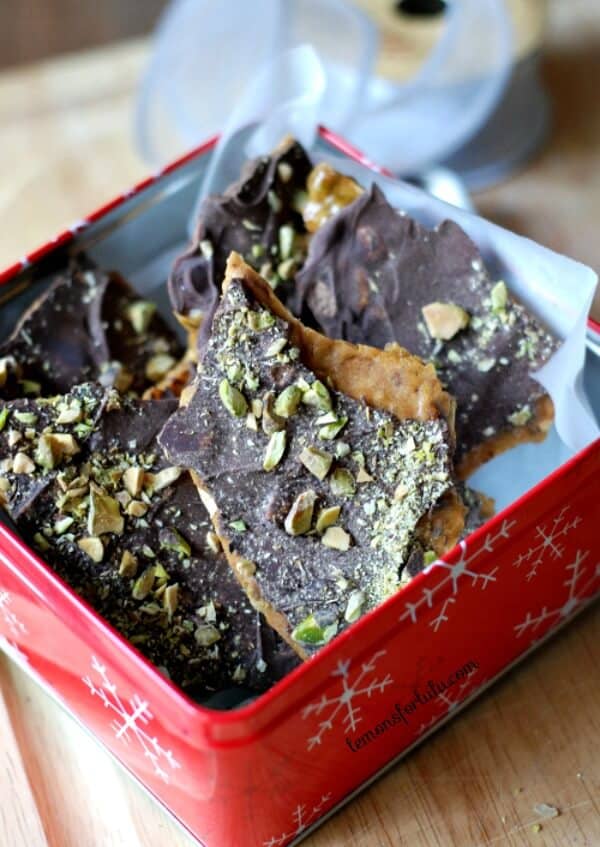 Every time I even hear fruit cake mentioned, one memory comes to mind instantly. I vividly recall going to the zoo as a kid and feeding the giraffes fruit cake. Yes, you heard me right. Feeding the giraffes fruit cake. It boggles my mind to think there was actually a time that the zoo permitted people to feed the animals!! I should mention that this was in the 70's. Everything was a bit more "relaxed" back then. What makes this story worse is we were feeding the giraffe fruit cake in JULY!! Poor, poor animals. Yeah, I'll stop here. Let's just move on.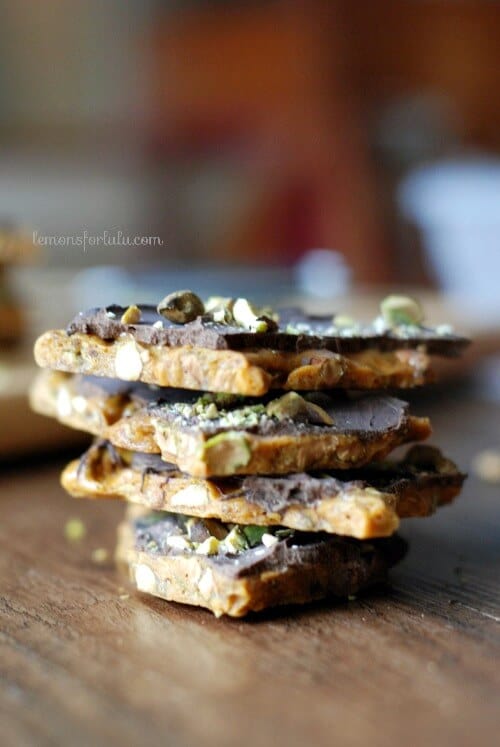 I often see cardamom paired with pistachios. Cardamom is not a spice I use often, but I absolutely love it! It's fragrant and gives this brittle a subtle little bite. The chocolate layer adds a creamy sweetness that makes this brittle seem more of a dessert than just simple candy. I think I may have to make this at Christmas time. It would make an excellent gift! Unlike fruit cake. And unlike fruit cake, I guarantee you will not have this brittle six months from now! You may not even have it six minutes from now, it's that good!
I WANT CANDY!!!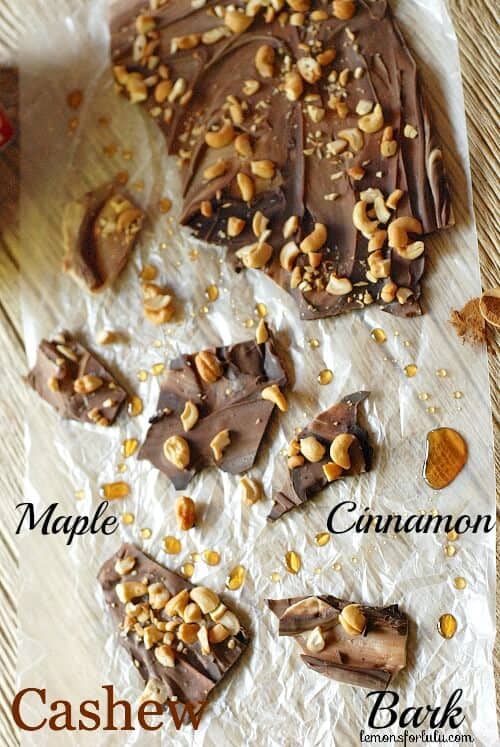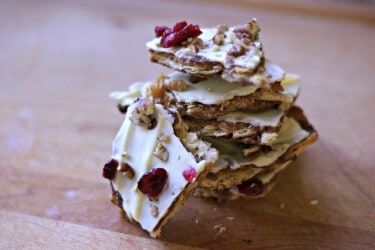 NEVER MISS A RECIPE! SUBSCRIBE TO MY EMAIL TODAY!
FOLLOW ME:
FACEBOOK | RSS | TWITTER | GOOGLE +| BLOGLOVIN | INSTAGRAM
Pistachio Cardamom Brittle
Ingredients
1

cup sugar

1/2

cup light corn syrup

1/8

teaspoon salt

1

1/4 cups chopped pistachios, lightly salted and roasted

1

tablespoon butter

1

teaspoon vanilla extract

1/4

teaspoon Cardamom

1

1/2 teaspoon baking soda

1

1/2 cups semi sweet chocolate chips
Instructions
In a microwave safe bowl, combine sugar and corn syrup and salt. Microwave uncovered for 2 ½ minutes. Carefully stir in 1 cup of pistachios and return to microwave for another 2 minutes. Mixture will be thick. Quickly stir in butter, vanilla and cardamom. Cook for 1 more minute.
Stir in baking soda. Mixture will begin to foam, immediately pour onto a greased metal baking sheet. Let set for 2-3 minutes before sprinkling with chocolate chips. Allow chips to set on brittle for about 2-3 minutes before spreading over brittle. When chocolate has been smoothed, sprinkle remaining pistachios over brittle.
When brittle has set, break into pieces and store in an airtight container.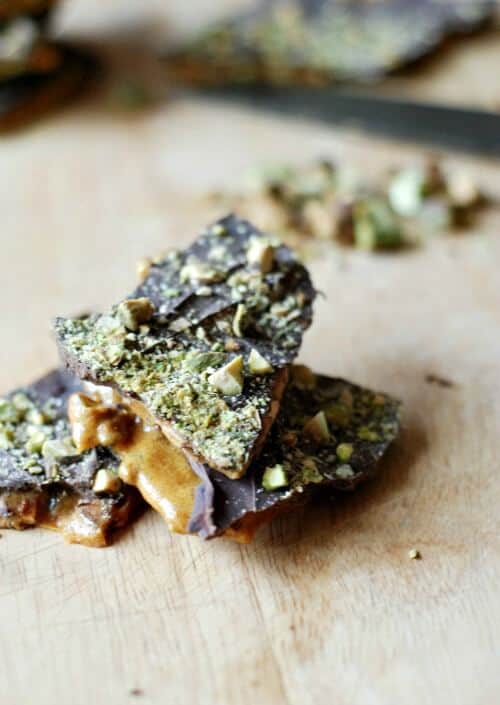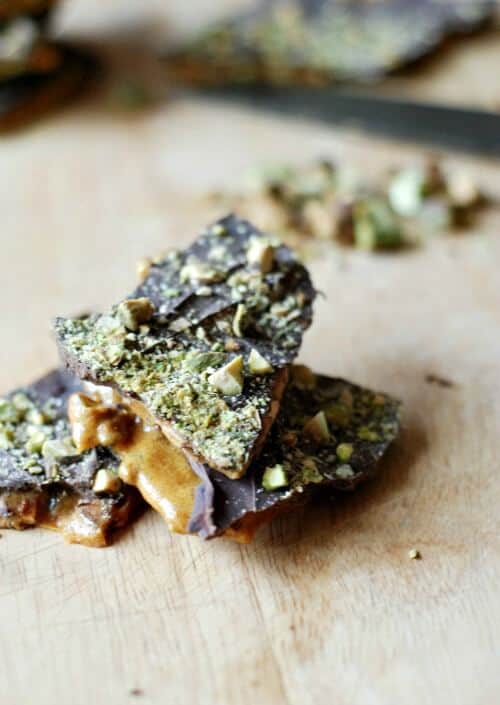 SEE THIS ON MY PINTEREST BOARD!
Follow NUTS for you! by Tanya Schroeder @lemonsforlulu.com on Pinterest
I'll be sharing this with these parties and with