A smoky sweet salad with sweet grilled mahi mahi, grilled romaine lettuce and a creamy jalapeno dressing!
Thank you Morey's Seafood International for partnering with me and allowing me to create this original recipe!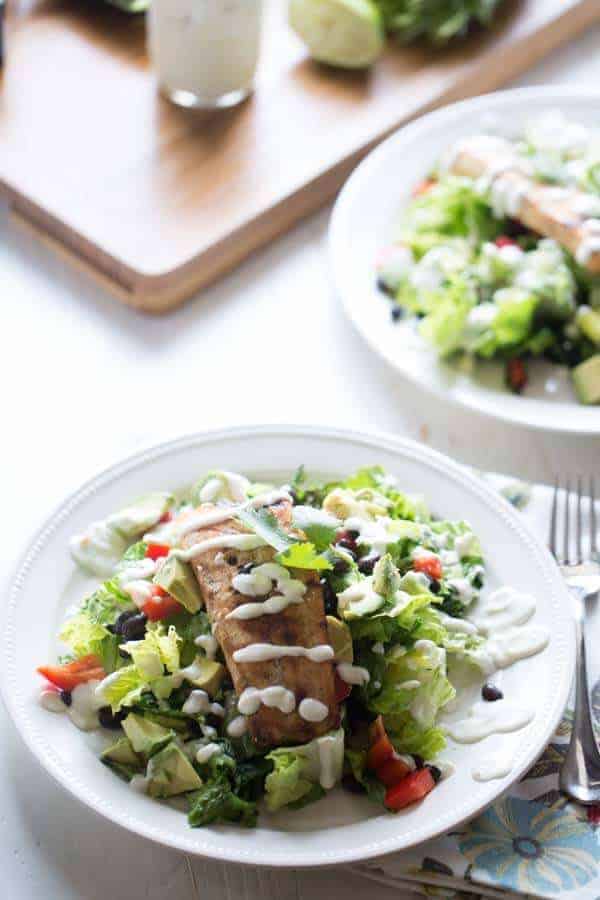 Every once in a while you have a recipe that snow balls. You may only have one ingredient in mind but before long you start to layer more and more components until the recipe seems to have a life all its own. That's what happened with this grilled mahi mahi.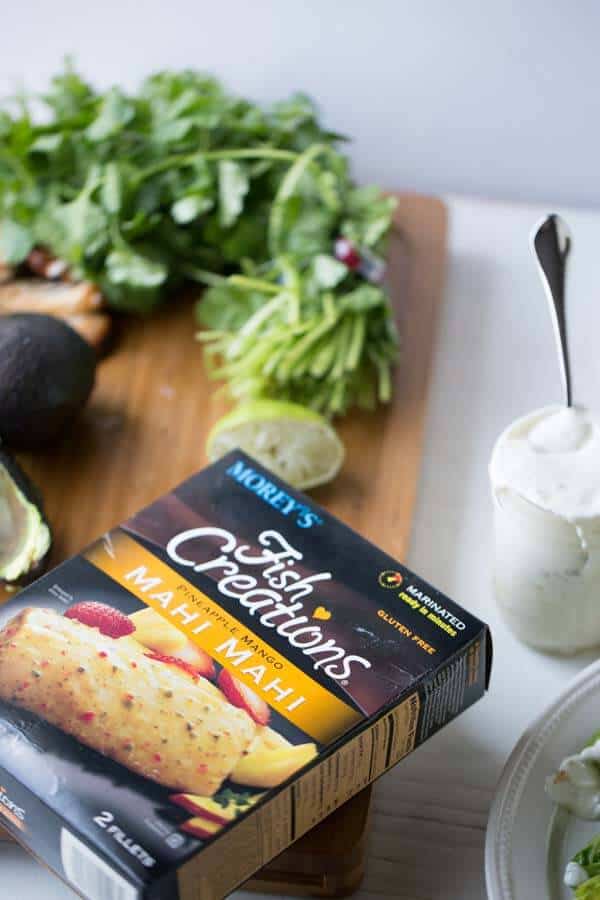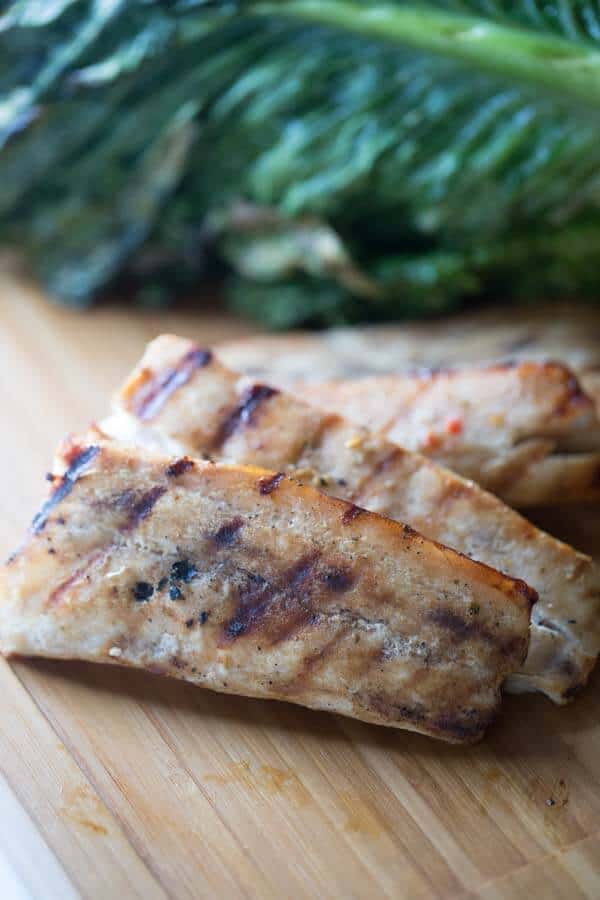 My original intention was simply to grill some Morey's Pineapple Mango Mahi Mahi. My mouth was watering at the thought of feasting on that succulent, sweet and tender mahi mahi, but I wasn't sure how I'd serve it. Since it is summer and we all have beach bodies to maintain, I thought serving the fish over a salad would be perfect.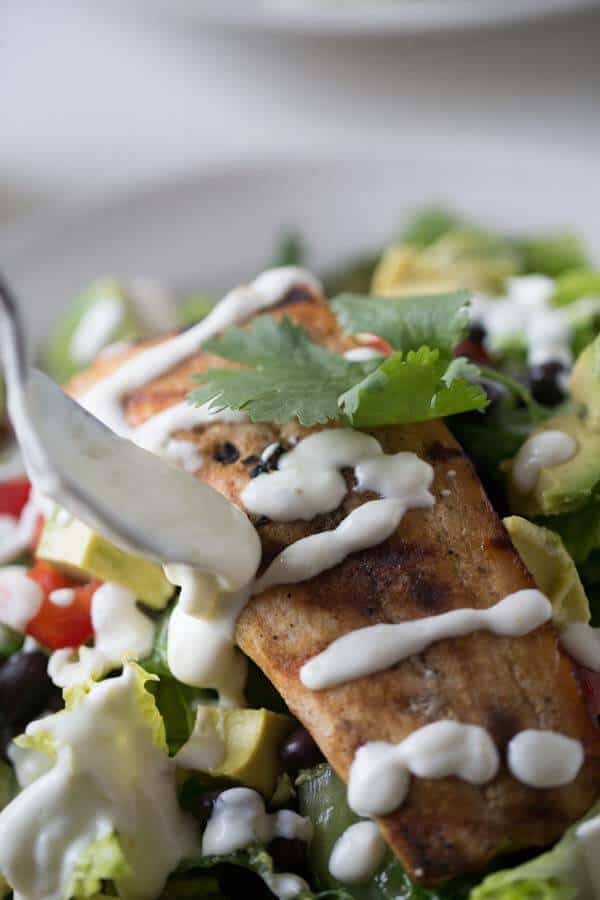 Then I thought about how I always wanted to try to grill romaine lettuce. If I was going to grill mahi mahi, I may was well throw on some lettuce, right? And if I'm going to eat a sweet fish, then I need some heat to balance it out. Jalapenos and pineapple are often partners in crime. Enter creamy jalapeno dressing. Of course, if I'm going all-tropical then I need avocados, black beans and red peppers too! By the end of it all, my simple grilled mahi mahi grew into a beautiful grilled dinner salad that is exploding with flavor and textures.
I'm so happy this recipe took a life of its own. I wouldn't want it any other way!
Notes about the recipe:
I grilled my fillets as per the Morey's instructions. Be sure to check your fish often after you flip your fish over to cook the second side. You want fish that flakes. Any fish (or meat) left on the grill for too long with be a bit tough.

Be sure to watch your lettuce. I used a very large head of romaine. A smaller head may only take 1-2 minutes per side.

Adjust the salad dressing to your taste. I love heat so the tablespoon of brine was perfect, you may opt to leave it out all together. A fresh jalapeno would work well in the dressing as well.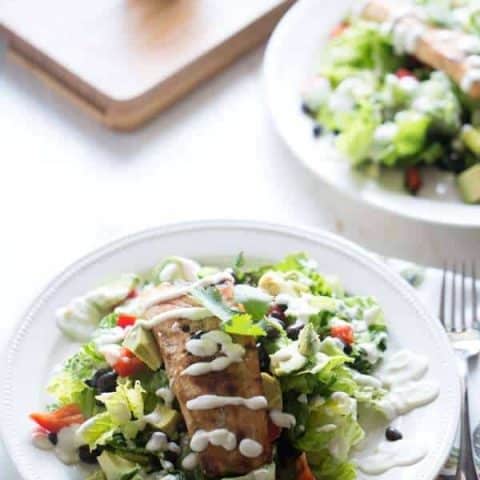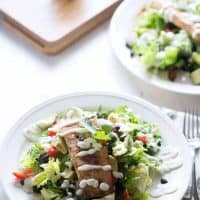 Pineapple Mango Grilled Mahi Mahi Salad
Yield: 2

Prep Time: 5 minutes

Cook Time: 15 minutes

Total Time: 20 minutes

Pineapple mango grilled mahi mahi restes atop grilled romaine lettuce.
Ingredients
For the salad
1 large head of romaine lettuce
1 teaspoon olive oil
salt, pepper
1 10 oz box of Moreyâ??s Pineapple Mango Mahi Mahi (2 fillets)
1/2 cup diced red peppers
1 avocado, cubed
1/2 cup black beans
For the dressing
1/4 cup sour cream
1/4 cup mayo
1/2 cup buttermilk
1 clove garlic
1/2 teaspoon salt
1/4 cup chopped pickled jalapenos
1 tablespoon jalapeno brine
1 tablespoon olive oil
Instructions
Spray an outdoor grill with non-stick spray. Preheat grill on medium low heat. Remove fish from package and grill according to package directions, checking your fish for doneness. Meanwhile, drizzle romaine with olive oil and sprinkle with salt and pepper. Add lettuce during last five minutes of the mahi mahi's cook time. Turn lettuce after 2-3 minutes (until lightly charred); cook the second side an additional 2-3 minutes. Remove and let lettuce cool slightly.
To prepare dressing, combine all the ingredients in a blender. Mix just until combined.
To assemble: chop romaine lettuce. Divide lettuce between two dinner plates. Top lettuce with red pepper, avocado and black beans. Arrange one fillet over each plate and drizzle with dressing.
Nutrition Information
Yield 2 Serving Size 1
Amount Per ServingCalories 849 Total Fat 49g Saturated Fat 10g Trans Fat 0g Unsaturated Fat 36g Cholesterol 106mg Sodium 1495mg Carbohydrates 79g Fiber 21g Sugar 47g Protein 34g



For more information on Morey's, including product information and recipes, please visit them on the web, or connect on Facebook, Pinterest, and Twitter!
I may be linking this up to these parties and to The Weekend Potluck.