These Philly Cheese Steak French Fries will make your family happy! Crispy fries are topped with beef, veggies and a luscious cheeese sauce!
Skip the take out, eat at home!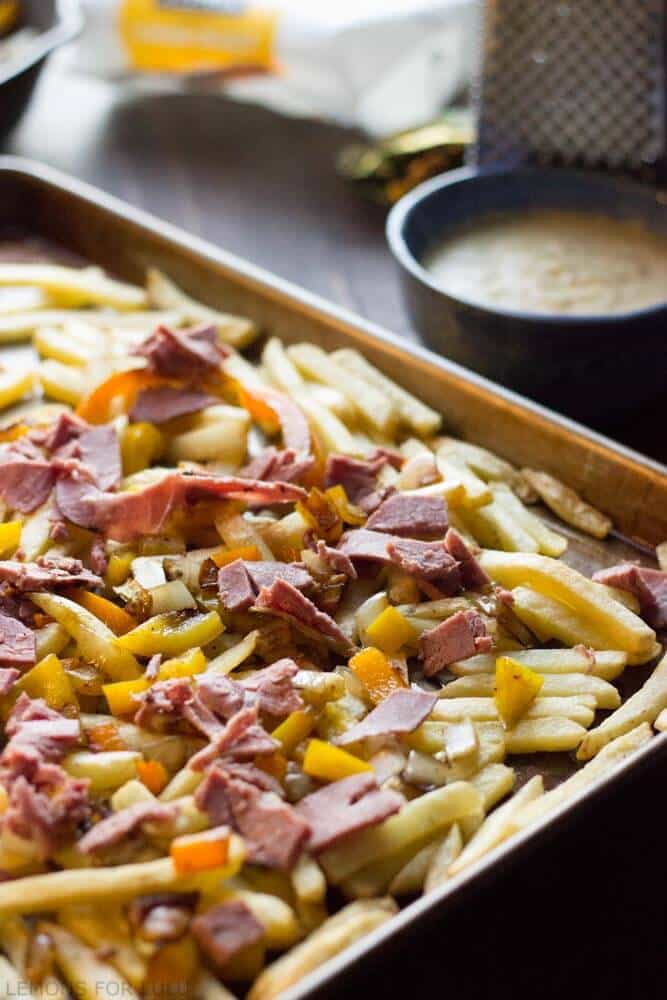 Dinner can make or break an evening when you are a kid. If mom is making something you love, then you cannot wait until dinner. If it's something you hate, then dinner is just an inevitable killjoy. I remember asking my mom the classic question "what's for dinner?". Her response was always the same; "you'll see". I knew better than to probe for more. Times do not change because I get the very same question from my own kids. The difference is my kids do ask for more information. I cannot simply say we are having chicken for dinner. They know we always have more. They want specific details about all the sides. They are smart kids. They know that the sides can make or break a meal.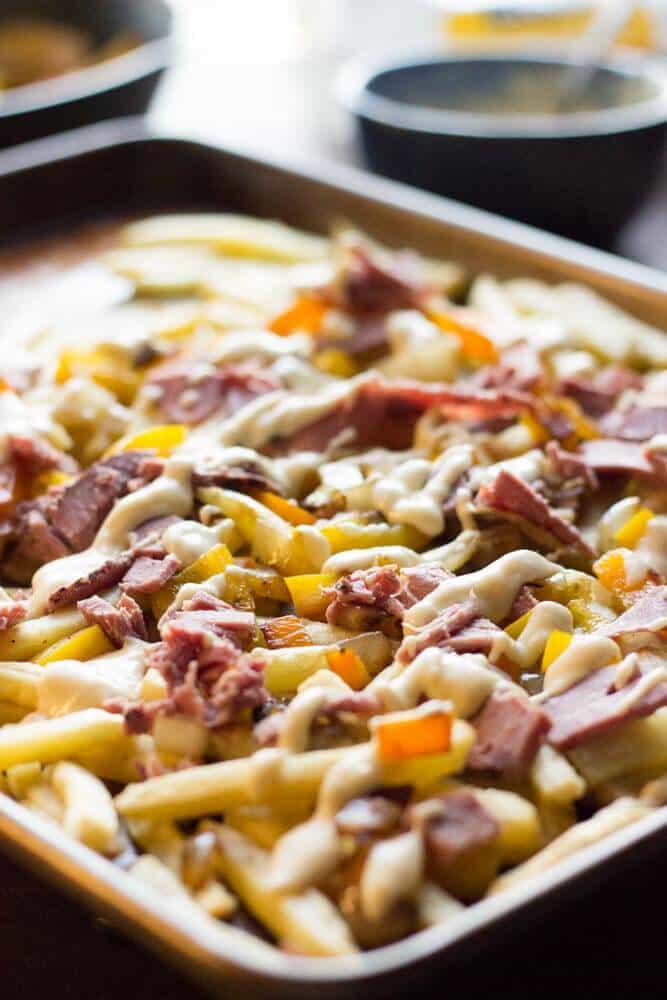 The meals around here are fairly consistent. We have a protein, a starch and a veggie. I'm sure our family isn't alone in this, but we often fight over how many bites of protein and veggies (especially if the veggie is asparagus) the kids need to eat. They seem to think zero is an acceptable amount while I tend to opt for a larger number. We never seem to argue over the starch. If the starch happens to be french fries, well then even better (especially if they are Alexia). I often make my own roasted potatoes but sometimes I'm in the mood for something different like waffle fries, crinkle cut fries or my favorite onion rings!! That's where Alexia Foods comes in! Their fries are distinctive and taste exceptional.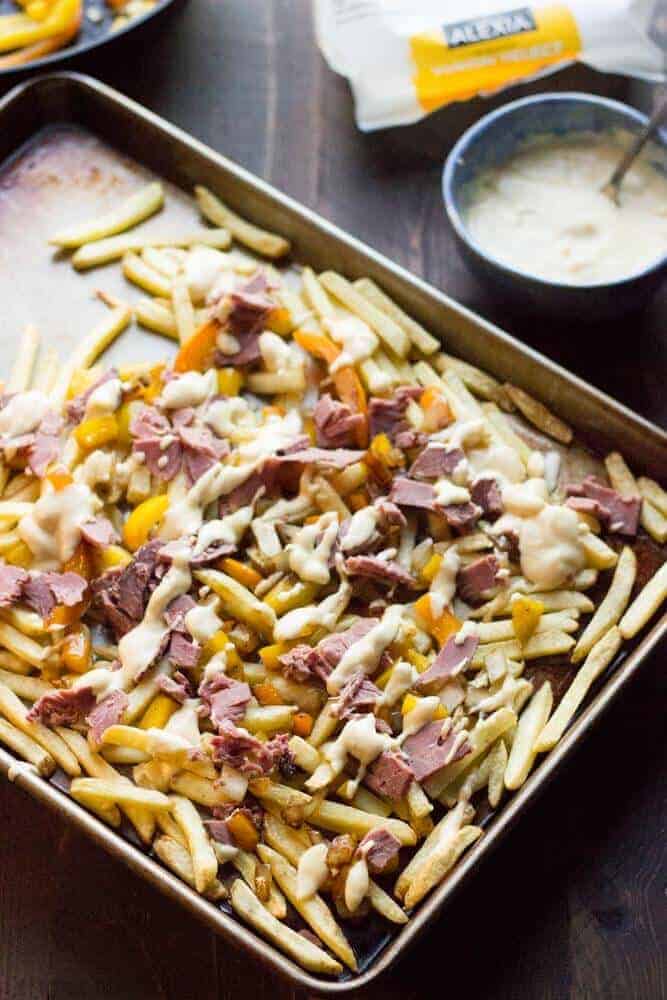 I got a wild hair this week and decided that this was the week that kids would be thrilled with my answer to "what's for dinner"? After all, sometimes dinner has to be FUN! I made these easy Philly cheese steak french fry nachos. I lightly sautéed peppers and onions while the fries were baking. I topped Alexia Organic Yukon Select Fries with my veggie mixture and deli roast beef. See how easy this is? I drizzled the creamiest homemade cheese sauce right over the whole pan. This was so good. Better than any take out. The best part was the whole family loved it. They will eat peppers and onions until the cows come home as long as they come with cheese sauce! These Alexia french fries were the perfect base for these nachos. I adore these fries. They taste gourmet but I can find them easily enough in my grocery store. They are all natural and made with premium ingredients too. The big bonus? Alexia are a good part of a balanced meal and can be ready in 25 minutes or less.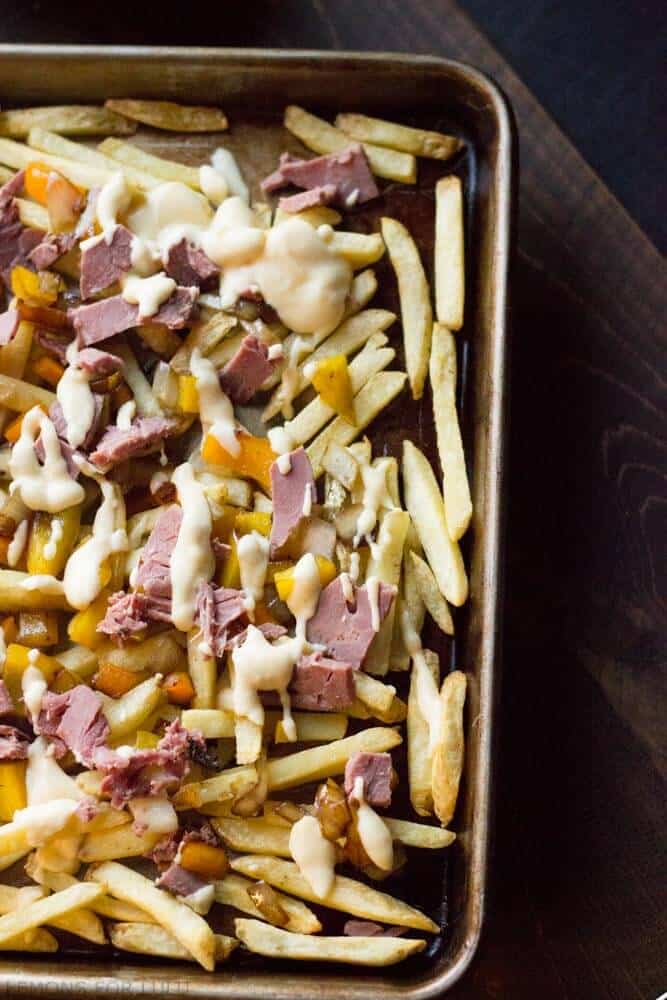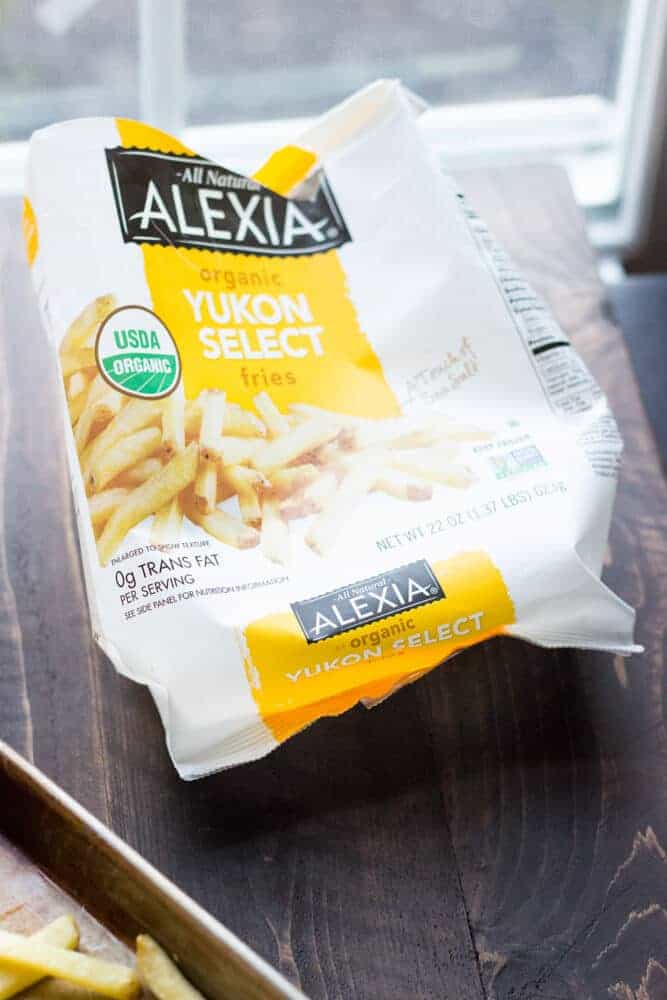 It's easy to have a gourmet-Inspired meal in 20 minutes any day of the week. Alexia makes it so simple for me and my family to enjoy a gourmet inspired meal quickly and easily. I put our favorite Alexia Fries in the oven, pair them with fresh vegetables that have been lightly seasoned and drizzled with olive oil. A rotisserie chicken rounds out the meal! Fresh, distinctive food made simply!
But why stop there? Here are more fun meal time ideas.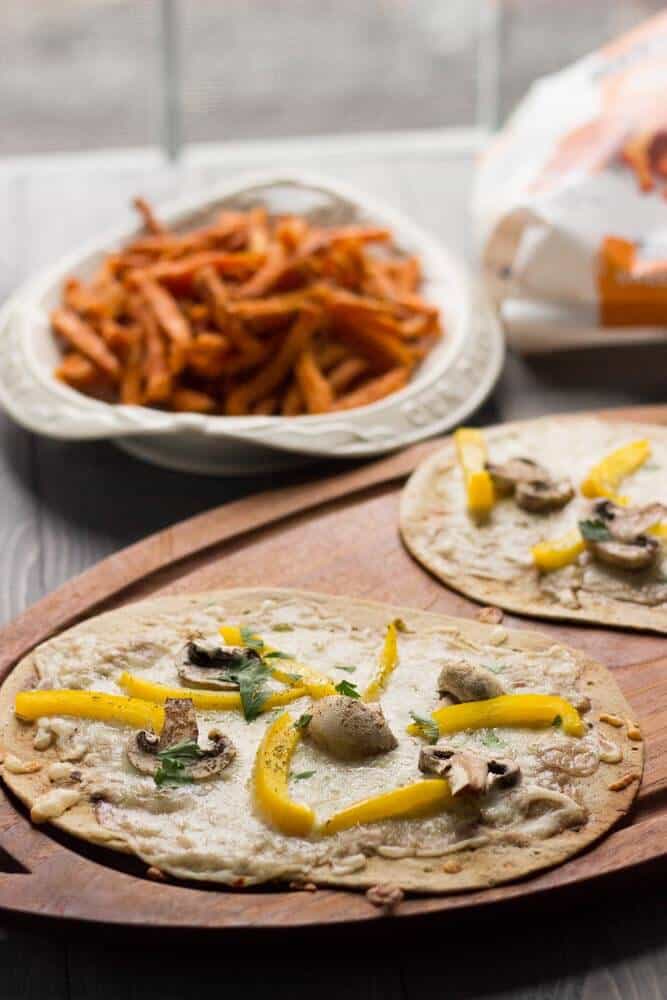 Alexia's sweet potato fries are the perfect side kick to these super simple flat bread pizzas. I topped whole wheat flat bread wraps with a drizzle of olive oil and sprinkling of garlic. Hot pepper cheese, peppers and mushrooms top it off for vegetarian, stress free meal!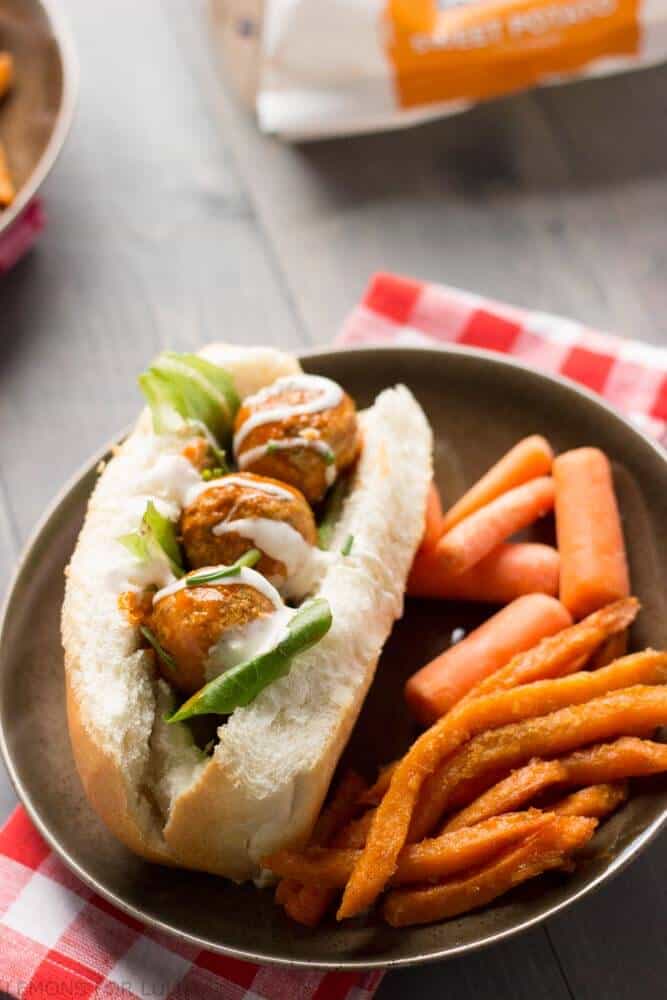 Sub shops are great, but homemade sandwiches are so much better. Smother turkey meatballs in Buffalo sauce for this twist on a meatball hoagie. Cool lettuce is tucked under each meatball and creamy blue cheese dressing gets drizzled over the whole roll. My favorite sweet potato fries from Alexia are served on the side.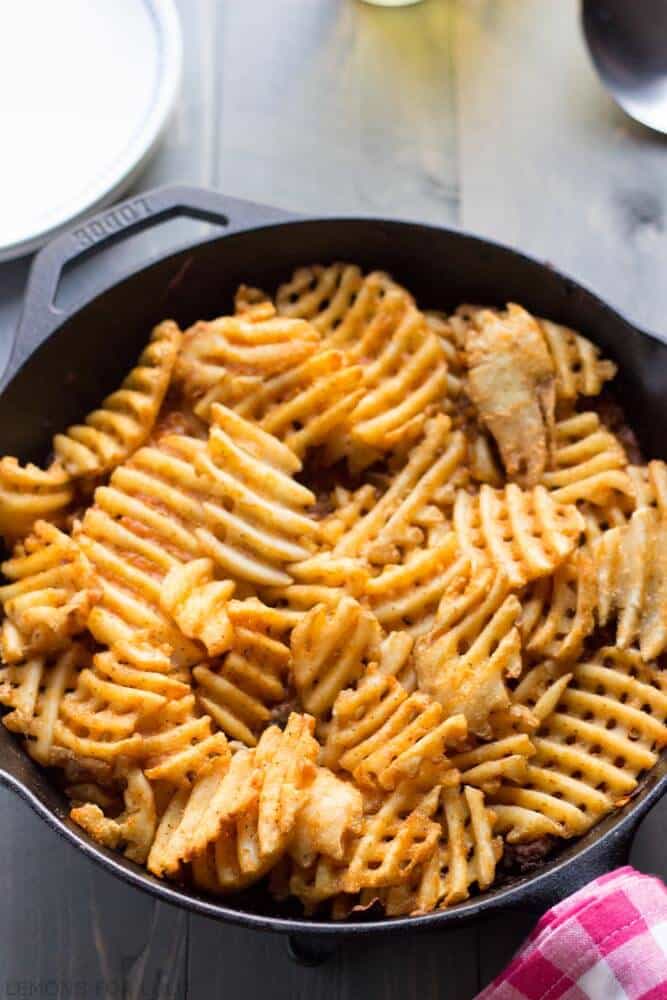 Want your kids to go nuts over dinner? Use waffle fries as an ingredient IN dinner! Don't go out for cheeseburgers, have an easy skillet cheeseburger casserole at home. Lean ground beef is cooked with mushrooms and pickles. Cheese and Greek yogurt are mixed in and then the whole skillet gets topped off with waffle fries, like these seasoned waffle fries from Alexia. This is one dinner, the kids won't want to miss.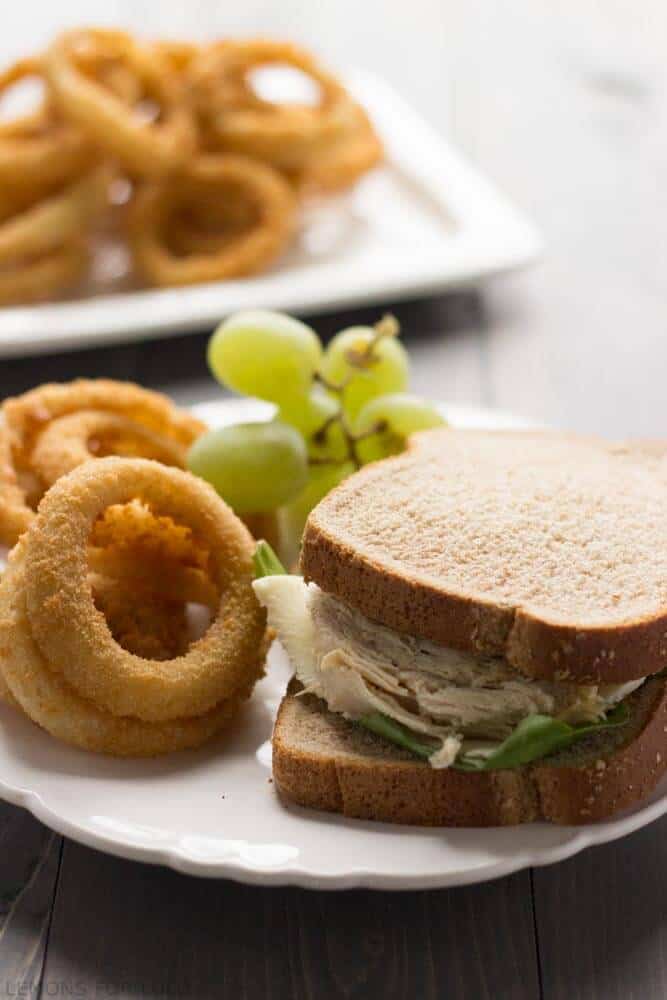 Finally, some nights you find you just don't have as much time to cook. That's when we have sandwich night. It's a nice change of pace, especially with a bowl of soup, a salad or cut up veggies and crispy Alexia onion rings!
For more meal time ideas, visit the Alexia Foods website or connect with them on Facebook!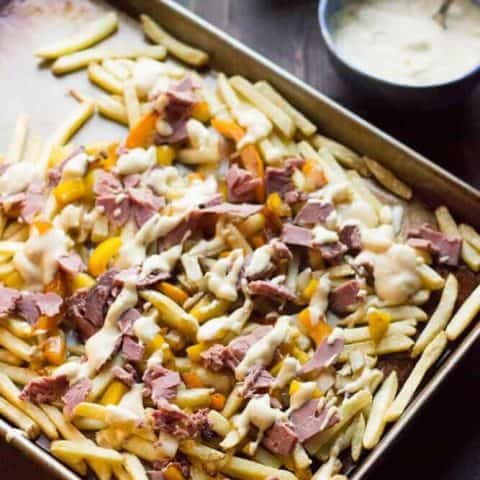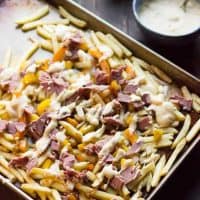 Philly Cheese Steak French Fries
Yield: 6

Prep Time: 10 minutes

Cook Time: 30 minutes

Total Time: 40 minutes

Dinner time gets a fun makeoer with these Philly Cheeseteak French Fry Nachos!
Ingredients
1 20 oz package Alexia French Fries
1 cup sliced deli roast beef
1/2 small yellow bell pepper, sliced
1/2 small orange pepper, sliced
1/2 onion, sliced
1 teaspoon olive oil
1 cup cheese sauce
Instructions
Preheat oven to 400. Cook french fries according to package direction.
Meanwhile heat peppers and onions in oil over a hot skillet. Saute vegetables until they just begin to soften, which should take about 4 minutes.
While vegetables cook, prepare cheese sauce. In a small saucepan, combine 3/4 cup shredded white cheddar cheese, 1 tablespoon cornstarch and 1 cup evaporated milk. Cook over low heat, stirring constantly with a whisk until cheese has melted and has become thick.
When fries are done remove from oven, sprinkle with beef, peppers and drizzle with cheese sauce. Serve immediately.
Notes
Cheese sauce adapted from Cooking Light.



Nutrition Information
Yield 6 Serving Size 1
Amount Per ServingCalories 428 Total Fat 22g Saturated Fat 5g Trans Fat 0g Unsaturated Fat 15g Cholesterol 31mg Sodium 869mg Carbohydrates 45g Fiber 4g Sugar 1g Protein 13g


Alexia frozen sides are a delicious addition to any weeknight meal! They are that little something extra to help create a balanced meal with real ingredients and an exceptional taste!
Sign up for the Alexia Club 350 newsletter to be the first to hear about new products & promotions, get recipes and tips from other members and even contribute your own ideas!
This is a sponsored conversation written by me on behalf of Alexia Foods. The opinions and text are all mine.