Two kinds of chocolate, peppermint bits and peppermint M & M's combine for a perfectly simple minty treat!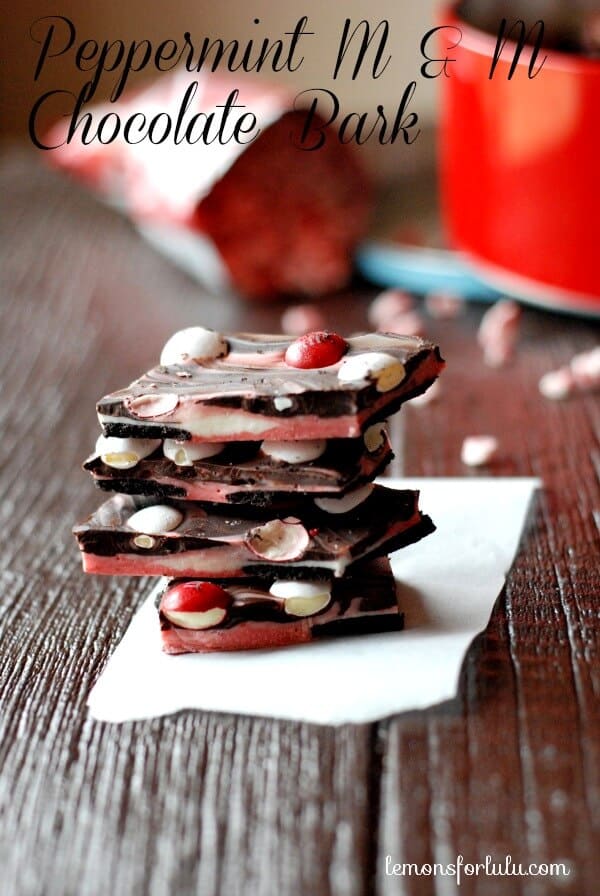 Once upon a time there was a mom who had all her Christmas shopping done by Thanksgiving.   She'd spend the entire summer searching for the perfect gifts for her family, thus ensuring a stress free December.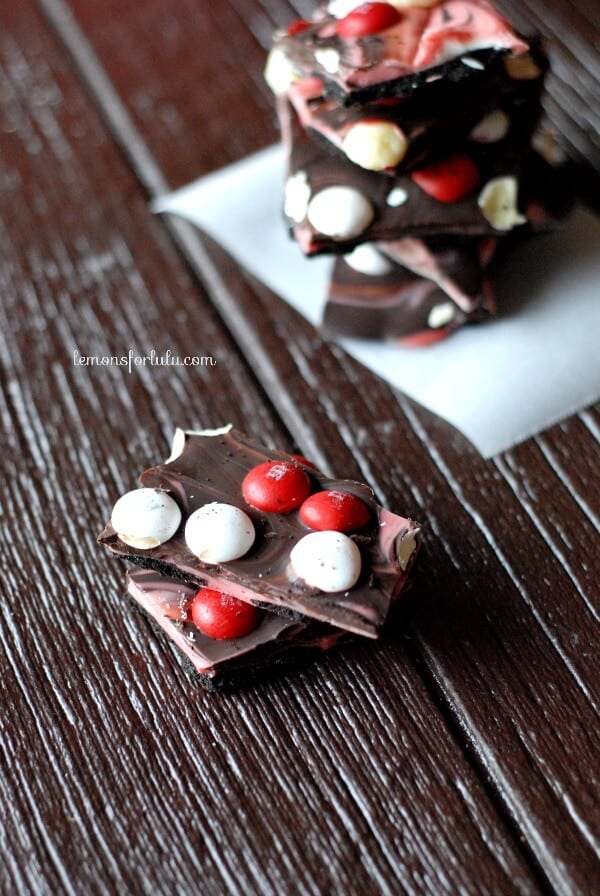 Christmas cards were mailed by December 1st, cookies were made by the middle of December.  She was able to take the entire first 24 days of December to wrap gifts at her leisure, plan Elf shenanigans, and even make crafts with the kids.
But with most fairy tales, our heroine encounters conflicts.  The conflict in this story is time.  The evil villain that is time sneaks up on our heroine and suddenly she finds herself forgetting to move the Elf because she tired from all the last-minute holiday preparations, she orders gifts on Amazon on the last possible day that shipping is guaranteed, her Christmas cards turn into New Year's Cards, the cookie tins are empty and she is desperately trying to convince herself that the presents really will wrap themselves.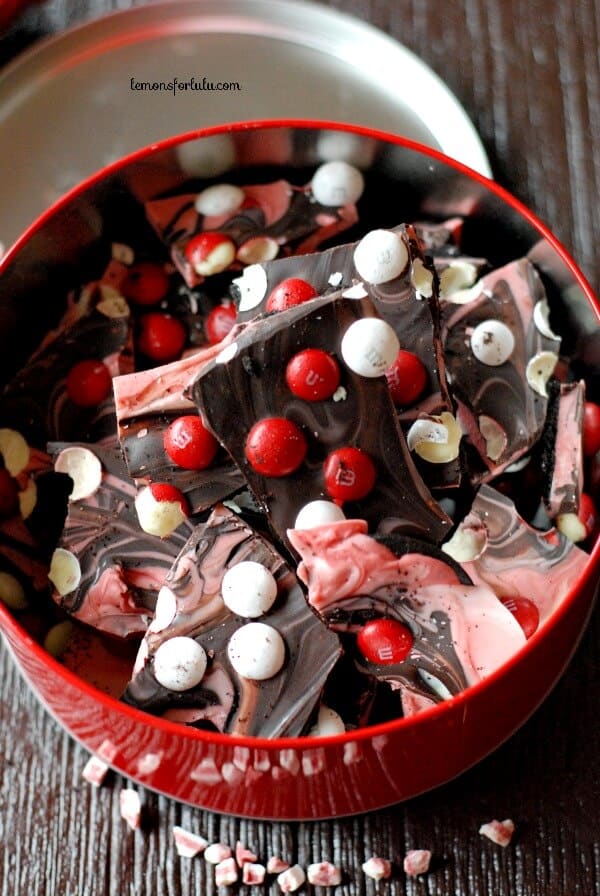 She combats the evil villain by making this 4 ingredient chocolate bark.  With the help of her trusty side kick-the microwave, she melts and stirs one bag of chocolate at a time until she comes up with something magical!  Alas, she finally has one Christmas treat to share with her family, it's red, minty and festive too!  Hallelujah!  Christmas is saved!
If only fairy tales were real.  This bark, however, IS real.  If you feel like our heroine, this chocolate bark could possibly save your day too.
BARK! BARK! BARK!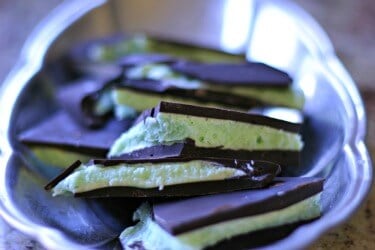 NEVER MISS A RECIPE! SUBSCRIBE TO MY EMAIL TODAY!
FOLLOW ME:
FACEBOOK | TWITTER| GOOGLE +| BLOGLOVIN | INSTAGRAM
Peppermint M & M Chocolate Bark
Ingredients
1 12oz

bag of white chocolate chips

1 12oz

bag of semi sweet chocolate chips

1 10oz

bag Andes Peppermint Baking Bits

3

tablespoons shortening

1 9

oz package Peppermint flavored M & M's

24

Chocolate wafer cookies
Instructions
Line a jelly roll pan with parchment paper. Arrange chocolate cookies on paper and set aside.
In a microwave safe bowl combine peppermint bits, 1 tablespoons shortening and 1/4 cup white chocolate chips. Heat in 30 second intervals until chocolate has melted and is smooth. Pour over cookies.
Repeat the process with the remaining white chocolate chips and 1 tablespoon of shortening. Drop by spoonfuls over peppermint layer and swirl with a knife.
Repeat with remaining tablespoons of shortening and semi sweet chips. Dollop over layer in pan and swirl with a knife once more. Sprinkle M & M's over chocolate and gently press candy in with your fingers.
Refrigerate until set. Break into pieces and store in an airtight container.