Pecan pie granola: breakfast or snack?  How about both?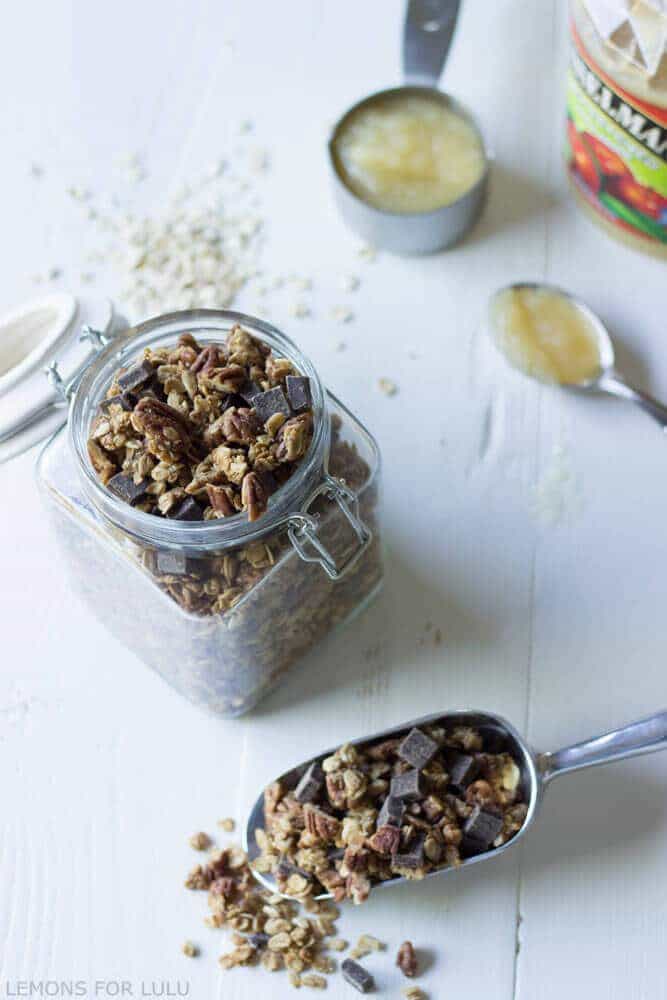 We go though an amazing amount of cereal in this house.  I mean boxes a week.  I have two kids that have a giant bowl both in morning and right before bed.  I have a third who eats a small bowl of plain, dry cereal several times a week.   I don't mind the excessive breakfast consumption, although I'm spending a crazy amount of money on cereal and milk each week.   Money grows on trees right?
Me?  I'm not  a cereal eater.  Occasionally I'll reluctantly grab a bowl, but it's not my favorite.  It's the sog factor.  I can't stand soggy cereal.  If I do manage to eat the cereal quick enough then I find the milk left in the bowl to be, how should I say this?  Gross?    I could eat dry cereal like my daughter but I think I'd rather eat this pecan pie granola instead.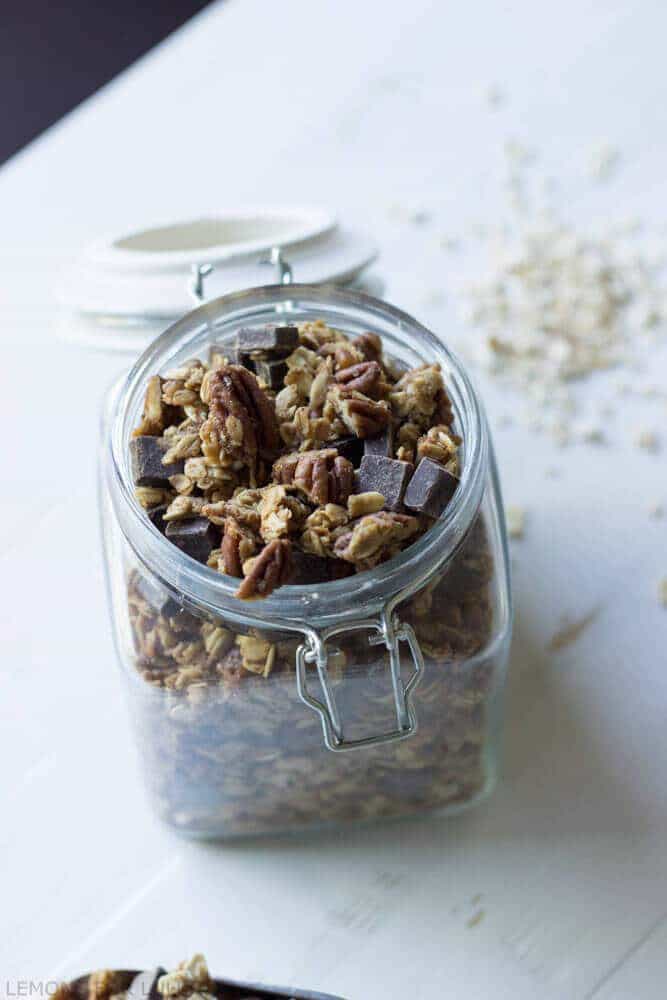 I love making granola, it's easy and I love being in control of the ingredients.  While oats are typically the foundation for most granola recipes, the rest is a free for all. I've made gingerbread granola  which is packed with all sorts of good stuff like several types of nuts, wheat germ, flax seeds, spices and even white chocolate chips.  It was a huge hit around here.  So good in fact that this time I thought I try my hand with pecan pie flavored granola.
While pecans are sort of a must for this granola (otherwise it wouldn't be pecan pie), you really could change out the spices or just adjust them to your taste. Add more maple syrup if you'd like or even substitute honey.  Don't like chocolate chips?  Leave them out.  Whatever goes.  In the past, I've relied on oil to make my granola.  This time I swapped the oil for unsweetened applesauce.  Not only does this make the granola taste wonderful but it's a great way to cut the fat.  Applesauce can be used in all sorts of baked goods including boxed mixes.  This Healthy Swap Chart from Musselman's will give you the conversions you need.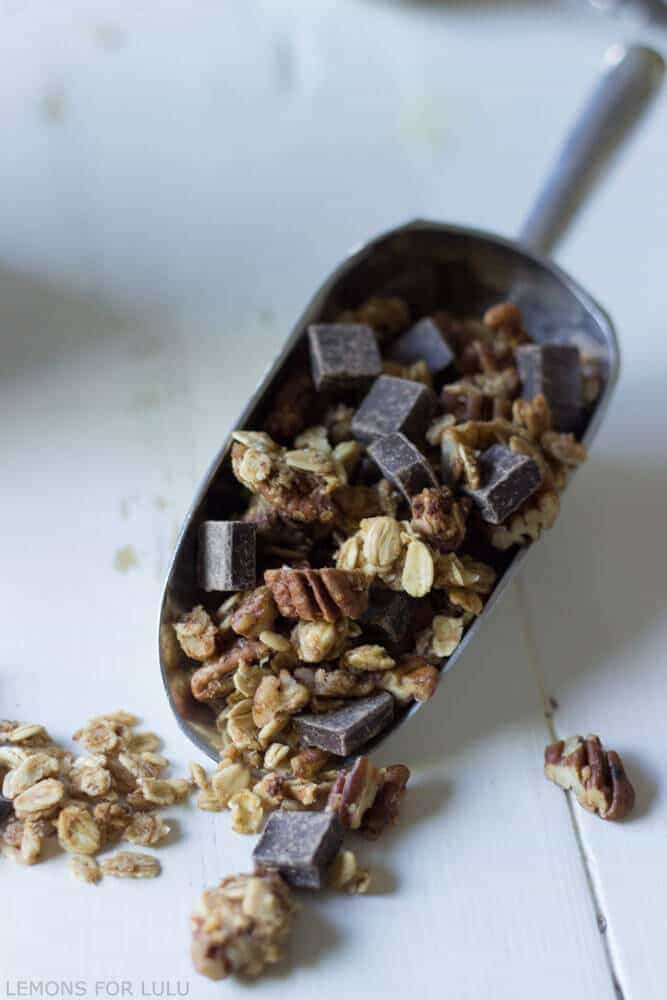 The kids can keep the boxed cereal, this pecan pie granola is all mine!
Be sure to visit Musselman's on the web, Facebook, and Pinterest
*I'm honored to partner with Musselsman's to bring you this granola recipe.   This original recipe and opinions are my own.*
16
adjust servings
Ingredients
3

cups oats

2

cups chopped pecans

1/2

cup wheat germ

2/3

cup unsweetened applesauce

1/4

cup brown sugar

4

tablespoons butter, melted

2

tablespoons maple syrup

1

teaspoon vanilla

1

cup chocolate chunks
Instructions
Pre heat oven to 350.
In a large bowl, combine oats, pecans and wheat germ. Stir in applesauce, sugar, butter, syrup and vanilla. Pour out onto a foil lined jelly roll pan.
Bake 30-40 minutes, stirring twice. Remove from oven and let cool for 30 minutes before mixing in chocolate chunks. Store in an airtight container. Granola will last for 2-3 days.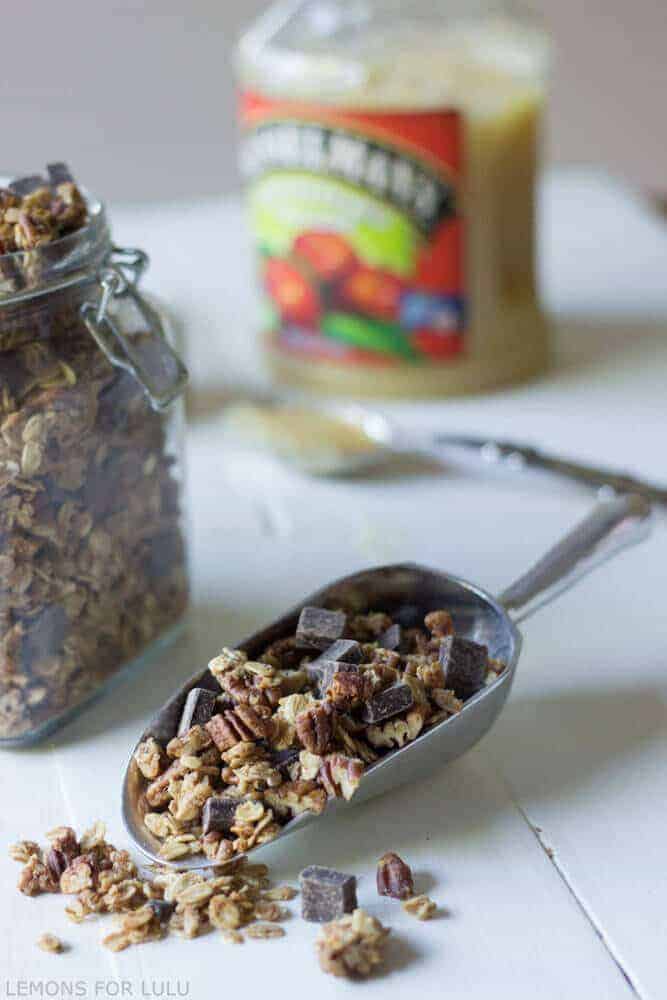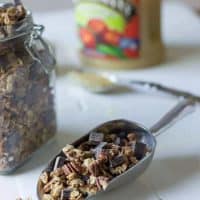 I may be linking this up to these parties and to The Weekend Potluck!