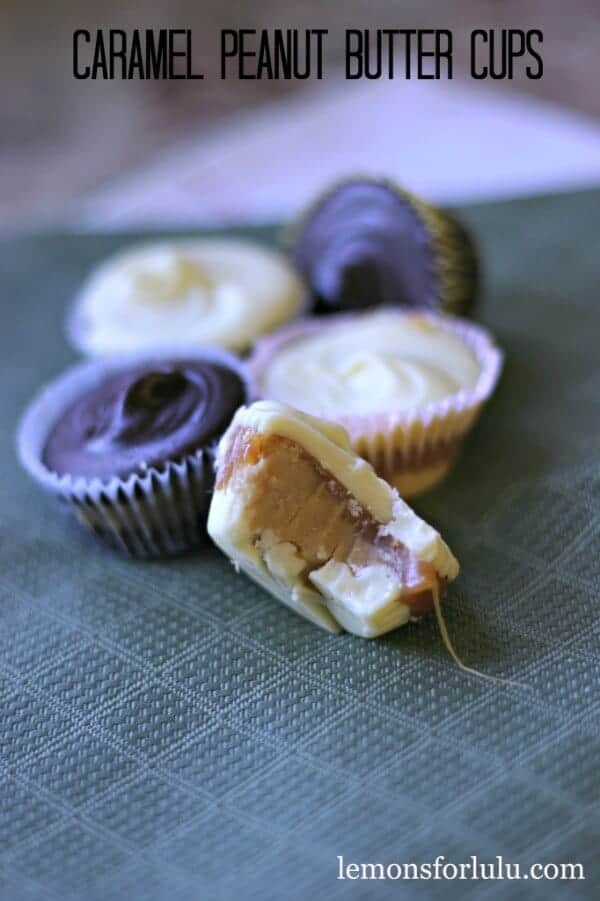 I'm thankful for my missing peace: my husband who has an overabundance of love and patience.
I'm thankful for my 3 little ones.  They fill my days with joy and laughter.
I'm thankful for family and friends both near and far, old and new.
I'm thankful for my Jack Russell who keeps me warm at night, cleans up the crumbs in my kitchen and gives me unlimited kisses.
I'm thankful for my Kitchen Aid Mixer.
I'm thankful for coffee and flavored creamer.
I'm thankful for warm November nights.
I'm thankful for music, books and for Modern Family.
I'm thankful for my readers,  Lemons for Lulu wouldn't be here without you.
I'm thankful for the person who discovered that chocolate and peanut butter go together like peas and carrots.    I'm thankful I discovered that caramel makes it all even better!
HAPPY THANKSGIVING!
You might also enjoy:
Peanut Butter Caramel Cups
36
adjust servings
Chocolate cups filled with peanut butter and caramel.
Ingredients
1/2

cup creamy peanut butter

4 1/2

t butter

1/2

cup powdered sugar

1/2

t salt

3

cups chocolate chips

14oz

package caramels

1/4

cup heavy cream
Instructions
In a bowl, combine peanut butter, butter, and powdered sugar until smooth. Set aside.
In a sauce pan, or a microwave safe bowl, combine caramels and heavy cream. Cook on low heat until caramels have melted. Stir until smooth. Keep warm.
In a separate microwave safe bowl, heat chocolate in 30 second intervals until chocolate has melted and is completely smooth.
Drop teaspoons of chocolate into paper lined, mini muffin cups. Top chocolate with a teaspoon of peanut butter followed by a teaspoon of caramel. Smooth out caramel to cover peanut butter. Top with another teaspoon of chocolate. Refrigerate until chocolate has set. Store in an airtight container. Makes about 3 dozen. You may have extra caramel.
I doubled the peanut butter recipe and made a batch with 3 cups of white chocolate.