Summer is about taking it easy.  This pasta carbonara lets you do just that!
This carbonara sauce has been lightened, but with both chicken and bacon, it has an abundance of flavor!
This simple pasta dish will become a new family favorite!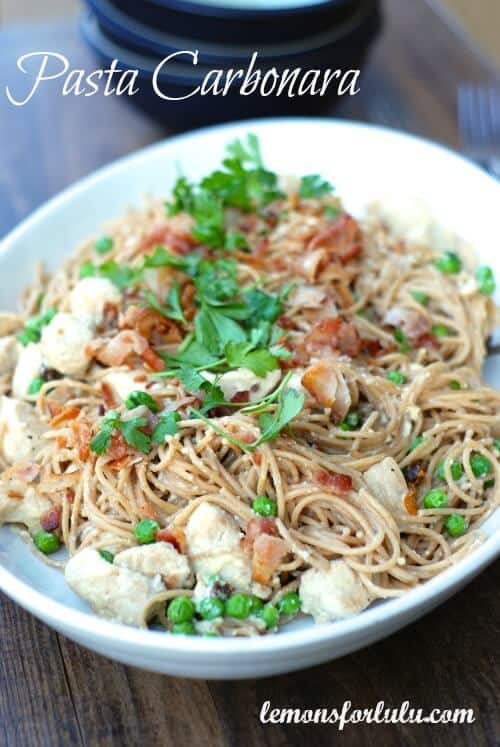 I thought summer was supposed to be like the life of Riley-easy.  Why on earth is our summer so difficult?  It's been non-stop since the end of school and frankly, I hate it.  I'm a home body that likes routine.   Not this ever changing, quick-paced summer our family is  presently experiencing.  I can hardly keep our calendar straight, there are  too many things to juggle.  I need order back in my life because I'm feeling crazed.  Between  daily swim practices, several baseball games a week, gymnastic practices, swim meets, summer camps, church groups and social activities, I'm struggling to keep organized.    I loathe being unorganized.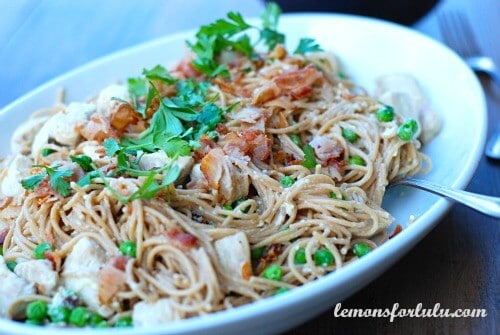 I admit, we did this to ourselves.  In our effort to expose our kids to many different experiences, we've managed to over schedule our time.  I'm torn between wanting our kids to try everything to being worried that we aren't allowing them to just be kids.  I fear that we have gotten our children so accustomed to an over active lifestyle and should they find themselves with nothing do, would  they know how to spend that time creatively and constructively?
When I was young, I spent my summers doing a whole lot of nothing much.  I'd wake up, lounge in my pajamas for several hours, watch tv, then go out and play until dark.  I'd go to the pool if I got an invitation.  Never set foot in any sort of camp (if they even existed back then).  Sports and activities weren't on the agenda either.  If they weren't done during the school year, then they weren't done at all.  By mid August I had played all I could play and was officially bored and therefore ready to go back to school.  It was a simple schedule for a simpler time.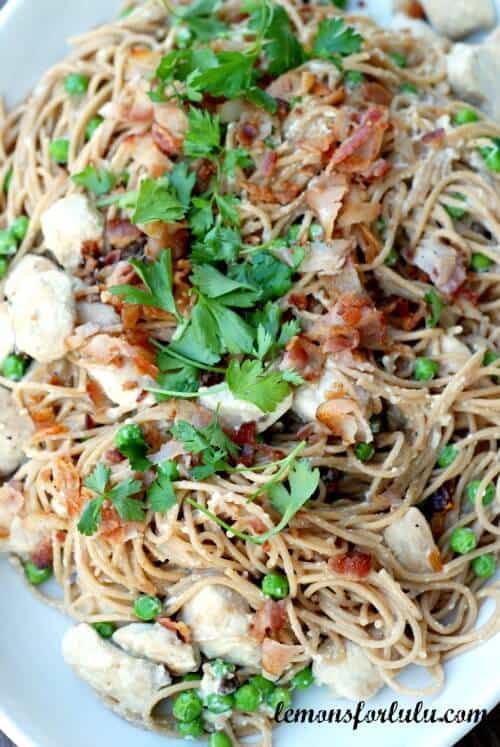 Thankfully, most of our activities come to an end by mid July.   And when they do come to an end, I'm going to insist that we all lounge in our pajamas until noon at which point we will jump into our bathing suits so we can have a lazy pool-side  afternoon.   We will play tag and hide and seek outside until the sun goes down.  When it finally gets dark, we will have a campfire, search for the Big Dipper and catch fireflies.  Then the next day the cycle will start all over.  And if I've done my job correctly, by mid August our kids will promptly announce that they are bored and  I will be happy.
Our schedule is too crazy for fancy, complicated dinners.  This pasta carbonara fits perfectly into our current routine.  It comes together quickly as you can cook the chicken while the pasta comes to a boil.   I love that despite the ease of this dish, the flavor is not compromised.   I used Egg Beaters to keep the sauce light, and although I used regular bacon to crumble on top, you could use turkey bacon or omit it all together.    This pasta carbonara is an easy, quick, light dish for any schedule-busy or not!
MORE EASY DINNERS FOR YOU: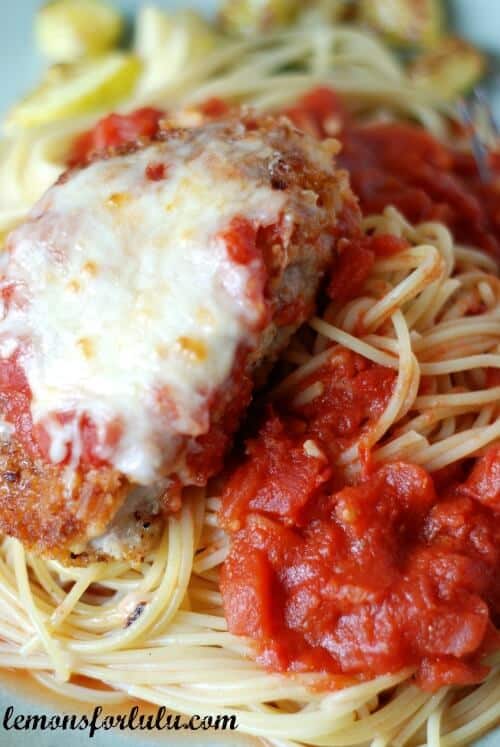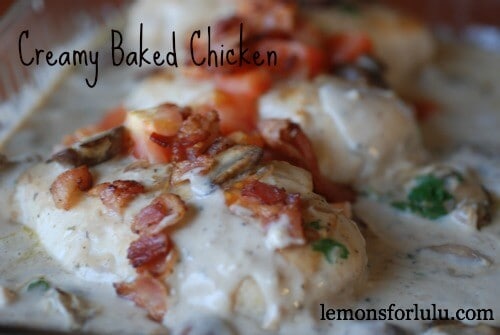 NEVER MISS A RECIPE!  SUBSCRIBE TO MY EMAIL TODAY!
FOLLOW ME:
FACEBOOK | RSS | TWITTER | GOOGLE + | BLOGLOVIN | INSTAGRAM
Ingredients
1

lb chicken tenders, cut into chunks

4

strips bacon

1-4oz

container Eggbeaters

1/2

cup milk

1/2

cup sun dried tomatoes in oil, chopped

1

lb spaghetti

1

cup peas

1/2

cup Parmesan cheese

Salt, pepper to taste

1/4

cup Italian leaf parsley, chopped
Instructions
Prepare pasta according to package directions; add peas during the last 5 minutes of cooking time.
Meanwhile cook bacon until crisp. Remove to a paper towel to drain. Remove all but one tablespoon of bacon grease. Cook chicken until browned and no longer pink, about 5-8 minutes. Remove and set aside.
In a small bowl whisk together Eggbeaters and milk to combine. When pasta is ready drain, and return pot to stovetop. Stir in sun dried tomatoes, chicken, egg mixture and Parmesan cheese. Stir a minute or two or until mixture begins to thicken. Pour onto your serving dish. Chop reserved bacon and sprinkle over pasta along with parsley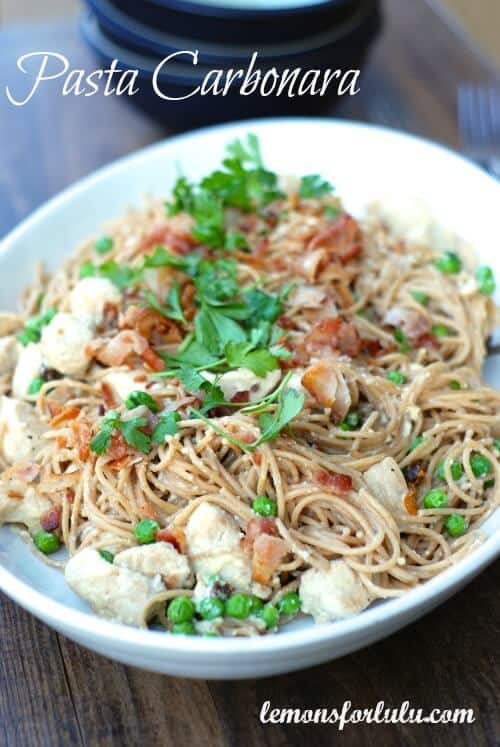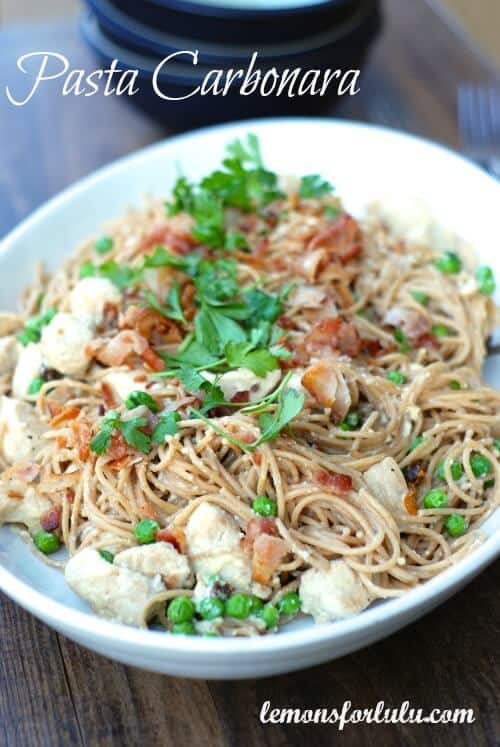 `