Want a family friendly dinner idea? Tired of the same old-same old?
 Pasta Bolognese is a simple and satisfying pasta dish that is sure to become a favorite!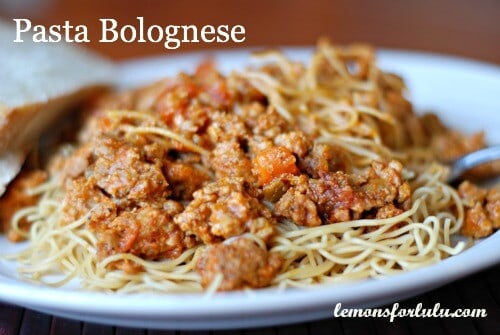 I've been thinking about this challenge that our church has issued.  The challenge begins next week and to be quite honest, I'm not sure I can do it.  The challenge is this:  to eat beans and rice for one week.  A large percentage of the world's population exists on this diet alone.   What would that feel like to us?   We are used to dessert after every meal, we have drive thru's that cater to our every whim, we have organic, vegan, fat-free, diabetic, low cholesterol, calcium fortified, gluten-free foods at our disposal wherever we look.  It used to be that we had to shop at a Whole Foods to get these foods, but now they are as common as whole wheat bread.   Third world nations simply have grains and legumes.  The idea is then, to take the money we saved from our weekly grocery bill and put it towards inner city projects.  A noble cause.
I LIKE the idea of eating clean and simply for an entire week.  But, here are my reasons why I don't think I can execute the plan.
1.  Our kids.  Our kids love black beans.  They love rice too!  That is not the problem.  The problem is there is no way they could eat them 7 nights in a row.  I'd never get them to eat a bean (sans the jelly kind) again!  They'd probably send my parents texts pleading for them to come rescue them from their dining despair.  My mother would then lecture me on what mother's are supposed to feed their children and will proceed to tell me that I should teach my family to eat more  cabbage because it is the super food of the century! (I can't make this stuff up!)
2. Variety.  How many ways can I really serve beans and rice?  Douse it hot sauce?  That would be ok for me, but not my family.  In a taco shell, in a quesadilla, in broth,  in wonton cups, in a bowl, on a plate? I'm flummoxed already.
3. Gas and bloating.  Moving on.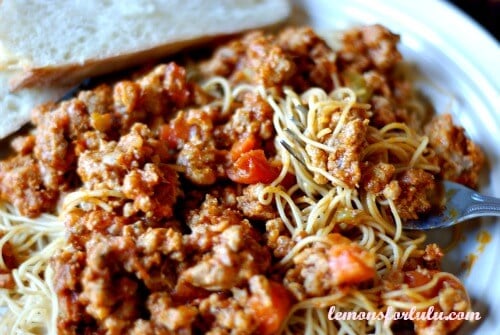 4.  Then there's the reality that we will miss out on an entire week of fabulously aromatic and flavorful dishes like this pasta bolognese!   This is D-liscious!  Seriously.   I used Italian turkey sausage and pork in this sauce.  I added skim milk  to make it a little smoother and creamier but without adding a lot of fat .  I loved the zesty tomato flavor and the bite sized carrots.    See what I mean???  I'm weak, I know, but damn this is good stuff!
I will come up with another way to  participate.  Perhaps I'll save money on baking supplies for a week?  Nah, who am I kidding, I can't do that either!  Baking is sort of my livelihood after all!
I'll just eat my pasta and pray that another idea hits me.  Or, how about this, you make yourself some pasta bolognese, mull over my dilemma and tell me what I should do.  How about that?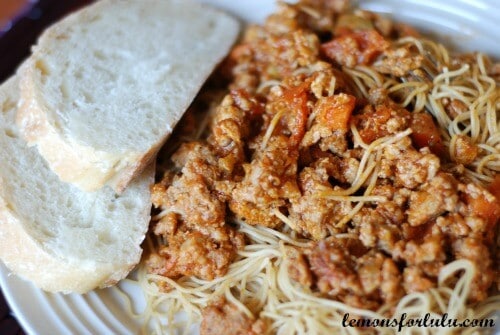 You might enjoy these too: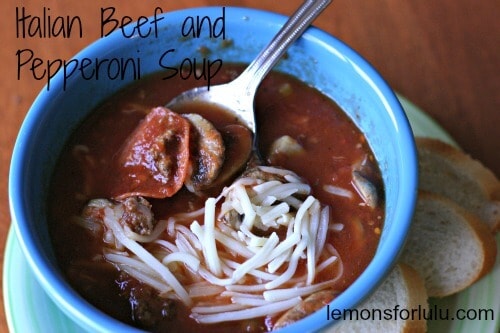 Want more Lulu? Follow Me!
Ingredients
2

tablespoons olive oil

1

cup chopped onion

1

stalk celery, chopped

1

large carrot, chopped

2

cloves garlic

1/2

teaspoon salt

1

pound ground pork

1

pound Italian turkey sausage

1/3

cup tomato paste

1

1/2 cups diced tomatoes

1 14oz

can vegetable stock

1

cup water

1

cup milk

1/4

teaspoon nutmeg

1

pound cooked spaghetti
Instructions
In a large stockpot, heat oil over medium low heat and brown the turkey sausage. Add onions, celery and carrots and cook until veggies are soft and onions are translucent-about 10 minutes. Add garlic and cook for one minute. Season with salt.
Stir in tomato paste and cook for one minute before adding the chopped tomatoes, stock, water, milk and nutmeg. Stir.
Let mixture come to a boil over medium heat. Let simmer for 40-45 minutes until sauce thickens.
Serve over cooked spaghetti.
Serves 4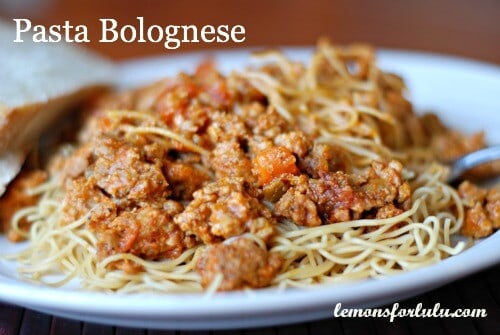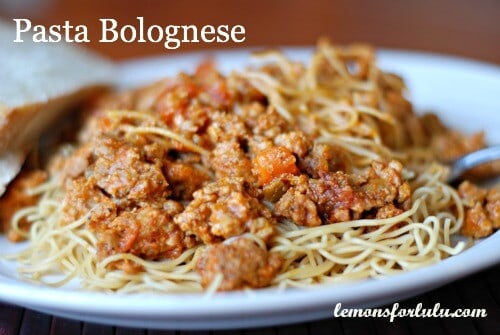 You'll find this recipe on my Pinterest Board!
I'll be sharing this recipe at these sites as well as too: Jam Hands, Back for Seconds,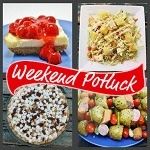 AND

If you've enjoyed this post, I'd love a thumbs up!  I'm in the running for the Top 10 Food Blogs!