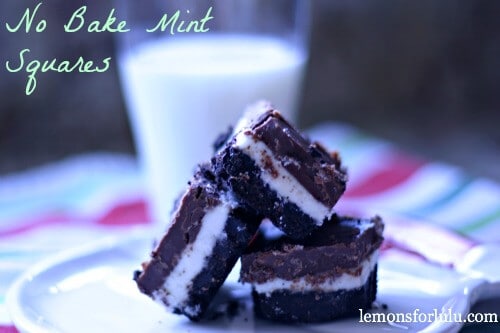 I love leaving cookies out for Santa. It's one of my favorite traditions. We have a very specific agenda for Christmas Eve. First we sprinkle reindeer food outside, then each child writes their own special note to Santa, then we grab Santa's special plate and each child loads it with all their favorite cookies and candies. We fill up a tall glass of milk for Santa to wash it all down.
Once the kids go to bed, my husband and I have very specific jobs. I work on Santa's reply. This is no easy task. In fact, it sucks. The only way to disguise my handwriting is to write with my left hand. I'm not ambidextrous. This takes me hours!!! Meanwhile, my husband grabs the milk and the plate of cookies and sets about eating…everything. I find this to be extremely funny. I remind him he doesn't have to actually eat the cookies. After all, the kids won't know that "Santa" put the cookies back. I think he feels obligated to stuff himself, just like the big guy. I suppose if the kids took the time and care to pick out their favorite cookies, the least he could do is eat it all, leaving the necessary crumbs as evidence.
The first thing the kids do when they wake up Christmas morning is squeal with delight at the site of the tree and all the presents. Then they bee line to Santa's cookie plate to make sure nothing was left. My son usually reads aloud Santa's note and passes it around as proof that Santa was here (because the presents weren't enough). In that moment, the writers cramp in my left hand doesn't matter and my husband's cookie induced belly ache seems inconsequential. It's all worth it. We smile and think to ourselves that we can't wait to do it again next year!
These mint squares have been enjoyed by Santa for years!!! I love how easy they are to put together. The minty cream filling is so delicious and is the perfect topping for the cookie crust. Santa is a lucky man!
If you'd like a little Lulu in your life, please subscribe via email, RSS, Facebook or Google +. I love staying in touch with friends!
You might enjoy these too: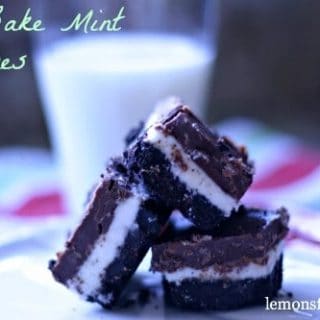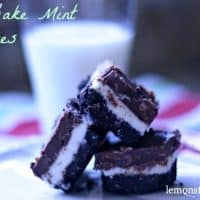 No Bake Mint Squares
Additional Time:
15 minutes
No bake mint squares with a cookie crust, creamy mint filling and a mint flavored chocolate topping.
Ingredients
1/2 cup butter
1 bag (10oz) mint flavored semi-sweet chocolate chips (I used Andes)
2 cups chocolate wafer cookie crumbs
1/4 cup butter, softened
3 T milk
1/2 t peppermint extract
1/2 t vanilla
2 cups powdered sugar
1/3 cup butter
Instructions
Lightly spray a 8 in square pan, set aside. In a medium saucepan melt 1/2 cup butter and 1/4 cup of the chocolate chips, stirring over low heat. When melted, remove from heat and stir in cookie crumbs. Press evenly onto greased pan. Refrigerate until firm, about 10 minutes.
In a small bowl, beat together 1/4 cup butter, milk, peppermint and vanilla extract on medium speed until blended. Slowly beat in powdered sugar until smooth. Add more milk if consistency is not creamy enough for spreading.
Spread peppermint filling over cookie crumbs. Return to refrigerator. In a small saucepan, melt remaining chocolate chips and 1/3 cup butter over low heat, stirring continually. When melted, spread over peppermint filling. Refrigerate until set, at least 15 minutes. Cut into squares
Nutrition Information
Yield

25
Serving Size

1 square
Amount Per Serving
Calories

159
Total Fat

10g
Saturated Fat

6g
Trans Fat

0g
Unsaturated Fat

4g
Cholesterol

21mg
Sodium

120mg
Carbohydrates

17g
Fiber

0g
Sugar

13g
Protein

1g
I'll be linking this recipe up to
these f
abulous sites, as well as to:
Jam Hands
,
The DIY Dreamer
and
recipe adapted from Betty Crocker