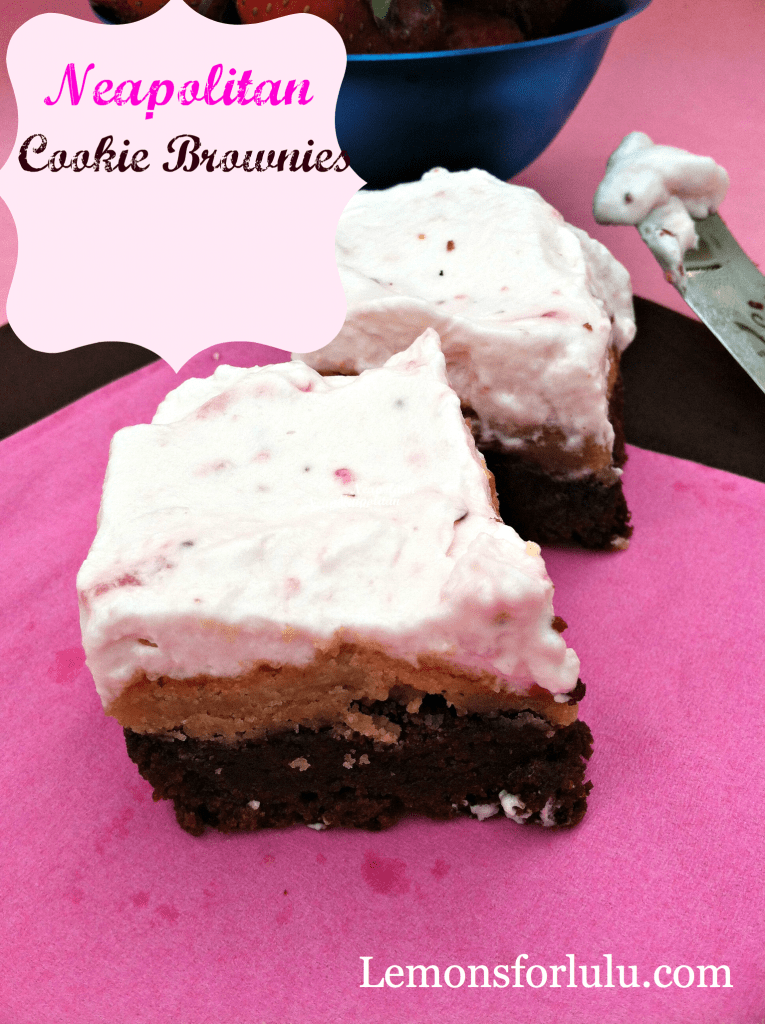 When my daughter, Lucy,  announced that her bear was turning 3, I figured we had to celebrate.   Lucy adores her bear!  Actually, she has two bears.  Their names are Bear, Bear and More Bear Bear (original, I know!).  They are identical in every way except More Bear Bear sports a bow.  I've been told that one's the boy.
Both bears are very special to us.  They are very loved.  Which is why we have two.  When we discovered Lucy's attachment to this bear, I immediately set out to find it's double so that we would  never be without!!  Turns out we'd be in trouble anyway, since she carries around BOTH bears.
These bears are what you call lovey's.  They have a bear head, and the bottom drapes like blanket.  The silk at the end is worn wear Lucy pulls it across her face when she is tired or anxious.  There a few holes that I need to stitch.  The ears are a bit misshapen since their faces are usually tucked under Lucy's chin as she sleeps.  The once soft material is now a bit fuzzy and is beginning to pill.  One bear has a piece of thread dangling from a corner.  I don't pull it for fear that part of the bear will unravel.
Yes, these little bears are near and dear to my little girl.  Lucy calls them her babies.  She walks them in a stroller. She reads to them.  She brushes their "hair".  In return, they've comforted her during very long car rides, during many doctor visits, late summer nights, the transition to the big kid bed and even during potty training.  Bear Bear pooped out raisins to show Lucy how it's done!  Weekly, these little bears accompany Lucy to gymnastics class as well as to swimming lessons.  They are her constant companions.
My eight year old has a little stuffed animal that she's loved since she was an infant. Teeper is her animal's name ( now that IS an original name!)  Teeper doesn't follow her everywhere now.  My oldest doesn't need her as much, which is good of course.  Every once in a while I catch my older daughter giving Teeper a quick kiss before bed.  I'm always very touched by that.  Such love and devotion.  Such special memories.  Interestingly, my son, never had an attachment to a stuffed animal.   Wonder why that is?
One day, my kids will fly from this nest.  I will hold onto  Bear Bear,  More Bear Bear, and Teeper for as long as I can.  They hold special memories in my heart.  Memories of my babies and the comfort and security they once needed.  Memories of these animals that were once extensions of themselves.  I will hold them close, rub their worn and tired little arms and ears across my cheek.  I will smell the faint smell of my babies breath.   I will take comfort in knowing that my sweet girls know what it is like to both give and receive unconditional love.
Oh yeah, back to the birthday!  We had cookie brownies with strawberry frosting!  They were outstanding!  The end!
If you enjoyed this post, please consider subscribing via email, RSS, Facebook or Twitter!  I love sharing with friends!  Come back soon.
Here are other Neapolitan treats that you might enjoy:
Neapolitan Cupcakes         The Cupcake Blog
Neapolitan Marshmallows  Not So Humble Pie
Neapolitan Rice Krispies     Erin Cooks
Neapolitan Cookie Brownies
Ingredients
1

box brownie mix

1

package premade sugar cookie roll 16oz

Strawberry Frosting
For the frosting
1

cup heavy whipping cream

1/3

cup sugar

4

T strawberry puree (about 1/4 cup strawberries chopped in a food processor)
Instructions
Preheat oven to 350. Allow cookie dough to come to room temperature. Prepare brownie according to package directions, baking for the lowest time stated. Once brownies are ready, immediately break apart cookie dough and spread carefully with fingers onto brownie. Place brownies with cookies back in the oven. Increase oven temperature to 375 and bake an additional 10 minutes. Allow brownies
For the frosting
In a mixer, whip cream until it becomes thick and resembles whip cream (about 2 minutes). Add in sugar. Mix in strawberries until completely combined.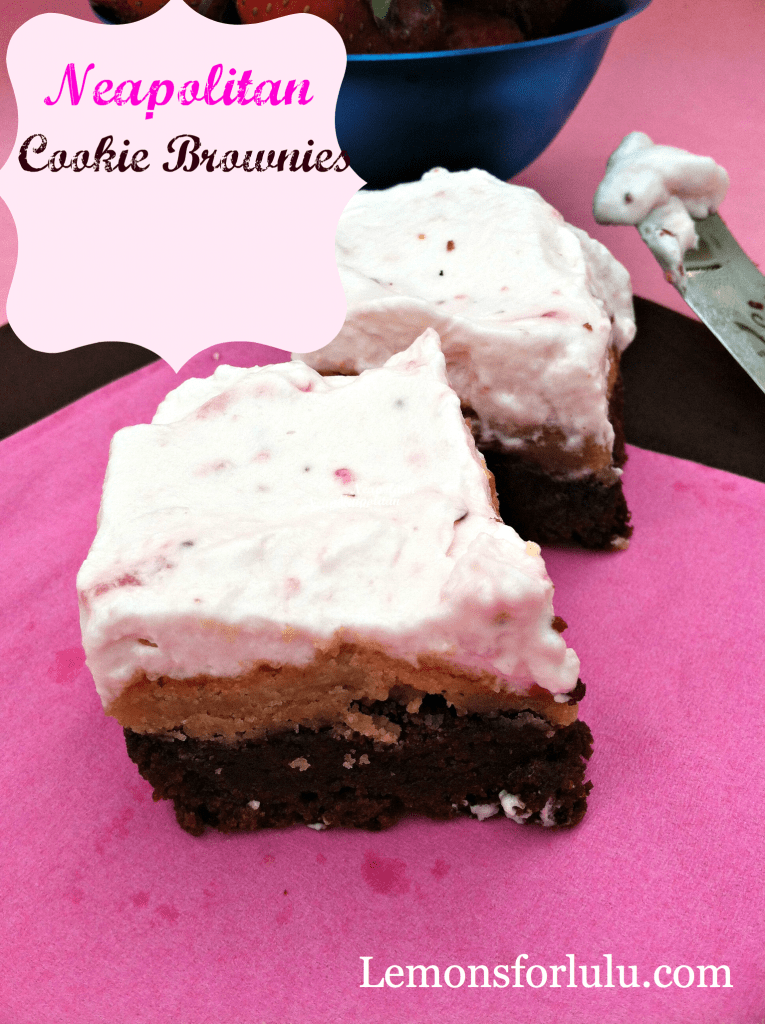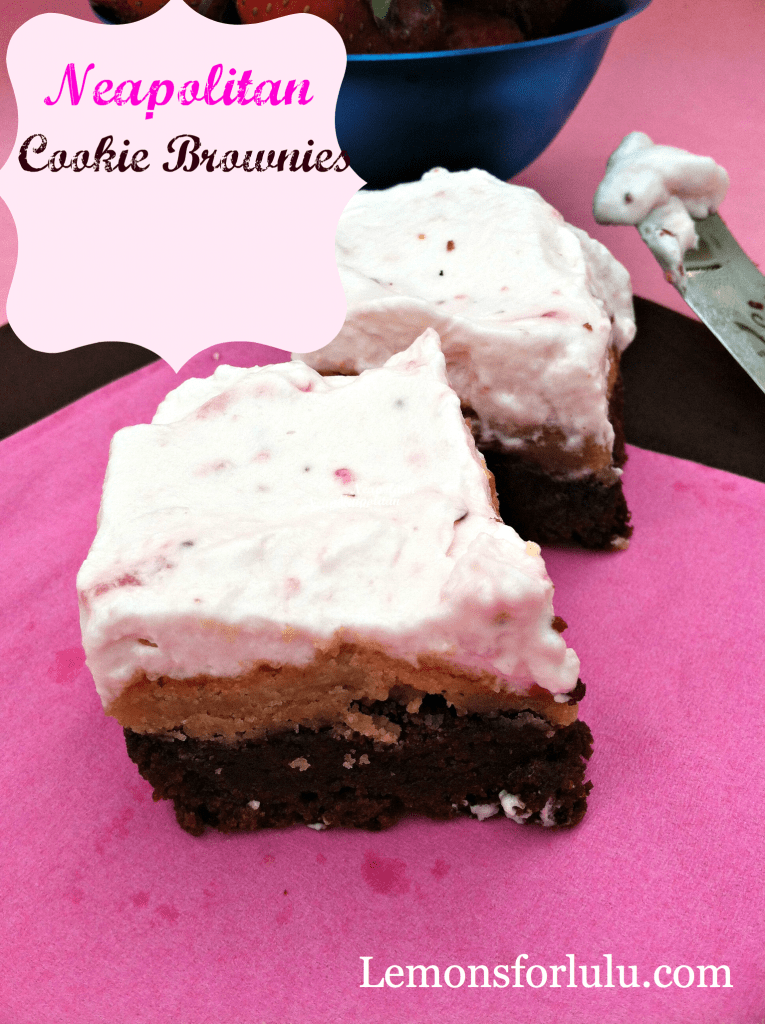 Frosting adapted from The Cupcake Project