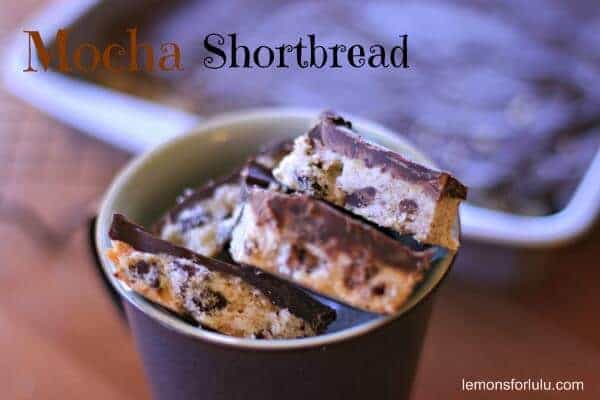 One of the best things about moving is getting a new phone number.  And for this time of year, it means that we've ditched the political calls! Yeah!!!!
I was so tired of hearing "if the election were held today….".  I'm not interested in being a statistic!  Since I have a hard time hanging up on people while they are speaking, I would end up listening to them until there was a pause in their script and THEN I'd hang up!!  Ha! No, actually, I would very politely tell them I'm not interested.  It's not that I don't care about the election and who is running our country, it's just that I'm tired of lip service.   Really, what this country needs is more cookies!  Like these mocha shortbread cookies for starters!!!   I tell you they could unify both political parties with one bite!
Look, I'm going to tell it to you straight, I don't care if you vote democrat or republican.  I don't care where you stand on the social issues or the economic issues.  All that matters is  do you like shortbread?  Cuz, if you don't, I'm done with you!  No, I'm not, just messin with ya!  But your life would be better if you tried these!  Trust me!  These buttery shortbread cookies melt in your mouth!  They are full of mocha flavor and have a lovely layer of chocolate resting on top.  These mocha shortbread cookies are quite rich, so cut them into bite size pieces and share them with your neighbors!
I love keeping in touch with friends, please consider following me via email, Facebook, Pinterest or RSS.
I made these too:
Lemon Thumbprint Cookies with White Chocolate Ganache
I found these yummies on Pinterest:
Mocha Shortbread with Nutella Cookies                                       My Baking Addiction
Mocha Shortbread                                                                              From Which Things Grow
I'll be sharing the post with these lovely sites as well as to: Jam Hands,
The DIY Dreamer, and
24
adjust servings
A buttery shortbread cookie with lots of mocha flavor!
Ingredients
1 1/4

cup flour

1/2

cup powdered sugar

2

t instant coffee granules

2/3

cup butter, softened

1/2

t vanilla

2

cups semi sweet chocolate chips, divided
Instructions
Combine first 3 ingredients in a bowl. Add in softened butter and vanilla. Beat on low until blended. Stir in one cup of the chocolate chips.
Press dough into an ungreased, 9 in square pan. Dough will be crumbly.
Bake in a 325 degree oven for 20 minutes. Remove and sprinkle with remaining chocolate chips. Return to oven for 1 minute to melt the chips. Spread chocolate over shortbread until even and smooth.
Cut shortbread then cool for about 30 minutes.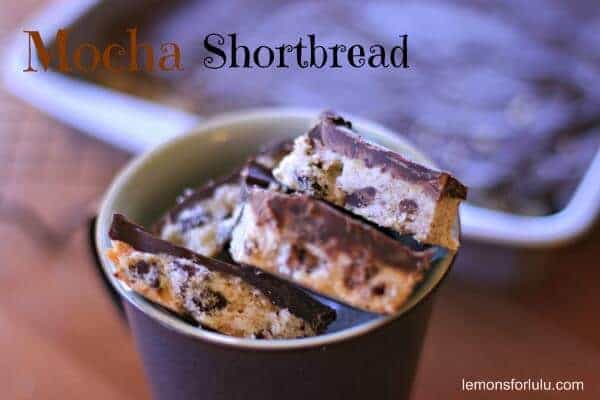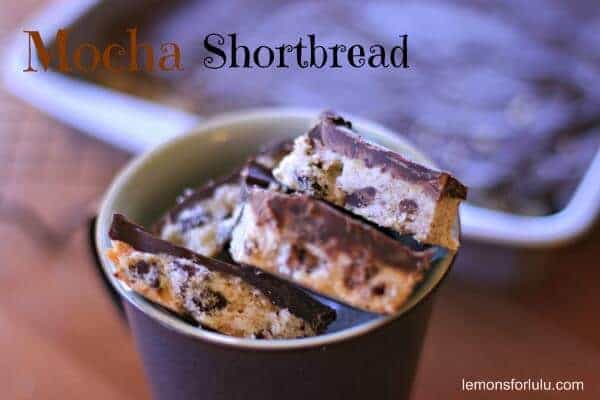 Recipe adapted from Southern Living