This biscotti recipe is minty, crunchy, sweet and perfect for dunking in your coffee!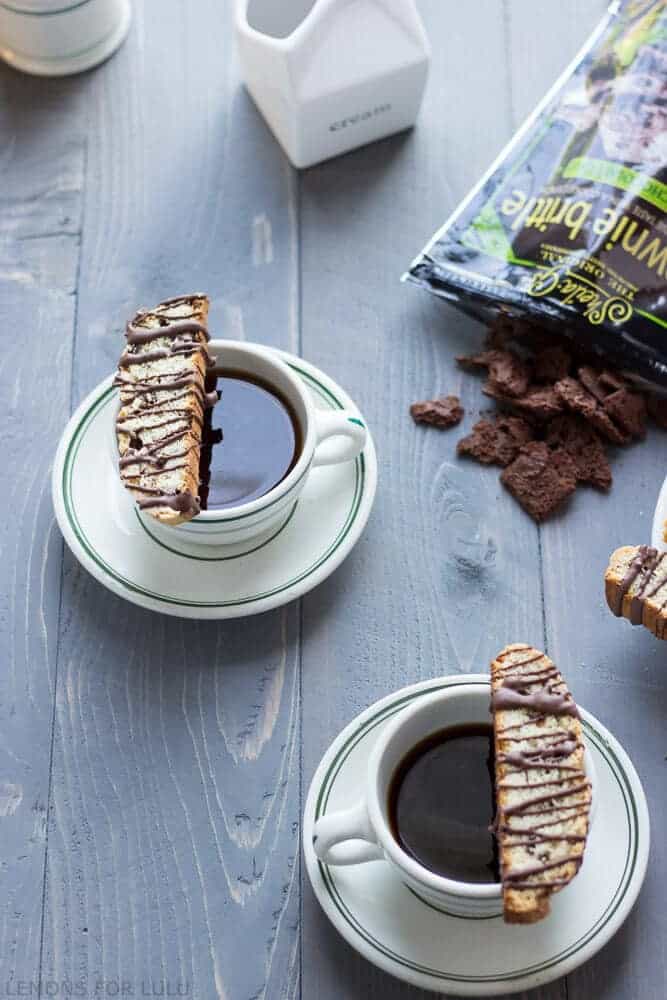 The first time I tried biscotti was back in my college coffee shop days. My friends and I would hang out, night after night in the coffee houses on campus. The crowd in these houses were always the same. There was lots of black, from the crowns of our heads down to the tips of our Doc Martens. The smoke from clove cigarettes hung thickly in the air as the conversation swirled around poetry and politics. Well, I was talking about boys but I'm sure some people were talking about poetry and politics!
I cannot remember my favorite coffee drink, but I can remember the chocolate biscotti I'd dunk in my coffee. My favorite part were the crunchy cookies and the way they absorbed the coffee without falling apart. I could consume three or four before I even finished my coffee. Little did I know then that a biscotti recipe was so easy to make at home.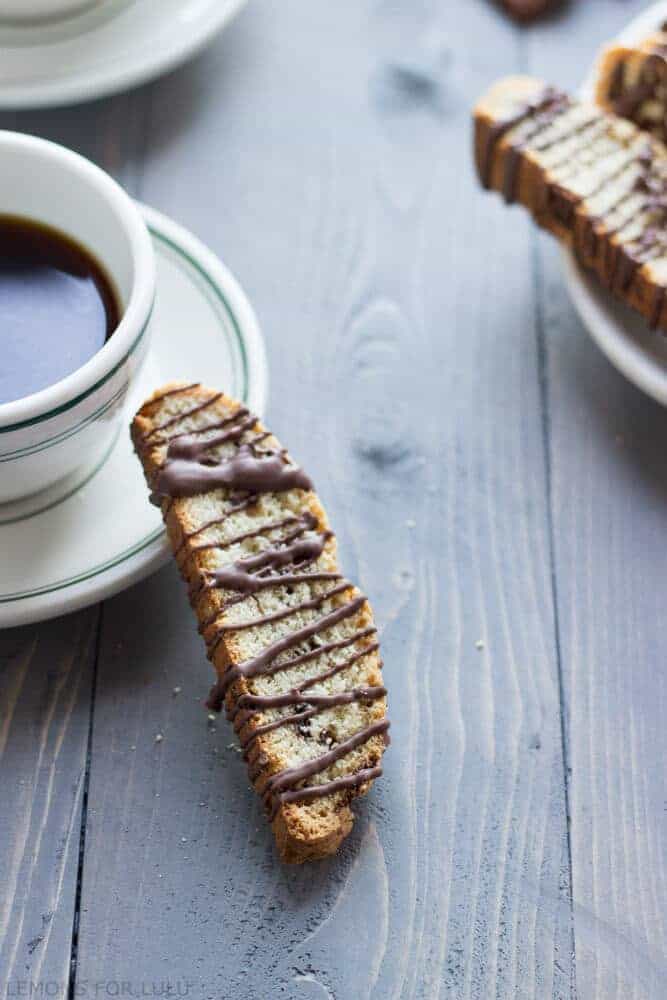 I have all sorts of biscotti recipes like these maple glazed biscotti or even these samoa biscotti. They are the perfect cookie; slightly sweet, crispy and crunchy with an endless possibility of flavors. This time I added SECRET INGREDIENT; crushed up Mint Brownie Brittle. This is such a simple way to flavor a cookie. It's probably my new favorite biscotti recipe. The mint is subtle but the chocolate brownie flavor is strong. The vanilla cookie base brings out the chocolate in the brownie brittle and the chocolate brings out the vanilla in the biscotti. Funny how that happens.
The key to making a good biscotti recipe is to start baking at a low oven temperature.
Remove the biscotti and let it sit on the cookie sheet. Spritz it lightly with water before cutting and returning the biscotti to the oven. I leave my biscotti upright during the second bake. I think the sides bake up more evenly. Let your biscotti cool completely before drizzling with the mint chocolate. Drizzle one side, let the chocolate stand then flip the biscotti and drizzle the second side with chocolate.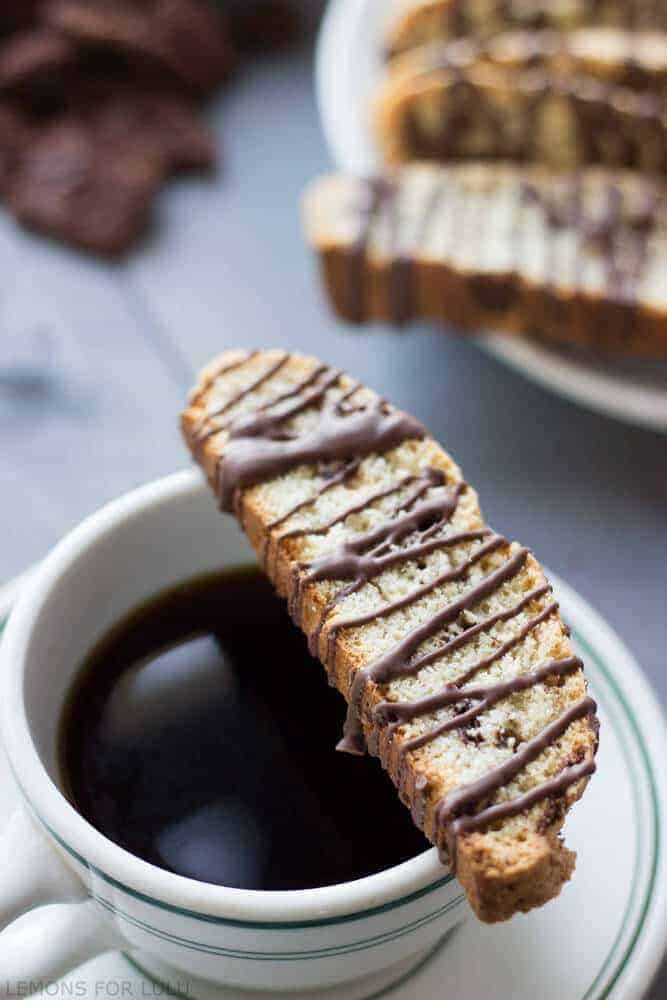 This Mint Brownie Brittle biscotti recipe would make excellent gifts.
Anyone would love to indulge in these cookies. If you find you like them too much to share, then that's ok too. I cannot blame you, they really are special.
You don't need poetry and artsy fartsy coffee shops to enjoy these twice baked tasty treats. Bake them up at home and enjoy!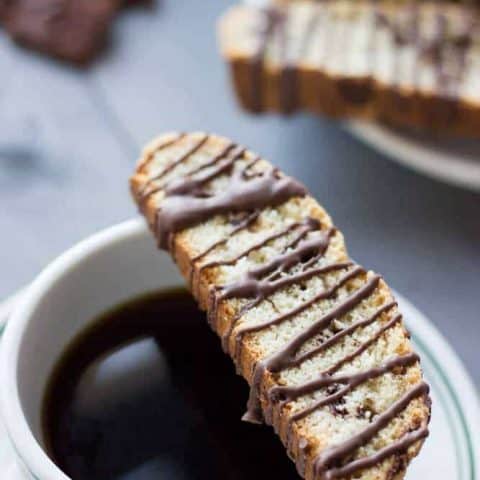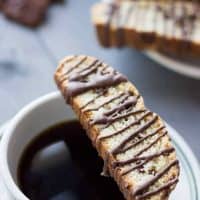 Mint Brownie Brittle Biscotti
Prep Time:
1 hour
10 minutes
This biscotti recipe is minty, crunchy, sweet and perfect for dunking in your coffee!
Ingredients
For the biscotti
6 tablespoons unsalted butter
2/3 cup sugar
1/4 teaspoon salt
1 teaspoon vanilla
1 1/2 teaspoon baking powder
2 eggs
2 cups flour
1 cup Mint Brownie Brittle coarsely chopped
For the chocolate drizzle
1 1/2 cup mint flavored chips, melted.
Instructions
Preheat oven to 350. Line a baking sheet with parchment paper and set aside.
In a mixing bowl, combine butter, sugar, salt, vanilla and baking powder until creamy. Beat in eggs one at a time. Carefully stir in flour, beating until mixture is smooth. Stir in chopped Brownie Brittle.
Transfer your dough onto your baking sheet and shape dough in a log about 14 inches long and about 2 inches wide.
Bake for 25 minutes. Remove from the oven and let stand for about 15-25 minutes. 5 minutes prior to cutting, gently sprinkle with water, taking care to reach all sides of the biscotti.
Reduce oven temperature to 325. Wait another 5 minutes and slice biscotti into 3/4 inch slices. Stand biscotti upright and bake for 25 more minutes. Remove and let cool on baking sheet.
When biscotti have cooled, lay cookies on one side. Drizzle with melted mint chocolate. Let cookies stand until chocolate has set. Flip cookies over, re-melt chocolate and drizzle second side.
Store cookies in an airtight container.
Nutrition Information
Yield

24
Serving Size

1
Amount Per Serving
Calories

201
Total Fat

4g
Saturated Fat

2g
Trans Fat

0g
Unsaturated Fat

2g
Cholesterol

25mg
Sodium

81mg
Carbohydrates

38g
Fiber

0g
Sugar

21g
Protein

2g