Puff pastry is covered in lemon sugar and served with a sweet blueberry sauce!
Disclosure: I received compensation from Lucky Leaf for recipe development purposes. All opinions are my own. For more Lucky Leaf recipes, click here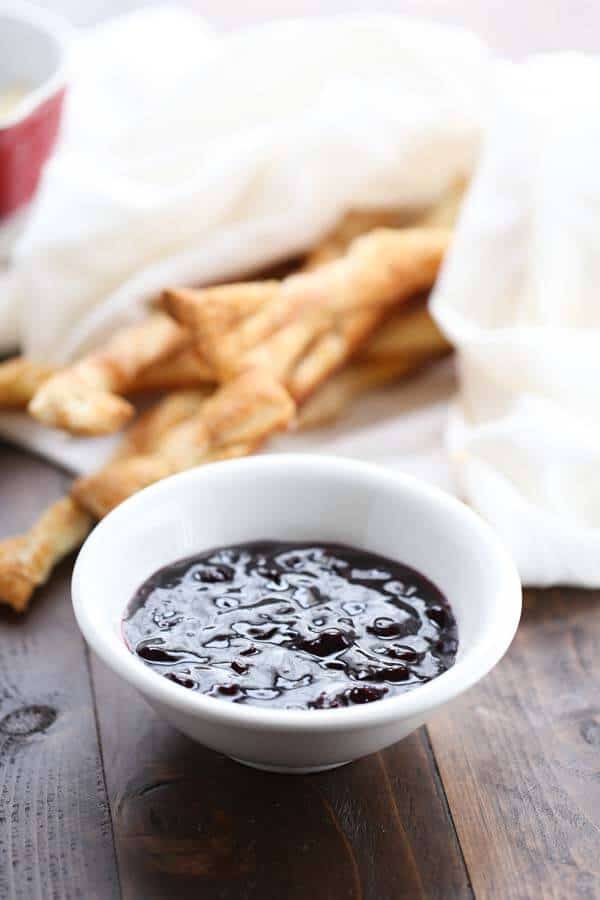 These pastry twists are buttery, flakey and full of a zesty sweetness.  The blueberry sauce compliments that lemon flavor perfectly!  This is a dessert that warrants you to sit back and savor each bite.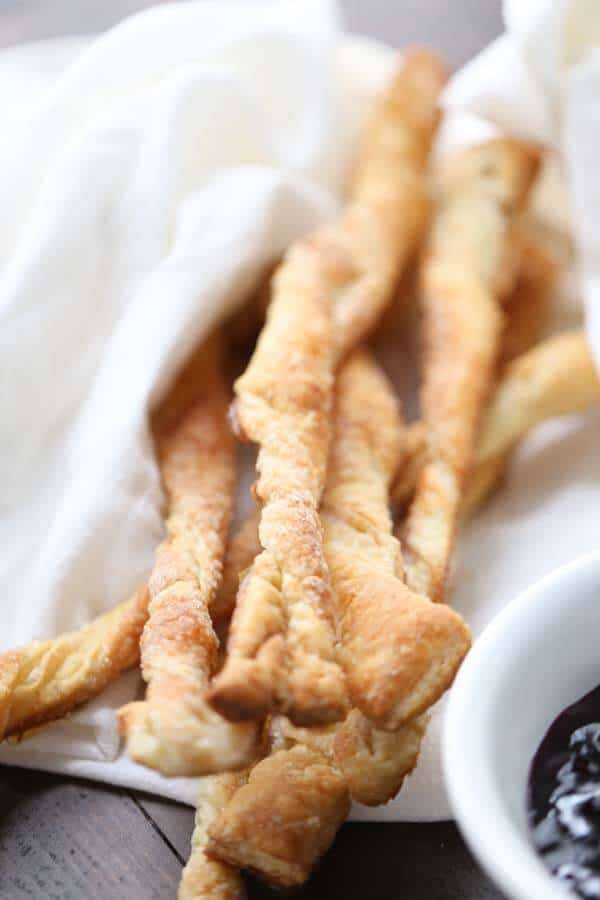 I like to think of myself as a patient person, but the truth is I am the exact opposite.  I have no idea what our microwave chime sounds like because I always open the door before the timer goes off.  I take pizza out of the oven exactly one minute before it's ready.  My tongue is always burnt because I cannot wait for food to cool. I go nuts when I get stuck behind a slow shopper at the grocery store and I line jump in the check out lane.  I can't be bothered watching a movie and I never paint my nails because I HATE waiting for polish to dry.
When it comes to baking, I am usually able to muster up the right amount of patience.   I'm always willing to bake bread despite the rising time.   I don't mind taking hours to assemble the perfect cake or waiting all day to dig into some good pulled pork!   Pie might be the one food that tests my patience.  I'm not sure if it's the rolling of the dough that gives me fits or what, but  the thought of assembling pie leaves me exhausted.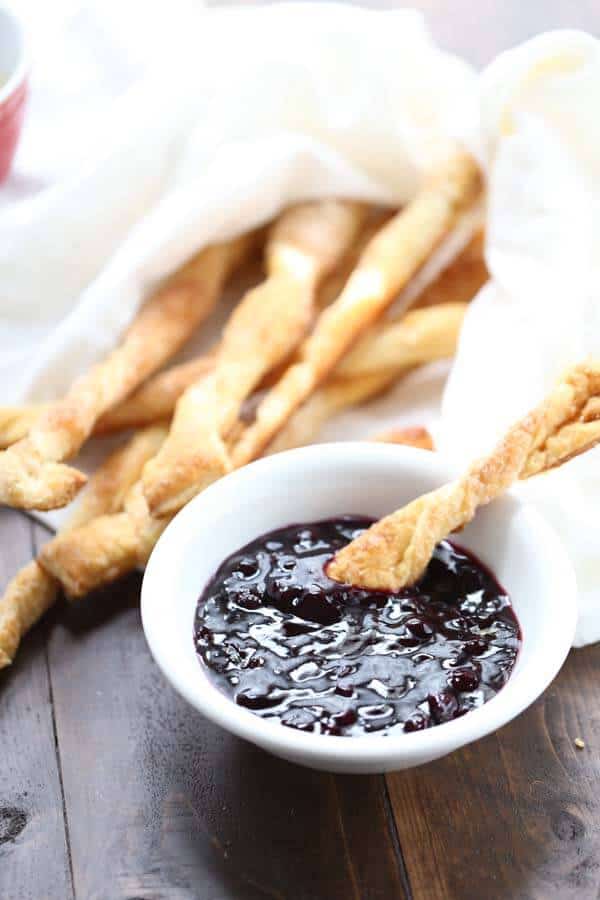 I found a creative way to indulge in the taste of pie without putting forth much effort.  Frozen puff pastry and blueberry pie filling are all you need to enjoy the taste of pie in a fraction of the time.
The only planning that needs to be done for this recipe is to be sure the puff pastry has time to thaw.  Once it is ready, simply brush it with melted butter, sprinkle a cinnamon sugar mixture over your pastry and cut it into strips.  I find a pizza cutter is the best tool for this job.  Gently twist each pastry strip and bake.  They will only take about 15 minutes to turn golden and flakey.  While the pastries bake, work on your sauce.  The pie filling doesn't really require much enhancement.  I made the blueberry sauce by adding almond and vanilla extracts, a splash of lemon and brown sugar to the canned pie filling.  I allowed it to cook until it had thinned out a bit and thats it.  My blueberry sauce was ready by the time my pastry came out of the oven.   Dessert was ready in less than 30 minutes.  I surely have enough patience for that!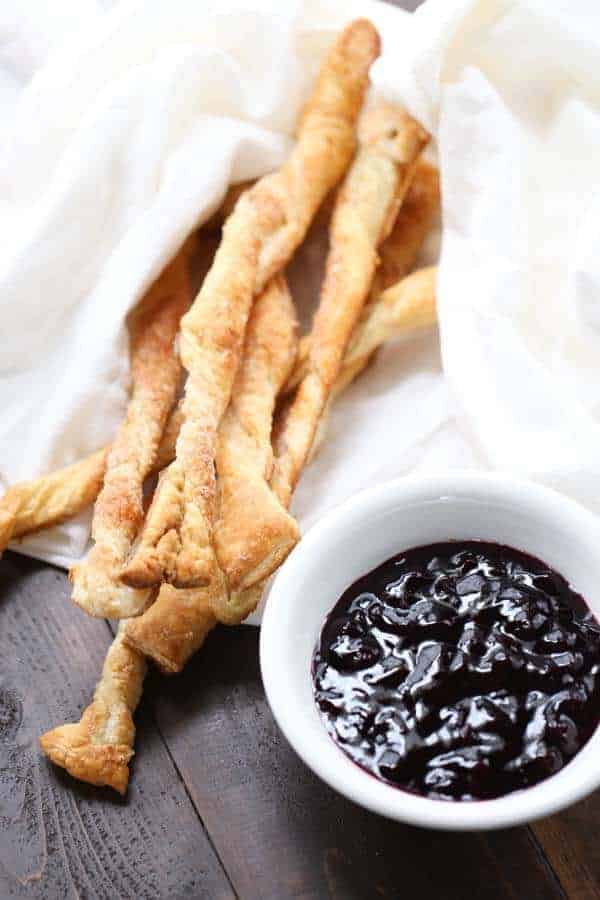 Lemon Sugar Pastry with Blueberry Sauce
10
adjust servings
Thick blueberry sauce served along tart and sweet puff pastry sheets!
Ingredients
1

sheet puff pastry, thawed

1/4

cup butter melted

1/3

cup sugar

2

tablespoons lemon zest, about 2 lemons

1

cup Lucky Leaf Blueberry Pie Filling

1

teaspoon almond extract

1

teaspoon vanilla extract

juice from 1 lemon

2

tablespoons water

1

tablespoon brown sugar.
Instructions
Preheat oven to 400 degrees. Line a baking sheet with parchment paper and set aside.
In a small bowl, combine sugar and lemon zest, stir to fully incorporate the lemon zest.
Spread puff pastry on a well floured work surface. Brush pastry with melted butter and sprinkle with sugar mixture. Cut dough into 10 strips and gently twist each strip.
Place twists on baking sheet. Bake for 15 minutes or until golden.
While pastries bake, prepare blueberry sauce. Place blueberry pie filling in a saucepan over medium heat. Stir in remaining ingredients, reduce heat to medium low and cook until sauce thins just a bit. Serve immediately.