Traditional sweet Easter bread gets an update!
Lemon Hot Cross Buns have a punch of citrus flavor and are slightly sweetened with honey.
Each sweet little bun has a delicate lemon icing cross on top!
Isn't it funny where life takes you?   I graduated from college with a B.A. in English.  I spent years afterwards working in the financial industry and hating every minute of it.  I never imagined that I'd go back to my roots, if you will, and rediscover my love of writing!  I never imagined that the time I spent as a kid, watching my mom in the kitchen make everything from scratch, would develop into my own passion for cooking and baking.  I never in my wildest dreams imagined I'd combine those two loves and start my own food blog!
I started this blog one year ago.  At the time, I had 5 followers.  Myself, 3 family members and one friend.  I'm so grateful for their loyalty, their support and their encouragement.   While my blog has grown over the year, I still write as though only my family is going to read this.  I still can't believe people are actually interested in what I have to say and what recipes I have to share!  It's all so humbling and so rewarding.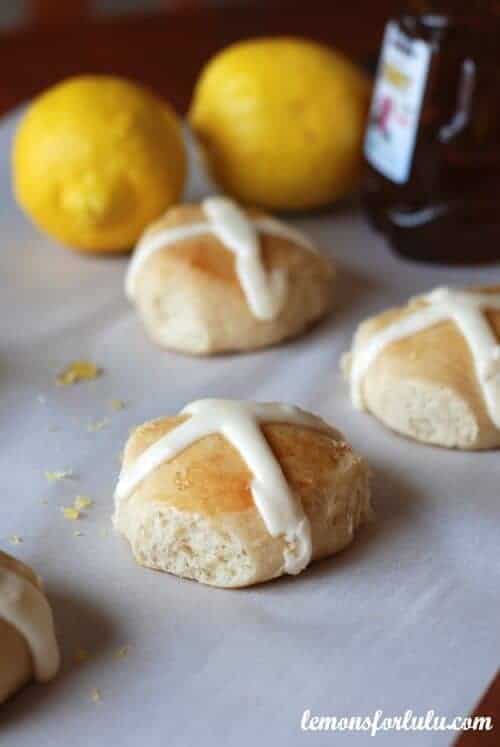 I'm thrilled and honored when a reader reaches out to me to talk about a recipe or share a story or ask questions.  It reminds me of the awesome ability of the written word.  To think, simply by writing about my life and sharing stories and insights, I can connect to people all around the word.  It's mind-blowing really.  Food is the greatest unifier.  It not only nourishes us all, but it teaches us and connects us.
I'm not out to get rich from blogging, I may not ever make a dime.  But I feel rich nonetheless.   I'm rich with the encouragement  that blogging brings.   I'm rich with the support that blogging brings.  I'm rich with all the learning that blogging brings.     When I think of my second year of blogging,   I know it will bring more sweets,  I know it will bring new flavors, I know it will bring more stories.  But even if it doesn't bring more followers, I know I will be doing what I love.   How often do we get to spend our days doing that?
The lemon pull apart bread below is the very first recipe I posted.  I've come a long way since then.   I've come a long way in terms of recipe development and photography since then too!  But that's what I love about blogging, the learning never stops!  I made lemon hot cross buns for this anniversary.  It seemed appropriate to celebrate my anniversary with another lemon bread recipe.  These little buns are fluffy little sweet breads.  Traditional hot cross buns are made with raisins or currants.   I do not like either of those, so I chose to leave those out and instead, I sweetened the dough with honey.  I love using lemons in baked goods like these cookies and these donuts so it was only natural to infuse the dough with lemon juice and lemon zest.  The icing will make you pucker, in a good way!  It's sweet and citrusy and it  took these sweet rolls from ordinary to extraordinary.  These lemon hot cross buns are perfect for Easter, and perfect for spring.
 THANK YOU, thank you for reading my blog!
You might enjoy these too:
Ingredients

4

1/2 cups flour

2/3

cup sugar

1

.75oz envelope quick rise yeast

1

teaspoon salt

1/2

teaspoon nutmeg

1/2

teaspoon cinnamon

1

cup milk

3

T honey

2

T water

2

T lemon juice

2

lemons zested

1/3

cup unsalted butter, cubed

2

eggs

Vegetable spray

1

egg white lightly beaten

2

cups powdered sugar

2

T lemon juice

1

lemon zested

4

T milk

1

t vanilla

Instructions

Combine 2 ½ cups flour, sugar, yeast, salt, nutmeg and cinnamon in the bowl of a stand mixer fitted with a dough hook.
In a small saucepan, heat milk, honey, lemon juice, water, lemon zest and butter cubes. Heat over medium heat, stirring constantly until butter has melted. Remove from heat and let cool 5 minutes.
Pour milk into flour mixture. Beat on low speed for 2 minutes or until moistened. Increase speed to medium and add eggs one at a time, mixing well after each addition. Beat 3 minutes. Reduce speed to low and gently beat in remaining flour until dough is soft and holds together. Dough will be sticky. Continue beating at medium speed for 5 more minutes.
Scrape dough from bowl and place in a well-oiled bowl. Cover and let rise for 1 hour or until doubled.
When dough has doubled, punch down and turn onto a floured surface. Knead for only a minute. Separate down into 20 equal portions. Roll each portion into a ball and set onto a jellyroll pan lined with parchment paper. Cover and let buns rise for another hour. Brush buns with egg white when ready.
Bake at 375 for 15 minutes or until buns are golden brown on top. Remove and let cool on a rack for 15 minutes.
Meanwhile prepare glaze. You may have to adjust milk to get a good piping consistency. Pour glaze into a zip top with a corner snip or into a piping bag. Pipe an "x" over slightly warm buns.