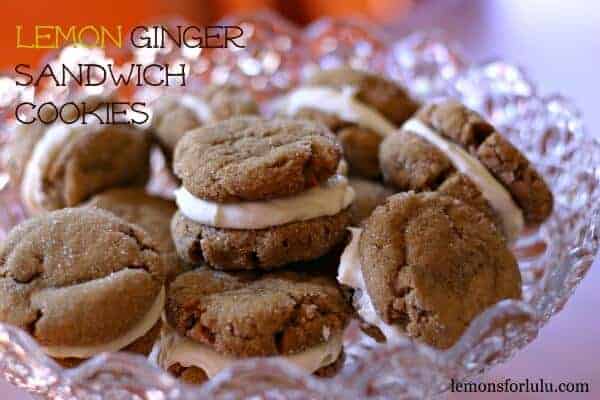 We all have memories of favorite Christmas treats from our childhood.  Whether its sugar cookies, egg nog, regional or international sweets, we all have something that brings us back home.  Things that I remember vividly that my mother used to make every Christmas were buckeye balls, thumbprint cookies with red or green jelly, snowballs and baklava.  Then there was the Jello strawberries.  Yep, nothing says it's Christmas quite like Jello strawberries!
While I still love buckeyes and baklava, I cannot stand Jello strawberries!  Mainly because they are far too sweet for my taste, which was precisely why they were my favorite as a kid.  It would be such an exciting day when I knew mom was making the strawberries.  For those of you who do not know what I'm talking about, my mom combined 2 packs of strawberry jello mix, coconut and sweetened condensed milk.  She shaped the mixture into strawberries, and topped them with green colored slivered almonds.
See, Jello was very BIG in the 70's.    The era of the Jello mold!!!   My husband's childhood Christmas memories are filled with Jello salad.  I'm sure many of you are familiar with the red, white and green layered Jello salad, which could double as Cinco de Mayo Jello.   I am not big on the Jello salad.  That's just me.  But I'm not big on Jello (or pudding) period.  I never got excited by seeing those jiggly squares in the fridge.  It was always a poor substitute for dessert in my opinion.  Imagine my surprise the first time I found my mother-in-law's Jello drawer!   I  didn't know what kind of desserts I was marrying into!  I want real, solid desserts, not Jello!
Jello and pudding mix certainly have their place.  They are fine mixed into baked goods, but for me that's about it.  When my kids grow up, I'm sure they will remember Gammy's Christmas Jello just like my husband does.  And they will remember Ya Ya's baklava just  like I do.  But, Christmas for them will also be filled with buckeye balls, chocolate mint cookies, crinkle cookies, cake balls, coconut balls and ginger cookies.   I think these lemon ginger sandwich cookies will definitely stand out in their minds.    These molasses cookies are rolled in sugar then baked until soft.  The cookies are then used as bookends for a very creamy and tart lemon filling.  Yes, my days of yearning for Jello strawberries have gone.  I suspect that craving will permanently be replaced by these luscious lemon ginger sandwich cookies!
If you'd like a little Lulu in your life, please subscribe via email, RSS, Facebook or Google +.  I love staying in touch with friends!
You might like these too:
Buckeye Cookie Bites                                                                Lemons for Lulu
Lemon Ginger Scones                                                               Joy of Baking
Lemon Ginger Sandwich Cookies
24
adjust servings
Soft molasses cookies hugging creamy lemon filling.
Ingredients
3/4

cup butter, softened

3/4

cup brown sugar

1/2

cup molasses

1

egg

3

cups flour

2

teaspoon ginger

1

teaspoon cinnamon

1

teaspoon baking soda

1/4

teaspon salt

1/2

cup sugar

for the filling

3/4

 cup butter

3/4

cup marshmallow fluff

1 1/2

cup powdered sugar

1

lemon juiced and zested
Instructions
In a large bowl, cream butter and sugar until fluffy. Beat in molasses and egg. In a separate bowl, combine the flour, ginger, cinnamon, baking soda and salt. Carefully add to butter mixture until fully combined. Cover and chill for about 3 hours.
Preheat oven 350. Roll cookie dough into 1 inch balls. Roll in granulated sugar before placing on prepared baking sheets. Using a small glass dipped in sugar, flatten each cookie until they are 1/2 in. thick. Bake 8-10 minutes. Let cool on baking sheet for 2 minutes before removing to wire rack to cool. For the filling:
Combine all ingredients in a large bowl and beat until very light and very creamy. Spread filling on bottom of each cookie, then sandwich two cookies together. Refrigerate a few minutes to let cookies set.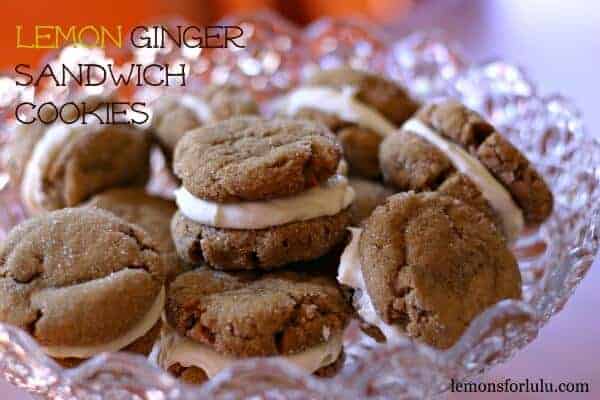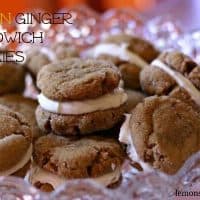 Recipe adapted from Taste of Home
I'll be linking this recipe up to these fabulous sites, as well as to:  Jam Hands
The DIY Dreamer and