These mini pies are filled with a creamy lemon flavored filling and topped with a simple blueberry topping!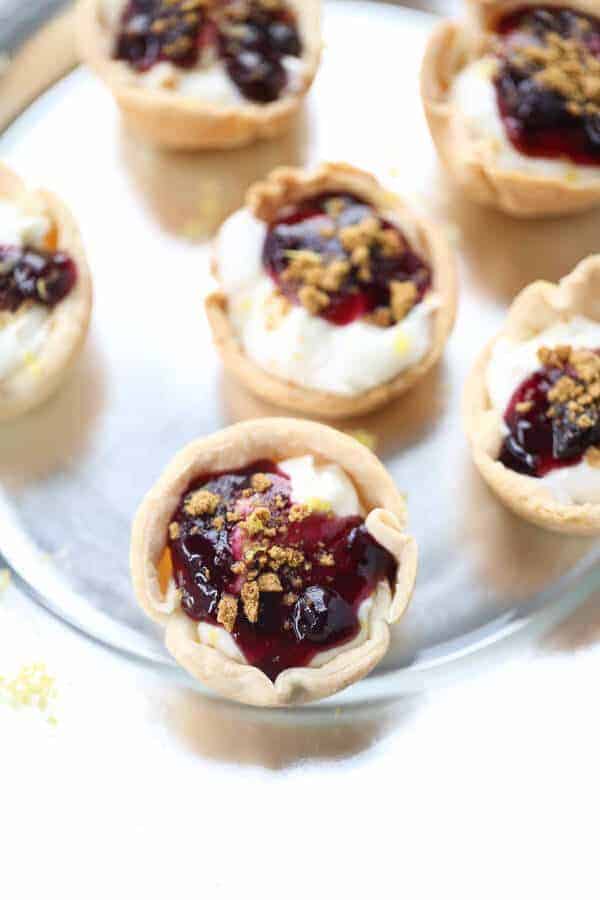 I might have commitment issues. I rarely make pie because I cannot commit to eating the whole thing. I get bored so quickly. I eat one slice, perhaps two then start dreaming of cake. But pie's are good and they deserve a fighting chance.
I realized the best way to get around my commitment issues was to make my pies smaller. Mini pies, that's what I need. Since I am desperately trying to feel a bit of spring I made myself mini lemon pies. They couldn't have been simpler.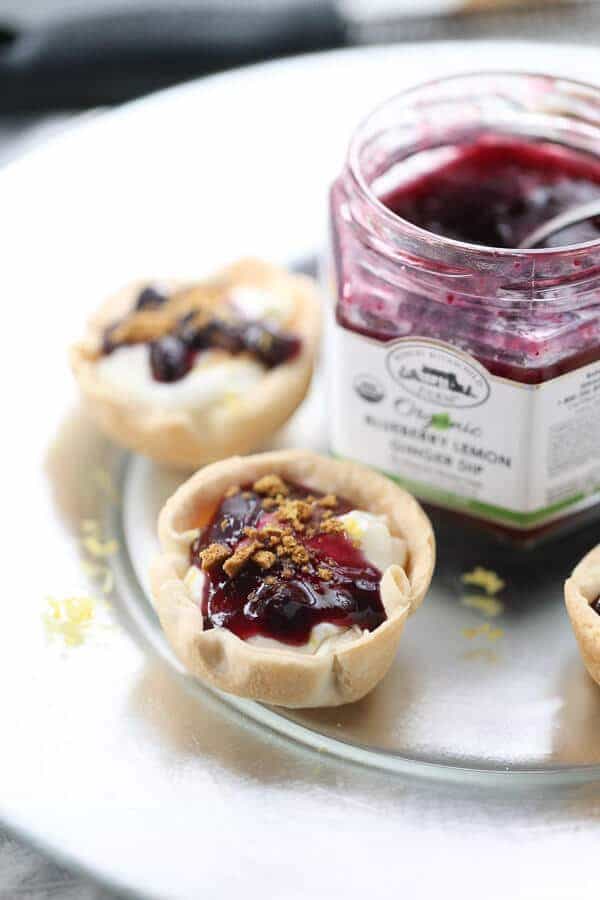 I took pre-made pie dough which I cut into 12 circles. One circle for each space of my muffin tin pan. It was so perfect. My mini pies only took 15 minutes to bake. While those little pies were getting all toasty I whipped up a creamy and smooth lemon filling. This filling is tart, tangy, and refreshing. Did I stop with the lemon filling? Heck no. My pies needed to get all gussied up. I found the perfect topping in this Organic Blueberry Lemon Ginger Dip from Robert Rothschild Farm. I know that blueberries and lemons are so perfect together because of these cookies. And I know that lemon and ginger are a happy pair because of these cookies. Put all the flavors together in a two bite pie and I'll be kissing my commitment issues good-bye!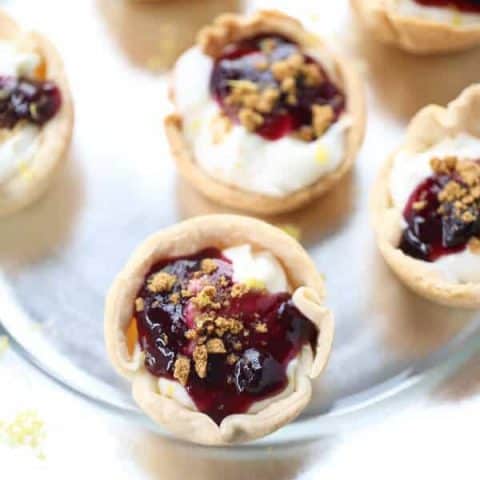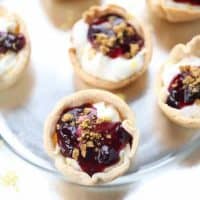 Lemon Blueberry Mini Pies
Easy mini pies with a creamy lemon filling and a blueberry topping.
Ingredients
1 14.1 oz packaged prepared pie dough
1 8 oz package cream cheese, softened
1/2 cup plain Greek yogurt
2/3 cup sugar
1 tablespoon lemon zest
juice from 1 lemon
1/3 cup Robert Rothschild Farms Organic Blueberry Lemon Ginger Dip
3 gingersnap cookies, crushed
lemon zest for garnish
Instructions
Preheat oven to 350. Spray a muffin tin with non stick spray and set aside.
Sprinkle work surface with flour. Roll out pie crust slightly. Using a 3 1/2 inch biscuit cutter or a glass, cut out six circles from each pie crust. Gently place dough in each muffin tin cavity, pressing up sides as necessary.
Make in the oven for 15 minutes or until golden. Remove from oven and let pie crusts cool completely.
While crusts bake prepare filling. In a mixer beat together cream cheese and yogurt until smooth and creamy. Stir in sugar, lemon zest and juice.
Divide filling among each of the cooled pie crusts. Top with a teaspoon of blueberry dip. Spriknle each pie with crushed gingersnaps. Serve immediately, refrigerate any leftovers.
Nutrition Information
Yield

12
Serving Size

1
Amount Per Serving
Calories

311
Total Fat

17g
Saturated Fat

8g
Trans Fat

0g
Unsaturated Fat

7g
Cholesterol

21mg
Sodium

259mg
Carbohydrates

38g
Fiber

2g
Sugar

17g
Protein

4g
*I'm happy to have partnered with Robert Rothschild Farms to bring you this original recipe!*
Need more ideas on how to use Robert Rothschild Farm Organic Dips?