Kahlua and Cream Chocolate Mocha Cookies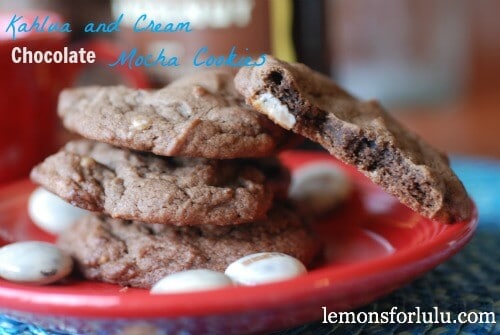 Do you ever have days where you contemplate adding a little Kahlua to your morning coffee? Or is it just me?? There are days where a plain old cream in your coffee just won't cut it.
I've had one of those days recently. I woke up very tired and grumpy. My 4 year old has developed a fear of the dark. Unfortunately for me, it seems to hit at 4 am. I got up and snuggled her for half an hour or so. While I'm laying there listening to the clamorous sound of her thumb-sucking, I realize that I have the same hangover-type headache I had when I went to bed. Then I get a little annoyed that my head should hurt like a hangover without having had any of the fun that comes BEFORE a hangover. No fair.
I'm not very pleasant when I get up. I yell at my son for sleeping so late (I might have been a wee bit jealous), I'm short with my oldest, the dog gets only a sideways glance because it's too cold to take her outside, juice spills, I mess up the lunches. It's just all wrong. I find myself yelling at the kids as they run out the door to catch the bus. Then I'm left with guilt for yelling at my kids instead of just giving them kisses.
I would like to go back to bed and start over. I realize my 4 year hasn't heard any of the screaming because she is in the deepest, sweetest sleep. Lucky. I think I'll take a long hot shower. That is where I can relax and organize my thoughts. But shortly after I step into my steamy oasis, my little one comes in all smiles and says "I'm going to hang out in here with you!" Forget it.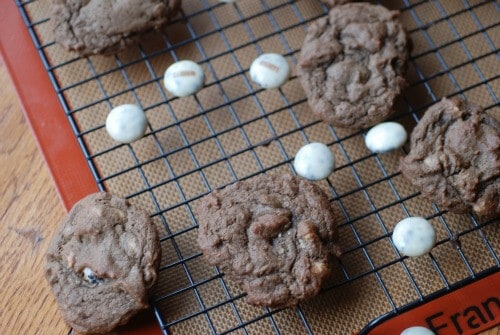 This is where the thought of adding Kahlua to my coffee scratches the surface of my mind. It is only a fleeting thought. I couldn't do that. Instead, I had the bright idea of adding Kahlua to coffee flavored cookies-even better! I had a bag of Hershey's Cookies and Cream Drops to use up. I chopped them up so they would speckle each cookie. The Hershey's Cookies and Cream Drops have little bits of cookie in them, which makes these cookies doubly crunchy and doubly delicious. The chocolate in these cookies was enhanced by the espresso powder as well as the Kahlua liqueur! These cookies really tasted like coffee and cream!
The day ended well. It usually does after a successful day in the kitchen. You can be sure the next time I think about adding liqueur to my coffee, my mind will immediately turn to baking!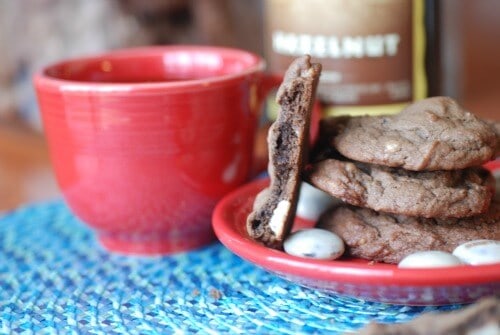 You might enjoy these too: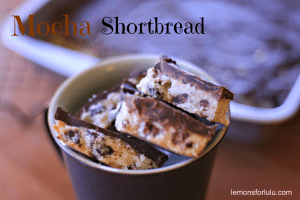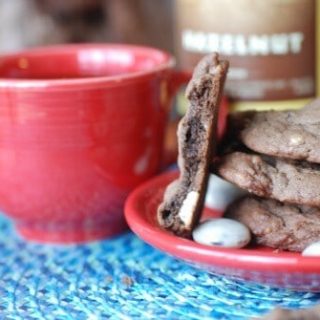 Kahlua and Cream Chocolate Mocha Cookies
The chocolate in these cookies was enhanced by the espresso powder as well as the Kahlua liqueur!
Ingredients
3/4 cup sugar
3/4 cup brown sugar
3 teaspoons espresso powder
1 cup butter, softened
1 teaspoon baking soda
1/2 teaspoon salt
1 tablespoon Khalua
1 teaspoon vanilla
2 eggs
2 1/2 cup flour
1/3 cup cocoa powder
1 9oz package Hershey Cookies and Cream drops, chopped
Instructions
Preheat oven to 375. Line baking sheets with parchment paper and set aside.
In a mixing bowl, combine sugars, espresso powder, butter, baking soda, salt, Khalua and vanilla. Add eggs one at a time, beating well after each addition. Carefully, mix in flour, cocoa and chopped cookies and cream drops.
Drop by rounded tablespoonful onto baking sheets. Bake for 8-10 minutes or until cookies are set on the edges. Remove from oven and let cookies cool on a baking rack.
Nutrition Information
Yield

36
Serving Size

1 cookie
Amount Per Serving
Calories

152
Total Fat

8g
Saturated Fat

4g
Trans Fat

0g
Unsaturated Fat

3g
Cholesterol

25mg
Sodium

132mg
Carbohydrates

20g
Fiber

1g
Sugar

10g
Protein

2g