I figured out my back up retirement plan today….my son.   While I suppose it is possible he could become an accomplished architect, designer, or professional athlete, I'm not counting on these things to keep us sustained if our money runs out in our old age.  No, I'm actually planning making a ton of money selling his toys on Ebay!
In the short 7 years of his life, my son Owen, has had two very big obsessions.  The first half of his life was all about Matchbox cars.  Lots and lots of Matchbox cars!  Every time we went to the store, he seemed to come home with a new car.  At a dollar a piece, it was so easy to give in to him.  Each birthday, Christmas, Easter and Valentine's day was filled with something car related.  We have every accessory, book, coloring book, track and pajamas possible!  Oh how Owen loved cars!  He talked about the models and styles.  He drew them and painted them, he designed his own cars, he ate, drank and slept cars!  Consequently I have several very large tote bins filled with cars stored in my basement.  He plays with a few here and there.  Lucy even plays occasionally, but the zeal for those little Matchbox cars has been replaced.
The second half of my son's life has been all about Lego's.  Unfortunately, Lego's aren't as cheap as those little metal cars.  In fact, they are quite expensive.   The more sets he gets, the quicker he gets at assembling them!  Lego is a very intelligent company.  They know how to market to kids of all ages and genders.  Their instructions are perfectly kid friendly, their pieces are indestructible and their customer service is top-notch.  What's not to love?  My son is happy, he's learning about design and functionality.  His hand-eye coordination is spectacular.  He's learned to think steps ahead and his creativity has exploded.   Those are the good things.  The bad is that it is near impossible for my son to save money.  Each time he completes a new set, it feeds his addiction.  His finished product has him wanting another finished product, then another and another.  We've actually had to buy another bookcase for the sole purpose of displaying his Legos!  He is NOT learning money management from Lego's!!!
I've decided that I better make sure that all those little Matchbox cars are in tip top shape, wheels are in place, and fenders shined.    I'm also keeping a close eye on all his Lego pieces and parts.  I've organized booklets and instructions.  While I believe my husband and I have planned well for our retirement, you just never know.  I'm sure there will be Lego obsessed little boys in the future who would love retro Lego sets!!!
The whole reason I'm sharing this story with this recipe is that I made several trips on this cold, wintry day in search of the Lego Star Wars A Wing Fighter.  Turns out it isn't in stores.  We could've stayed in our warm, comfortable home and ordered it on Amazon!  At least this cozy Italian soup was simmering away on the stove!  Lots of pepperoni, veggies, spices and ground beef.  Crusty bread is the perfect accompaniment, perfect for dipping!
If you'd like a little lulu in your life, please subscribe vial email, RSS, Facebook or Google +.  I love staying connected to friends!
You might enjoy these too: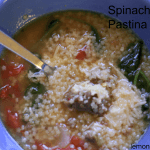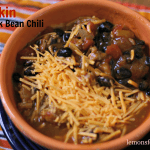 Italian Beef and Pepperoni Soup
Ingredients
1

pound extra-lean ground beef

1

cup sliced turkey pepperoni

1

cup sliced fresh mushrooms

1

bell pepper, seeded and chopped

2

garlic cloves, minced

1

teaspoon olive oil

2

tablespoons tomato paste

1

(28-ounce) can crushed tomatoes

4

cups chicken broth

1

teaspoon dried basil

1

teaspoon dried oregano

1

teaspoon freshly ground pepper

Shredded Mozzarella cheese (optional)
Instructions
Instructions
In a large dutch oven, brown ground beef and cook pepperoni slices. When beef is no longer pin, drain beef and remove. In the same dutch oven, add oil, mushrooms and bell pepper, cook for 5 minutes or until peppers are soft. Stir in beef mixture, tomato paste and next 5 ingredients. Bring to a boil. Reduce heat and simmer 30 minutes.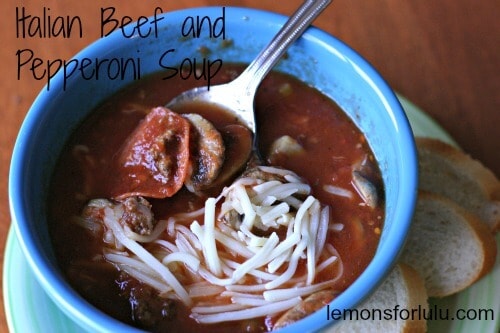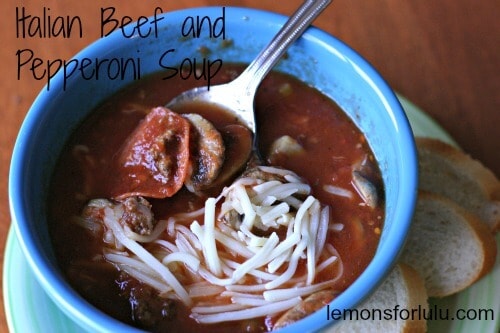 recipe adapted from Southern Living.