Good morning and welcome to the Grow Your Blog Networking Party.
I am thrilled to partner with some experienced bloggers to bring you this exciting weekly party.  I will be joining Paula from Call Me PMC and Julie from This Gal Cooks as well as Deb from Cooking on the Front Burner .   Each week we will be joined by four co-hosts. Interested in co-hosting? Just email us at growyourblog@gmail.com and we will get you scheduled!
What is the Grow Your Blog Networking Party all about? NETWORKING, of course! Meeting new bloggers, finding new content to follow, building your readership. Why is blog networking great for you? Simply put, it increases readership and traffic to your blog. How do you network? Visit. Comment. Invite. Communicate. These are key to growing your blog.
What are some of your tips for networking? Leave a comment below! We may feature your idea at a future party!
Let's meet the hosts and co-hosts of the party!
YOUR HOSTS
Julie from This Gal Cooks (Host)
Paula from Call Me PMc (Host)
Deb from Cooking on the Front Burner (Host)
Tanya from Lemons for Lulu (Host)
Kaylynn from Among the Young (Co-Host)
Melissa from Persnickety Plates (Co-Host)
Amanda from My Show (Co-Host)
Lisa from Sweet 2 Eat Baking (Co-Host)
Each week we will be including a link up to a social media outlet of our choosing. This week we chose Google Plus. So after linking up your blog, be sure to scroll down and link up your G+ Profile.
Some tips when using G+:
Tag people in your posts that involve them. If you share someone's post on Google plus, tag them by typing @ and their name. A dropdown with a list of names will come up. Select their name to tag them. Below is an example. I wanted to tag Tanya so I typed @ and then started typing her name.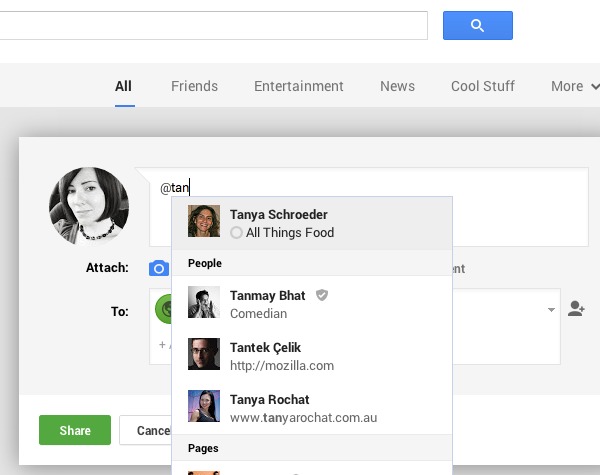 Plus one other posts.

Add people to circles. One of the great features of Google plus is that you can add people to circles. This makes it so easy to keep track of who posts about food, tech info, DIY, etc. You can create your own circles and name them whatever you want to name them.
Participate in G+ Communities. I am part of the G+ Food Bloggers Community. I've met some great people through that group. And I even attended a virtual Food Bloggers conference that was held on G+!
Do you have any G+ questions? Just let us know. We'd be happy to answer them for you!
WHEN YOU LINK UP TO THIS PARTY:
Follow and/or visit your hosts and co-hosts. Leave a comment on their blog letting them know you stopped by!
Link up the main page of your blog, not an individual post. You may link up your individual posts to Marvelous Mondays.
Visit and follow other bloggers
Comment to let them know that you stopped by and how you followed (Email, GFC, Facebook, Bloglovin, etc)
Invite them to visit your blog. Leave the name of your blog in a comment. Please do not leave a link – Google is going to start viewing links as Spam and they will decrease page ranking of sites that are viewed to have a lot of Spam.
Communicate with them about what you like on their blog. Let them know you are interested in their blog.USE THEIR NAME! A simple "I'm so and so stopping by. I followed you please follow me." just isn't going to interest someone into visiting your blog. Sure, you can request a visit to your blog or a follow along but engage in some type of conversation first.
Place our party graphic on your page. It's not required but it would be a pretty rad thing to do. You can get the graphic by copying and pasting the GYB graphic located in the beginning of this post.
LINK UP YOUR BLOG
LINK UP YOUR GOOGLE PLUS PROFILE