Grilled shrimp nachos for those nights when you don't want to turn on the oven!  The grill does the work, you enjoy the meal!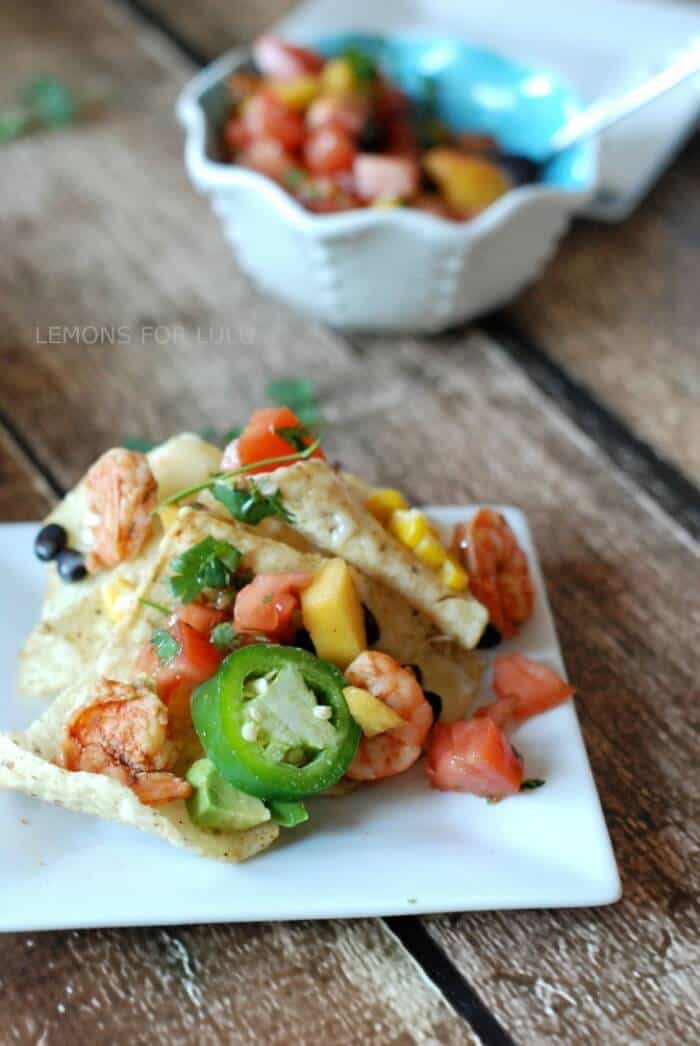 It's been in the upper 80's here this week.  I shouldn't complain because it's been a good summer, but I'm gonna complain anyway.  That's what we do after all, complain when we are cold and complain when we are hot.  It's just human nature.  Rather, it's my human nature.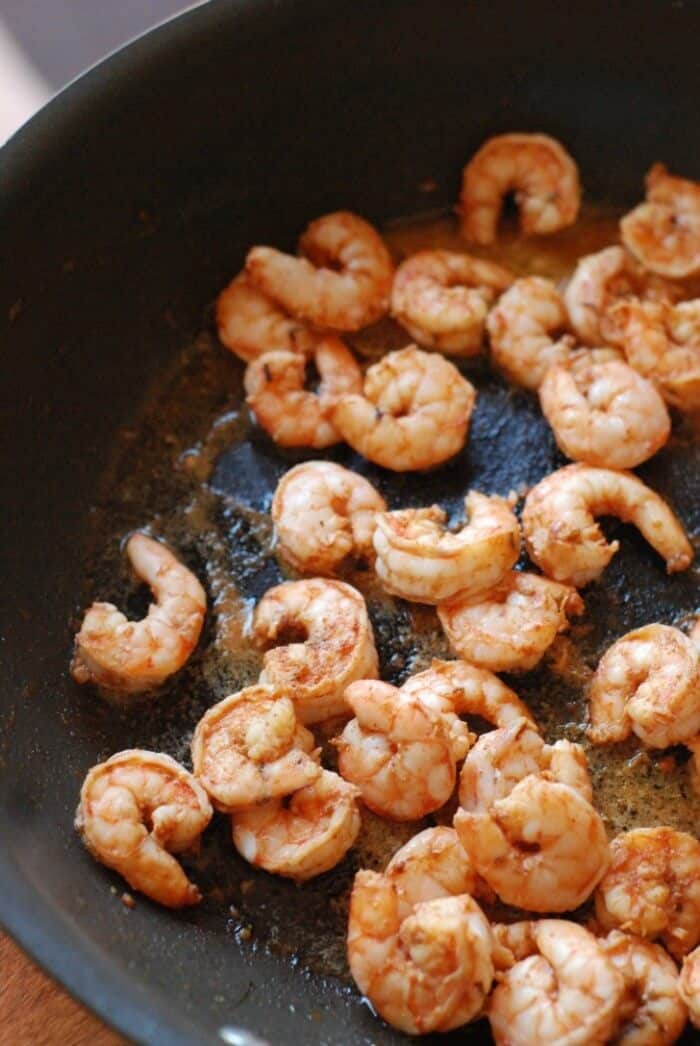 Days like this I find myself without motivation.  I stare at my dog lying in the middle of the living room floor without a care in the world.  I'm envious of her.  She doesn't have to rally up enough energy for the dishes that need to be scrubbed, the laundry that needs to be washed, the shirts that need to be ironed or the kids that are begging to go to the pool.  She just lies there conserving her energy.  Lucky dog.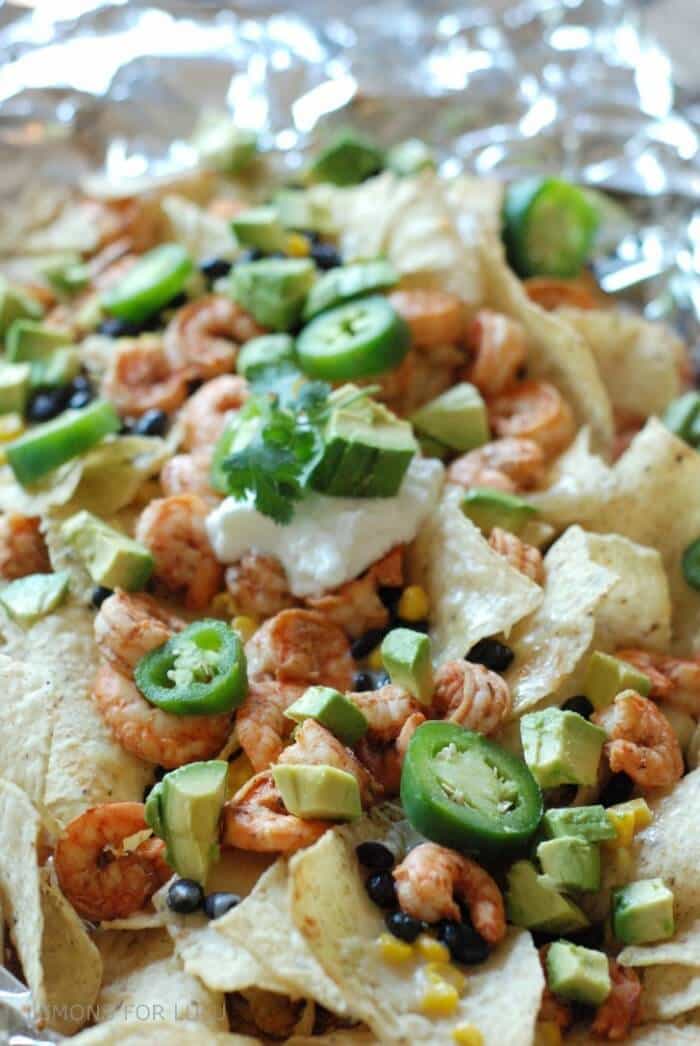 If I didn't have mouths to feed I wouldn't be cooking.  If it were just me, I'd fill a bowl full of ice cream and call it dinner.  One of these days perhaps I'll surprise the kids and do just that.  But today is not that day.  Today we are dining on grilled shrimp nachos.
I love these grilled shrimp nachos because it's a quick, easy and fun meal.  No oven means the house stays cool.  The grill does most of the work.  Although the shrimp are cooked on the stove top, they hardly take any time to cook!  Slide the grilled shrimp nachos from the grill and onto a pan and start digging in!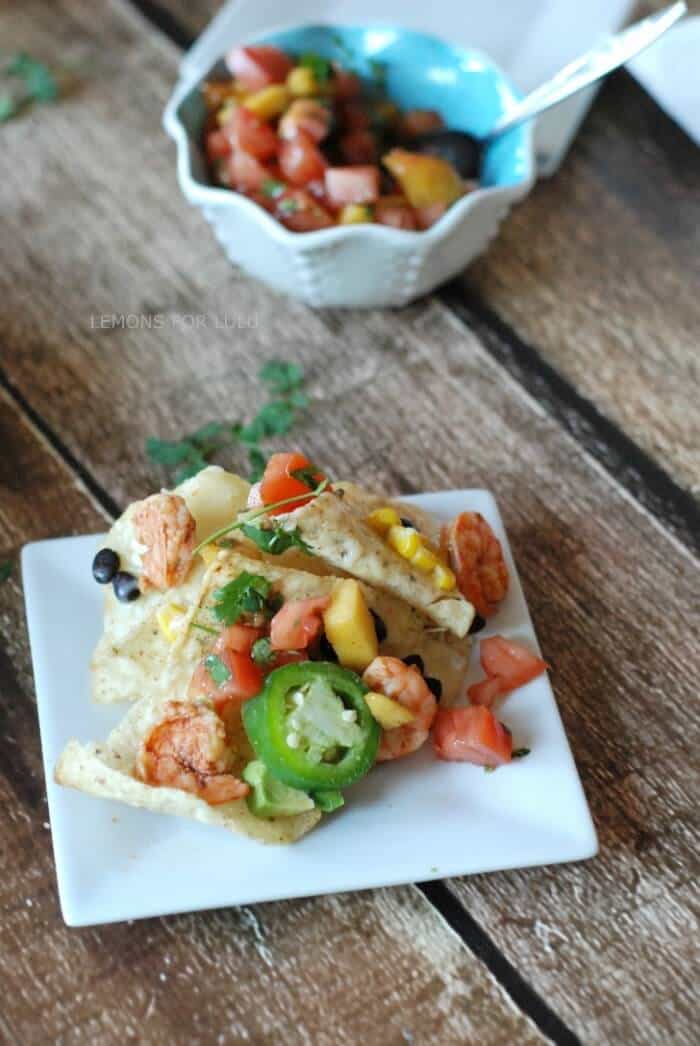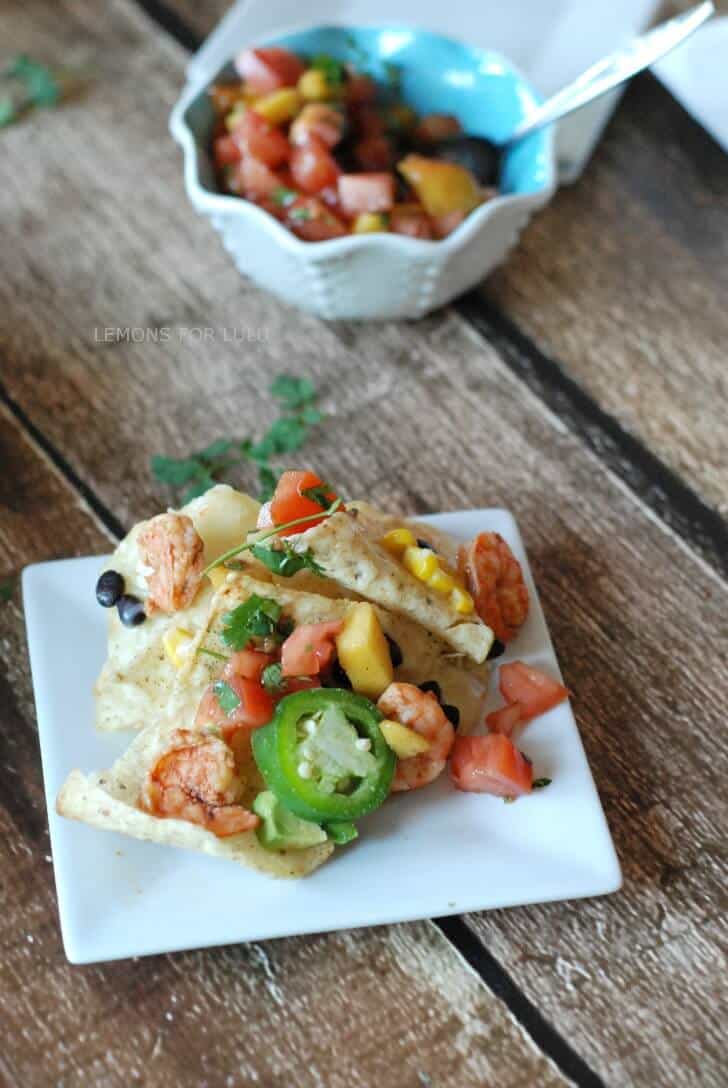 These grilled shrimp are slightly spiced and then topped with black beans, corn, peppers, avocados, sour cream and cheese: basically everything a good nacho needs.  I served these hot nachos with a fresh and simple peach salsa!
Funny, I don't have the energy to cook, but when it comes to eating, suddenly I have energy to spare!
NEVER MISS A RECIPE! SUBSCRIBE TO MY EMAIL TODAY!
FOLLOW ME:
FACEBOOK | TWITTER| GOOGLE +| BLOGLOVIN | INSTAGRAM
Don't forget you can save each of these recipes to your personal recipe box , create your own meal plan, or add ingredients for each recipe to your shopping list! Just use the "Save Recipe" on all my recipes!
Ingredients
1

lb shrimp peeled and deveined

1

teaspoon chili powder

1

teaspoon oregano

1

teaspoon cumin

1

teaspoon paprika

1/2

lemon, juiced

1

tablespoon butter

1 24

oz bag tortilla chips

1

1/2 cups Monterey Jack cheese

1/2

cup corn

1/2

cup black beans

Sour cream, jalapenos and avocados
Salsa
1

large beefsteak tomato chopped

1

peach, peeled and diced

1/2

teaspoon salt

1

1/2 tablespoons balsamic vinegar

2

tablespoons cilantro
Instructions
Prepare the shrimp, peel and devein shrimp and rinse under water, remove to a bowl. In a large skillet melt butter of medium low heat.
Add chili powder, oregano, cumin and paprika and lemon juice, tossing to coat. Add shrimp to pan and cook for 4-5 minutes or until shrimp are no longer pink.
In a small bowl, combine salsa ingredients and set aside.
Preheat grill over medium heat.
Layer two large sheets of foil. Place tortilla chips over foil. Top with corn and black beans. Sprinkle chips with cheese and top with shrimp. Place another sheet of foil over shrimp and crimp all edges together. Place nachos on grill and heat until cheese has melted which should take 5-8 minutes. Remove foil carefully and place on a cookie sheet. Carefully remove top foil layer. Top nachos with desired toppings and serve with salsa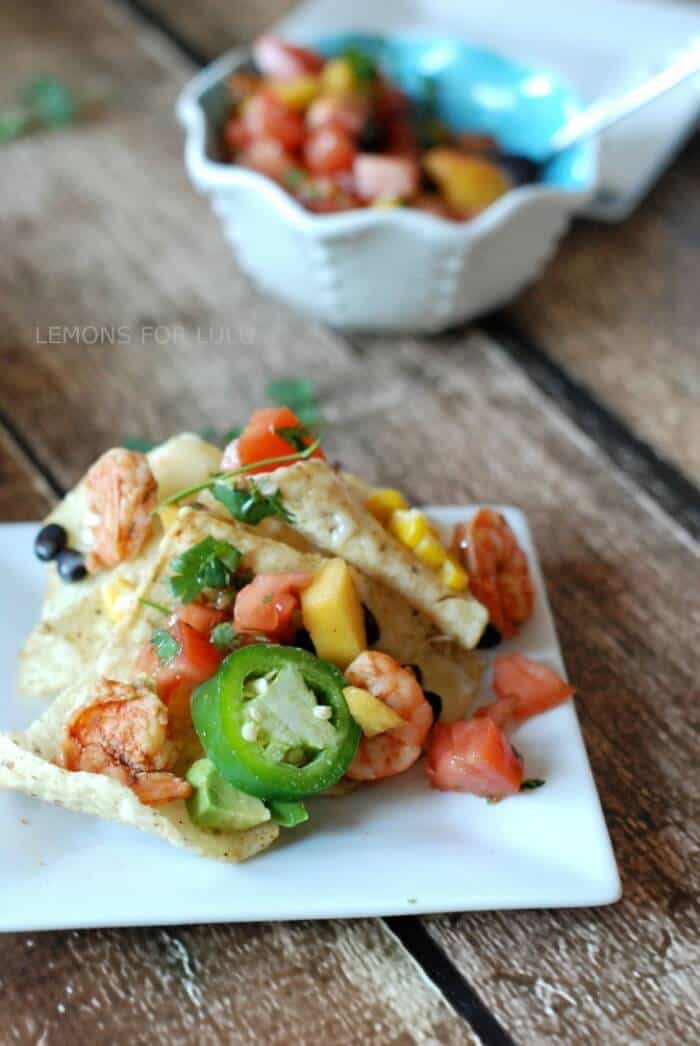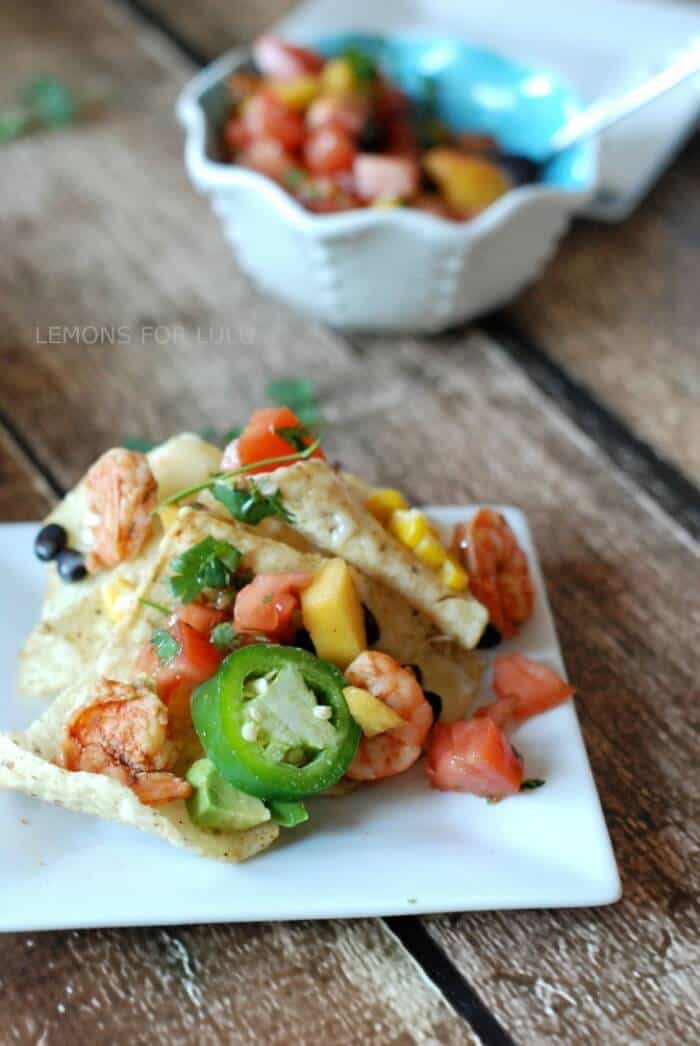 SEE THIS ON MY PINTEREST BOARD!
Follow Tanya Schroeder @lemonsforlulu.com's board Summer Lovin on Pinterest.
I may be linking this up to these parties and to The Weekend Potluck!