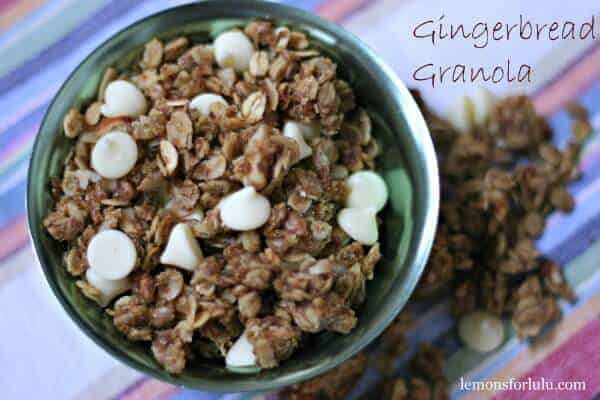 I'm tired of chocolate.  There, I said it.  I can hardly believe it myself.   I've been on candy overload for quite some time.  Between the Milk Duds and Butterfingers and candy corn, I just can't take one more piece of candy.  Nope, zip, zilch, nada.
Time to lighten up a bit.  You know, before Thanksgiving comes.  Because once turkey day is here, we pretty much don't stop eating until January 2nd.  Then we all diet, naturally.
I love gingerbread.  Or rather, I love ginger!  I love the spice it gives to recipes and the aroma is homey and inviting.  Gingerbread granola is perfect for the holidays and would make a wonderful gift.  The ginger is not overwhelming; the maple syrup and honey definitely shine through.  The best thing is how light this gingerbread granola is as I used applesauce to cut down on the fat.   I've read that the average person gains about 5 lbs over the holiday season.  See?  I got your back.   We have to save calories where we can!  Cookie trays will be calling!
If you'd like a little Lulu in your life, please subscribe via email, RSS, Facebook, Google + or Pinterest!  I love staying in touch with friends!
You might enjoy these too:
Pumpkin Ginger Cupcakes with Maple Buttercream                                     Lemons for Lulu
Pumpkin Pie Granola                                                                                         Dashing Dish

16
adjust servings
Granola with lots of ginger spice!
Ingredients
4

cups rolled oats

3/4

cup wheat germ

1/2

cup sunflower seeds

1

cup chopped almons

1cup

chopped pecans

1

cup chopped walnuts

1/2

cup flax seed

3/4

t salt

1/4

cup brown sugar

1/4

cup maple syrup

1/2

cup honey

1/2

cup oil

1/2

cup applesauce

2

t cinnamon

1

t ginger

1

t vanilla

1

cup white chocolate chips
Instructions
In a large bowl combine dried ingredients. In a saucepan, combine brown sugar, salt, syrup, honey, oil applesauce, vanilla, cinnamon and ginger. Bring to a boil over medium heat. Pour over dried ingredients stirring to coat.
Spread granola on al large baking sheet covered in foil. Bake in a 300 degree oven for about 25 minutes, stirring half way through bake time. Remove and let cool completely before adding chocolate chips.