This will be your new favorite hamburger recipe!  
Juicy beef patties are filled with parsley and feta cheese and topped with a piquant garlic & pepper topping!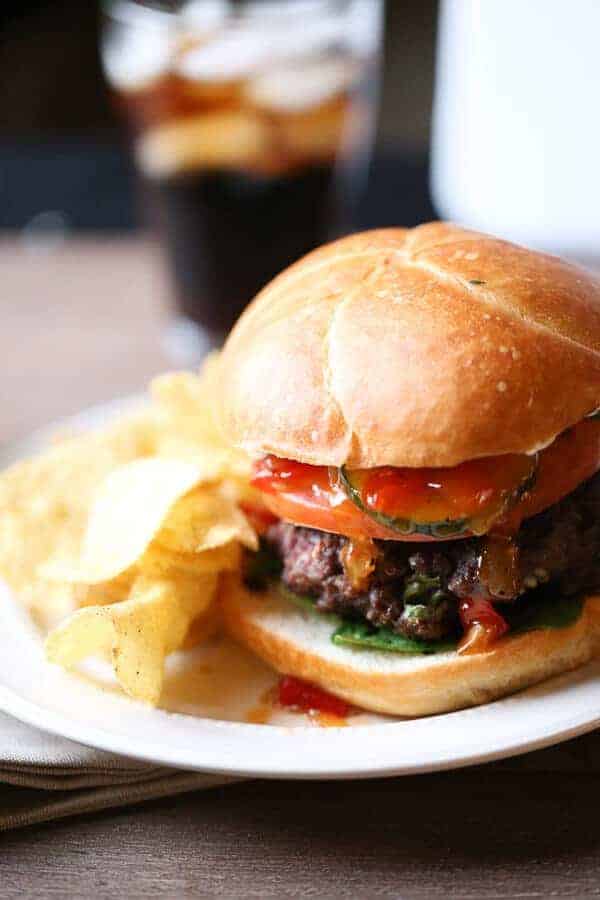 There is one restaurant that our family frequents over and over again.  They have the best hamburgers in town and I truly cannot get enough of them.  I cannot resist a good hamburger recipe yet I rarely make hamburgers at home.  Well, that's not an entirely true statement, I DO make hamburgers at home.  I grill all sorts of burgers at home; from mushroom burgers to turkey burgers to juicy beef burgers.  The only thing is, I only seem to grill them in the summertime.
Why is that I believe the only way to cook a good hamburger is on an outdoor grill?  Clearly my favorite restaurant isn't relying on an outdoor grill to make their hamburgers so why should I?  It was time to stop depriving myself of a good old all beef patty and dig out my grill pan (affiliate link)!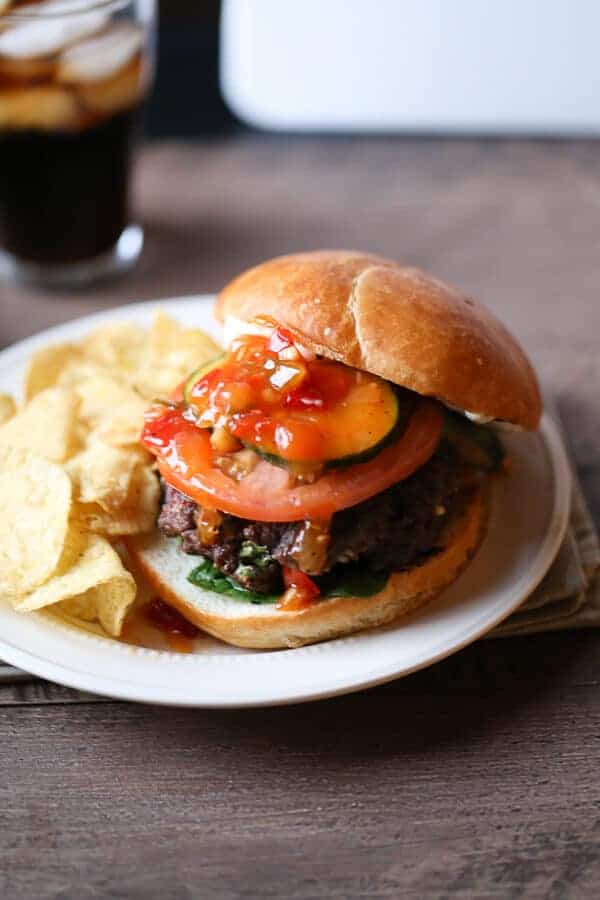 This hamburger recipe is phenomenal!  I used lean ground beef and combined it with fresh parsley and briny feta cheese.  I seasoned them lightly with salt and oregano.  I kept them on the thick side so I could really bite into them.  Once they grilled up in my pan, I topped them with fresh, crisp spinach, crunchy cucumbers and juicy tomatoes.  A simple basil mayo adds creaminess to the burger while a generous spoonful of Rothschild Farms Organic Garlic & Pepper Dip adds more flavor and spice!  I love the unique flavor the dip adds to this burger without a lot of effort on my part!
This is the kind of hamburger recipe that leaves the perfect amount of juice dribbling down your chin.  It's thick, meaty and packed with an intensely good blend of flavors and textures.  No point in waiting for warm weather to hit, now I can enjoy a good burger any time I want!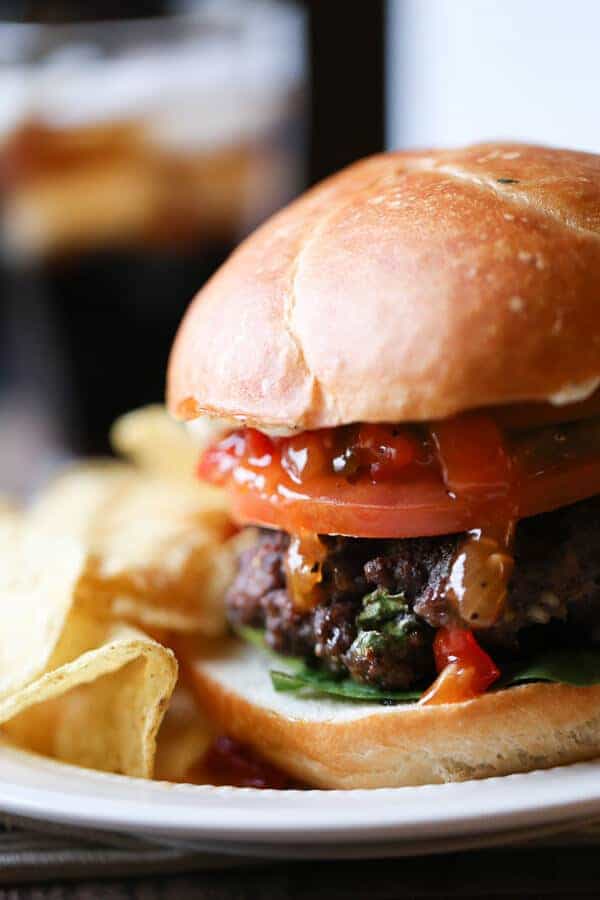 Want to learn more about Robert Rothschild Farm?  Be sure to visit them on the web for product information and recipe ideas or connect with them on Facebook!
I am honored to have partnered with Robert Rothschild Farm to bring you this original recipe.  All opinions are always my own.
Garlic & Pepper Feta Hamburger Recipe
4
adjust servings
Big, juicy feta burgers topped fresh veggies and a savory garlic pepper dip!
Ingredients
2

lbs ground beef

4

oz crumbled feta cheese

2

tablespoons chopped parsley

1

teaspoon salt

1

teaspoon dried oregano

1

tablespoon vegetable oil

1

cup fresh spinach

4

slices tomato

1

small cucumber, sliced

4

tablespoons mayo

2

tablespoons chopped basil

1/4

teaspoon salt

4

tablespoons Robert Rothschild Organic Garlic & Pepper Dip

4

Hamburger buns
Instructions
In a bowl, combine ground beef, feta cheese, parsley, salt and oregano. Mix by hand just until ingredients are combined. Shape mixture into 4 equal patties.
Heat oil over medium high heat. Add burgers. Cook for 3-4 minutes. Flip burgers and cook on the second side for an additional 4 minutes or until desired degree of doneness.
In a small bowl, stir together mayo, basil and salt. Spread basil mayo on each bun. Place the hamburger on each bun. Top with spinach, tomato and cucumber. Add a tablespoon of garlic and peppr dip just before serving. Serve immediately.