I'm always on the look out for new fish recipes!  Especially easy recipes!
This fish stick recipe is sure to please even the pickiest eaters!   One my favorite baked fish recipes!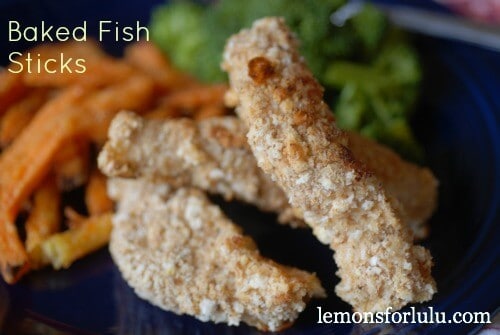 A scary thought hit me the other day as I was doing some online shopping.  Bathing suit season is right around the corner!  Yikes!  I'm not ready.  I've been feeling a bit flabby lately.  It may have to do with the fact that I really haven't exercised in months.  Yes, I walk my dog regularly, but I'd consider that more of a stroll.   Besides, walking does little for my abs!  I can admit that when it comes to exercise, I'm just lazy.  I'd rather watch my diet than work out.
In my 20's you could find me at the gym every night.  I'd spend hours on the treadmill and lifting weights.  I actually cared how much I could leg press or what weights I used to do bicept curls.  I had a whole program where I would only work one body part on any single day.  I'd have several exercises to do for that body part too.  Then I'd do a whole separate cardio workout followed by a whole separate ab workout.  It was a very structured , thought-out process.   If for any reason I had to skip a workout, I'd feel guilty and anxious.  I lived for my time at the gym.  I guess it's because it  felt so good.  I felt so strong and healthy.  The thing of it is, in my 20's I actually had TIME to work out.  I just don't have that now.  My idea of a workout in my current life is a whole body workout in 30 minutes or less!   Any longer than that, and I've lost interest.
I laugh at my thoughts behind exercise at 40.  I know I need to go the gym, but my reasons for doing so now are to be heart healthy and to prevent ostioperosis.   Not nearly as sexy a reason as tight abs and sinewy arms!   At 40, I'm more careful about what we put INTO our bodies too.   Omega 3's are a daily part of my vocabulary.  In an effort to be more healthy, I try to serve my family fish weekly.  I'm fortunate that my family really likes fish, and are willing to try new kinds.    This week, I tried to make  a more kid friendly fish dinner.  I made fish sticks.  Honestly, we've never been big on fish sticks.  Probably because they are usually frozen and don't really taste like fish.  These homemade fish sticks were an enormous hit!  Each of my three kids ate seconds!  Whats even better is how easy these come together.   Just toss your fish sticks in eggs and breading and bake!  Very healthy, very tasty and very kid friendly!
Fish sticks won't necessarily make me look better in my bathing suit, but at least I'll feel better about myself!
You might enjoy these too: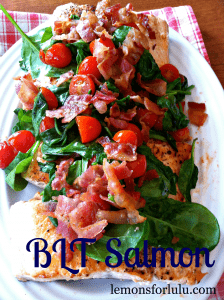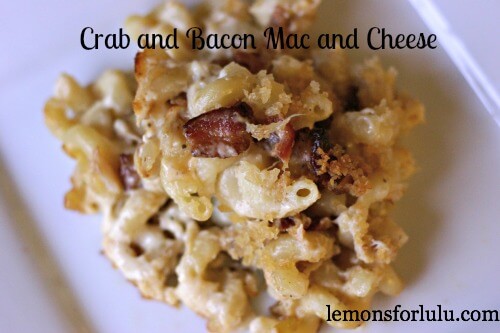 If you'd like a little Lulu in your life, please subscribe via email, RSS, Facebook, Pinterest, Google +, Or Bloglovin.  I love keeping in touch with friends!
Ingredients
1

1/2 pounds cod fillet

1

cup bread crumbs

1

cup Panko bread crumbs

3

tablespoons Old Bay seasoning

1

teaspoon salt

3

tablespoons parmesan cheese

2

eggs, lightly beaten or 1 container Egg Beaters
Instructions
Preheat oven to 350. Spray a shallow baking dish with cooking spray and set aside.
Cut fish into strips, about 1 ½ inches wide. Place breads crumbs, Panko, seasoning, salt and Parmesan cheese in a shollow bowl. Add beaten eggs to a separate bowl. Dip each fish strip in breading, then dip in eggs and dredge in breading once again. Place on baking sheet. Continue with remaining fish strips.
Bake in oven for 10 minutes, turning fish half way through cooking time.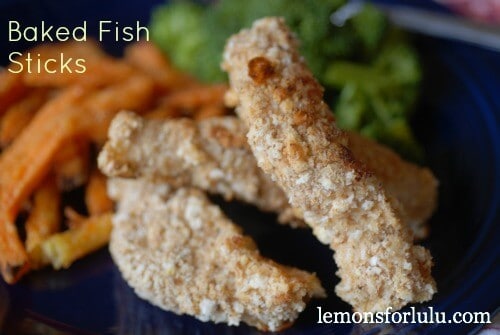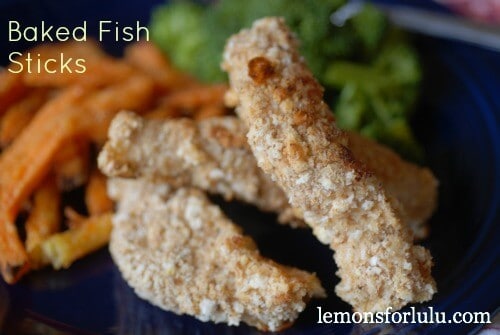 I'll be sharing this recipe at these fabulous sites as well as to Jam Hands