This cream cheese dip is fabulous party food!  
A little ginger, sesame oil and wasabi soy sauce nuts make this dip a crowd pleaser!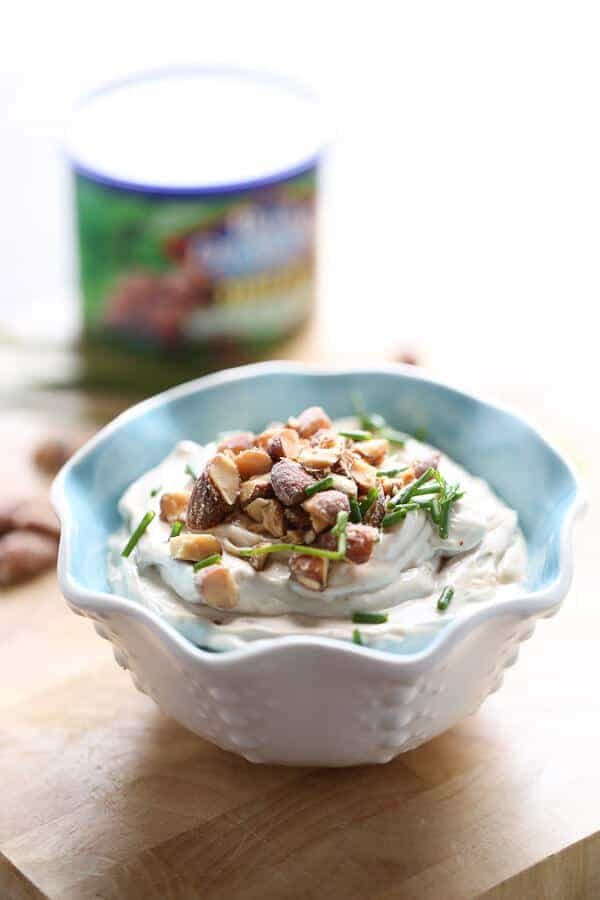 I rate a party by the quality of the appetizers.  If good food is served, that party will stand out in my mind for years.  If the food stinks my mind just blocks that party right out.  I cannot help it, I just love food.   My favorite party food is usually something hot, melty and cheesy, like this bruschetta dip or this chipotle black bean dip.   The greater the chance that my tongue will get burned from all that hot, gooey cheese the better.  I'm a glutton, I know.
The problem with those gloriously cheesy dips that I love is that eventually that cheese turns cold.  Not only does it turn cold, but it solidifies in such a way that you can hardly recognize it.  It turns into a misshapen blob of guilt.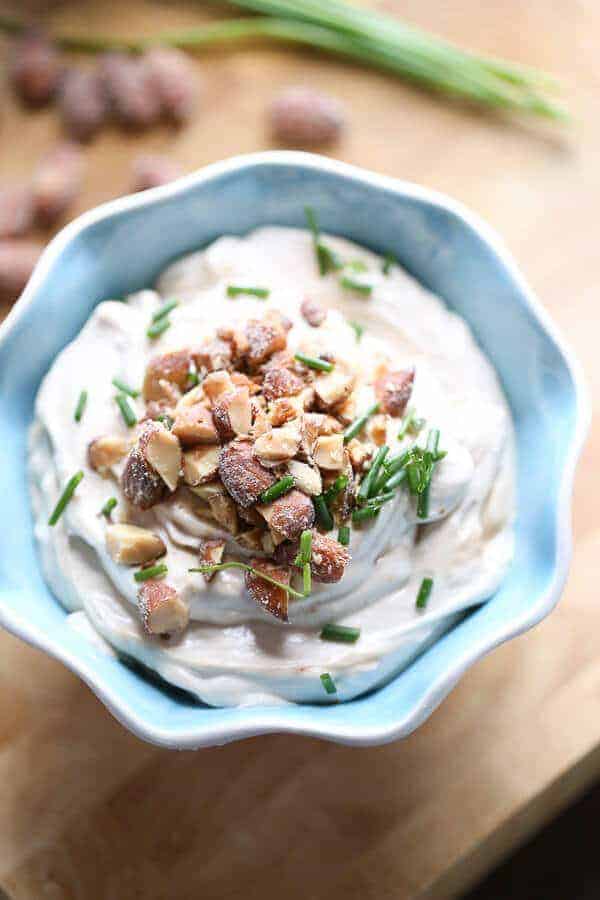 Football parties need good food.  This cream cheese Asian dip is truly a game changing snack.  No, it is not hot or melty, but it is still perfectly delectable.  Cool and creamy cream cheese is mixed with Greek yogurt, a bit of mayo, soy sauce, fresh ginger and sesame oil.  This all happens right in your food processor too.  Blue Diamond Wasabi and Soy nuts are chopped and placed right on top as the crowning glory.  This crunchy, creamy, salty, nutty dip will make anything from carrots chips to potato chips taste even better.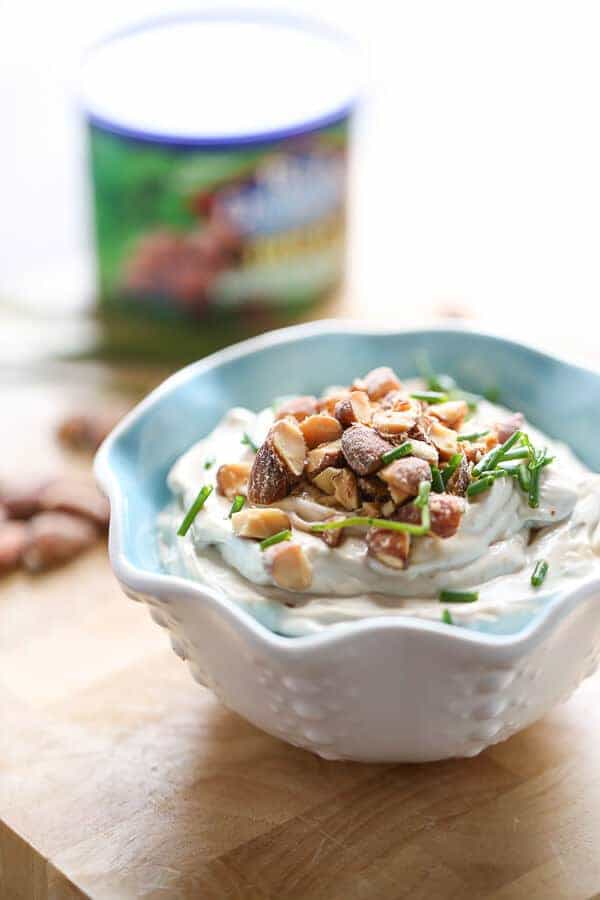 I'll be so sad when football season is over.  I'll have no real excuse to make this cream cheese Asian dip.  There's always golf right?  Golf needs good food too.
 This post is sponsored by Blue Diamond Almonds. For more Game Changing Snacks, visit Blue Diamond Almonds on Facebook, Twitter and Instagram.
Easy Asian Cream Cheese Dip
8
adjust servings
A little ginger, sesame oil and wasabi soy sauce nuts make this dip a crown pleaser!
Ingredients
1 8

oz package cream cheese, softened

1/4

cup mayo

1/4

cup plain Greek yogurt

1

teaspoon chopped fresh ginger

1

tablespoon soy sauce

1

tablespoon apple cider vinegar

1/4

teaspoon sugar

1/4

teaspoon salt

1/2

teaspoon sesame oil

1/8

teaspoon ground red chili

2

teaspoons chives, divided

2

tablespoons chopped Blue Diamond Wasabi Soy Sauce Almonds
Instructions
In a food processor combine the cream cheese, mayo and yogurt. Mix in all the ingredients up to the red chili. Blend in 1 tablespoon of chives.
Place dip in a serving bowl, top with remaining chives and chopped nuts.