S'Mores take on Easter Candy in this fun twist on the classic summer treat!
Parenting is so stressful.  Contrary to what you might be thinking, I'm NOT talking about child care and child rearing here.  I'm actually talking about all the pressure we have to make every holiday, loose tooth, and birthdays the best ever!  I admit, I alone created this monster.  The monster being the unbelievably high expectations of my children!
When I started certain traditions a few years ago, I had no idea they'd snowball into creative challenges that I am increasingly unwilling to accept!  Sure, the Elf on the Shelf looked so cute and innocent when I bought him at Target a few years back, but after spending hours and hours on Pinterest searching for new ways to stage the mischievous elf, I began to curse the day I succumbed to the hype!
Don't get me started on the  tooth fairy!   Clearly there needs to be a set of rules for ALL parents to follow.  These need to be handed down and given to each new parent in the hospital so no one messes it up for the rest of us!  I had a friend who would have her daughter place her tooth in a glass of water next to her daughter's bed.  Then while her daughter sweetly slumbered, my friend would color the water and sprinkle matching glitter all around.  COME ON!!!  Who needs that crap!  How about the days when you just woke up with a quarter under your pillow as proof the tooth fairy existed!!  Don't make me buy glitter!!  And excuse me, but how do I explain to my kids that clearly the tooth fairy loves X, Y, Z more because she gave them $8 more for their teeth?   I'm all for teaching my children that life isn't fair, but I don't want to crush their young spirits!
Here it is the week of Easter and I have  yet to think of all the cleverly rhyming clues I'm expected to write for  Easter morning!    My daughter has casually mentioned at least 5,392 times that she hopes the Easter Bunny doesn't forget to do the scavenger hunt!  I would scrap the whole charade, but how can I disappoint my girl?  I can't.  While there are some days I just want to relieve myself of the stress and confess to my kids that I am Santa, the Elf, the Easter Bunny, and the tooth fairy all rolled into one, I know that I will never actually go through with it.  How can I trample on their joy and their innocence?  They are kids for such a short time and I want it to last as long as possible.  After all, they have the rest of their lives to be realists.   And how blessed am I?  I  get to relive all my childhood joys with them!   As long as I don't loose any teeth!
Peeps remind me of my childhood Easter baskets.  They were my favorites!  I have somehow lost the taste for them as I've gotten older, but I still love what they represent.   I made this S'more toffee solely for my kids to enjoy.  I knew they'd relish the combination of graham crackers, caramel, chocolate and marshmallows.   The graham crackers keep the toffee on the softer side.  These were gone almost instantly!
You might enjoy these too:
Ingredients
1

cup brown sugar

1

cup butter

1

teaspoon vanilla

20

graham crackers

2

cups milk chocolate chips

20

Peep marshmallow bunnies
Instructions
Preheat oven to 350.
Line a baking sheet with aluminum foil. Arrange crackers in a single layer. In a saucepan, melt butter and brown sugar stirring until completely melted. Cook for about 3 minutes, or until mixture begins to bubble. Remove from heat and stir in vanilla. Pour caramel over crackers. Bake in oven for 10-12 minutes. Once removed from the oven, let the caramel set for just a minute or two.
Pour milk chocolate chips over warm caramel. Let chocolate melt for a minute before spreading with an offset spatula. Immediately cut into squares.
Place one marshmallow bunny over each square. Let set completely. Store in an airtight container.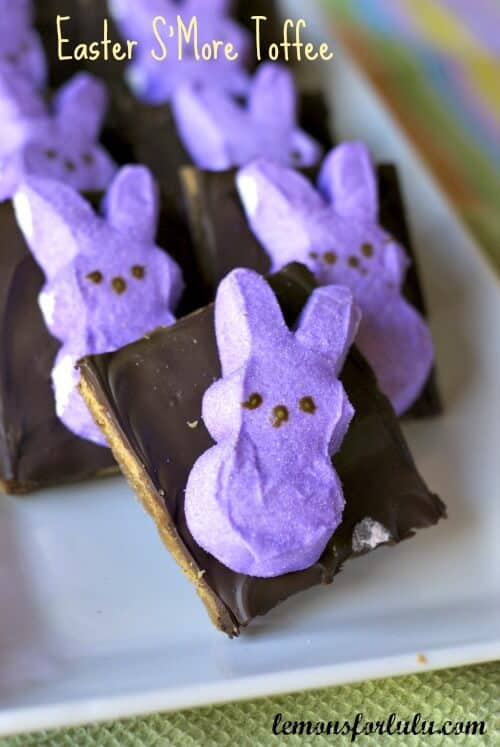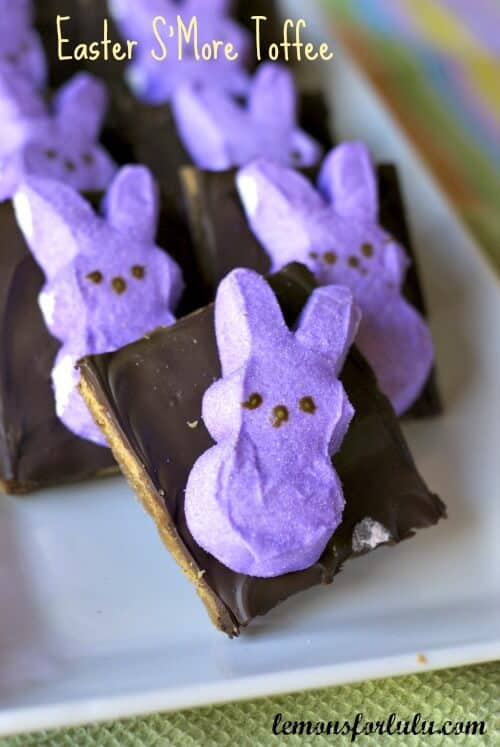 Check out my Pinterest Boards!