BBQ sauce with a surprise! Not only is it sweetened with fresh tart cherries, but this bbq sauce gets a little kick with Kahlúa liqueur!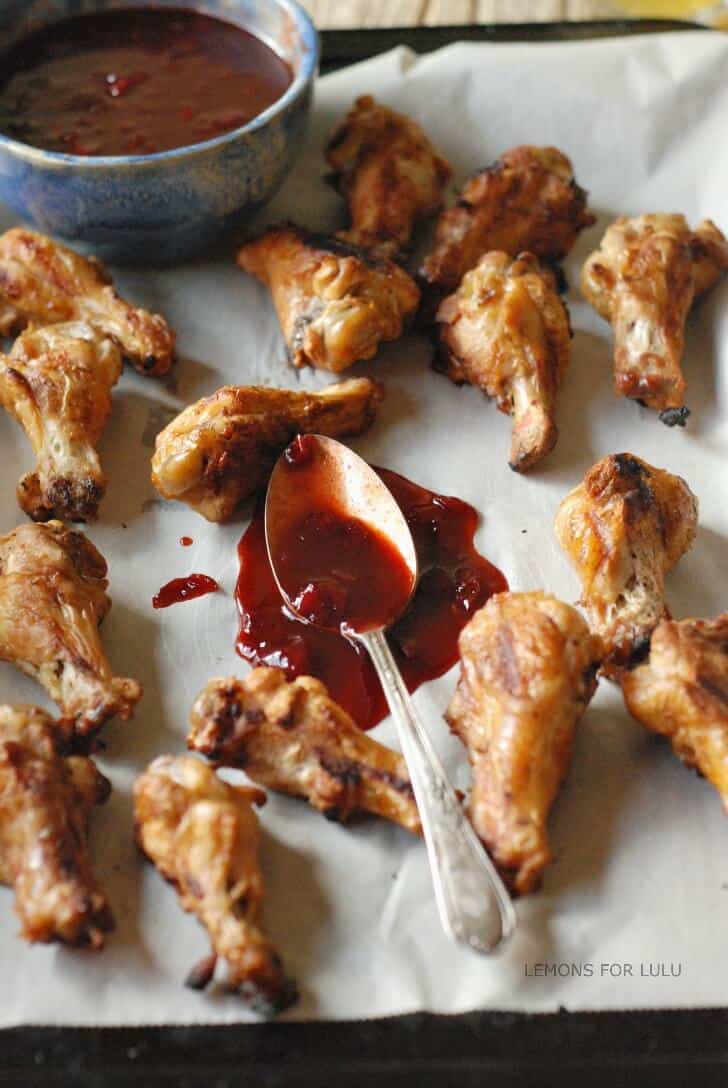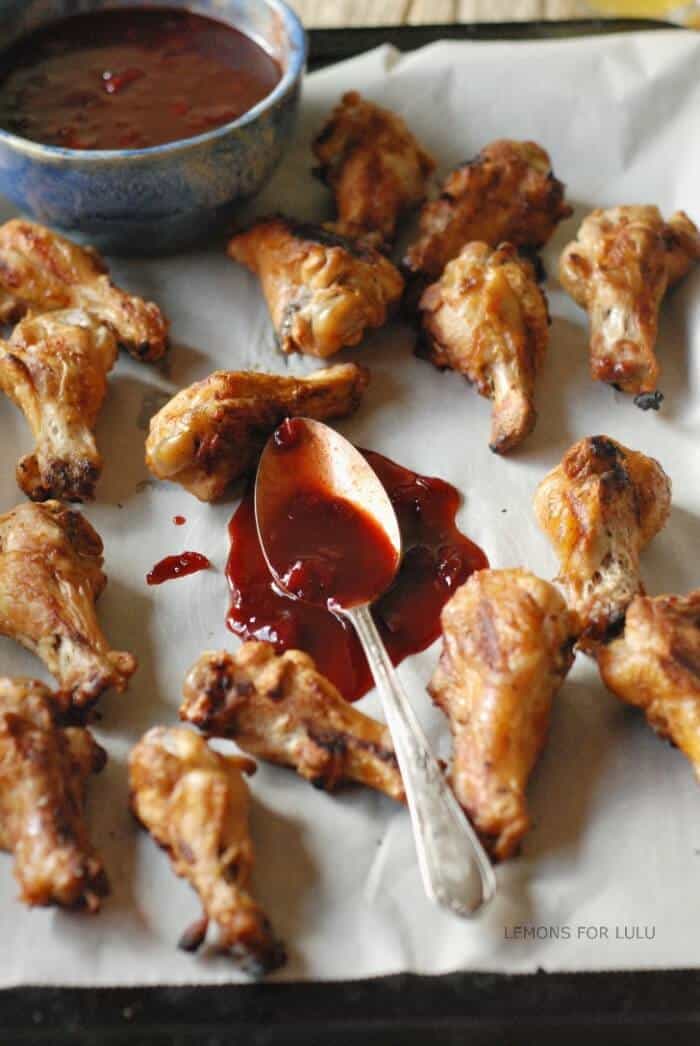 I've written about our decrepit grill before. I won't repeat myself except to say that we had a grill that was just about as old as my marriage. It was gnarly, charred and altogether disgusting. I have been waiting for that rusty bucket of bolts to die. Lucky for me, that's exactly what happened (and no sabotage). We came home from vacation only to find the bottom of the grill laying on our deck. I did cartwheels while my husband swept up the sooty remains.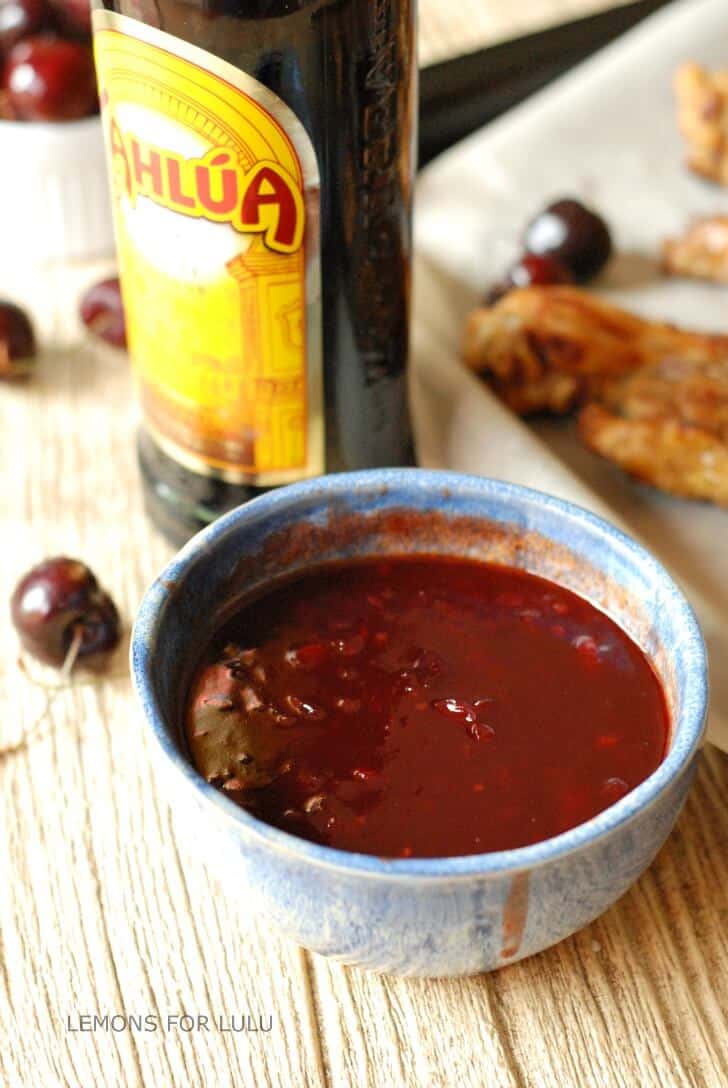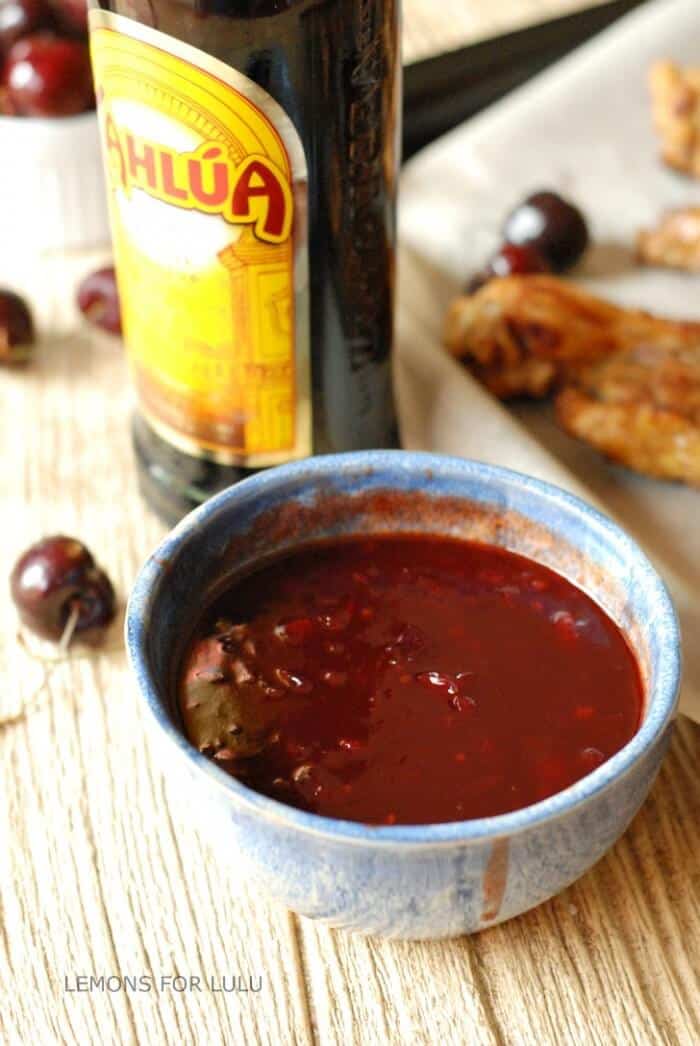 I am in love with my our (my) new grill! It's clean and shiny with lots of space for me to grill whatever my heart desires. It will grill anything and do it quickly! These little drumettes were the first thing I grilled. And while it would seem like the grilled drumettes would be the star of this post, they are not. I love my grill, but I love this bbq sauce even more! Is it possible to love a bbq sauce too much? Not if it has Kahlúa! Yes, you heard me, Kahlua!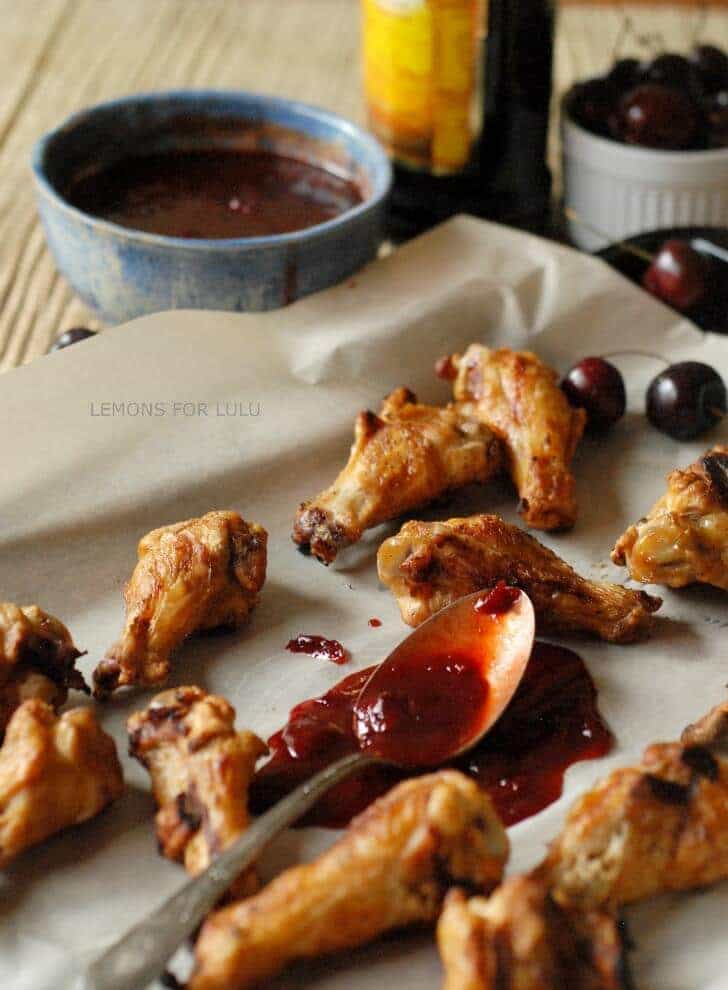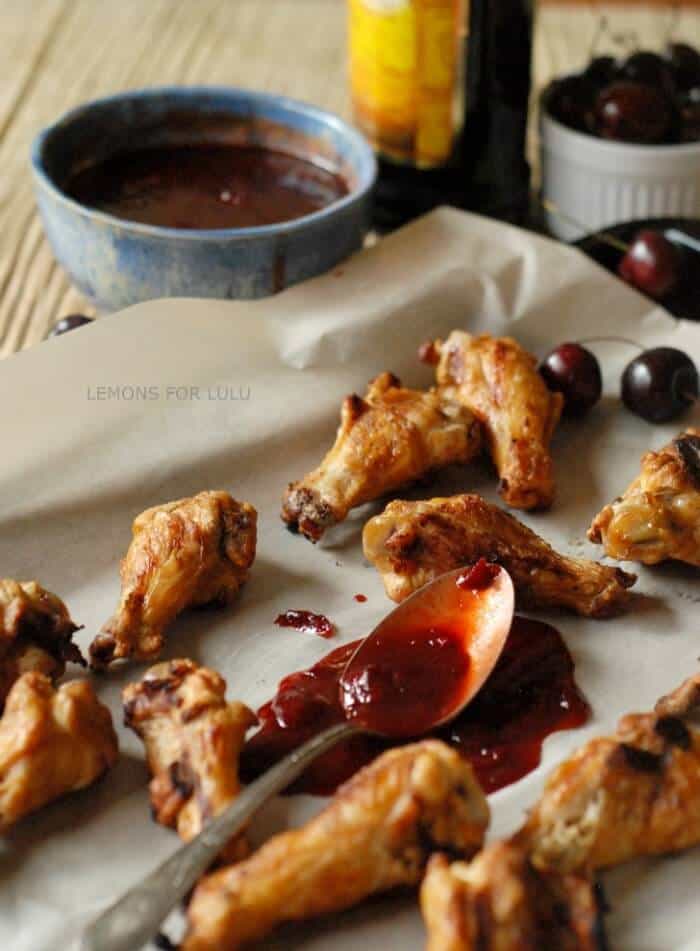 Tart ripe cherries and coffee flavored liqueur come together for the perfect smoky/sweet bbq sauce that is just perfect for dipping these crispy grilled drumettes. This is the perfect summer meal because it's easy, grilled and uses fresh summer fruits! What a way to shake up summer!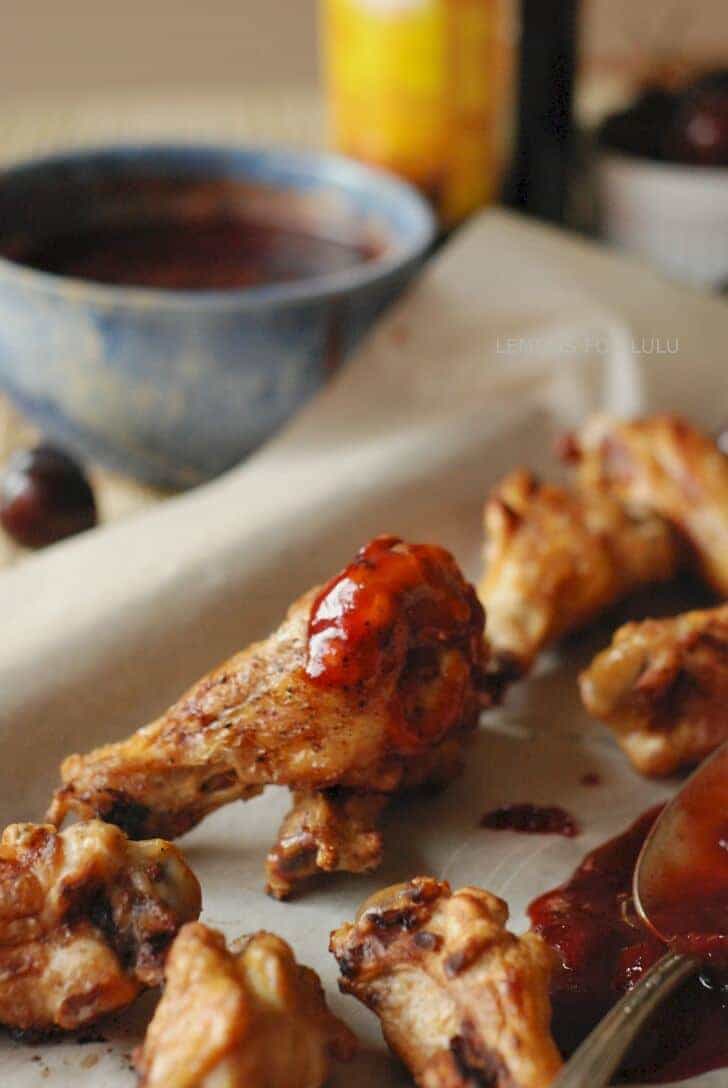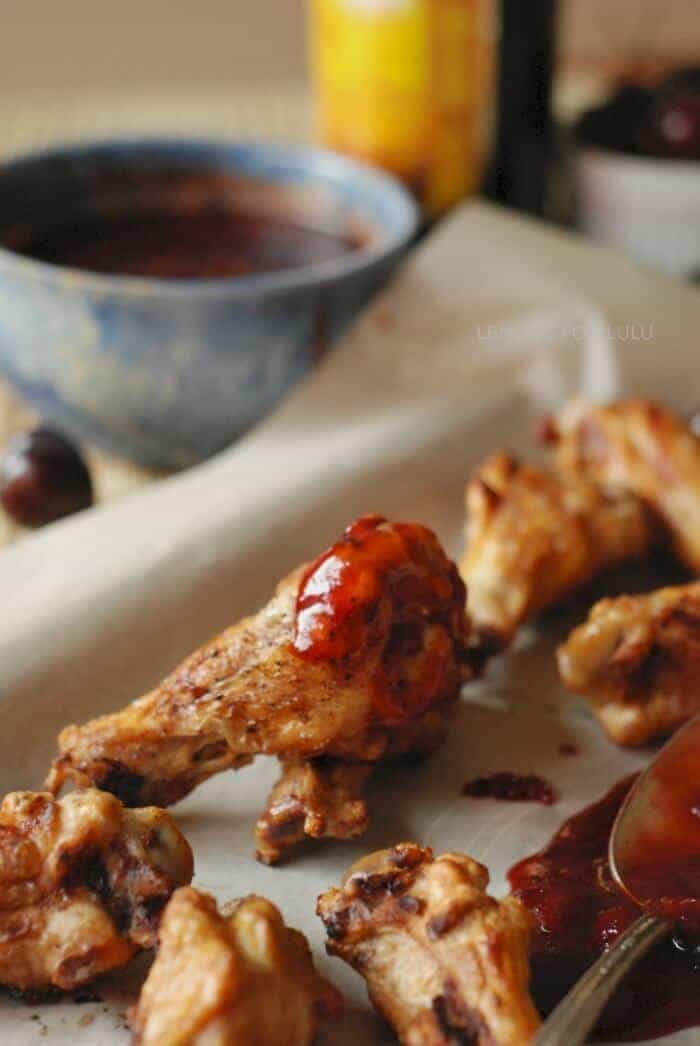 We don't have many weeks left before grilling season officially ends and we turn our heads toward fall. I've got lots of grilling left to do. Time to invite friends and family over for a big bbq. You can be sure that this Kahlúa infused cherry bbq sauce will be ever-present along with ice cold beverages and frosty treats. Ah yes, me and my tangy sauce are totally shaking up summer!
Want more savory ways with Kahúa? Visit their website for recipes, cocktails and more!
Grilled Dumettes with Cherry Kahlúa BBQ Sauce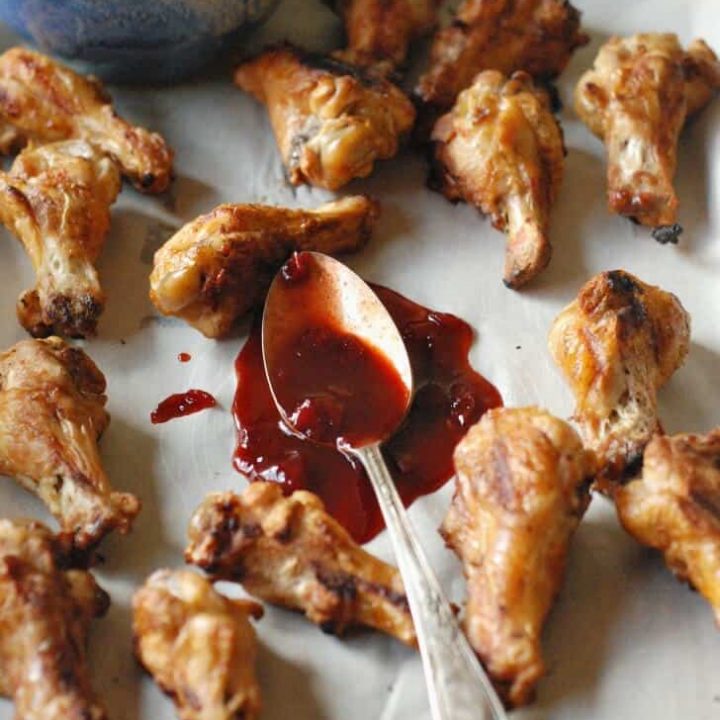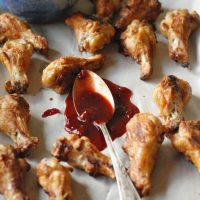 Drumettes with Cherry Kahlua BBQ Sauce
BBQ sauce with a surprise! Not only is it sweetened with fresh tart cherries, but this bbq sauce gets a little kick with Kahlúa liqueur!
Ingredients
1 lb chicken drumettes
1 teaspoon salt
1 teaspoon pepper
For the sauce
2 teaspoon olive oil
2 cloves garlic
1 cup chopped tart cherries
1/2 cup brown sugar
1/4 cup Kahlúa Liqueur
1/4 cup cider vinegar
1 tablespoon Worcestershire sauce
1 tablespoon liquid smoke
1 teaspoon cumin
1 teaspoon paprika
Dash hot sauce
Instructions
Spray grill with cooking spray and preheat over high heat.
Season chicken with salt and pepper. Place chicken on grill, cover and grill on high for 3 minutes. Reduce heat to medium and continue to cook for 18 minutes or until chicken reaches 160 degrees.
Meanwhile prepare bbq sauce. In a small saucepan, heat oil over medium heat. Ad garlic and cook two minutes. Add cherries stir. Mix in brown sugar, Kahlúa, vinegar and remaining ingredients. Stir. Reduce heat and continue to cook until has thickened, roughly 20 minutes.
Serve sauce as a dip for chicken.
Nutrition Information
Yield

4
Serving Size

1
Amount Per Serving
Calories

578
Total Fat

31g
Saturated Fat

10g
Trans Fat

0g
Unsaturated Fat

18g
Cholesterol

94mg
Sodium

1181mg
Carbohydrates

48g
Fiber

2g
Sugar

33g
Protein

20g