This chicken sandwich recipe will make your mouth sing!  The chicken tenders are lightly fried, highly seasoned and taste sensational!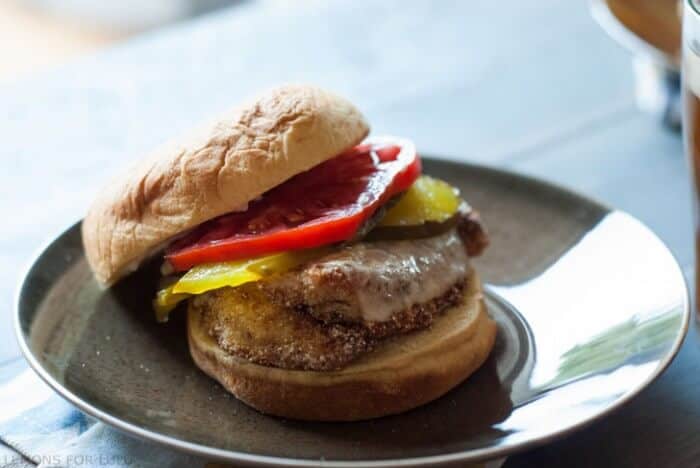 I tend to avoid frying food at home.  I could sit here and pretend I'm uber health conscious and spout off the benefits of baked food versus fried food, but that's not why avoid frying food at home.  I'd be lying to you if I said I never eat fried food, because I do.  I love real southern fried chicken, and fried green tomatoes.  French fries are the best thing ever and let's not even talk about beer battered fish and chips!   I love indulging in fried food on occasion.  So why don't I fry food at home? It's messy and I'm the laziest housekeeper EVER!!!
I never seem to be able to contain the splattering of grease that forms like a halo around the skillet.  I'll wipe it up, but somehow a large grease smear remains.  Without fail, midway through my frying fiasco, I'll remember I own a splatter guard and curse myself knowing the entire mess could have been avoided.  Silly me.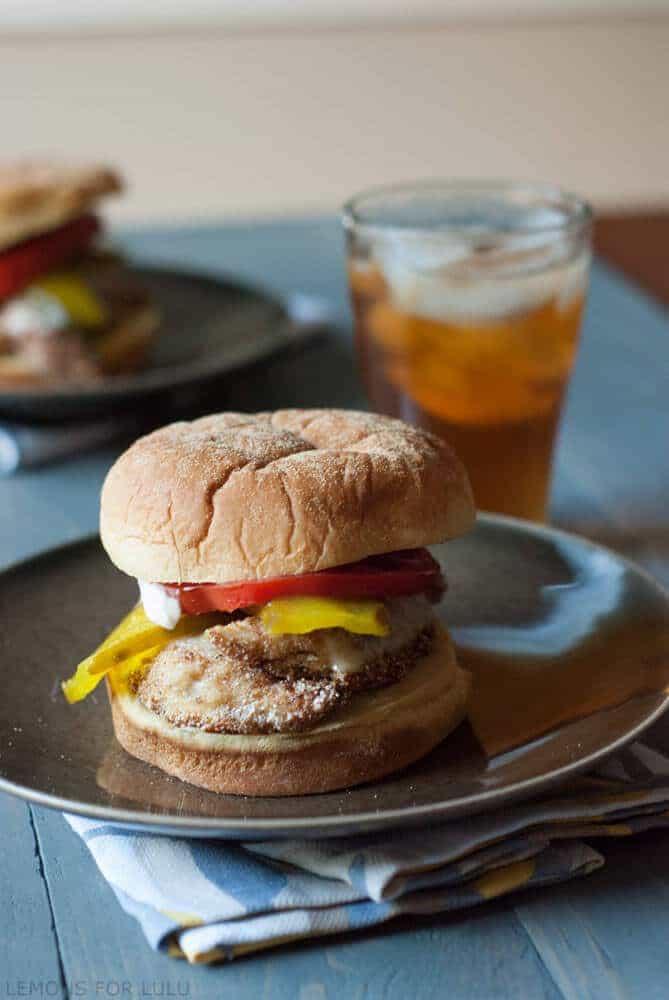 While it's certianly easy enough to enjoy a good old chicken sandwich at any restaurant, I thought making them at home would be better.  That way I can control the sodium, the seasoning, the oil, etc.  I can make MY sandwich MY and be one happy lady.  And boy did I make a sandwich!  I used chicken tenders for even and quick cooking.  But you guys get this,  these chicken tenders are marinated in pickle juice!  Don't worry, you only catch a hint of it.  My pickle hating kids couldn't taste it at all!  There's just a mild undertone hidden beneath the coating.
Once the skillet is hot the chicken cooks fairly quickly. Don't rush to flip the chicken, you'll want to let the first side sit in the hot oil so the breading stays on the chicken. You want your chicken to be nice and golden brown.  I topped our sandwiches with Monterey Jack cheese, a thick tomato slice and more pickles.   These sandwiches were so moist and so flavorful, I can't imagine eating them anywhere else but in my own kitchen.  I'll happily deal with a little bit of grease for the sake of some seriously good eating!
I'm sharing this recipe over at Food Fanatic today!  Be sure to pop over and check them out.  While you are there take a look at these recipes:
Spinach and Artichoke Patty Melt