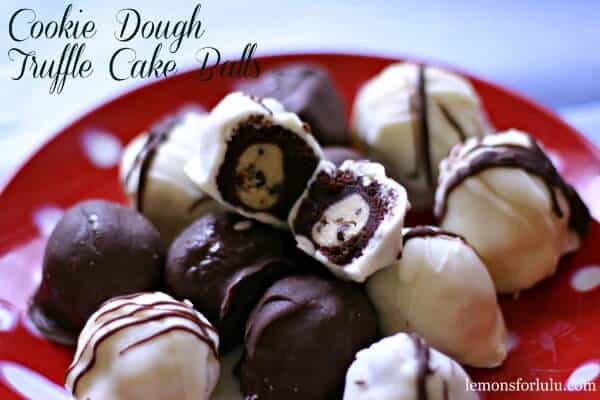 I've developed a love for stuffed food.   It started as a tiny little seed a few months ago when I made cake batter bark brownies.    But now it's sort of a secret obsession.
I blame Hayley, The Domestic Rebel and her out-of-bounds creations!  Have you seen her Capookie?  What is this you ask?  Well it's every dessert you've ever wanted all rolled into one!  Pie, cake, cookies AND sprinkles!!!  It's sort of insane.  Go check it out!!!
I was thinking about stuffed food for days after I saw her post.  I got to thinking about all the food inside of food that I love.  Stuffed burgers would be a great example.  I like them with a big mound of cheese stuffed inside a big, juicy burger!   What about calzones, corn dogs, and jalapeño poppers!   Yes, I heart stuffed food!
I like stuffed desserts too.  Is there anything better than biting into a cupcake only to find a buttercream present tucked deep within?  Does any one else take a bite of each chocolate in a box to find out what yummy goodness is hidden inside?  And what about donuts???  Stuffed fried dough is about the best thing since, well plain fried dough I guess!
I stuffed cake balls.  Seemed fitting.  In truth, I decided to combine my love for cake balls with my love for cookie dough truffles because I'm a wee bit lazy.  Dipping cake balls and then having to dip truffles is sort of a huge time suck.   Plus, somehow, I always make an enormous mess.   Enter the lightbulb.  I got the idea that it would be more productive to roll twice, but only dip once!  You know?  It turned out to me a pretty good idea!  Tasty AND practical!
With these cake balls, you get a bite of the moist chocolate covered cake, but then there's the little nugget of sweet cookie dough just waiting to be discovered.  I made these with both chocolate and vanilla cakes.  I prefer the chocolate cake, I think it was a better contrast to the cookie dough filling.   But don't take my word, YOU should make some for yourselves!
And so continues my quest for stuffed food.  I'm sort of on a roll (no pun intended!).  Whatever will be next????
You might enjoy these too:
Milk Dud Nutella Cookies                                                     Lemons for Lulu
Pumpkin Stuffed French Toast                                             Heather's French Press
Giant S'mores Stuffed Chocolate Chip Cookies                 Smells Like Home
* The Pint Sized Baker had an excellent post on cake balls!  Take a look!
I'm linking this up to these fabulous parties as well as to:   Jam Hands,
The DIY Dreamer and to
Cookie Dough Truffle Cake Balls
72
adjust servings
Cake balls with a sweet little surprise hidden inside....cookie dough!
Ingredients
Cake balls

1

Box (18.25 oz) chocolate cake mix

3

eggs

1

cup water

1/3

cup oil (or as directed)

1

container of frosting

Chocolate and/or vanilla candy coating (16oz)
For the cookie dough truffles
1/2

cup butter softened

3/4

brown sugar

1

t vanilla

2

cups flour

1

can sweetened condensed milk

1/2

cup mini chocolate chips
Instructions
Prepare cake mix according to package directions. Cool in the refrigerator along with frosting.
For the truffles:
In a large bowl combine butter and brown sugar until fluffy. Gradually mix in flour alternating with the sweetened condensed milk. Beat well after each addition. Stir in chocolate chips. Shape into 1/4 to 1/2 teaspoon sized balls. Arrange on a baking sheet lined with wax paper. Freeze until ready to use.
When cake mix is cold break up cake in to your stand mixer (or by hand). Add about a half a cup of frosting in with your cake mix. Mix until frosting is well incorporated. Using a cookie scoop, form cake batter around each cookie dough ball. Roll until smooth. Place back on cookie sheet and refrigerate while preparing candy coating.
In a double broiler with simmering water, melt candy coating until smooth. Carefully roll each cake ball in chocolate with a fork, letting excess chocolate coating drip. Set cake balls back onto baking sheet. Drizzled with extra chocolate.
Depending on the size of your cookie dough truffles, you may need two cake mixes.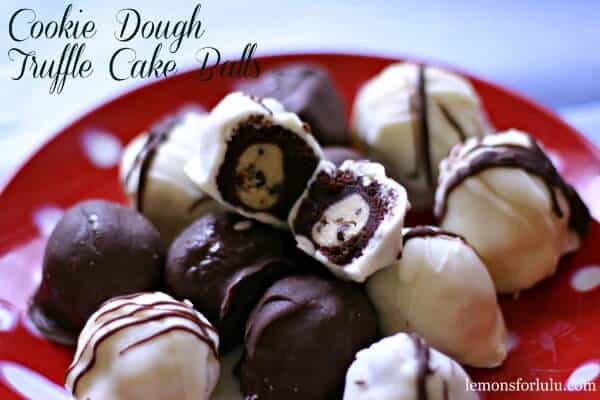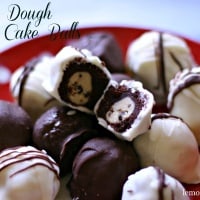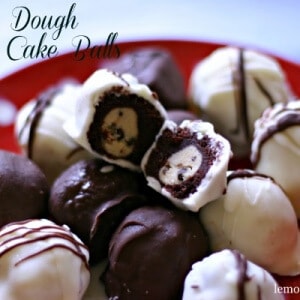 Cookie dough truffle recipe adapted from Taste of Home