A good cocktail meatball recipe is essential for every party!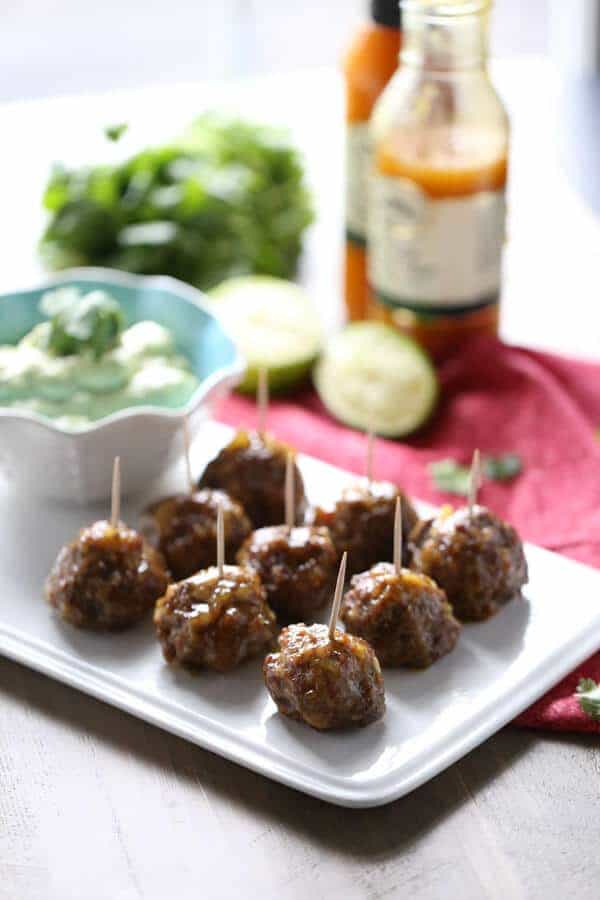 I don't know about you but I love a good cocktail meatball recipe.  I find that these little bites are always the first thing to disappear from any appetizer table.  I have a theory as to why cocktail meatballs seem to disappear; it's the toothpicks.
People love to eat food with toothpicks; they make food fun.  It's just not acceptable for adults to play with our food, but if you have a tooth pick then it feels like you are really getting away with something.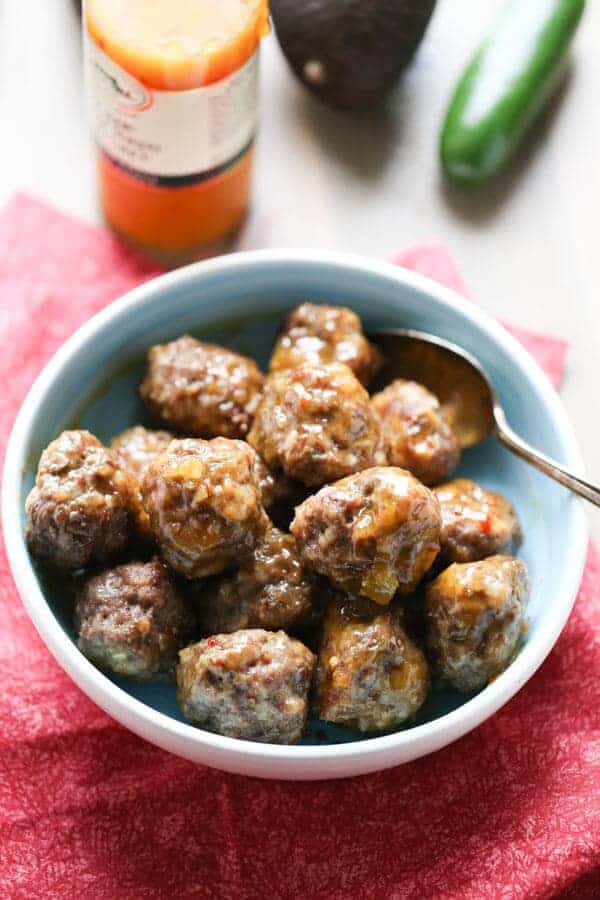 This cocktail meatball recipe was modified from my Meatball Sandwich recipe.  This is my favorite way to  make meatballs.   It starts with a blend of lean ground beef and ground pork.  I love this combination of proteins.  The pork adds moisture and flavor to the lean ground beef.  But the real key to having moist meatballs is the bread!
There are three key points to discuss in regards to this meatball recipe.  First, you must soak a few pieces of white bread in a bowl with milk.  You want the bread to absorb as much milk as possible.  Squeeze your bread slices to drain the milk, then add your bread to the blend of meat.   Second, after all your ingredients have been added to the bowl,  blend the ingredients by hand (yes, by hand.  Don't be afraid to get messy) JUST until all the ingredients have been incorporated.  Do not over mix your meatballs.  If you enjoy dry, tough meatballs then by all means, over mix!  Lastly, shape your meatballs into even sized bites.  This allows them cook at the same rate.  This holds true for hamburgers, homemade french fries and even cookies and pastries.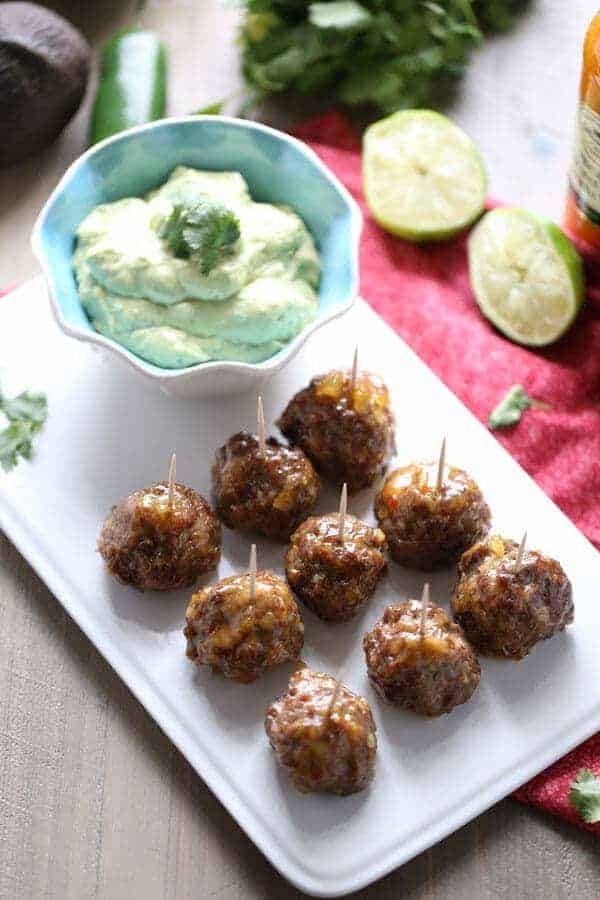 I baked these meatballs for only 20 minutes, then while they were still warm, I tossed them with Robert Rothschild Pineapple Coconut Mango Tequila Sauce..  This sauce is packed full of sweet and savory summer flavor!  I personally love how the nutty coconut and piquant tequila flavors shine through in this simple meatball recipe.   Serve a creamy and cool avocado dipping sauce alongside these meatballs to balance the sweetness and to enhance the tropical notes of the cocktail sauce.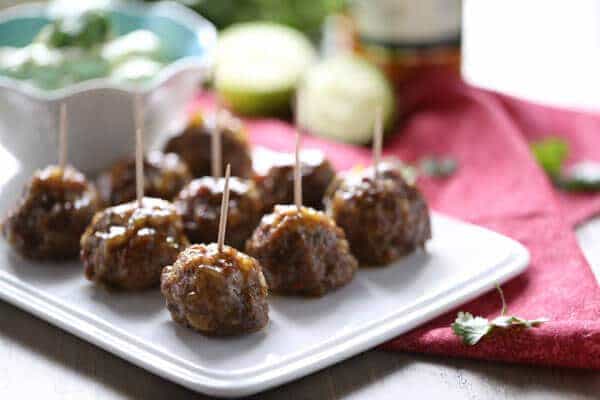 Of course you don't have to serve these meatballs as an appetizer. They'd be fantastic as a main course in tacos or over rice and beans.  The avocado cream would pair nicely with both those ideas as well.  Regardless of how this meatball recipe is served, they will disappear quickly!  Of that I am sure!
Cocktail Meatball Recipe with Avocado Dipping Sauce
24
adjust servings
These little meatballs pack lots of flavor! They are savory and sweet and have a creamy avocado dipping sauce on the side!
Ingredients
For the meatballs;

1

lb lean ground beef

1

lb ground pork

2

cloves garlic, minced

1/4

teaspoon jarred ginger

1/2

teaspoon cumin

1/2

teaspoon oregano

1/2

teaspoon salt

1

egg

2

slices white bread

1/3

cup milk

2/3

cup Robert Rothschild Farm Pineapple Coconut Mango Tequila Sauce
For the dipping sauce
2

avocados

1

small jalapeno

1/4

cup mayo

1/4

sour cream

1

lemon, juiced

1/2

teaspoon salt

1/4

cup cilantro
Instructions
Preheat your oven to 400. Spray a baking sheet with non stick spray and set aside.
In a small bowl, top bread slices with milk. Let stand for 1-2 minutes.
In a large bowl, combine beef, pork, egg, garlic, ginger, cumin, oregano and salt. Squeeze milk from bread and add the bread to beef mixture.
Combine beef mixture by handing just until combined. Do not overmix. Shape beef into evenly shaped meatballs and place on baking sheet.
Place meatballs in the oven and bake for 20 minutes.
Pour Pineapple Coconut Mango Tequila sauce into a bowl. Add warm meatballs and stir to coat.
For the dipping sauce:
Place avocados in a bowl a food processor along with remaining ingredients. Process until smooth.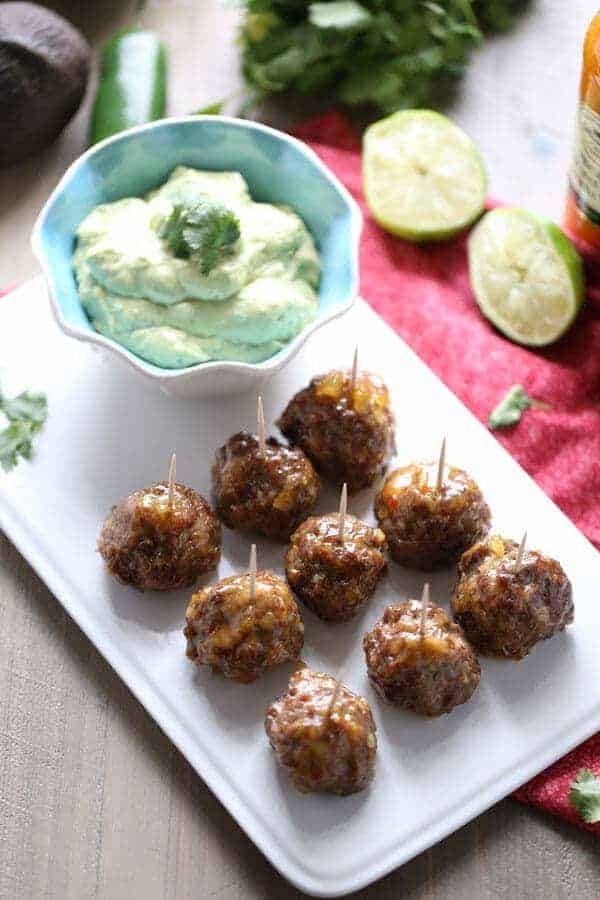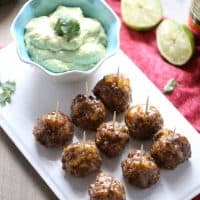 Disclosure: I received compensation from Robert Rothschild Farm for recipe development purposes. All opinions are my own. For more Robert Rothschild Farm recipes, click here.
I may be linking this up to these parties and to The Weekend Potluck!