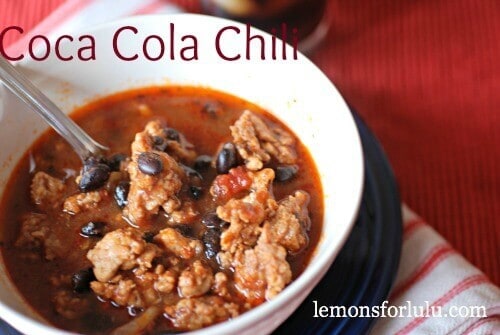 It's a new year, time for a new party!  We hope you'll come and join us in the kitchen for the new Iron Chef Mom 2013 party!  Share your best dishes and then come back over the weekend and vote for your favorites!  I can't wait to see who will be the first Iron Chef Mom of 2013!  Perhaps it will be YOU!!!
Cheerios and Lattes
is hosting the first party.  The first ingredient  is tomatoes.  Would you believe I struggled with this ingredient?  I'm so trained to think of desserts!  But there is a chef inside me who loves to cook savory food and is sort of good at it!  I went to one of my favorite foods-chili!  It is January and we could all use comfort food.   I didn't really know what to expect using Coca Cola in my chili.   I figured the worst that could happen is I'd have to throw it out (wouldn't be the first time!).  But you know what did happen?  The most delicious and aromatic bowl of chili!  I lightened it up a bit by using ground chicken and chicken sausage.  Fire roasted tomatoes added  such a rich, smoky flavor.  You can't actually taste the Coca Cola,  It just provided a hint of sweetness.  My family really loved this chili!  I'm so glad I stepped out on a limb and tried chili with Coca Cola!  It was a surprisingly delicious addition!
If you would like a little Lulu in your life, please subscribe via email,RSS, Facebook or Google +.  I love staying connected to friends!
You might enjoy these too: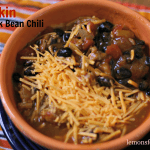 Pumpkin and Black Bean Chili
Pasta Jambalaya