Cinnamon sugar wonton wrappers 
hold an assortment of sweet and fresh fruit!
These kid-pleasing fruit cups are the perfect after school snack!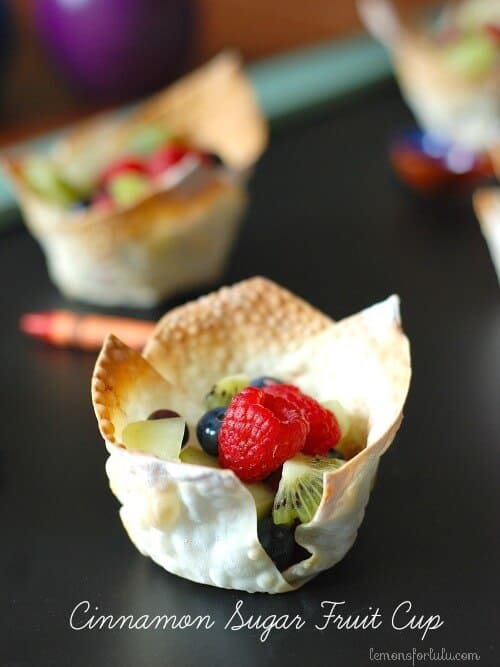 We eat a crazy amount of fruit!  I'd call us fruitarians, but we do eat other foods like chili dogs and cookies (lots of cookies)! Fruit is just so easy.  It's the perfect "wash and go" food.  We snack on fruit, we eat it with our cereal or in our smoothies, we eat it with lunch, dinner and in between.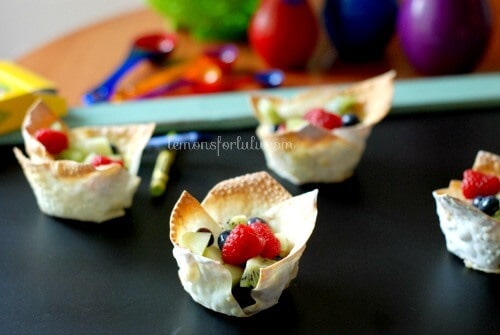 Today was the first day I had to pack school lunches.  From now on I'll be a lunch packing machine.  I'll be packing 60 lunches a month, not counting my husbands lunches.  Yep, I'm a lunch packing expert!
I'm recruiting some help this year.  My oldest daughter Ellie is 9, going on 10.   She's been my apprentice in the kitchen.  It turns out she's a really good student.  She is our in house guacamole maker, scrambled egg chef and now fruit cup maker!  She received her own cookbook for her last birthday.  We broke it out to make these sweet little cups to pack in our lunches!   Wonton wrappers were sprinkled with cinnamon sugar, baked and filled with lots fresh, sweet, seasonal fruit!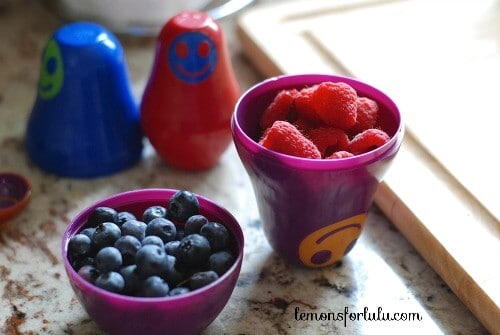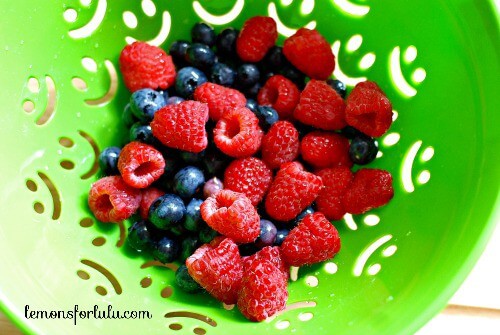 Have you heard of Kizmos?  They have the best assortment of cooking and baking supplies JUST FOR KIDS!  Ellie could easily, measure, rinse,  and mix all the ingredients for these fruit cups.  They are fun, durable and perfect for smaller hands!
What we love about this fruit cup recipe, aside from the ease, is that there aren't that many ingredients and everything is natural and fresh.  Mix the fruit with a little honey and lime juice and fill your baked cups.  These little cups were going into our school lunches, but we saved a couple for an after school snack!
I was proud to see Ellie creating in the kitchen.  I could see her self confidence blossoming and her appreciation for food expanding!  It reminded me that I should allow all three of my kids to get in the kitchen with me as often as possible!  I want nothing more than for all of them to have a healthy love for food!
NEED MORE SNACKIES?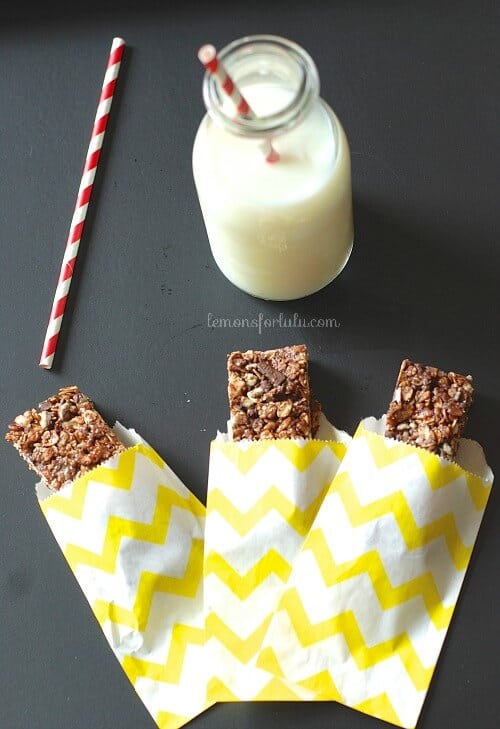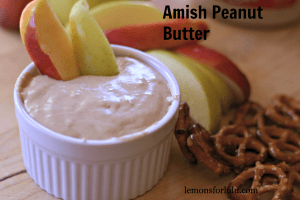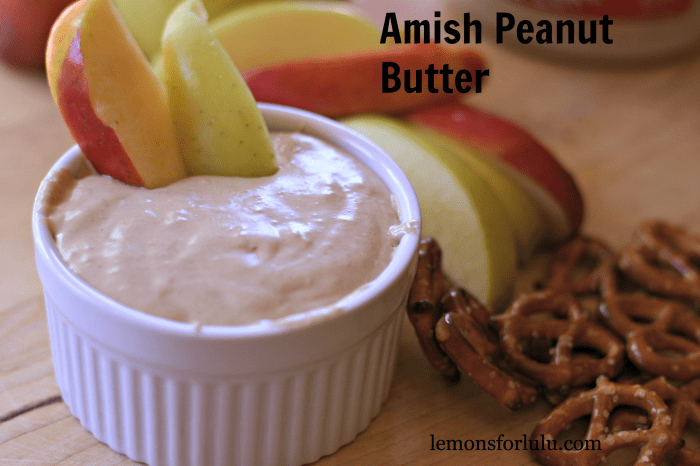 NEVER MISS A RECIPE!  SUBSCRIBE TO MY EMAIL TODAY!
FOLLOW ME:
Cinnamon Sugar Fruit Cup #backtoschoolweek
Ingredients
18

wonton wrappers

1

teaspoon sugar

1/2

teaspoon cinnamon

1

cup honeydew melon, chopped

1

cup raspberries

1

cup blueberries

1

cup kiwi, peeled and chopped

1

tablespoon honey

1

tablespoon lime juice
Instructions
Heat oven to 375. Spray a 6 cup muffin tin with non stick spray. Arrange three wonton wrappers in each cup, overlapping as necessary so that all three form a cup. Spray arranged wrappers with non stick spray. In a small bowl, combine sugar and cinnamon. Sprinkle sugar mixture over each cup and bake in the oven for 7 minutes or until crisp and golden. Remove and let cool completely before removing to a cooling rack.
In a bowl, combine fruit. Drizzle with honey and lime juice and stir to coat.
Evenly fill wonton cups with fruit. Serve.