Cinnamon apples are cooked in butter and brown sugar then set over sliced sweet bread.
Each serving is drenched in a simple bourbon syrup.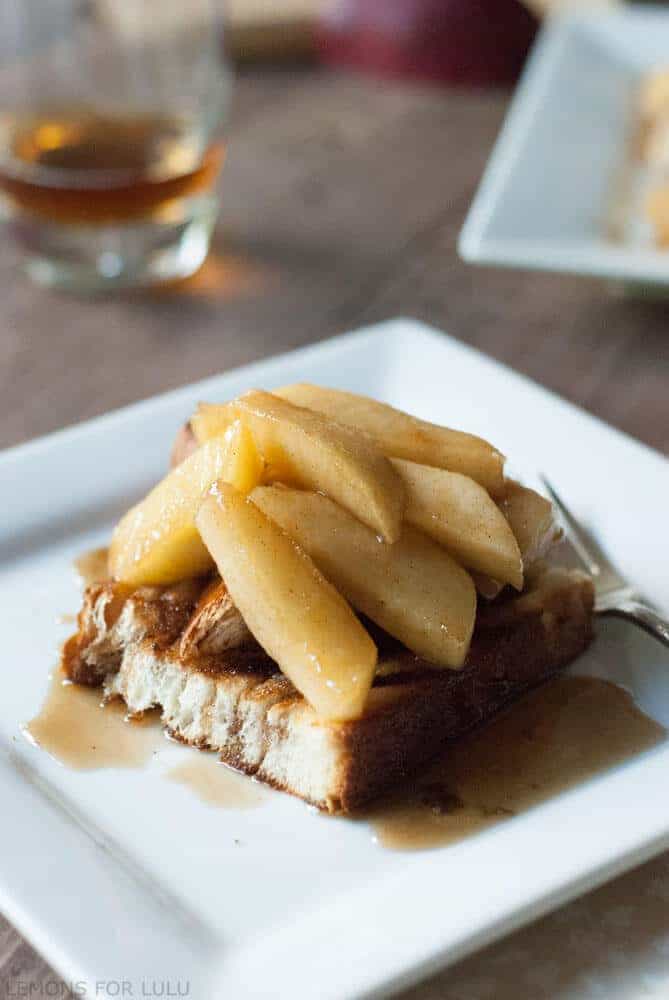 My five-year old skips a lot.  I started noticing the skipping when we'd take the dog for a walk.  Her happy little legs would be skipping in front of me while I'd be left to bring up the rear.  Every four or five skips, my daughter would do a leap, with her arms swinging over her head to propel her forward.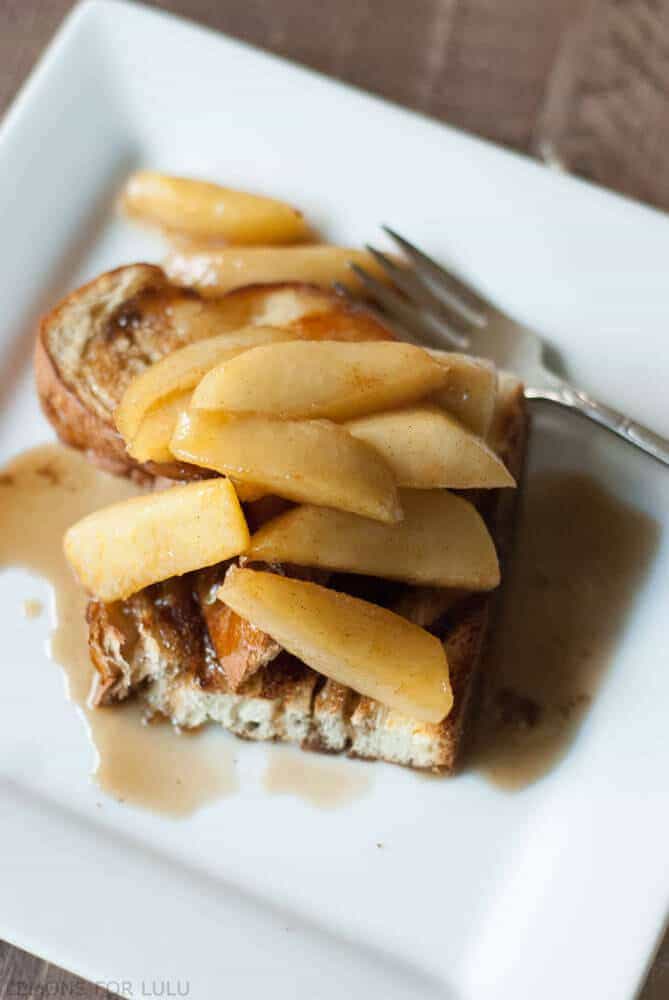 I cannot recall at what I age I stopped skipping.  If I had to venture a guess, I'd say I stopped skipping by the 4th grade.  That's probably when the unspoken "it's not cool to skip" rule was established.  Silly 4th graders, what do they know?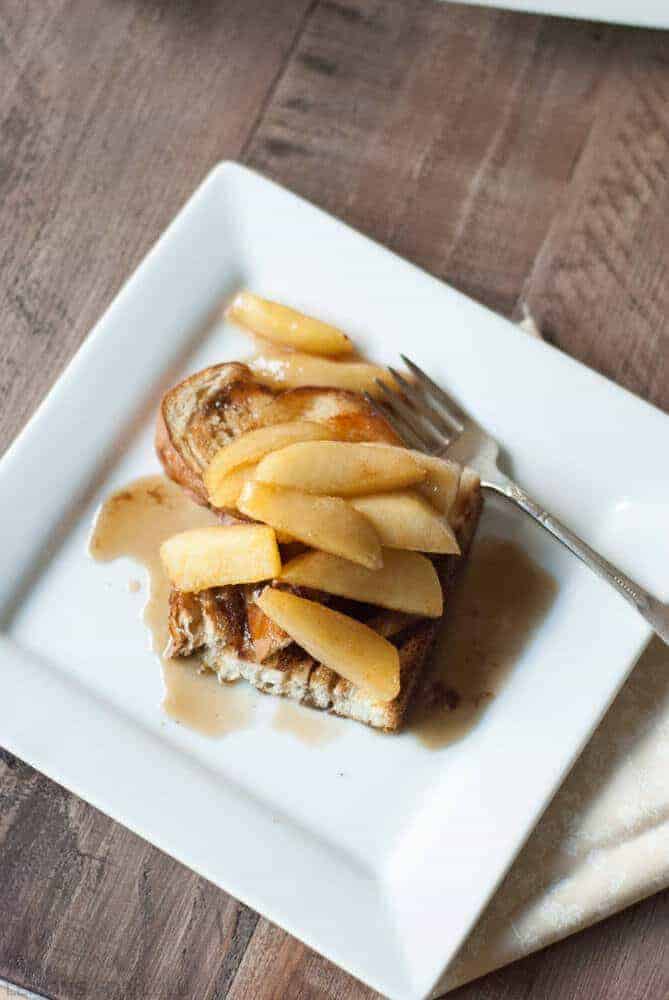 Skipping is your body's way of showing happiness.  It is absolutely, unbridled glee.  Think about it, you just cannot be sad or angry and skip at the same time.  It's just like keeping your eyes open when you sneeze, it cannot be done!  You cannot be a miserable skipper!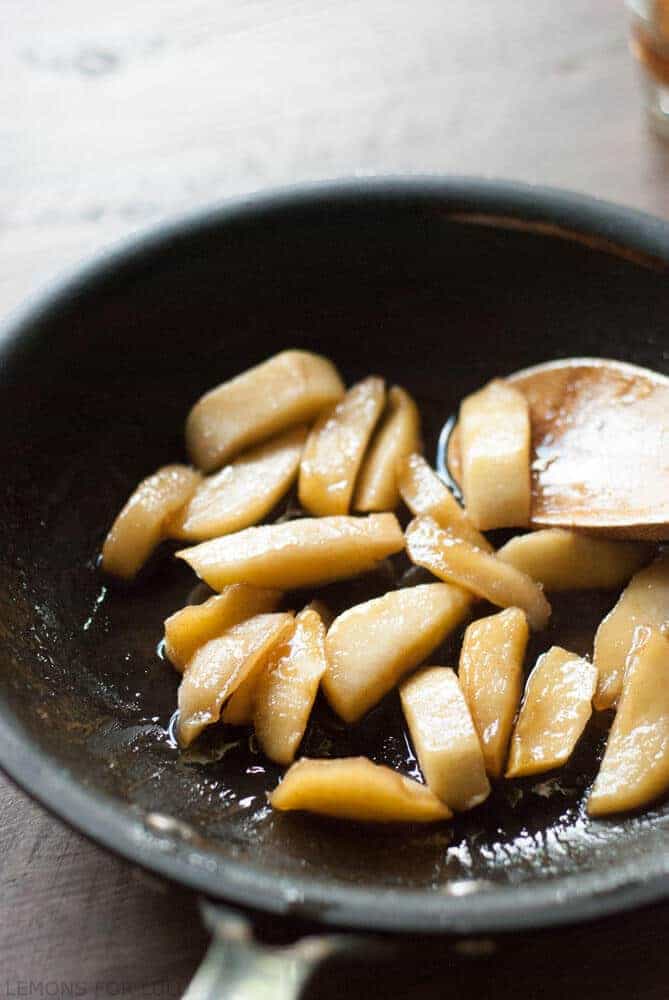 Let's face it, being an adult totally stinks sometimes.  We have bills, worries, fears, and insecurities.  Which is precisely why WE should skip!  We should skip everywhere, all the time!  Let's take a lesson from the 5 year olds around us.  Let your body go, skip, leap and be happy.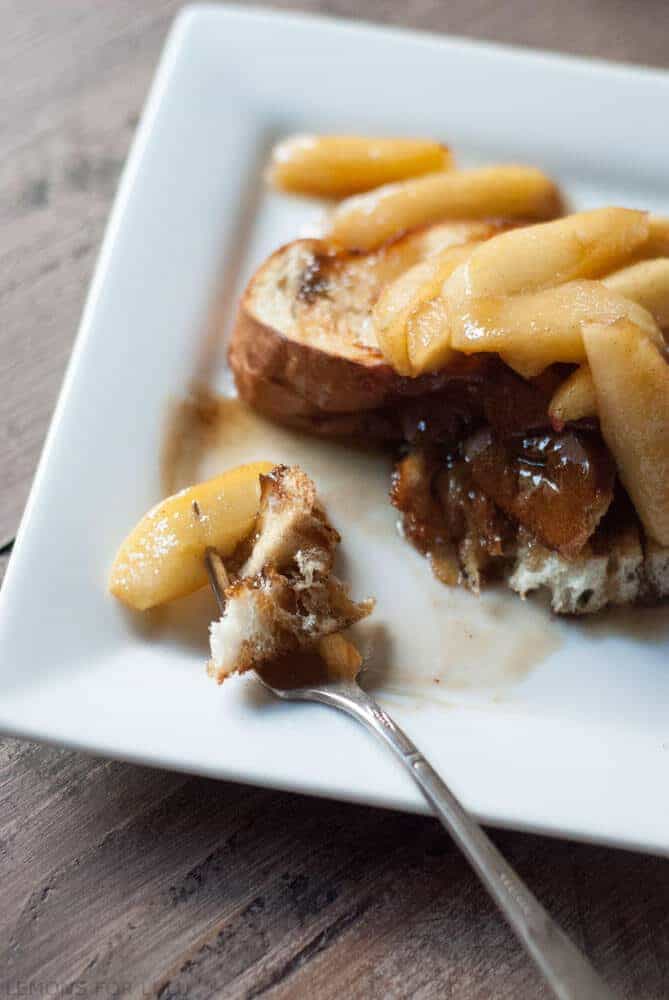 That's precisely what I did after making these cinnamon apples.  I skipped all around the kitchen!  I ate my plate and skipped some more.  I'm not sure what made me happier, the buttery soft cinnamon apples or the sweet bourbon syrup that I poured on top?  You could leave out the bourbon if you'd prefer to keep it non alcoholic.  In that case, you'd just add the vanilla to the butter and sugar mixture, once the sugar has dissolved.  But I highly recommend trying the bourbon.  It tastes very similar to butter pecan syrup.  I also used a Kings Hawaiian round loaf.  I love how the soft fluffy bread holds the apples and absorbs the syrup.
One plateful of this cinnamon apple dessert will leave you skipping too!
NEVER MISS A RECIPE! SUBSCRIBE TO MY EMAIL TODAY!
FOLLOW ME:
FACEBOOK | TWITTER| GOOGLE +| BLOGLOVIN | INSTAGRAM
Cinnamon Apple Toasts with Bourbon Syrup
4
adjust servings
Ingredients
1

round loaf sweet bread, (I used Kings Hawaiian) sliced into 4 slices. Cut slices in half for a total of 8 slices.

4

teaspoons butter
For the apples
4

cups peeled, sliced apples (I used Fuji)

1/2

cup butter

4

tablespoons brown sugar

1

teaspoon cinnamon
For the syrup
1/4

cup bourbon

2

tablespoons brown sugar

1

tablespoon butter

1/2

teaspoon vanilla
Instructions
Heat a large skillet over medium heat. Add ½ cup butter, apples, brown sugar and cinnamon. Stir in sliced apples. Reduce heat to medium low. Cook apples for 8-10 minutes or until soft.
Meanwhile in a small saucepan, combine bourbon and butter over medium heat. (If you using gas, be careful of flame up's from the alcohol). Add sugar stir until dissolved. Continue to cook on low until syrup begins to thicken, whisking occasionally.
Heat a grill pan over medium heat. Butter each side of sweet bread with a ½ teaspoon of butter. Toast for 2-3 minutes per side or just until browned.
Place two slices of bread on each plate. Top with 1 cup of apples. Drizzle syrup over each plate.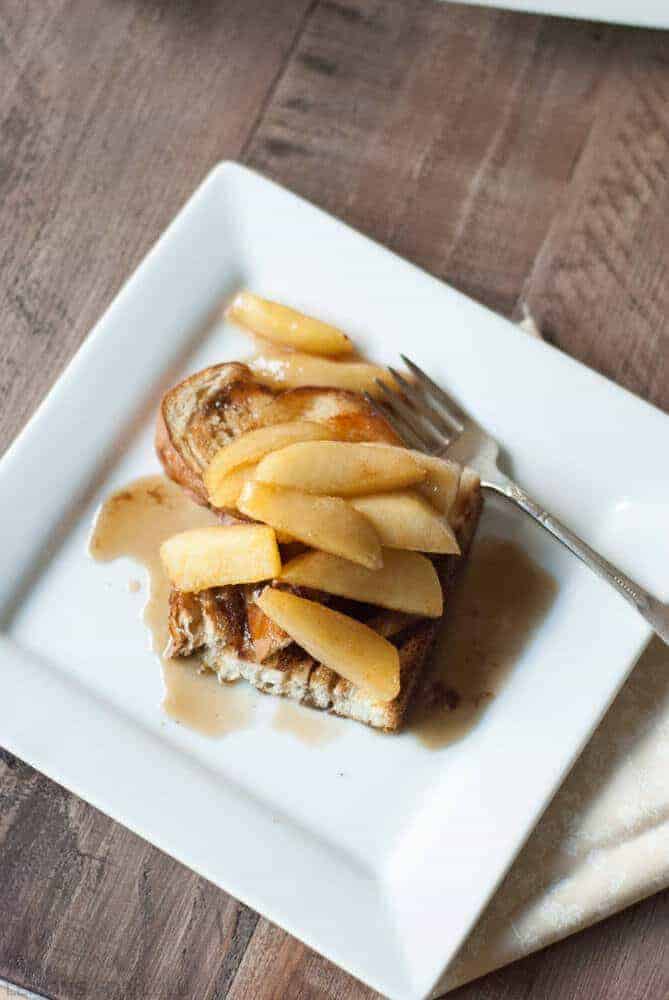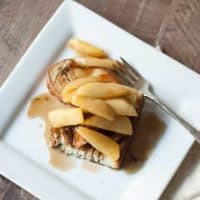 This recipe was inspired by the August 2014 issue of Cooking Light Magazine