A simple skillet cookie made with chocolate peanut butter and Reese's Peanut Butter Cups!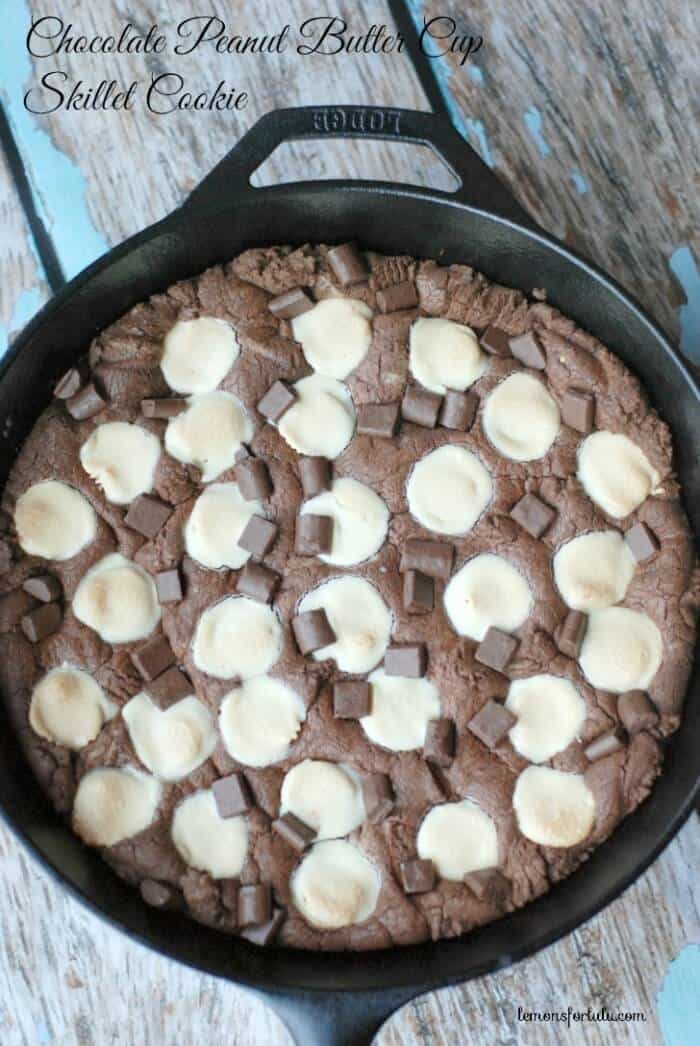 Sisters
I am the youngest of three girls.  My sisters and I have always had a close relationship.  Being the youngest, I always looked up to my sisters and idolized them, even during those times when they weren't especially sweet to me.  I can vividly recall my oldest sister sitting on me and tickling me until my stomach ached and I would cry out in pain to make her stop!  Or the time when we were visiting Niagara Falls with the family, and my sisters would lift me and threaten to throw me over into the falls.  Or even those times when they'd put strange ingredients in a cup and make me drink it.  Yes, I admired them even then.  They were older, wiser and by default, way cooler than me.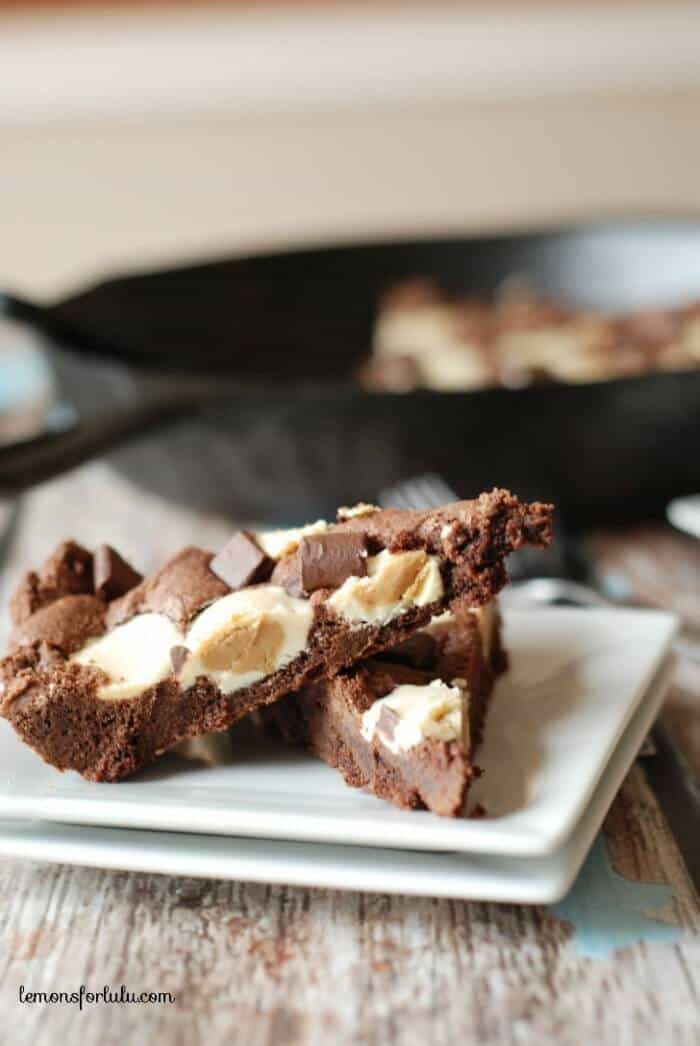 I can't blame them for wanting to toss me into the raging waters of the falls, simply put, I was annoying.  I'd pick up the phone while they were chatting with their friends and bark at them to get off (as if I had anyone to call).  I'd put on my loudest shoes and tap dance in the kitchen while they were busy working on homework, I'd follow them around, snitch on them, and in essence, invade any shred of privacy they ever had.  That's what sisters do right?  It's a true wonder they still talk to me!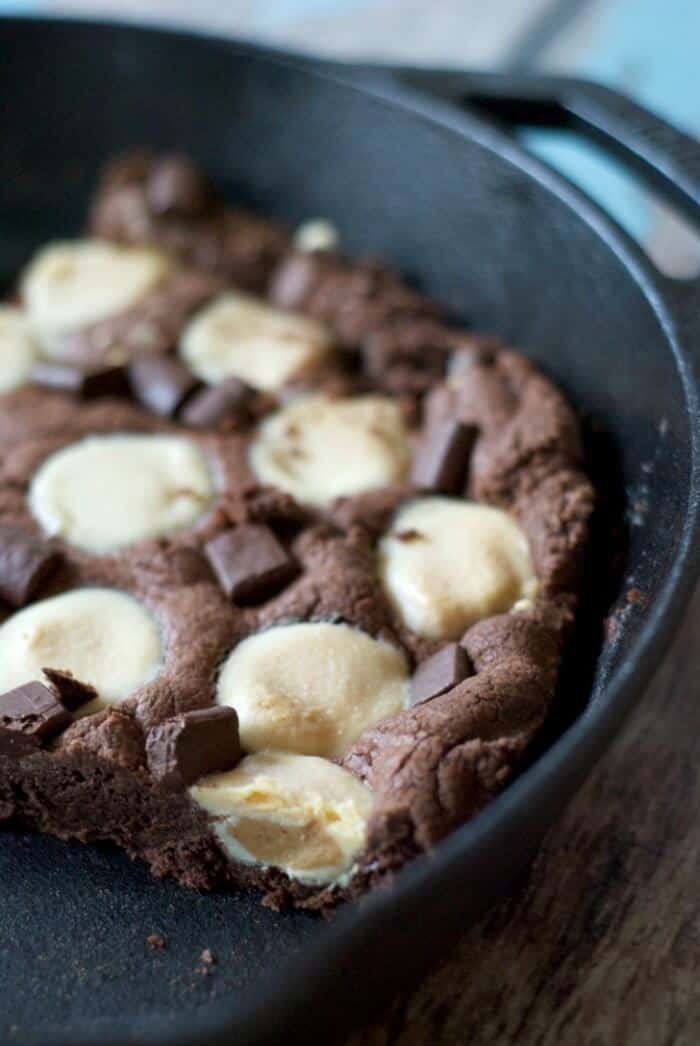 Virtual Baby Shower
Today my bloggy friends and I are throwing a virtual baby shower for my friend Cathy at Lemon Tree Dwelling.  I adore Cathy and her blog, she is so sweet and so talented, please visit and say hello!  Cathy will soon deliver a baby girl into this world.  I'm so happy for Cathy and her family!  This little baby will be joining three older sisters, who will be ready to show her the ropes!  Sure, there may be some fighting and sibling rivalry, but sisters have a special bond.  I couldn't imagine my own two girls not having each other.  There is no way I could imagine not having my own sisters!  This sweet little Lemon Tree Dwelling baby is one lucky little girl!
Chocolate Peanut Butter Cup Skillet Cookie
I made Cathy a chocolate peanut butter cup skillet cookie!  This skillet cookie is so easy to put together and perfect for little girls to do together.  The skillet cookie bakes up quickly in the skillet and has the perfect amount of crunch, just like a regular sized cookie.  I used chocolate flavored peanut butter and white chocolate Reese's Cups just to shake everything up a bit when I made this delicious skillet cookie!
COOKIE, COOKIE, COOKIE IS FOR ME!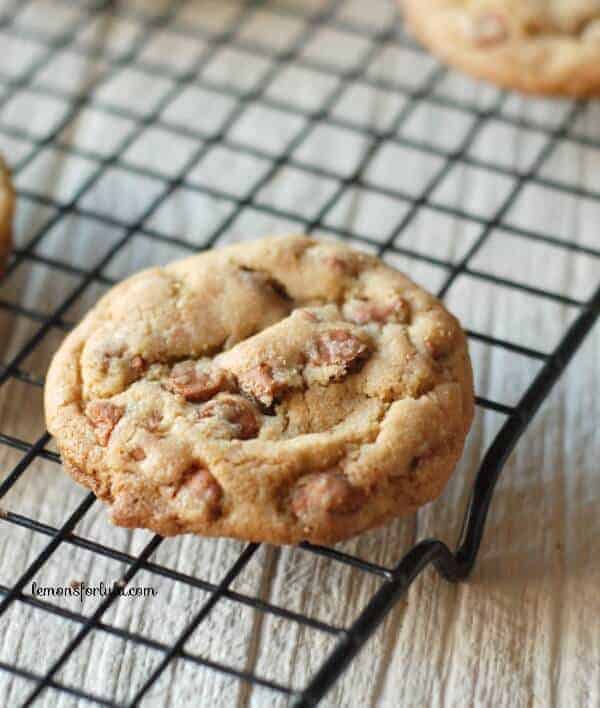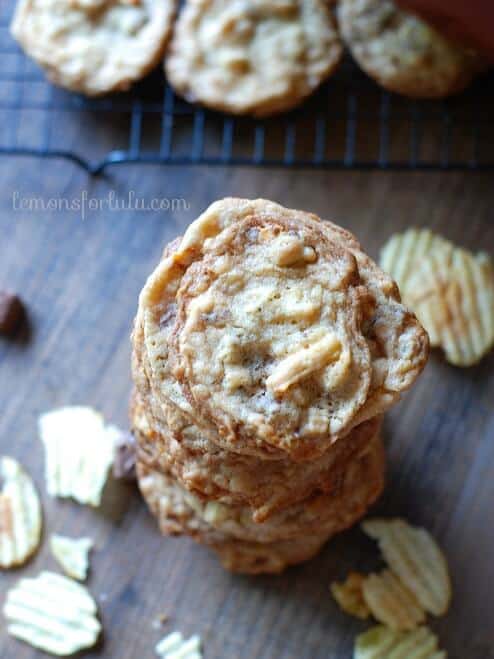 NEVER MISS A RECIPE! SUBSCRIBE TO MY EMAIL TODAY!
FOLLOW ME:
FACEBOOK | TWITTER| GOOGLE +| BLOGLOVIN | INSTAGRAM
Don't forget you can save each of these recipes to your personal recipe box , create your own meal plan, or add ingredients for each recipe to your shopping list! Just use the "Save Recipe" on all my recipes!
Chocolate Peanut Butter Cup Skillet Cookie
Ingredients
1 1/2

cup flour

1/3

cup cocoa powder

1/2

teaspoon baking soda

1/8

teaspoon salt

1/2

cup butter, softened

2/3

cup sugar

1/3

cup brown sugar

1/2

cup chocolate peanut butter (I used Peanut Butter and Co Dark Chocolate Dream)

1

teaspoon vanilla

2

large eggs

1/2

cup chocolate chunks

24

mini White Chocolate Reese Cups, unwrapped
Instructions
Preheat oven to 350.
In a small bowl, combine flour, cocoa, baking soda and salt. Set aside. In a mixing bowl combine butter and sugars and beat until creamy. Add vanilla. Stir in eggs one at a time, mixing well after each addition. Carefully add dry ingredients just until blended. Stir in chocolate chunks.
Spread batter onto a greased, 9-inch cast iron skillet. Press mini Reese cups into batter. Bake for 20-25 minutes or until edges are crisp. Remove from oven and serve warm.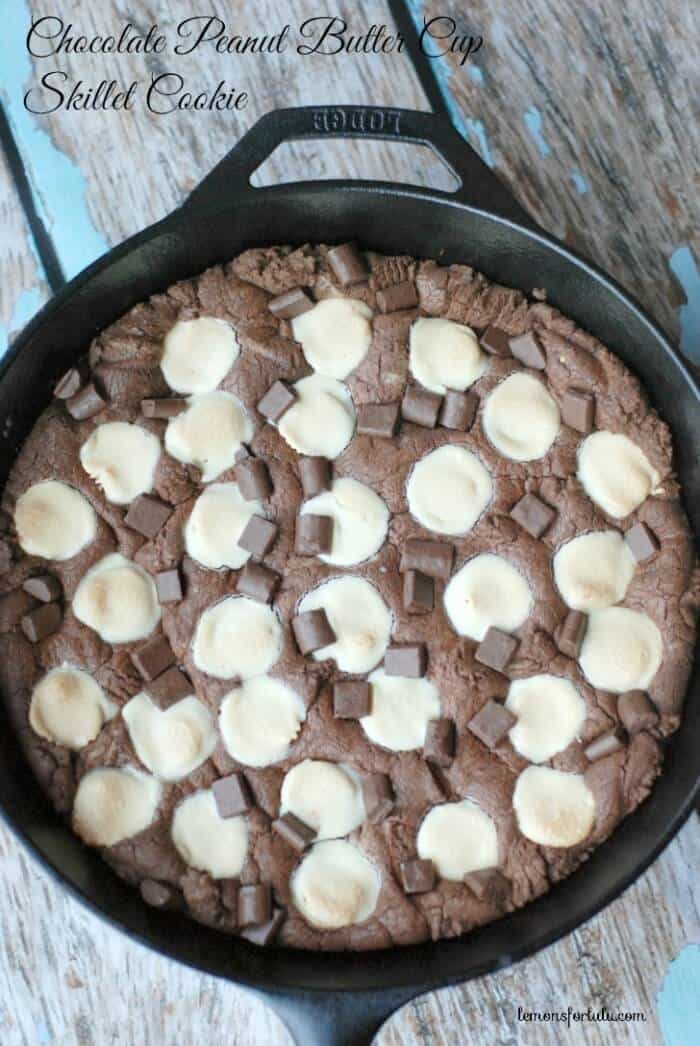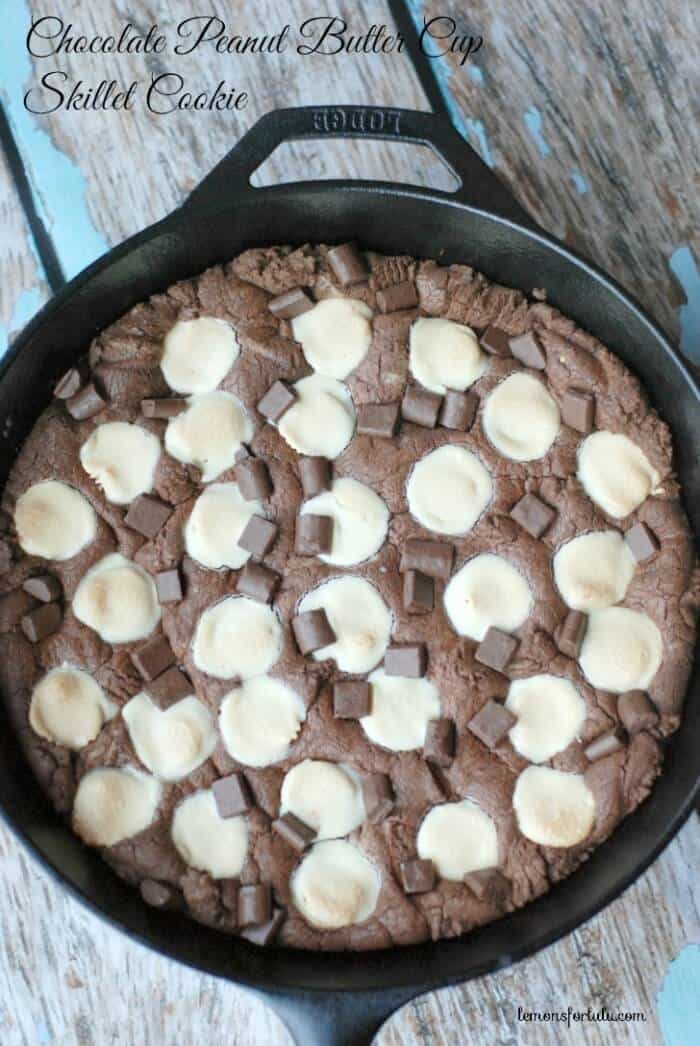 Recipes from friends:
Lemon Raspberry Cookie Sandwiches by Life Love and Sugar Blueberry Buttermilk Coffee Cake by Your Homebased Mom Lemon Yogurt Cake by Yummy Healthy Easy Orange-Raspberry Mini Toaster Strudels by Chelsea's Messy Apron Orange Dream Monkey Bread by Wine and Glue Strawberry Shortcake Kebabs by Or So She Says Lemon Blueberry Bundt Cake by Beyond Frosting Strawberries and Cream Cheese Ball Bites by Five Heart Home Pig Pickin' Cake by Sugar Dish Me Chocolate Peanut Butter Cup Skillet Cookie by Lemons for Lulu Creamy Shrimp Dip by Mostly Homemade Mom Salted Butterscotch Coffee Cake by Julie's Eats and Treats Strawberry Cake by The NY Melrose Family Frozen Chocolate S'mores Ice Cream Pie by Pink When Carrot Cream Cheese Swirl Loaf by Spoonful of Flavor Fiesta Rice Skillet by The Grant Life Raspberry Ripple Lemon Bundt Cake by Love Bakes Good Cakes Ooey Gooey Orange Creamsicle Bars by The Gunny Sack Mixed Berries with Honey Maple Mascarpone by Joyful Healthy Eats Rosewater Almond Macaroons by Little Miss Celebration Chocolate Chip Cookie Cupcakes by Crazy for Crust Momosas Mocktail Recipe by The Weary Chef