Cherry pie has never been so easy!
Flakey Pillsbury Crescent Rolls envelope cherry pie filling and semi sweet chocolate! 
A sweet and tart dessert!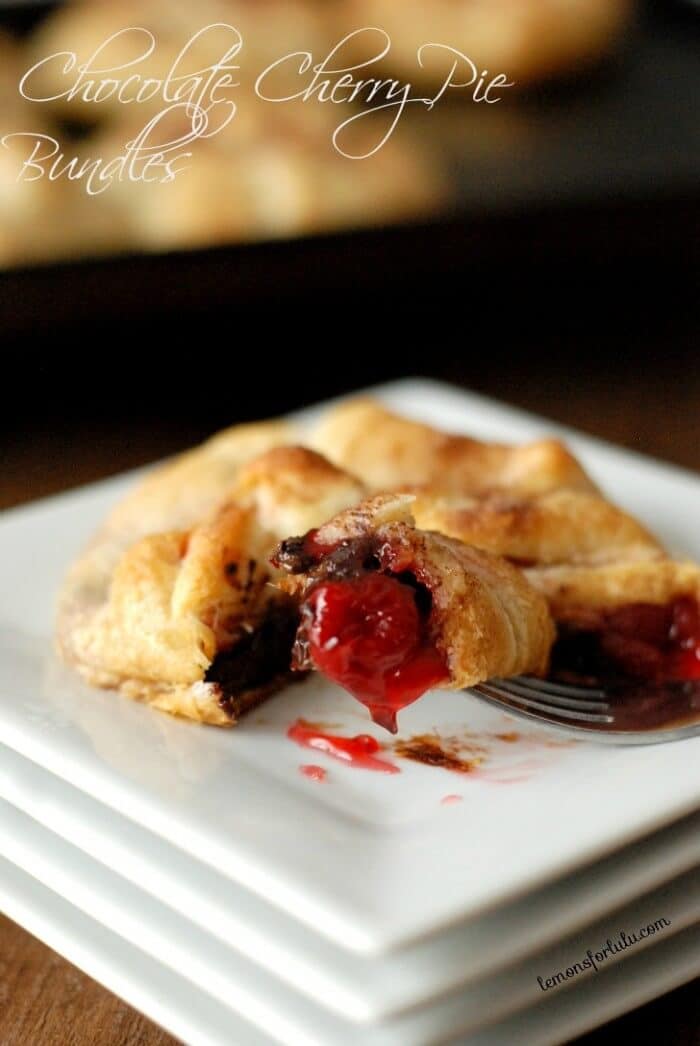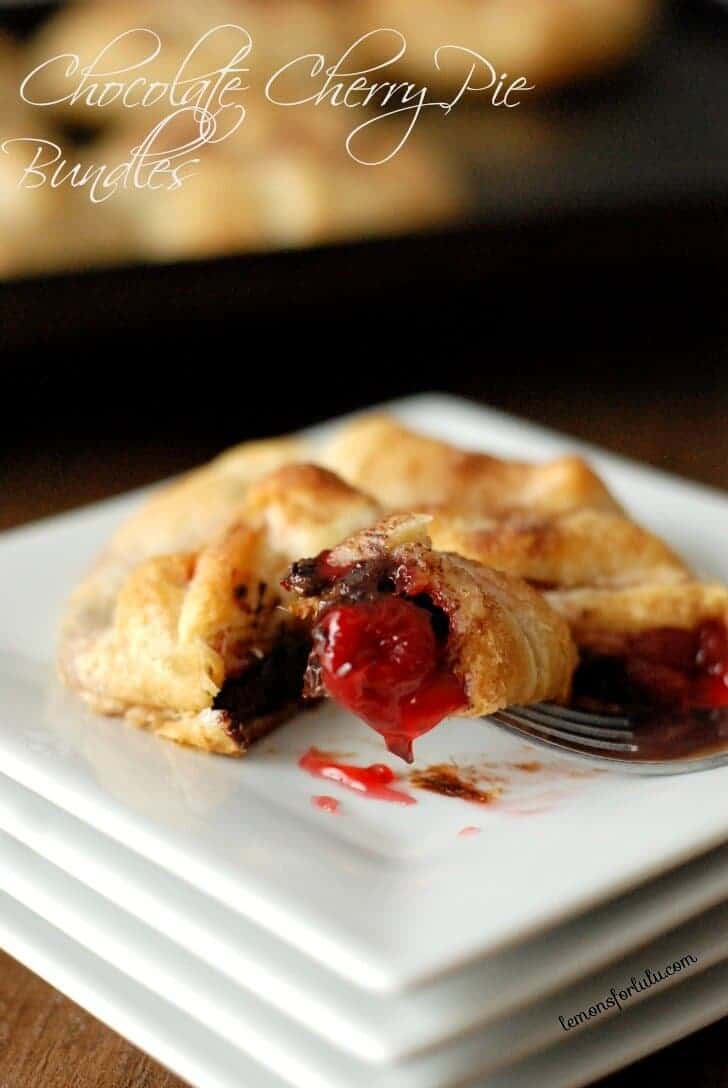 If I were in Belize right now, I'd be warming my face in the golden sunshine, with all 80 degrees enveloping my body.  I would be sitting in my bathing suit with my toes buried in the white, soft sand.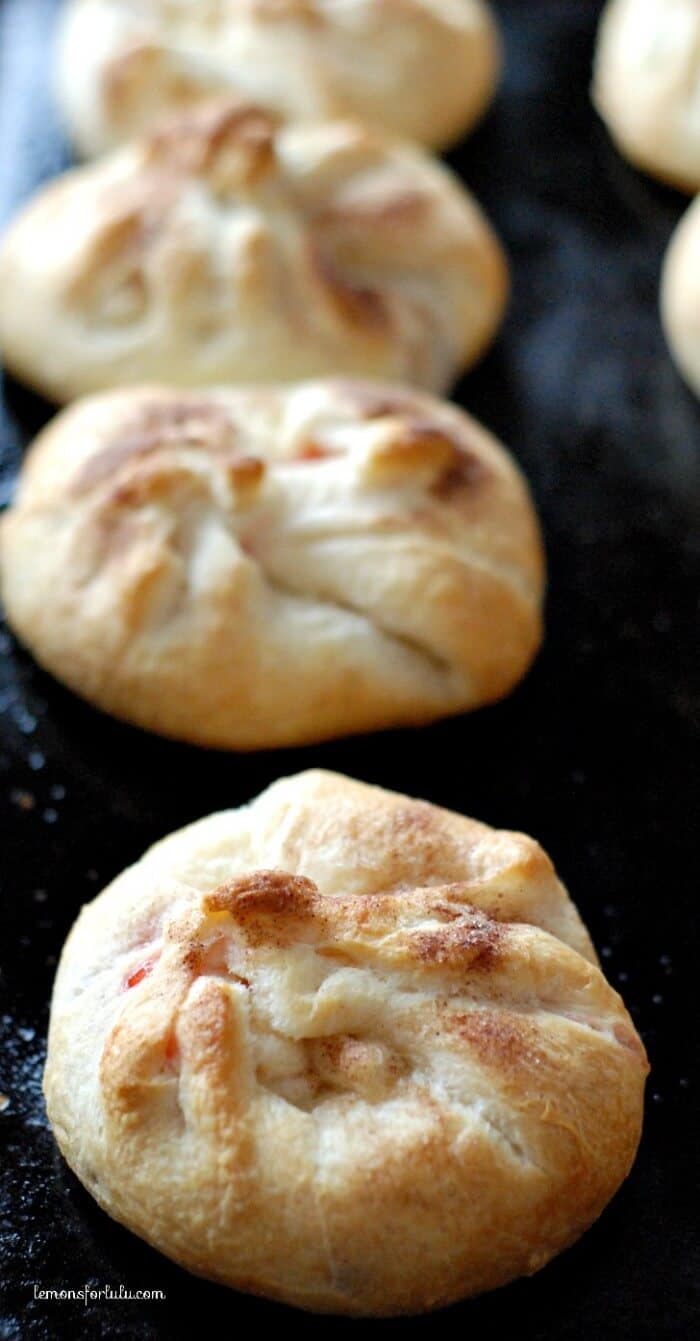 I would be reclining on a beach chair.  A book would be in my hands, but I wouldn't be reading it.  My eyelids would begin to droop as the heaviness of sleep would be taking over my relaxed body.  I would drift off into a deep slumber with the ocean breezes sweeping over me.  The waves rolling over the sand would be the background noise lulling me to sleep.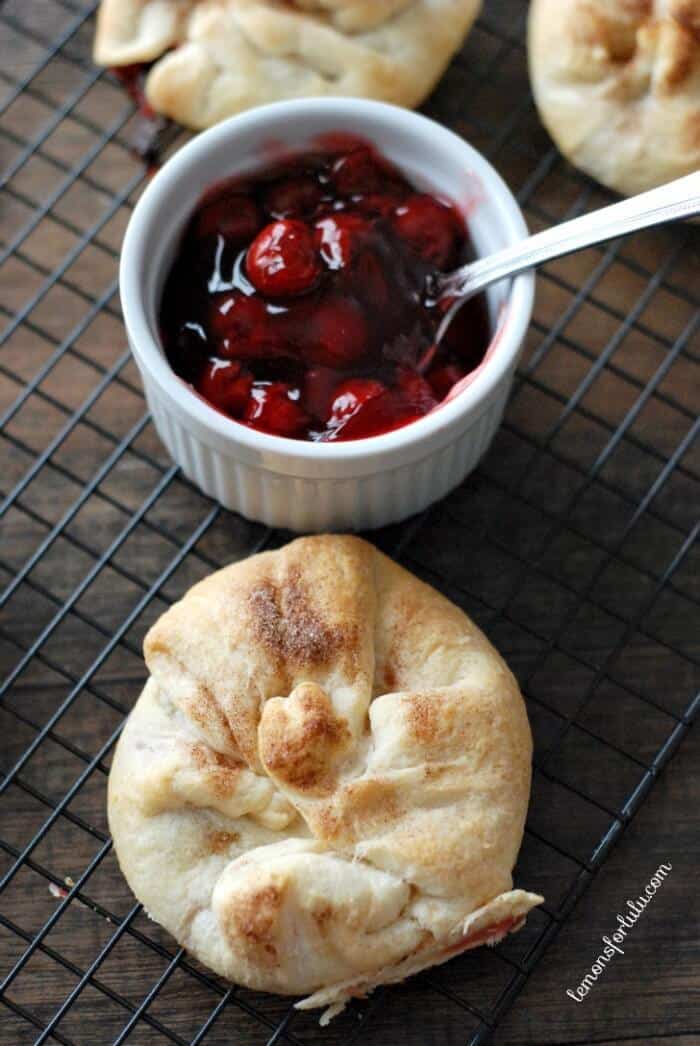 I'd wake periodically to sip my umbrella topped cocktail and cool myself with the condensation slipping down the side of the glass.  Then I'd shift my body so that the other side of me is now exposed to the sun.  I'd drift back to sleep.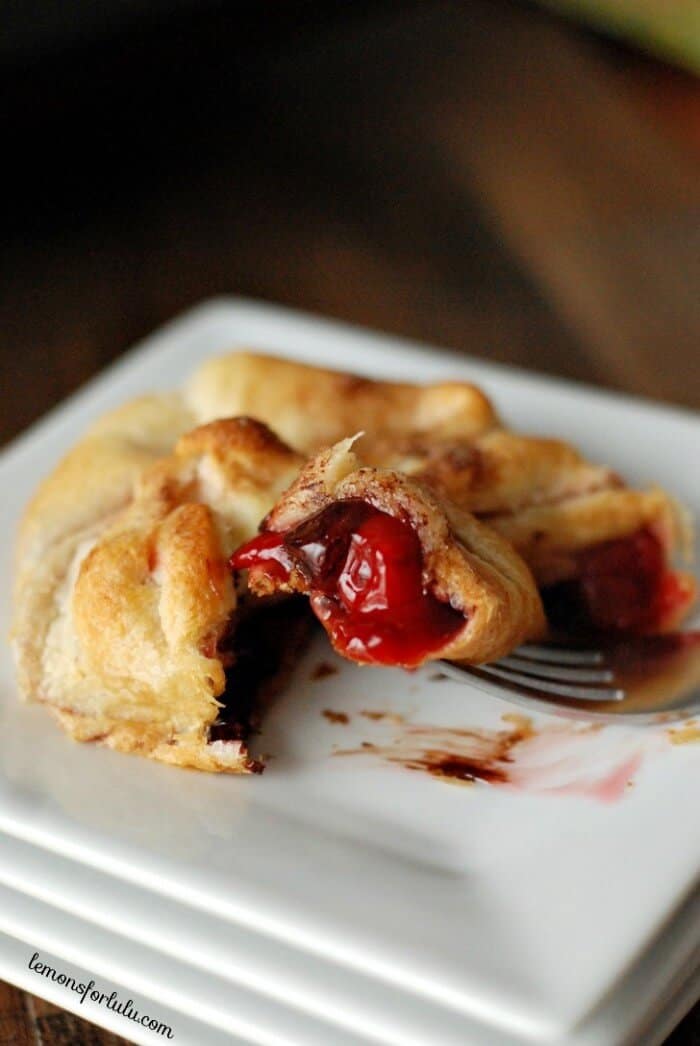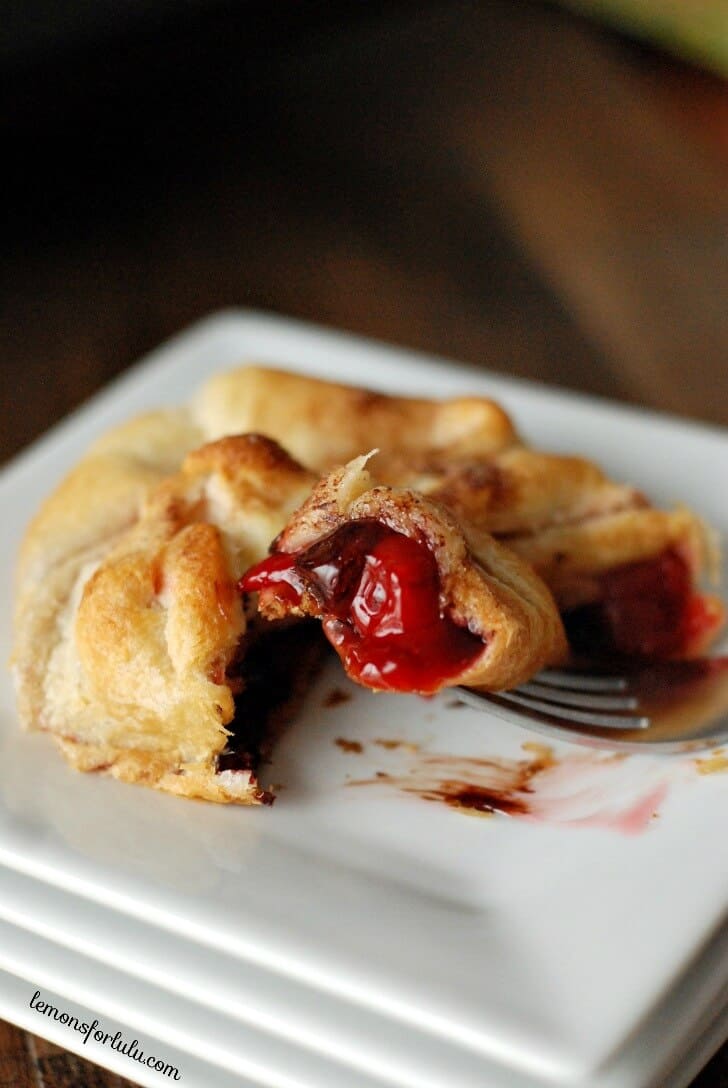 But…. I am NOT in Belize.  I'm in frigid Ohio where I am continually blinded from the sun's reflection on the icy snow.  My toes are in a constant state of numbness from the chill in the air.  The bare trees in my backyard creak as they are accosted by the biting wind.  I hate winter.  I want my Belize daydream.  Since I cannot have Belize, I will comfort myself with dessert.  One of the most comforting desserts out there is pie.  Pie, with a buttery, flakey crust and warm fruit filling.  It's not the beach, but it warms me just the same.  My favorite pie would hands down be cherry.  I wasn't in the mood to deal with making my own crust, so I used Pillsbury Crescent Rolls instead and turned pies into bundles.  Each little bundle is oozing with sweet chocolate and tart cherries.  A stunning combination, don't you think?  These sweet little bundles are such an easy way to enjoy everything wonderful about cherry pie but with a fraction of the work!  Just as easy as resting on the beach!
Some day I will get my ocean side nap.  But for now, I'll settle for cherry pie.
GIVE ME THE DOUGH: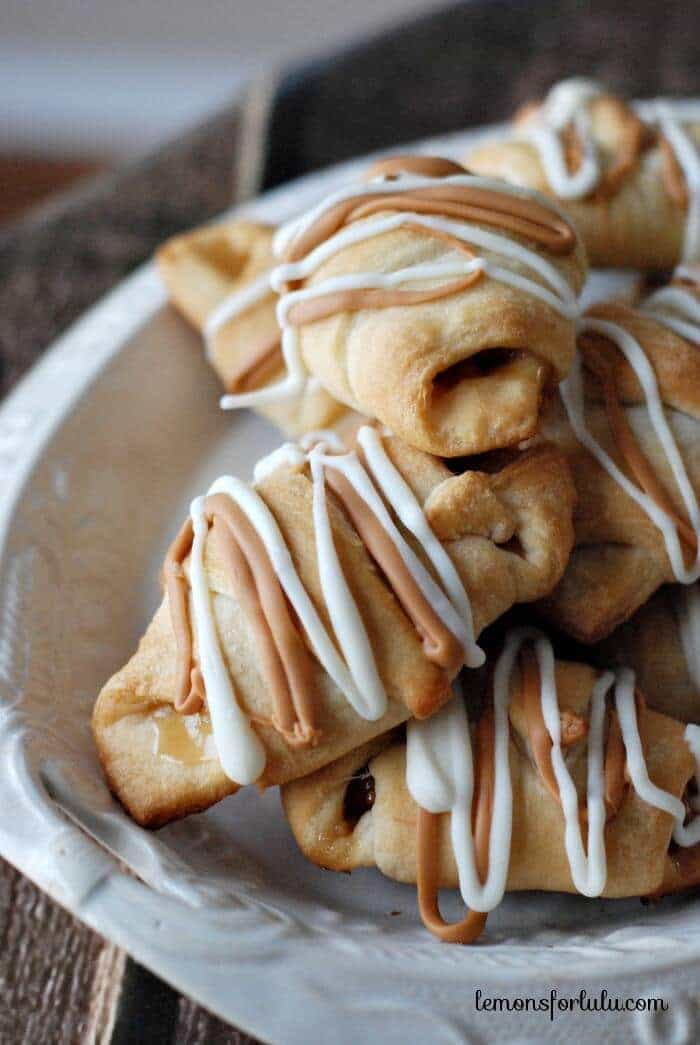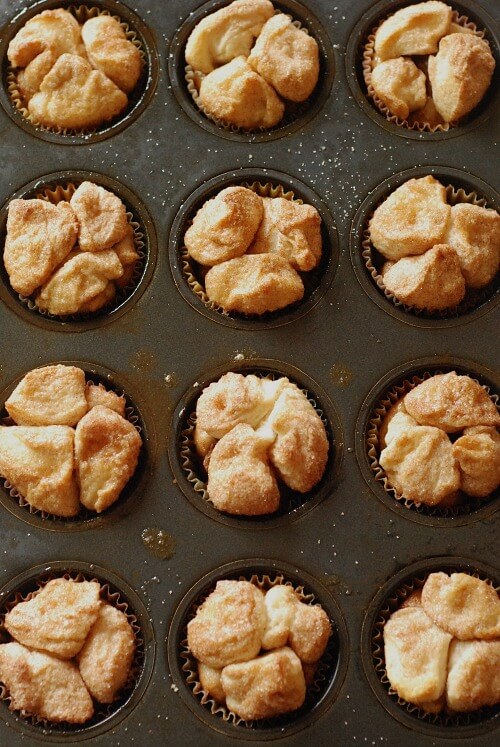 NEVER MISS A RECIPE! SUBSCRIBE TO MY EMAIL TODAY!
FOLLOW ME:
FACEBOOK | TWITTER| GOOGLE +| BLOGLOVIN | INSTAGRAM
Chocolate Cherry Pie Bundles
Ingredients
2 8

oz packages Pillsbury Crescent Rolls

1/2

cup cherry pie filling

1/2

cup semi sweet chocolate chips

2

tablespoons butter, melted

1

tablespoon sugar

2

teaspoons cinnamon
Instructions
Preheat oven to 375. Unroll crescent roll dough. Separate into 8 rectangles, pinching seams together.
Place 1 tablespoon of chocolate chips and 1 tablespoon of cherry pie filling in the center of each rectangle. Lift up all sides and pinch and twist together the tops of each bundle. Be sure to check underneath each bundle to make sure the seams stay together.
Combine cinnamon and sugar. Brush melted butter over the tops of each bundle. Sprinkle with cinnamon sugar.
Bake for 10-12 minutes or until golden brown.
Serves 8