This pavlova is light and airy with an intense chocolate flavor!
Sweet cream and tart cherries top it off!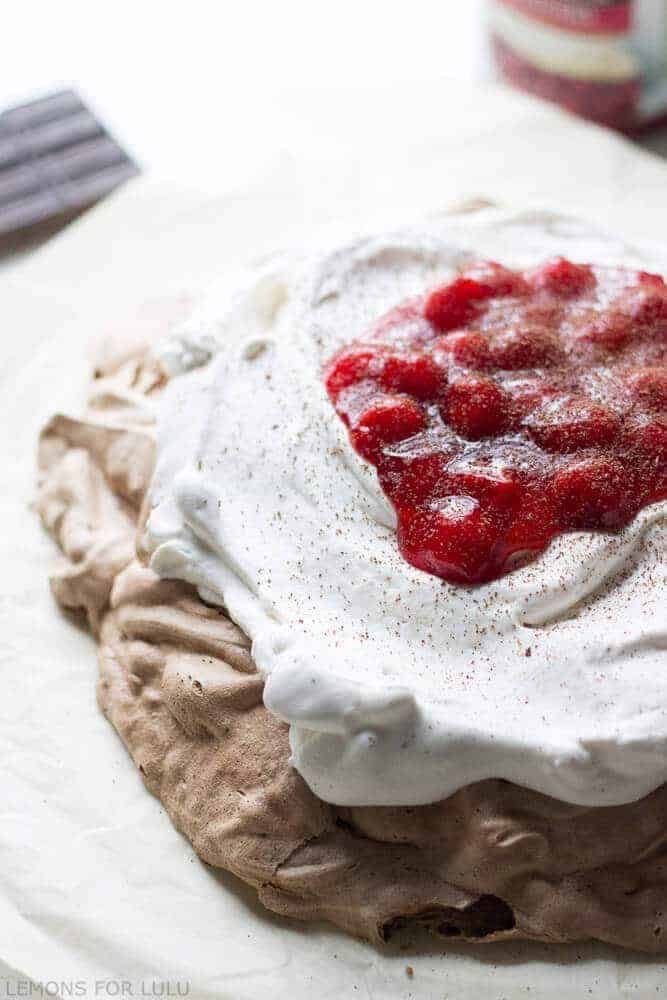 I love the name of this dessert; pavlova. It sounds so elegant and sophisticated. This dessert is actually named after Anna Pavlova, a Russian ballet dancer from the early 1900's. I love the way the name of this dessert floats off the tongue. It feels just as light and airy as the dessert itself.
When I was in the first grade, a girl in my class told me my name was ugly and that she hated it. I remember that moment so vividly. I was deeply stung by her words. I tried to shrug it off, but I couldn't. That night I made a decision. I was going to change my name. After dinner, I sat may parents down to have this very serious discussion. I wanted to be called Kelly (The Charlie's Angels was big back then). As any normal parent would do, they looked at me, explained that my name was perfectly suited to me and that I should be proud. Furthermore, it was impossible to change my name. I accepted that answer and pretty much moved on with my life.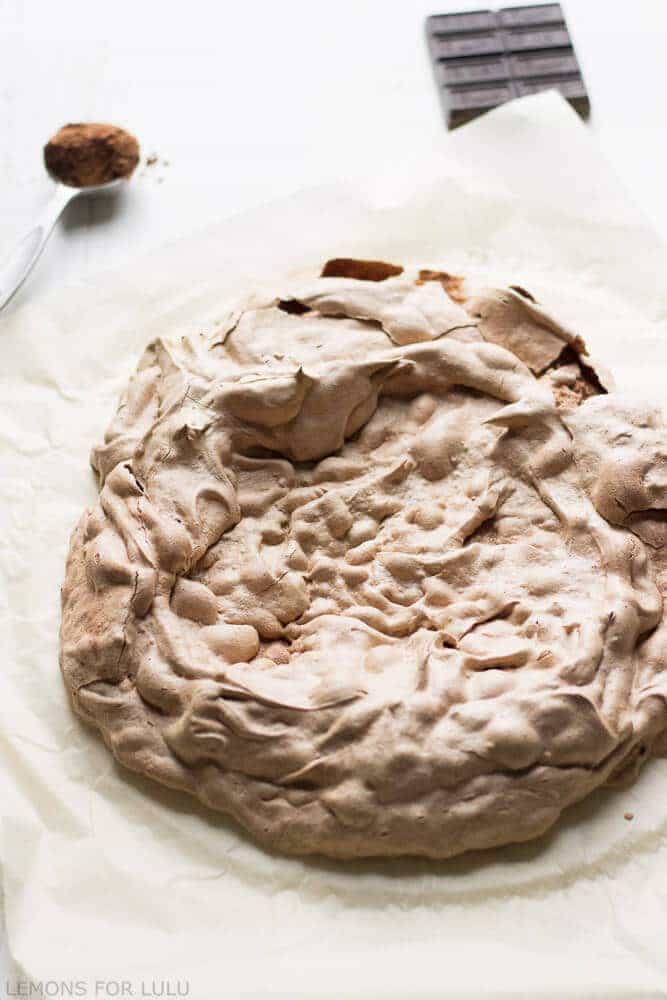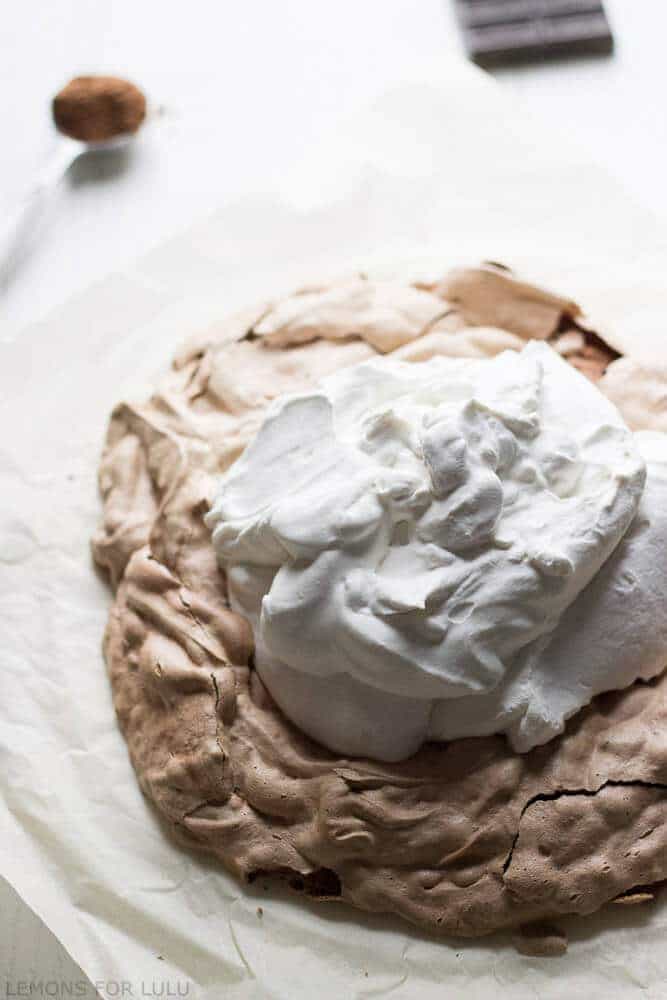 I really came to appreciate my name when I discovered that the name Tanya is a derivative of the Russian name Tatiana. I was taking hours of ballet lessons at the time (and wanted to be a professional ballerina when I grew up) and new that ballet was very big in Russia. I felt proud, cultured and worldly. I mean Anna Pavlova and I were practically related. I was pretty confident I'd end up performing Swan Lake with the Russian Ballet Company.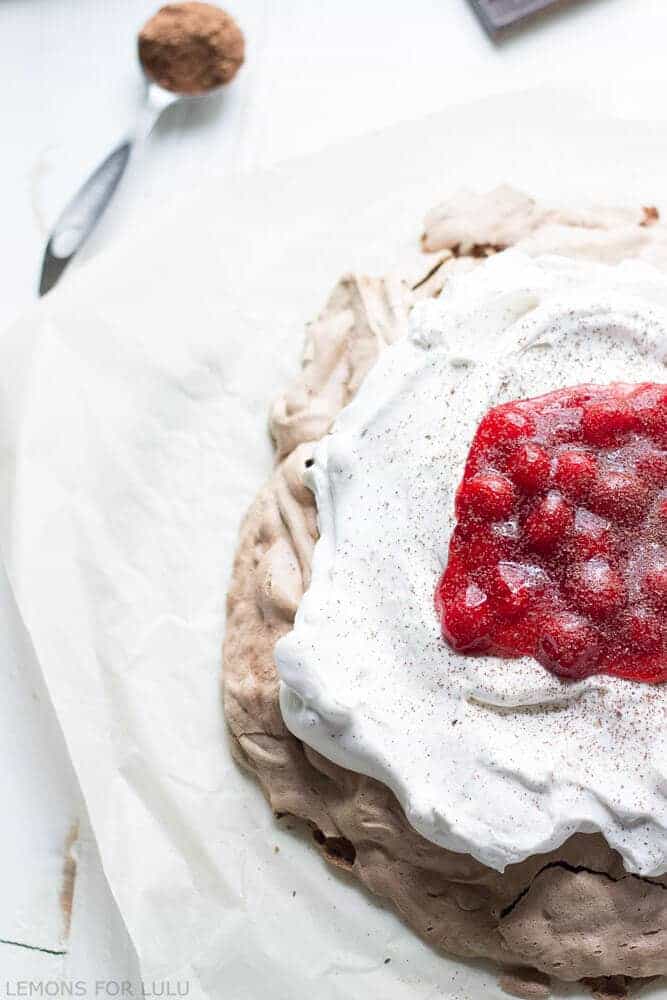 My dreams of ballet fame didn't quite pan out. I was never the second Anna Pavlova. Instead I've traded my tutu's for aprons and now make things like this pavlova instead. Oh my gosh, this dessert is dreamy. It may seem intimidating, but it is quite easy. You whip your egg whites until they are super thick and glossy. Add in just a bit of chocolate and bake. Meringue is sensitive whether you are making meringue cookies or in this larger form. You have to be sure to ONLY have egg whites in your bowl. One trace of yolk and your meringue is ruined. You will bake this on a lower temperature, then turn off the oven and let the meringue cool in the oven with the door slightly open. The edges will crack, that is ok. It is all part of the dessert. But it will be very delicate at this point. Transport it carefully. This pavlova is topped with a very simple homemade whipped cream (use your favorite recipe or even a store-bought if your prefer) and a tart cherry pie filling. I l-o-v-e cherry pie filling. It make desserts like this pavlova or these cherry bundles taste rich and amazing. Finish this dessert off with grated chocolate and you are done. Your family and friends will be totally impressed and think you've spent hours on this dessert. Let them, you've earned it!
Be sure to Bake This Holiday Special! Visit Lucky Leaf for recipes and inspiration! Connect with Lucky Leaf on Facebook, Twitter and Pinterest too!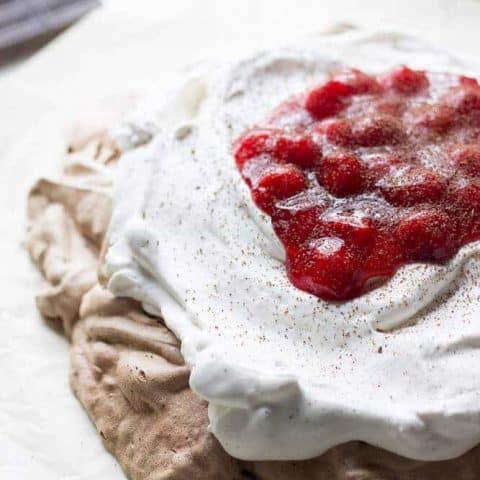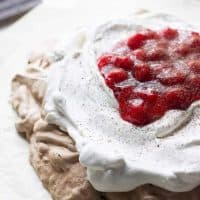 Chocolate Cherry Pavlova
Total Time:
1 hour
15 minutes
This pavlova is light and airy with an intense chocolate flavor! Sweet cream and tart cherries top it off!
Ingredients
4 egg whites, at room temperature
1 cup granulated sugar
1/8 teaspoon cornstarch
1/8 teaspoon salt
1 tablespoon balsamic vinegar
1/4 cup cocoa, sifted
1 ounce semisweet chocolate, finely chopped
2 cups of heavy cream
4 tablespoons powdered sugar
1 teaspoon vanilla extract
2 cup Lucky Leaf Cherry Pie Filling
chocolate shavings for garnish
Instructions
Preheat oven to 350 degrees. Trace a 9 inch baking pan on a sheet of parchment paper, flip paper over and place on a baking sheet.
In a mixing bowl, beat egg whites on medium speed. Slowly add in granulated sugar, 1/4 cup at a time. Beat in cornstarch, salt and vinegar. Beat on medium high for 5-8 minutes or until mixture is glossy and stiff peaks form.
Sprinkle cocoa powder over meringue, beat for only 30 more seconds. Add chopped chocolate. Fold in chocolate and cocoa by hand until no white remains.
Place meringue on your parchment paper circle Spread out to fill in the circle and spread it up to form a sort of bowl.
Bake for 10 minutes. Reduce heat to 300 and continue to bake for 45-50 minutes or until meringue begins to crack and harden.
Turn oven off and open oven door. Let meringue sit in oven while it cools-about 30 minutes.
For the whipped cream: beat heavy cream in a chilled bowl using your whisk attachment. Add sugar and vanilla. Continue to beat until the whisk leaves streaks in your cream or when the whisk is lifted stiff peaks form.
Spread whipped cream in the center of the pavlova. Top cream with cherry pie filling. Sprinkle shaved chocolate if desired. Refrigerate until ready to serve.
Nutrition Information
Yield

12
Serving Size

1
Amount Per Serving
Calories

282
Total Fat

15g
Saturated Fat

10g
Trans Fat

0g
Unsaturated Fat

5g
Cholesterol

45mg
Sodium

58mg
Carbohydrates

34g
Fiber

1g
Sugar

22g
Protein

3g
Thank you Lucky Leaf for sponsoring this post! My opinion and this original recipe are my own.