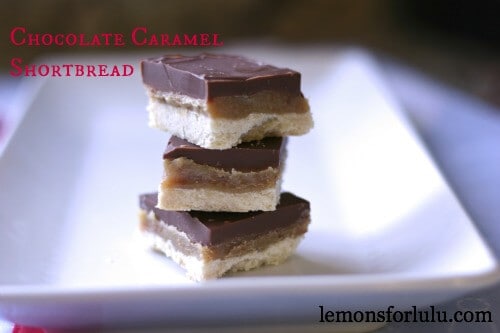 We are just about ready for Christmas.  Presents have all been purchased.  Cookies have been baked, the menu has been planned, lists have been made.  There is only one last thing that needs to be done.  The wrapping.
I loathe wrapping presents.  Gift bags are way easier, but I admit, not as much fun to tear into.  Before we wrap,  I have to figure out which gifts are from "the big guy" and which gifts will come from me and my husband.  Santa has his own special wrapping paper.  I've been using the same jumbo sized roll for three years now!  The kids count on it now!
My husband and I usually do the wrapping together.   My husband, being the perfectionist that he is, will wrap 4 presents to my 12.   His edges will be pristine, the paper will be smooth and the folds will be spectacular.  My edges will either not exist, be crumpled or even torn.  My paper will be wrinkled and my folds will be lumpy and uneven, with gobs of tape holding it all together.  We have different styles to the say the least, but we both recognize that it's all a means to an end.  The end of course being the delightfully smiling faces of our three kids when they rush into the living room to see the tree filled with presents.
My gift wrapping ability may leave a lot to be desired, but these chocolate caramel shortbread are perfection.  Look at the edges on those babies! Ha!  They taste as good as they look.  Shortbread is so easy.  This crust is buttery and flaky and holds up the caramel perfectly.  It's important to use milk chocolate for the top layer.  You really need that extra sweetness to contrast the shortbread.
Not everything wonderful comes in packages, these chocolate caramel shortbread are proof!
If you'd like a little Lulu in your life, please subscribe via email, RSS, Facebook or Google +, I love staying in touch with friends.
You may enjoy these too:
Mocha Shortbread                                                          

Lemons for Lulu
Margarita Bars                                                                  

Lemons for Lulu
Salted Caramel Shortbread Squares                            

How Does She
Chocolate Caramel Shortbread
16
adjust servings
Buttery, flakey shortbread is the base for the caramel topped bars, All topped off with sweet milk chocolate.
Ingredients
2/3

cup butter, softened

1/4

cup sugar

1 1/4

cup flour

1/2

cup butter

1/2

cup brown sugar

2

Tablespoons light corn syrup

1/2

cup sweetened condensed milk

1 12

oz package milk chocolate chips
Instructions
Preheat oven to 350. In a medium bowl, mix together 2/3 cup butter, sugar and flour. Dough will be crumbly. Press into a 8x8 in square pan. Bake for 20 minutes.
In a saucepan, combine 1/2 cup butter, brown sugar, corn syrup and condensed milk. Bring to a boil. Let boil for 5 minutes. Remove from heat and stir with a wooden spoon for about 3 minutes. Pour over crust. Let cool until caramel sets.
Melt chocolate in a microwave safe bowl for 1 minute. Stir, continue melting in 15 second intervals until chocolate has completely melted. Pour over caramel layer, using an offset spatula to spread out and smooth. Chill until chocolate has set, about 30 minutes. Cut into squares.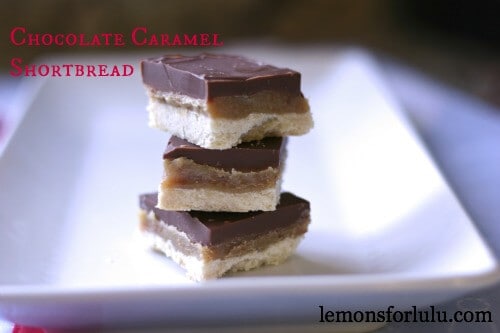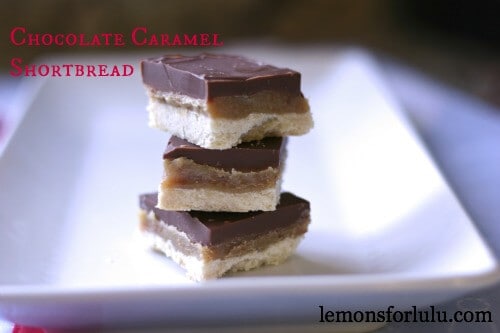 Recipe adapted from All Recipes
I'll be linking this recipe to these fabulous parties as well as to:  Jam Hands,
The DIY Dreamer, and