This horchata recipe is a chocolate almond twist on a refreshing Mexican drink!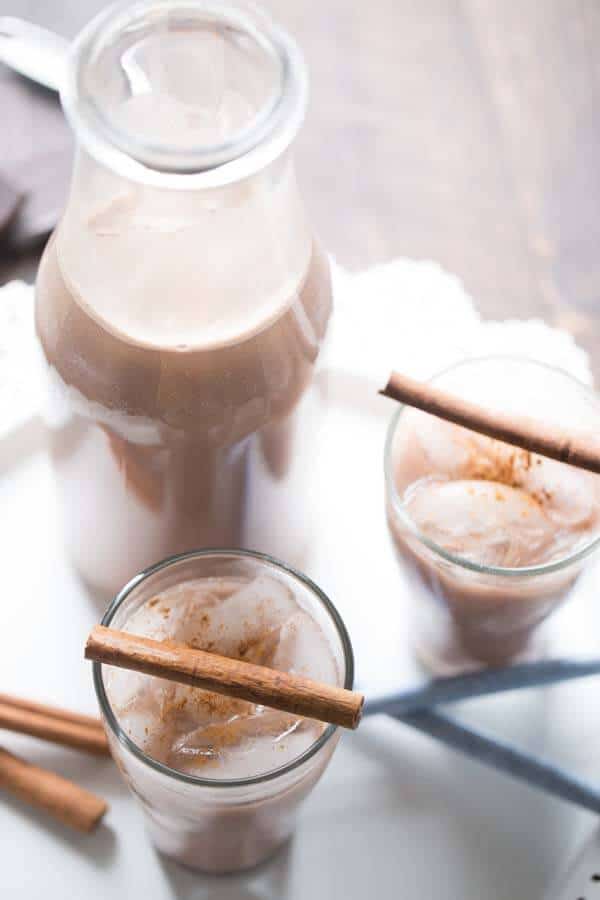 I'm not well versed in Mexican drinks.  I know what kind of margarita I like (frozen mango) but that's about it.  I've never tried Mexican hot chocolate and I've never tried horchata.   Margarita's are perfect for hot summer nights, but the truth is nothing good comes from drinking margaritas.  July is way too hot for hot chocolate, but a sultry, hot day is perfect for sipping on a cool horchata.
Traditionally, horchata's are made with rice, milk and lots of cinnamon.  The rice is actually soaked in hot water for anywhere from a couple of hours to overnight.  The liquid becomes rich and starchy and this is the base for your horchata.  Believe it or not, everything goes into the blender.   Once you strain your rice, you are left with a frothy, invigorating beverage.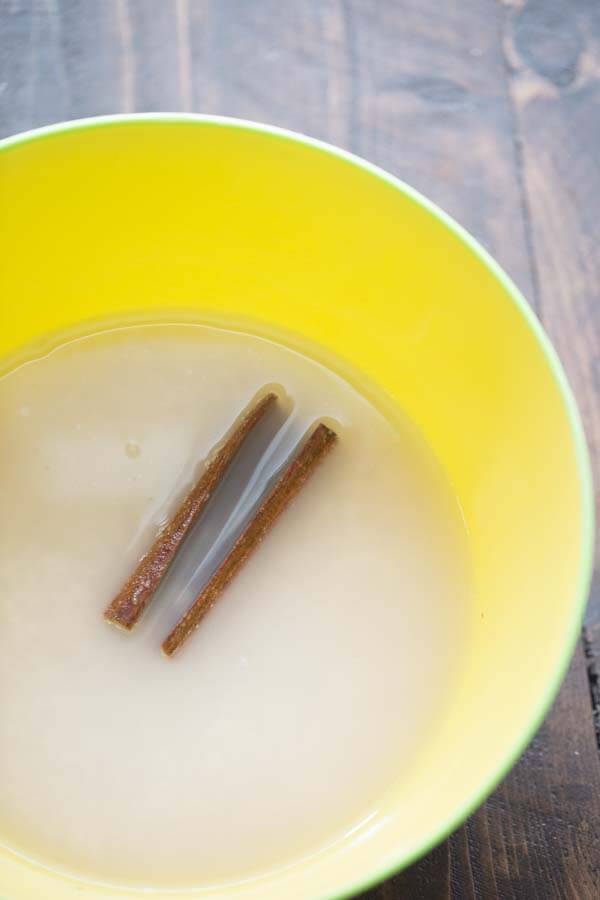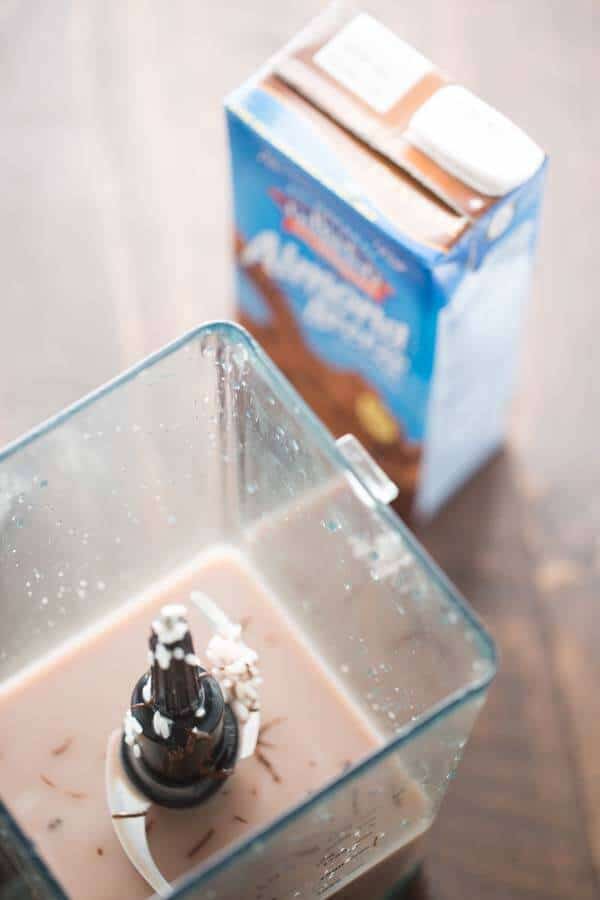 Because I love doing things a little differently (like turning iced coffee into a float or adding chocolate and espresso to hazelnut butter) I couldn't make a plain old horchata recipe and not doctor it up to suit my tastes!   My version calls for melted chocolate and Almond Breeze Chocolate Almond Milk to be blended along with the cinnamon rice mixture.  You still get that that thickened, frothy drink, but with a hint of almond and lots chocolate too!
Notes about the recipe;
When blending, work in batches.  Pour half of the rice and half of the almond milk in the blender.  Mix, strain and repeat with remaining ingredients.
Feel free to add more cinnamon during the blending process.  I did not want the cinnamon to overpower the chocolate almond flavor; instead I chose to add a sprinkling of cinnamon to each individual glass just before serving.
The amount of sugar used in this recipe will largely depend upon your taste.  I used 1/2 cup because I knew my family would prefer it that way.  I would start with 1/2 cup as listed and add sugar in 1/4 cup increments until you find what works for you.
I list melted chocolate as an optional ingredient.  I melted a 1 oz square of chocolate which I added during the blending process.  Feel free to omit the chocolate or increase the amount used.
While this horchata recipe may seem complicated, it is not.  It truly couldn't be simpler.  Let the rice sit, blend, strain, serve.  So simple, it truly Easy as Breeze!
This "Easy as Breeze" post is sponsored by Almond Breeze Almondmilk. For more "Easy As Breeze" recipes made with five ingredients or less, visit Almond Breeze on Facebook, Twitter, Instagram, and Pinterest.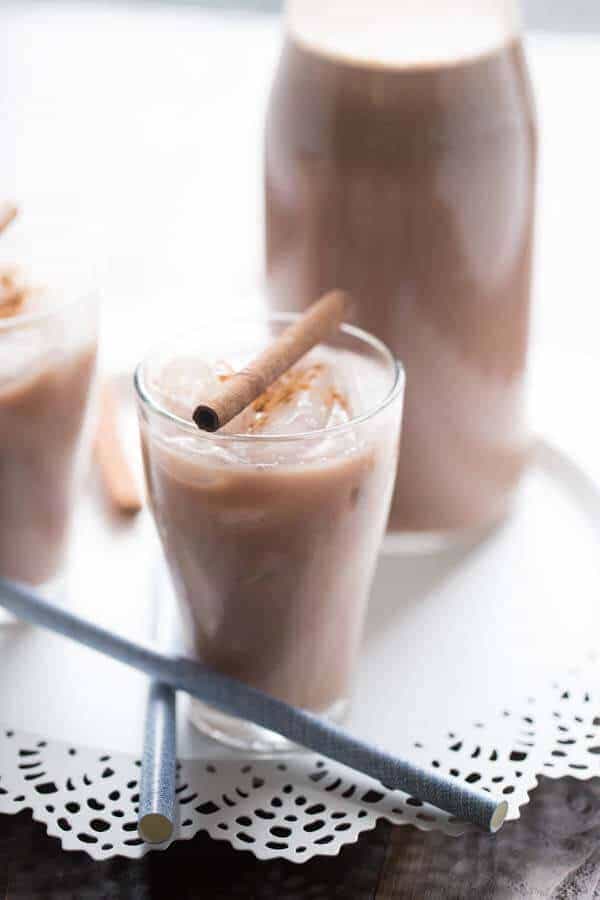 Chocolate Almond Horchata Recipe
6
adjust servings
Horchata - a refreshing Mexican beverage flavored with chocolate almond milk!
Ingredients
2

cups rice

3

cups hot water

1

cinnamon stick

1 32

oz carton Almond Breeze Chocolate Almond Milk

1/2

cup sugar

1

oz. melted chocolate (optional)

ground cinnamon for garnish
Instructions
Place rice in a bowl and cover with hot water; add cinnamon stick. Let rice mixture sit for 2 hours or overnight.
When ready, add half of the rice mixture, half of the almond milk and half the sugar. Blend. Drain mixture over a fine mesh strainer. Repeat with the remaining ingredients. (Blend in melted chocolate if desired).
Discard rice bits. Serve horchata over ice, sprinkling with additional cinnamon. Serve.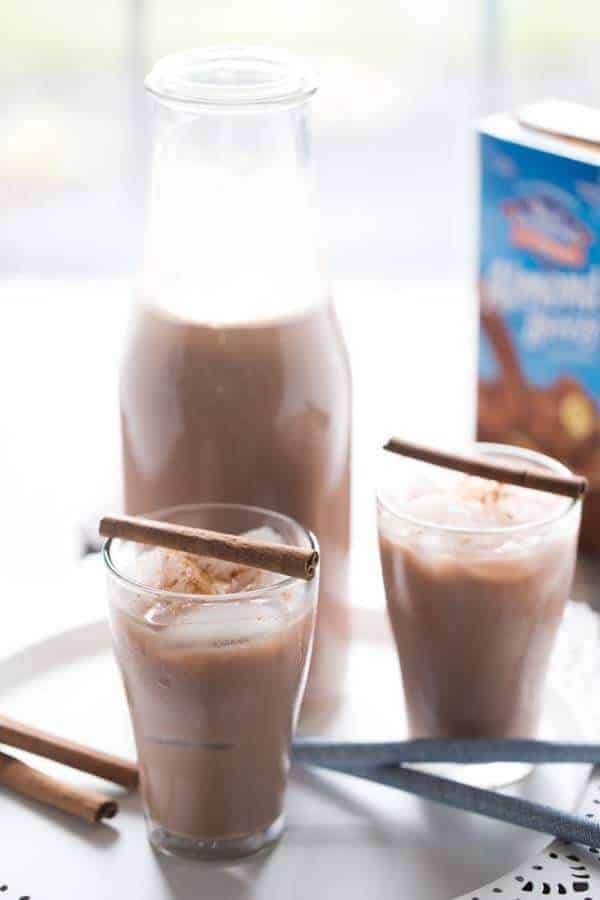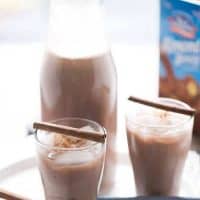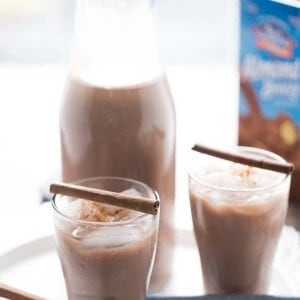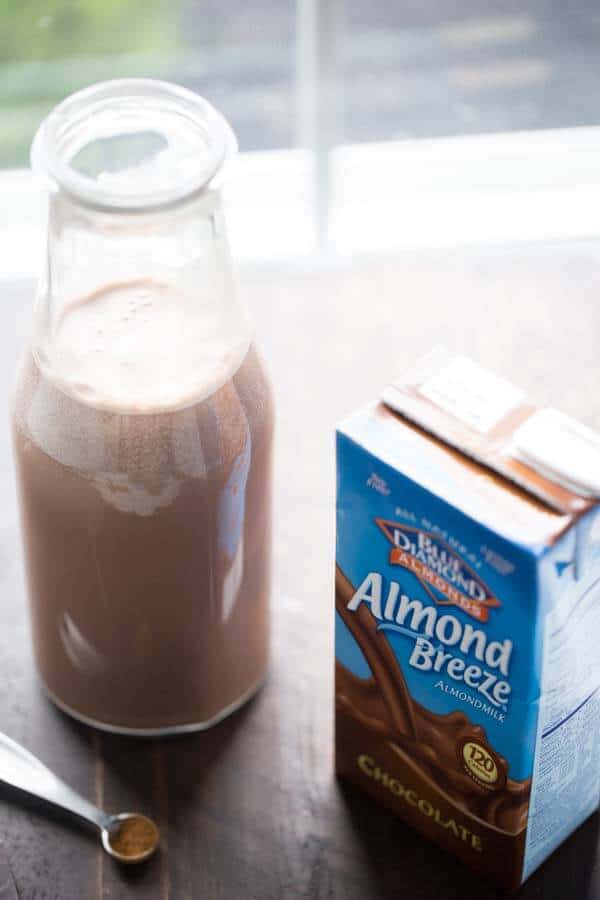 Like this recipe? Then check these out:
Horchata Ice Cream – Love and Olive Oil
Easy Cashew Horchata – Farmgirl Gourmet