A simple chili verde gives new meaning to "chili dogs"!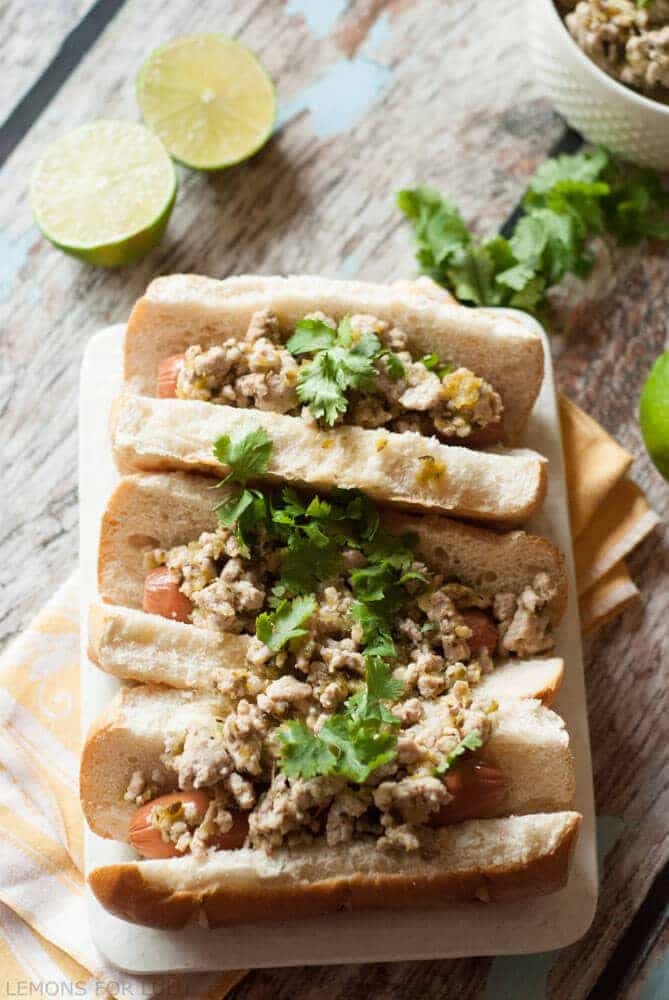 I had a productive day yesterday.  I got so much done!  I got rid of old cans of paint from the basement, finally!  Paint seems to breed in our house!  One day we have 3 cans, the next thing I know we literally have a wall of cans!  Anyway, I cleaned the house, I baked a few goodies and I made chile verde for the chili dogs I've been craving!  While my chili was simmering away on the stove top, I set out to take my dog Roxy for a quick walk.
Roxy is a 10 year old Jack Russell Terrier.  Contrary to her breed, she is not a hyper dog.  She's cuddly and lazy.  My kind of dog!  All she needs is a good walk around the neighborhood once a day.  For the most part, I love walking her.  I love watching her face as she scours the neighborhood at her eye level.  She's got the spunkiest gait.  Little dogs are full of sass!  The only thing about Roxy, is that we literally have to stop at every mail box and every curb side tree to smell every other dog's pee!  It doesn't matter if we are backtracking, she will have to sniff again!  It's gets tiring, especially when it's an inferno outside!  She doesn't care how hot it is, there is doggy information to be had!  I got to wondering, what information DOES she gather from pee?  Does it smell different if it's a male or female?  Big or small dog?  Old or young?  Can you imagine if people could do that?  That would almost be a super power wouldn't it?   Imagine being able to tell if my son's friend is really a sweet kid or a little terror just by his scent???  What if the day my daughter started dating I could tell all about the boys she brings home just by the way he smells?  Think what we could find out before we got married or got hired to a new job?  Checking references would be old-fashioned!!  We'd be using the old schnozzola instead!  But, what would my scent say about me???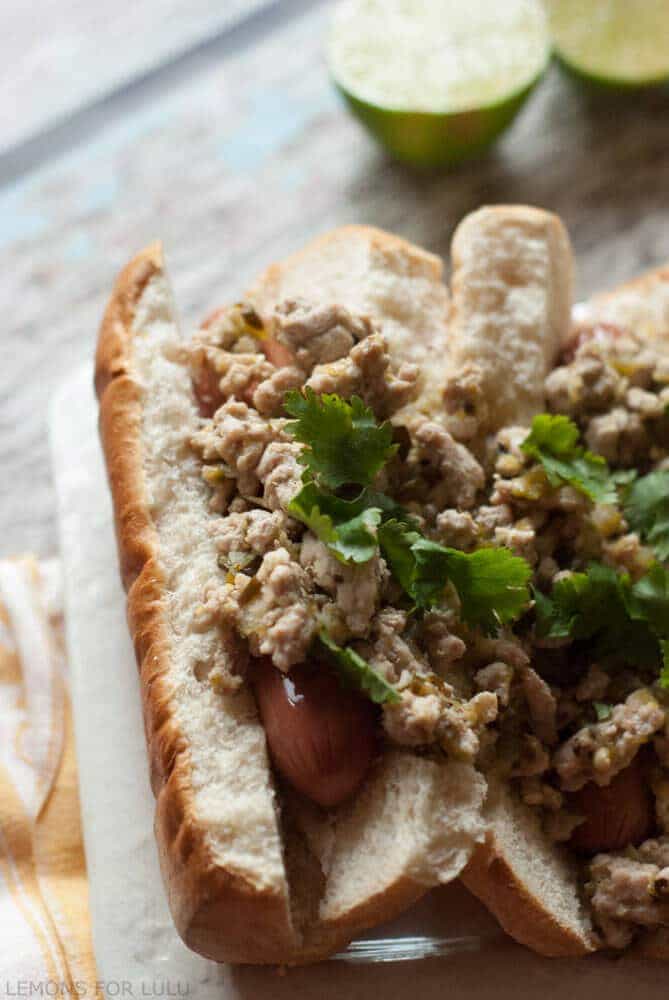 By the time I got to thinking about my own fragrance I was home.  The aroma from my chili hit my nostrils and I was in heaven!  Forget Roxy, I was ready for a chili dog!!! It was delicious!  The chili derives most of its flavor from the roasted poblano's and tomatillos.  They impart so much earthy goodness, that little other seasoning is needed!  This would be better with jalapeños, but I left them out for the sake of my kids.  Of course, you don't have to eat this with the hot dog.  The flavors intensified overnight!  I highly recommend you try  chili verde.  It's a great break from traditional chili.  I promise the flavor will not leave you disappointed!
If you've enjoyed this post, please consider subscribing via email, RSS, Facebook or Pinterest.  I love keeping up with friends!
Here are some other tasty bites I found on Pinterest!
Gourmet Chili Dogs              Bev Cooks
Chile Verde                             Look I Made That!
Green Verde Enchiladas       The Double Dipped Life
Ingredients
Beef hot dogs

1

lb ground pork

1

large poblano pepper

3

medium tomatillos

5

cloves of garlic

1

cup onion, chopped

1

t oregano

salt

2

cups chicken broth
Instructions
Preheat oven to broil. On a foil lined baking sheet, place poblano peppers, tomatillos, halved and skin side up, and 3 cloves of garlic (skins on). Broil for about 7-8 minutes, turning the pablano as you go. Pepper should be blistered and tomatoes and garlic should be blackened. Remove skins form garlic and pepper. Remove stem and seeds from pepper as well. Place all ingredients in the bowl of a food processor. Add a pinch of salt and process until smooth.
Meanwhile, in a large saucepan or dutch oven, brown ground pork until no longer pink. Remove pork with a slotted spoon, set aside. Add onions and garlic to pan, sautéing for about 5 minutes or until onions begin to soften. Add pork back to pan along with oregano. Pour in the pepper, tomatillo mixture as well as the chicken broth. Bring to a boil.. Simmer 30 minutes.
Serve over beef hot dogs.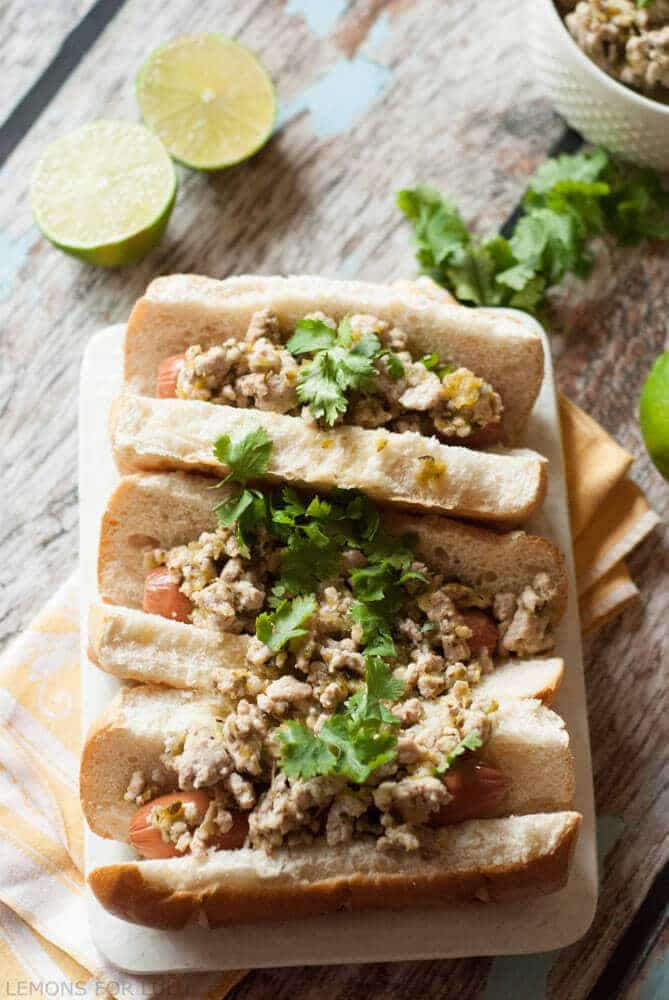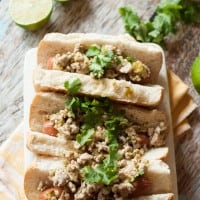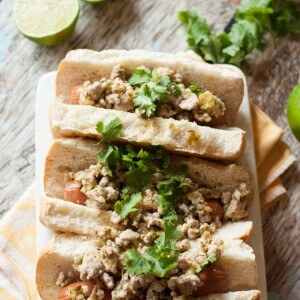 Recipe adapted from Serious Eats
Please check out my Link Party tab to find out where you can find this recipe!