This easy Cajun pasta starts with boxed mac and cheese, but ends with happy belly's guaranteed!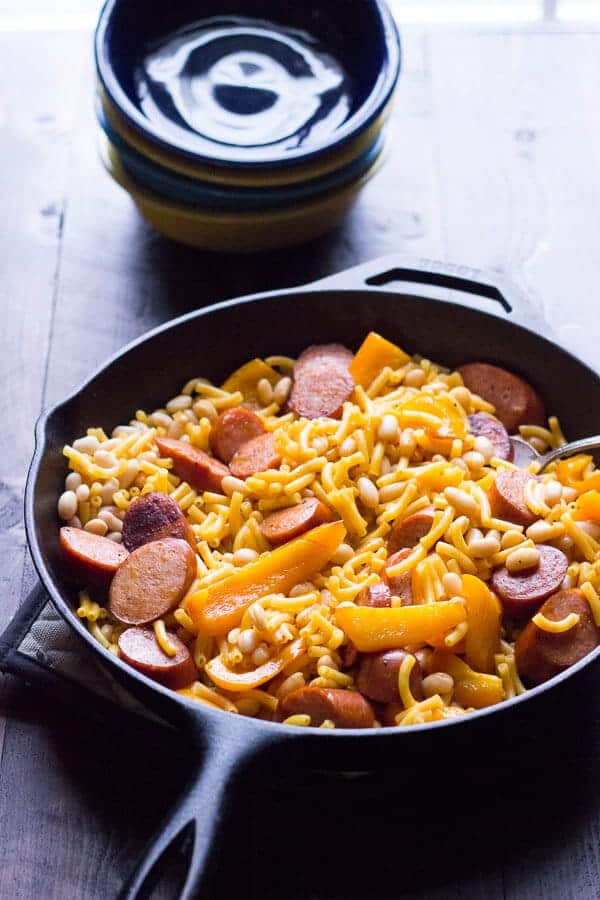 Being mom means you have to be willing to make sacrifices. Once you bring home your soft, sweet-smelling baby, you will sacrifice your sleep, your privacy, your "me" time, your date nights, your tastes, your time, and your energy. You will watch more Dora The Explorer than you ever imagined and you will do it happily. You will willingly listen to singa long with the kids music in the car instead of your favorite radio station. You do this all because you have fallen ridiculously in love with your family.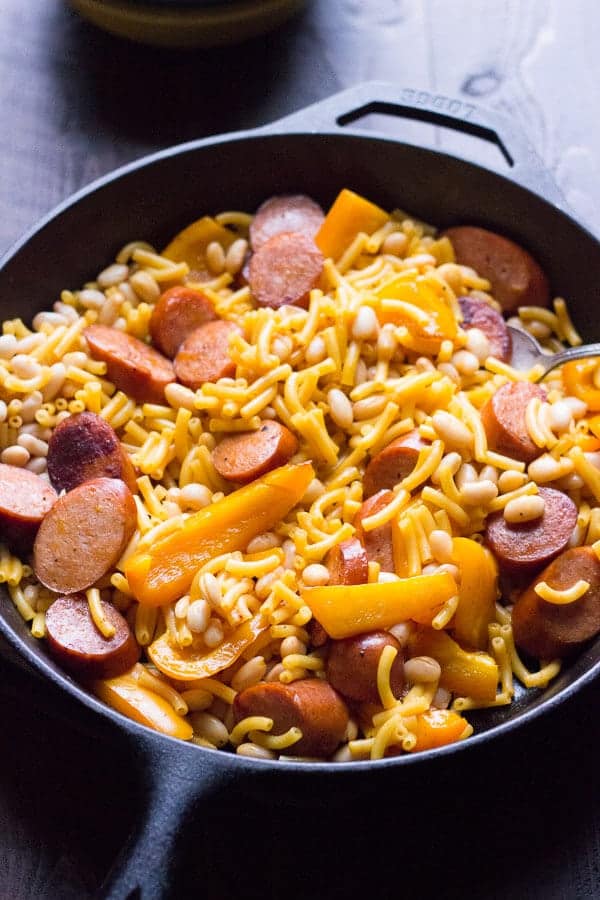 At least this is how I have felt. But now that my kids are becoming more self-sufficient, I feel like it's time I get some things back. I'm ready to sleep in more, I'm ready take back "me" time, I'm ready for date nights again and I'm ready to eat foods that are more in line with my tastes. While I would love to completely swap out the hot dogs in the refrigerator for sushi, I realize with three kids, my husband and I are outnumbered. Therefore I had to learn the art of compromise. This easy, cheesy Cajun pasta is just that: a compromise of flavors.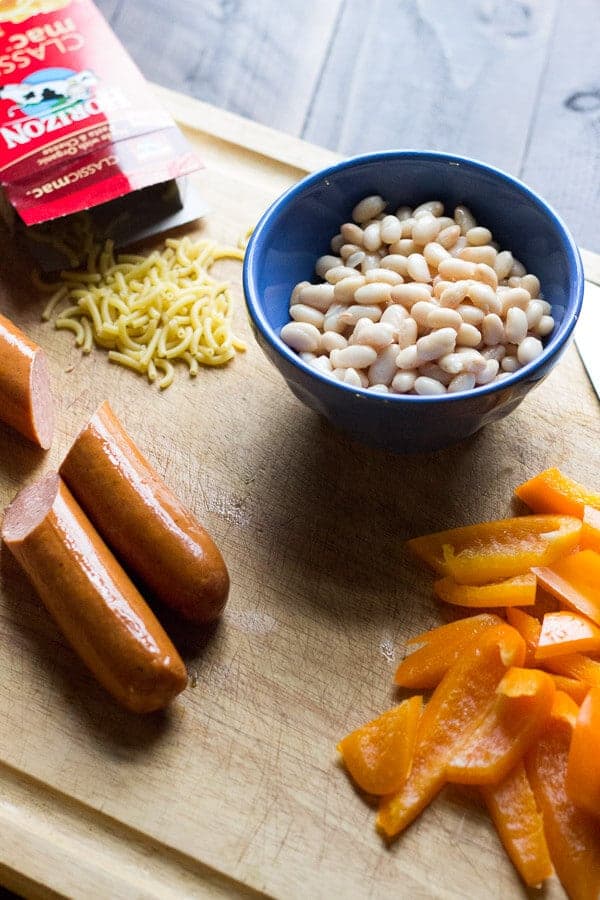 This dish starts with Horizon Mac and Cheese, but it also includes hearty white beans, spicy andouille sausage (my favorite, especially in chili) and fresh, orange peppers. This Cajun pasta makes every one happy and will have everyone asking for seconds. The kids love Horizon mac and cheese because of the creamy taste, but I'm happy with it because it's made with organic cheese and pasta and is a good source of protein and calcium. Adding fiber rich beans and nutrient dense orange peppers make this Cajun pasta a complete meal that is tasty enough for the kids and their tastes but adventurous enough for my adult taste.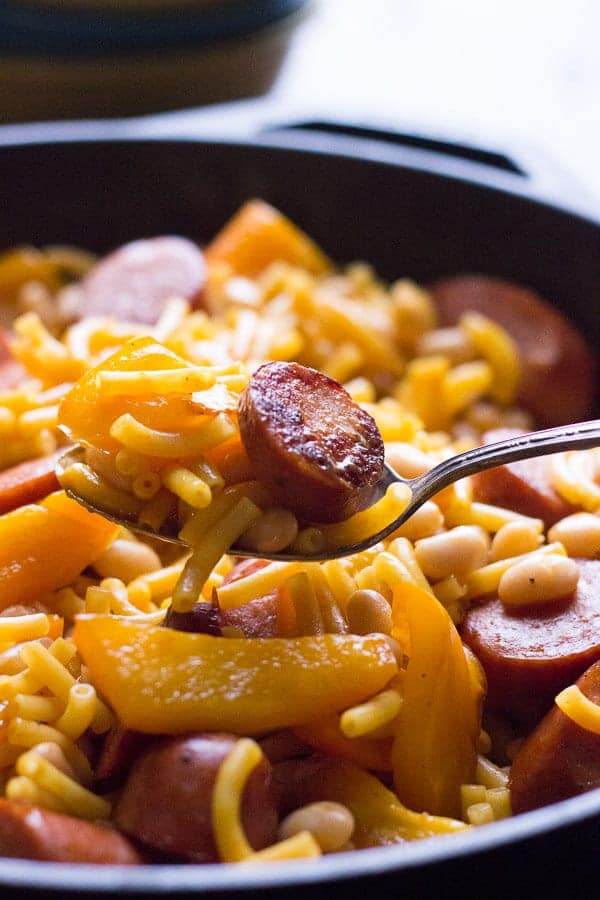 For more about Horizon products and where they can be found, please visit their website. Be sure to check out the MAC-N-ATOR for tips and recipes ideas using Horizon Mac and Cheese! See them on Pinterest!
6
adjust servings
Creamy mac and cheese gets a Cajun kick!
Ingredients
1

Box Horizon Mac and Cheese (plus butter and milk as stated on the box)

1 12

oz package andouille sausage, sliced

1 14

oz can navy beans, rinsed and drained

1

orange bell pepper cut into chunks

1/2

teaspoon paprika

1/4

teaspoon black pepper.
Instructions
Prepare pasta according to package directions. Stir in paprika and black pepper into pasta along with butter and milk.
In a large skillet, cooke sausage and peppers together over medium heat. Cook until peppers have softened and sausage has browned. Stir in beans and cooked pasta, tossing to coat. Serve.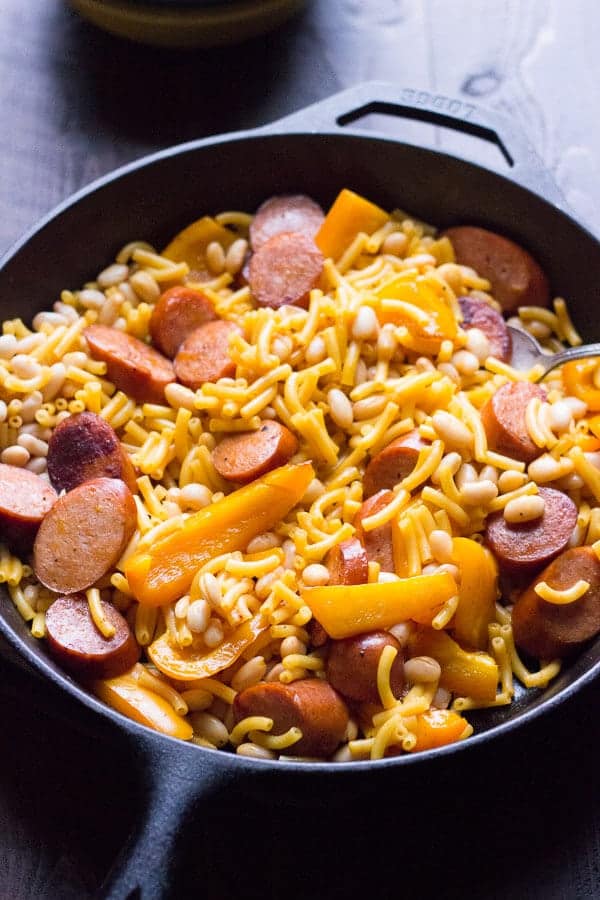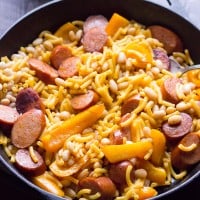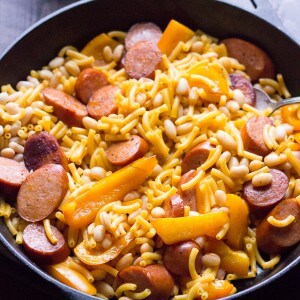 This is a sponsored conversation written by me on behalf of Horizon Organic. The opinions and text are all mine.