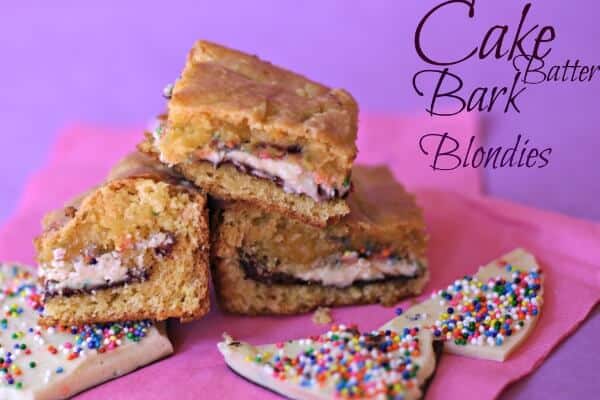 Did you feel it?  The chill in the air this weekend???  Yahoo!  I'm so excited, fall is around the corner!  I love summer and I know in just a few short months, I will be longing for the heat and the sunshine.  But for now, I'm so ready for bulky sweatshirt season!!!  Come on, you all know what I'm talking about.  There's something so liberating about wearing long, bulky sweatshirts  over elastic waist yoga pants!
In about six weeks, I will be stealing Halloween candy from my kids.  In just over two months, I will be stuffing myself with stuffing, turkey and all things pumpkin.  Need I mention Christmas is merely 3 months away????  Bake, eat, repeat.  That is what I will be doing from now until January.  My abdomen is primed and ready.  I started my "training" this weekend.  I baked these outrageously rich cake batter bark blondies and ate them to stretch my stomach for the season of eating!  And I'm totally fine with it, because I had a sweatshirt on to cover it up!!!
I hope you enjoy these blondies as much as I did.  In each bite, you get cake,  two kinds of chocolate and sprinkles!  Oh happy days are here again!!
If you've enjoyed this post, I hope you'll consider subscribing via email, RSS, Facebook or Pinterest.  I love staying in touch with friends!!!
I made these too:
Brownie Cookies with Peanut Butter Chips
I found these yummies on Pinterest!
Cake Batter Cookies                                              Keep Calm and Carry On
Cake Batter Pancakes                                            How Sweat Eats
Cake Batter Bark Blondies
16
adjust servings
Blondies made with a cake mix, but stuffed with cake batter infused chocolate bark!
Ingredients
For the bark
6

oz semi sweet or dark chocolate

12

oz white chocolate

3

T white cake mix

Sprinkles
For the blondies
1 18.75

oz box of yellow cake mix

1/4

cup vegetable oil

2

eggs, beaten

1/4

cup milk

Cake batter bark
Instructions
For the bark
Line a baking sheet with parchment paper.
Chop semi sweet chocolate and place in a microwave safe bowl. Microwave in 20-30 second intervals, stirring frequently until chocolate is completely smooth. Poor chocolate onto prepared baking sheet and spread with an off set spatula. Freeze for 20 minutes. Chop white chocolate and melt in the same way. Once melted, add cake mix stirring with a whisk until mixed. Let set for a few minutes to thicken. Pour white chocolate over semi sweet, spreading with an offset spatula as well. Immediately pour sprinkles over top. Return to freezer while you make the blondies.
Preheat oven to 350. Spray and 8x8 in pan with cooking spray.
In a large bowl, combine cake mix, oil, eggs, and milk stirring until well mixed. Pour half the batter into your prepared pan. Break apart frozen bark and lay on top of your brownie batter. You will have left over bark. Perfect to snack on while blondies are baking! Spread remaining batter over your chocolate bark. Bake for 25 minutes. Let cool completely. Cut and enjoy!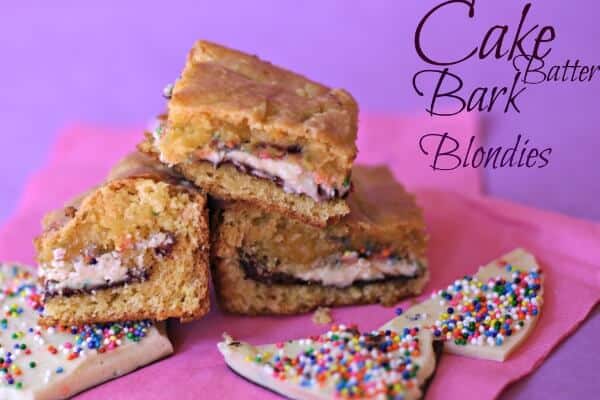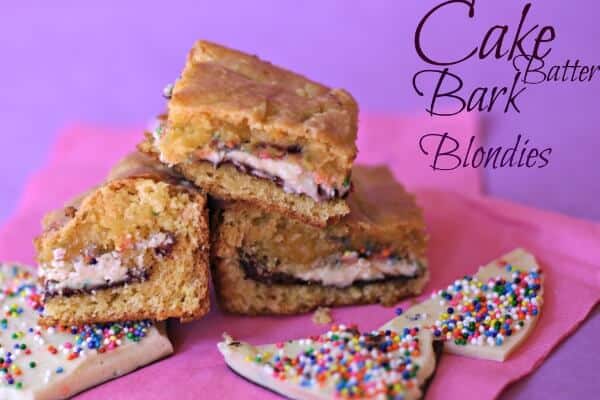 Recipes adapted from Taste and Tell and Sweetopolita
I'll be linking this recipe up to these fabulous parties as well to:  Jam Hands, DIY Dreamer and