Sliders make the perfect appetizer as well as a fun dinner idea!
These sliders are made with  colorful peppers, ground pork, Andouille sausage and Cajun spices!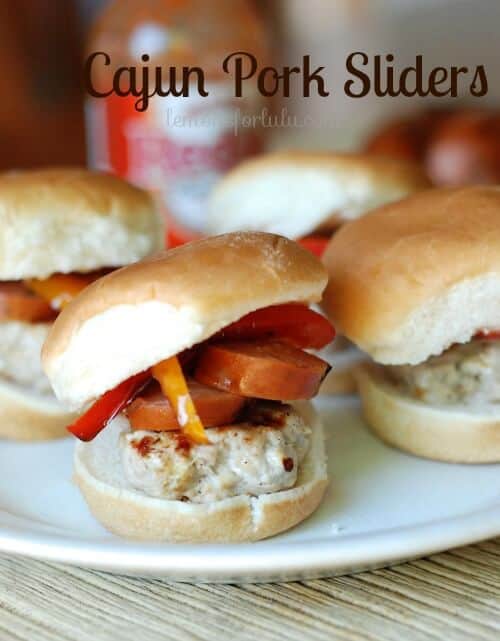 I've had a love affair with tiny objects for as long as I can remember.  My mom had these tiny plastic babies that were 2 inches tall.  Each little doll wore a tiny crochet cap and a matching dress.  Each day I would check on my little babies.  I'd sit and stare and marvel at the fact that someone actually made those itty bitty dresses.
My room was cluttered with tiny porcelain animals and cups and dolls.  Barbie was the best as all her accessories were mere inches tall!  I'd totally be into Polly Pocket if I weren't an adult with rugs to vacuum.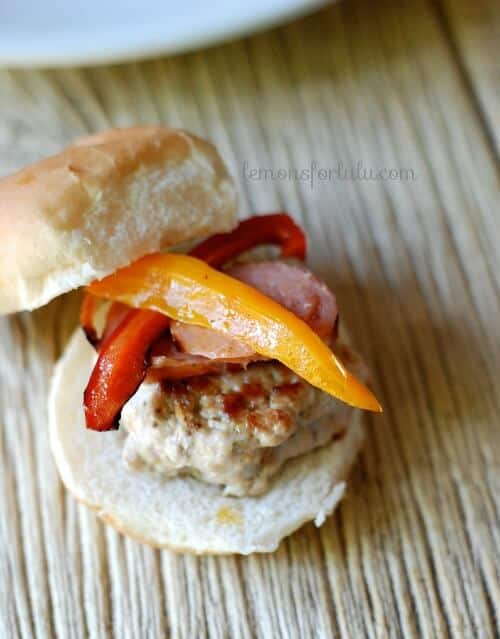 I still love "cute" little things.  Puppies and kittens make me smile.   Babies leave me swooning.  I cannot even walk by the infant section at Target without cooing over the tiny socks and tee shirts.   I'm a sucker for small.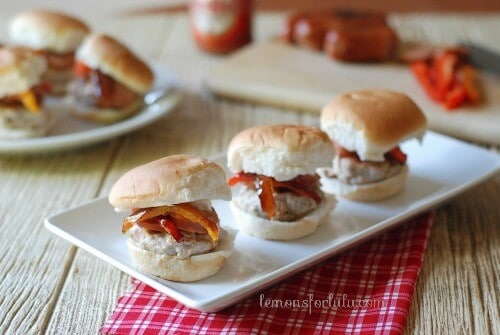 This love for all things little spills into my diet as well.   Why have a drumstick when I can eat a little chicken wing?  Hot dog?  Forget it,  give me Lil' Smokies!  Corn dog on a stick?  No thanks, I prefer the mini's.  Don't get me started on Cornish Hens!
I adore petite fours, delicate tea cookies, and mini cupcakes despite the fact that their small size only makes me eat more!  They are just too cute to pass up!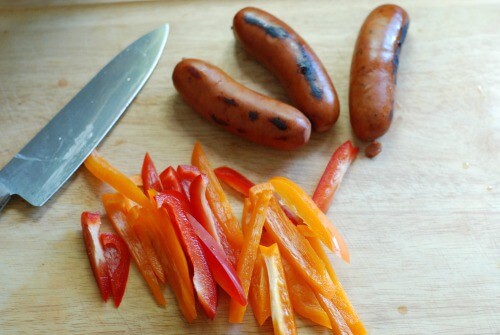 In keeping with the small food theme, I made sliders.  Mini patties made with ground pork.  They are two bite wonders really.  Lots of Cajun spice in each bite.  I would have preferred to add hot sauce to the mix, but I knew my kids wouldn't  have been  pleased.  Each tasty morsel is topped with sautéed bell peppers and sliced Andouille sausage for extra spice!   These were little but mighty with all that juicy, Cajun flavor!  I'm afraid,  I may never eat full size burgers again!
More Fun In a Bun:
NEVER MISS A RECIPE! SUBSCRIBE TODAY!
FOLLOW ME:
FACEBOOK | RSS | TWITTER | GOOGLE +| BLOGLOVIN | INSTAGRAM
Ingredients
1

1/2 lbs ground pork

1/4

teaspoon garlic powder

1

teaspoon Cajun seasoning

1/2

teaspoon Thyme

Hot suace, to taste (optional)

Salt, pepper ( to taste)

2

Andouille sausage links

1/2

red bell pepper, sliced

1/2

yellow bell pepper, sliced

1

tablespoon olive oil

1/2

cup mayo

12

slider buns.
Instructions
In a heavy skillet, cook sausage for about 4-6 minutes or until casings begin to darken. Remove, slice into thin slices and set aside.
Add olive oil to the same skillet. Sauté peppers until they begin to soften, about 3-5 minutes. Set aside.
In a bowl combine pork, garlic powder, Cajun seasoning, Thyme and salt and pepper. Shape pork into 12 small patties. Heat a stovetop grill pan. Place patties on grill pan and cook about 5-7 minutes per side or until pork has cooked through.
To prepare sliders: slather mayo on each bun. Place one pork slider on the bottom of your bun, top with sliced sausage and 2-3 pepper slices. Serve with more hot sauce if desired.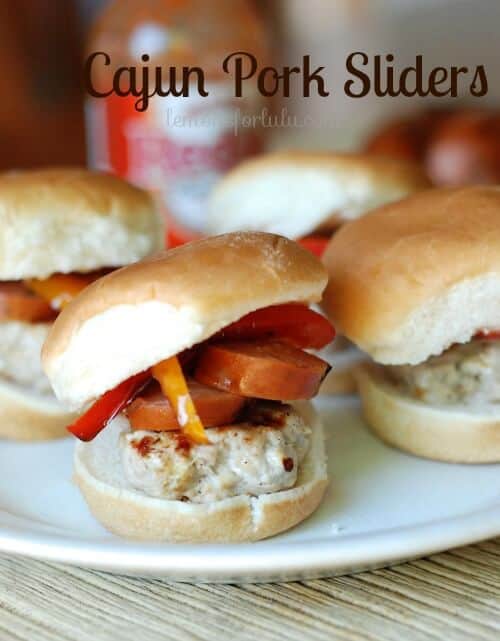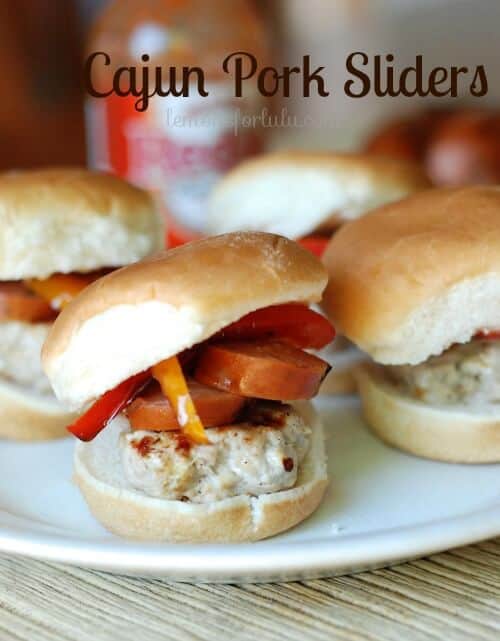 SEE THIS ON MY PINTEREST BOARD!
I'll be sharing this with these sites as well as with: