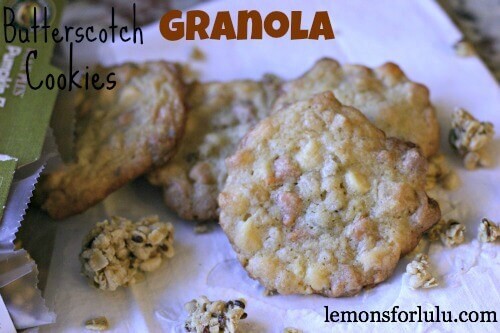 What is it about box stores that make you want to buy more?  Ok, maybe they just make ME want to buy more.  Something about buying in bulk makes me want to buy A LOT in bulk.
I bought a lot in bulk today actually.  I went to Costco today for 5 items.  I walked out with at least 15 items and one vacuum.  I just can't help it.  I DO need  a 5 lb box of Twizzlers.  I DO need another 4 pack of butter.  I DO need a giant bag of Pirates Booty.   I DO need a 3 lb container of cashews.  Who doesn't?.  Everything is neatly packaged in oversized containers so they must be a good deal!  Right?  And goodness knows, if the world ends tomorrow, my family will have plenty of food to sustain us.
There's something so gratifying about buying super-sized stuff.  Maybe it's my hoarding tendencies coming through.  I like feeling like I'll always have enough.  I don't want to run out of my favorite foods or foods I use often.  Is there anything worse than wanting to make buttercream only to discover that you don't have enough powdered sugar???  Oh the tragedy!  I shudder at the thought of running out of coffee too.  How on earth would I function?  Another thing about buying in bulk is I think we feel like we are getting away with murder.  Like we are getting this incredible deal if we buy 16 rolls of paper towels at once.  All those buy one get one deals have us so programmed to think that more is better!  Is more better?  Probably not.   Finally, you know what else is gratifying about buying, oh let's say Twizzlers in bulk?  I LOVE Twizzlers and I can eat a lot of them! That's what!
One thing I actually forgot to buy at Costco today is granola.  I used up the rest of my granola to make these amazing cookies.  I love butterscotch as much as I do Twizzlers!  These cookies are loaded with butterscotch chips as well as white chocolate chips!  You could change up the chips if you wanted to do.  The butterscotch chips just bring out the best in this cookie I think.  The centers look underdone when you take them out of the oven.  But don't worry, they will firm up as they cool.  Then you will have the most amazingly soft, chewy, crunchy, buttery cookie ever!  You will want THESE in bulk, I promise!
If you'd like a little lulu in your life, please subscribe via email, RSS, Facebook or Google +.  I love staying in touch with friends!
You might enjoy these too: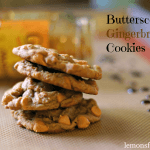 Butterscotch Gingerbread Cookies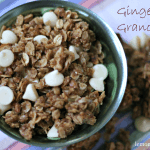 Gingerbread Granola
Butterscotch Granola Cookies
Recipe Type: cookies
Author: Lemons for Lulu
Prep time:
Cook time:
Total time:
Serves: 48
Buttery cookies with crunchy granola and lots of chips!
Ingredients
¾ cup softened butter
2/3 cup brown sugar
2/3 cup granulated sugar
2 tablespoons light corn syrup
1 tablespoon white vinegar
2 eggs
1 tablespoon vanilla
½ teaspoon salt
½ teaspoon baking powder
¼ teaspoon baking soda
2 cups flour
1 cup granola cereal
1 11oz package butterscotch chips
1 110oz package white chocolate chips
Instructions
Preheat oven to 375. Line baking sheets with parchment paper and set aside.
In a mixing bowl, combine butter, sugars corn syrup and vinegar. Beat until creamy. Add eggs. Beat in vanilla, salt, baking powder and baking soda. Carefully mix in flour and granola cereal. Stir in chips.
Drop dough by the tablespoonful onto your baking sheets. Bake for 10 minutes. Edges will be set and center will look like it needs more time. (Centers will firm while cooling) Remove from oven and transfer cookies to a baking rack to cool.
Recipe adapted fron King Arthur Flour
I'll be linking this recipe up to these amazing as sites as well as to: Jam Hands, The DIY Dreamer