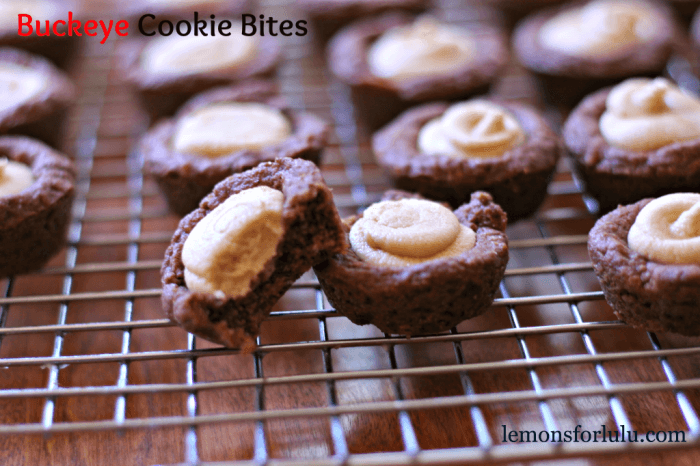 When I say the word "buckeye" what comes to mind?  Did you wear your scarlet and gray this weekend?   When you think of buckeyes, do you think of Brutus and the Shoe?  Do you think of script Ohio and the Skull Sessions?  Or perhaps you bleed blue and maize.  The Wolverine in you thinks of Big Ten rivalry and the "Ten-Year War".   Yes my friends, tis the season for tailgating and watching college football!!!   My father in law and my husband will be M.I.A.
But that's not what little ole me thinks of when I hear the word buckeye.  I think of Christmas cookies!  I think of how I really, really love buckeye candies, but HATE all the rolling and dipping.   I have to make double or triple batches each year because we never seem to have enough!   Honestly, all my candies start out perfectly shaped and dipped to look perfectly smooth.  By the end of each batch I have golf ball sized chocolates that are lumpy and smudged and misshapen.
As we were watching the Bucks beat Miami this weekend, I was dreaming of simpler ways to make my favorite Christmas treat.  Picture a little light bulb atop my head as it occurred to me that I could make chocolate sugar cookie cups and fill them with the same peanut butter filling I use for buckeyes!!!  Holy crap I am a genius!!!  So, I hopped up and set to work!
The cookies are easy, as I use a sugar cookie mix for a base and add cocoa powder.  The filling is almost exactly what I use for my candy, but I added more milk to make it creamier.  I think these buckeye cookie bites are a pretty decent substitute for our Christmas tray staple!   No flavor is sacrificed!  Each bite is packed with loads of peanut butter and chocolate!  If you love buckeyes but don't have the time or the energy, then buckeye cookie bites are totally for you!  You don't have to like Ohio State or even watch college ball to appreciate these little gems!
If you like this post, please consider subscribing via email, RSS, Facebook or Pinterest.  I love staying in touch with friends!
I made these cookies too:
White Chocolate Key Lime Cookies with Coconut
Love the buckeye recipes I found on Pinterest!
Peanut Butter Buckeye Pretzel Bites                                                 Sweat Pea's Kitchen
Peanut Butter Cup Brownies                                                               Baked Perfection

24
adjust servings
Your favorite buckeye ball candy as a cookie cup!
Ingredients
For the cookie

1

pouch sugar cookie mix ( 1 lb, 1.5oz)

1/3

cup cocoa powder

1/2

cup softened butter

2

T water

1

egg

For the filling

1/2

cup softened butter

1

cup creamy peanut butter

pinch of salt

1

t vanilla

5

T milk

3

cups powdered sugar
Instructions
Heat oven to 350. Grease two mini muffin tins with cooking spray. In a medium-sized bowl, combine sugar cookie mix, cocoa, butter, water and egg until dough forms.
Shape dough into 48 small balls. Spread dough up the sides of each muffin tin to form a cup. Bake in oven for 8 minutes. Remove and using a small teaspoon, reinforce cup shape for each cookie. Return to oven and bake another 3 minutes. Remove. Cool on wire racks for 30 minutes. Fill with peanut butter filling
Filling:
In a large bowl, mix butter and peanut butter until creamy. Add pinch of salt and vanilla. Slowly mix in powdered sugar. Stir in milk until filling is smooth and creamy. Using a pastry bag, pipe filling into each cookie cup.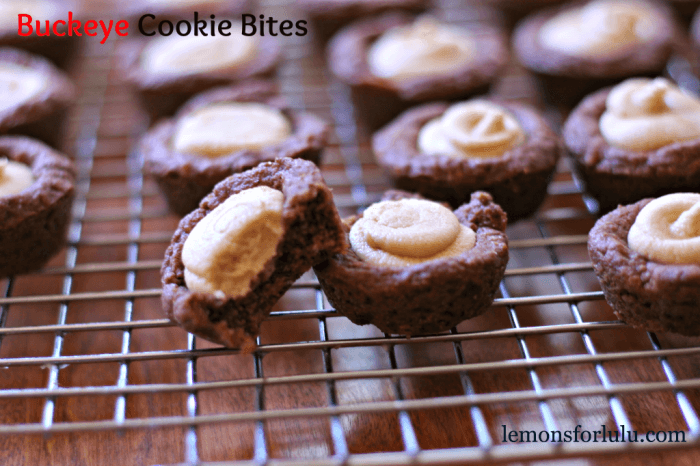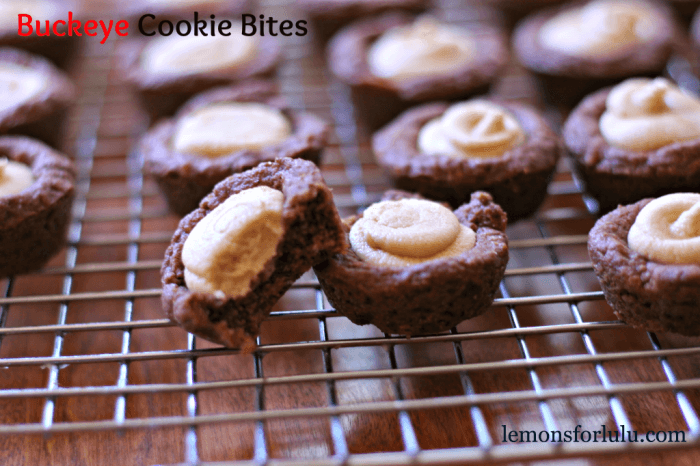 cookie recipe adapted from Betty Crocker
I'm linking this recipe up to these fabulous parties, as well as to: The DIY Dreamer, Jam Hands and