Brussels Sprouts are finely chopped and tossed with bold flavors in this simple salad!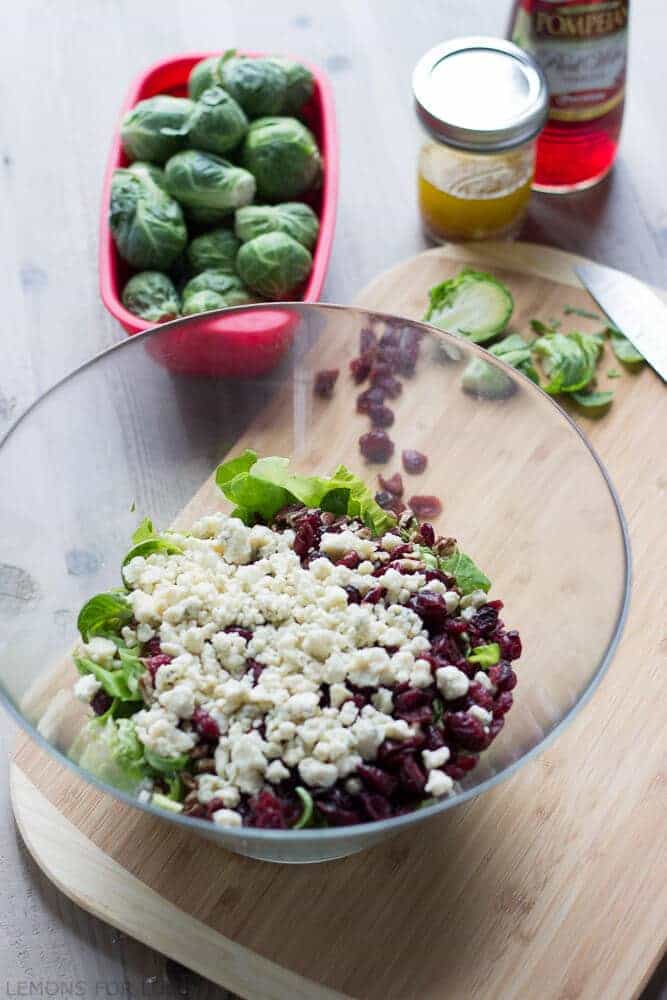 If you were to ask me when I was young what vegetable I hated I'd shout out Brussels sprouts!  My experience as a wee lass led me to believe that they were bitter, bland and taste way to cabbage-y.  I hated them.  That was the one side dish I dreaded the most each Thanksgiving.  Sweet potatoes came in a close second, but I learned early on that a little powdered sugar makes it all better.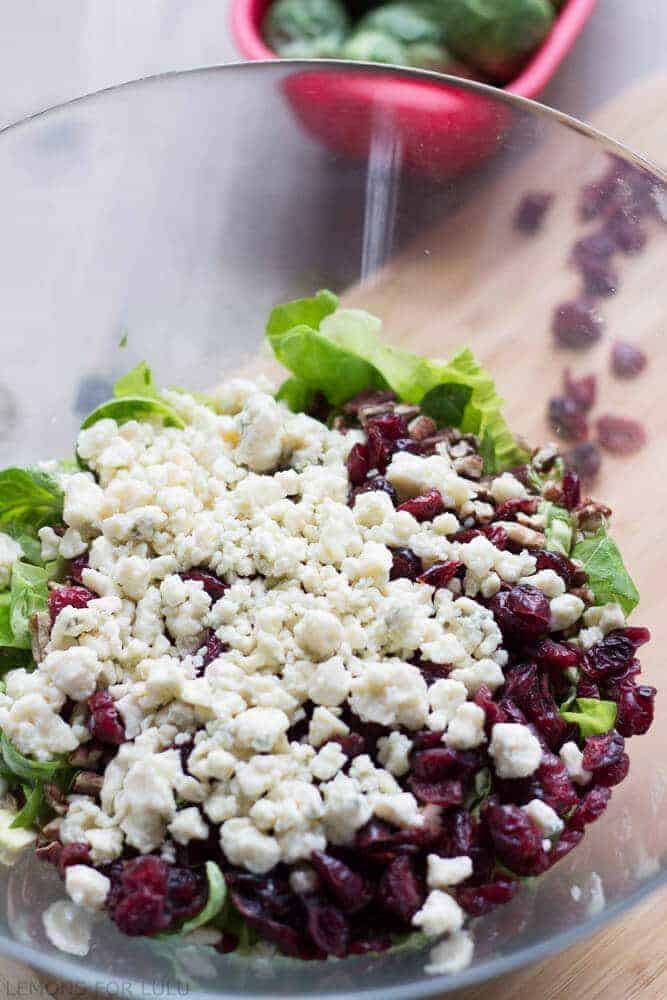 I ignored those Brussels sprouts every single year.  Plates of food would be passed around the table, but boy when those sprouts came to me I had to get rid of them fast; as if I were playing a mean game of hot potato.  I did not want to be left holding that plate.
As the years passed, the thought that I should give Brussels sprouts a second chance kept nagging at me.  I'm a mom, shouldn't I be teaching my kids to eat a variety of foods?  Can I live with myself if they go through life NEVER eating a Brussels sprout?  I can't call myself a foodie and NOT eat all sorts of food right?  So I gave them a try.  And guess what, I fell in love.  What's more surprising is my kids love them too!  Then I had a healthy dose of guilt for denying my kids the joys of this small cruciferous vegetable.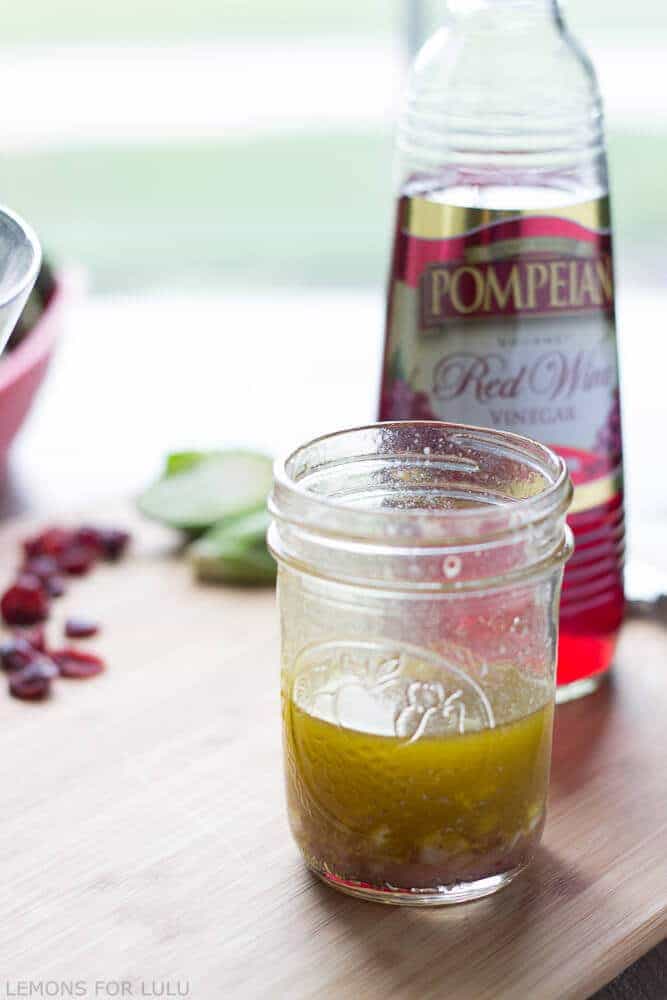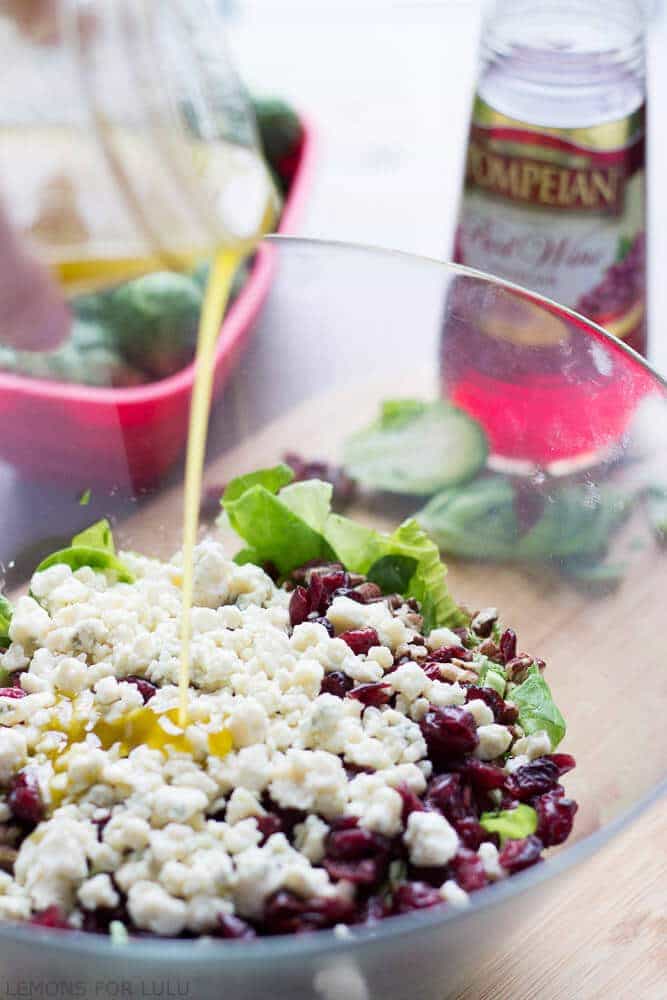 I got busy making up for lost time.  I've roasted Brussels sprouts, sautéed them with beef, and also served them with gnocchi.  My new favorite way to enjoy them is to finely chop them up in salads.  Who knew a raw Brussels sprout could taste so good!  I combined my sprouts with romaine lettuce then tossed them with blue cheese, pecan and dried cherries.  A winning combination.  But what makes this salad a perfect union is the shallot vinaigrette.  Shallots, garlic and stone ground mustard are whisked together with olive oil and rich tasting Pompeian red wine vinegar (my favorite kind of vinegar).  Red wine vinegar is the work horse of vinegars.  I find it's perfect for most vinaigrettes, sauces and marinades.  Plus it's perfect for carmelizing vegetables like onions or peppers.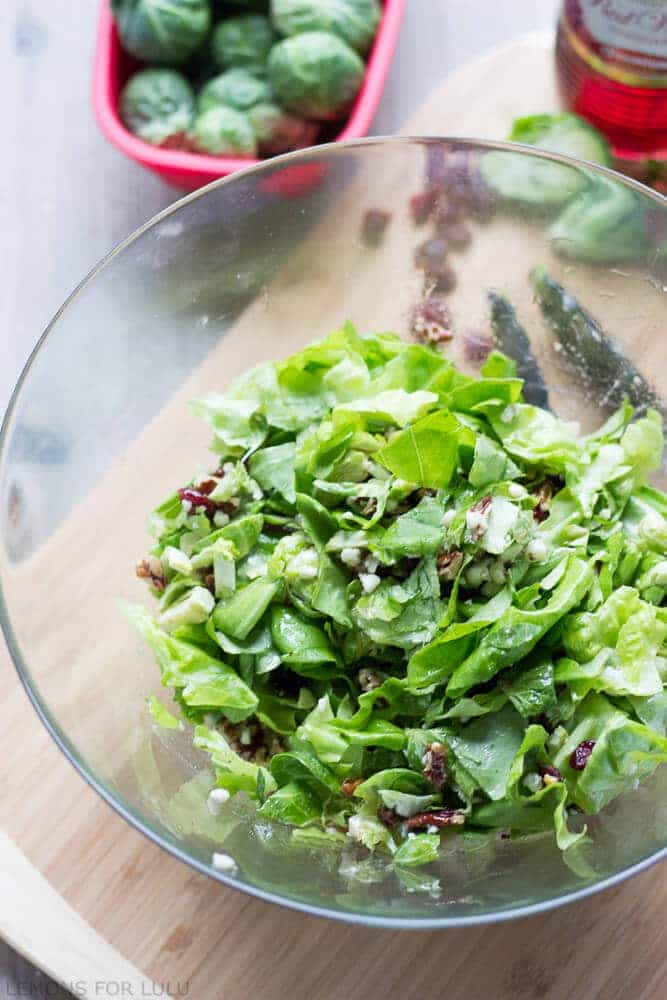 This Thanksgiving, when the Brussels sprouts go around the table, I'm keeping them for myself!
Want to learn more about Pompeian?  Please visit them at www.pompeian.com or connect with them on Facebook.

Brussels Sprout Salad with Shallot Vinaigrette
6
adjust servings
Ingredients
1

lb Brussels sprouts, thinly sliced

1

lb romaine lettuce

4

oz blue cheese, crumbled

1

cup chopped pecans

1

cup dried cherries

For the dressing

1/4

cup chopped shallot

2

teaspoon stone ground mustard

3

tablespoon Pompeian red wine vinegar

1/3

cup olive oil

salt and pepper to taste
Instructions
In a bowl combine lettuce, thinly sliced Brussels sprouts, blue cheese, pecans and cherries.
In a seperate bowl, whisk together shallots, mustard, vinegar and olive oil. Season to taste. Pour dressing over salad and serve.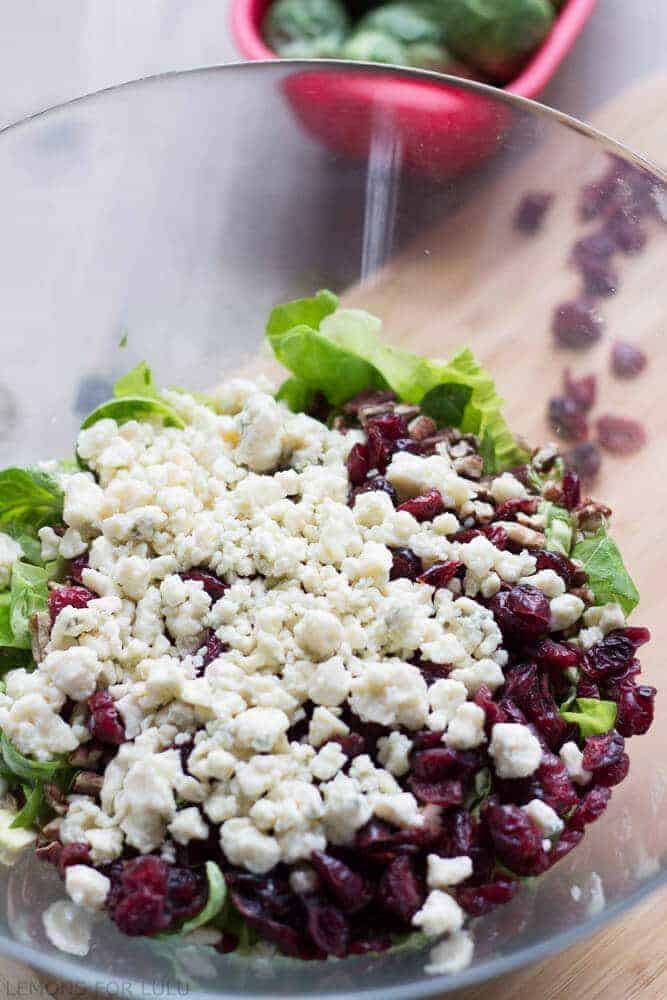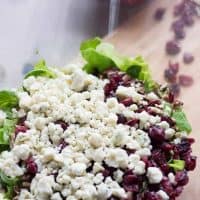 I've partnered with Pompeian Olive Oil as a #PantryInsider to bring you this post.  This original recipe as well as my opinion are my own.