Breakfast Pizza? Why not! This breakfast pizza is cheesy and protein packed, calcium rich and delicious! You will definitely be wanting seconds of this recipe!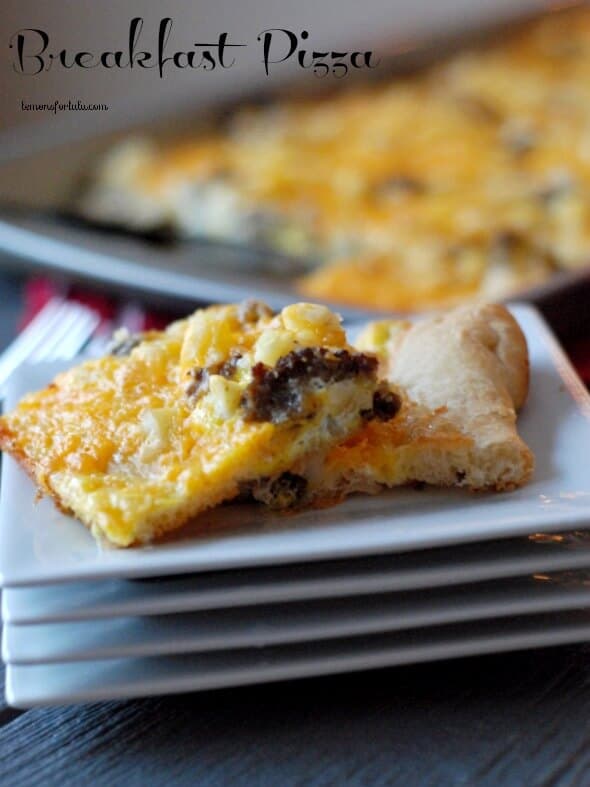 I'm happy to be partnering with The American Dairy Association Mideast to help Feed America! Keep reading to learn more about this and about how you can help!
Each year, I make the same thing for our Christmas morning breakfast; cinnamon rolls. To be honest, I sort of feel like I have to make them. It's like you have to have ham at Easter or turkey for Thanksgiving. It just wouldn't be the same without the cinnamon rolls!
On Christmas morning we tear open all our gifts as soon as we wake up. Once wrapping paper is sufficiently covering every inch of the floor we dump out our stockings where we eagerly devour our candy canes and chocolates. After sizing up all the toy parts we have to untie and how many batteries we need to install, my husband and I decide to grab some coffee instead! The grown ups have our sweetened, flavored coffee and the kids get cocoa while we wait for the cinnamon rolls to come out of the oven. It's about this point where I realize that all five of us have consumed an obscene amount of sugar and it's not even 9:00 am. And since it is Christmas, I know that dozens of cookies are waiting to be eaten. So why would I be doing a breakfast pizza this year?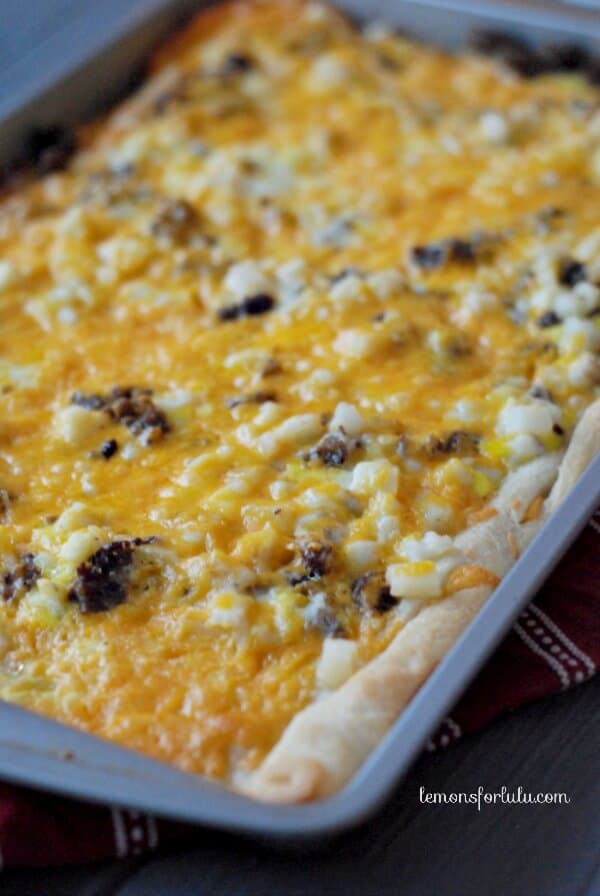 Breakfast Pizza
This year I'm dong it a bit differently. I can't leave out the candy canes in the stocking, but I think we'll do without the cinnamon rolls this year. Instead, I'm making an easy, protein rich breakfast pizza instead! I use a pre made pizza dough and top it with ground sausage, hash browns, eggs, milk and lots of cheese! I serve some salsa and Greek yogurt on the side. I love using Greek yogurt, it's high in protein, which helps to keep us fuller longer, and it packs in dairy's nine essential nutrients. This breakfast pizza will fill us up, curb our low blood sugar and satisfy us so that we can focus on the monumental task assembling all the gifts!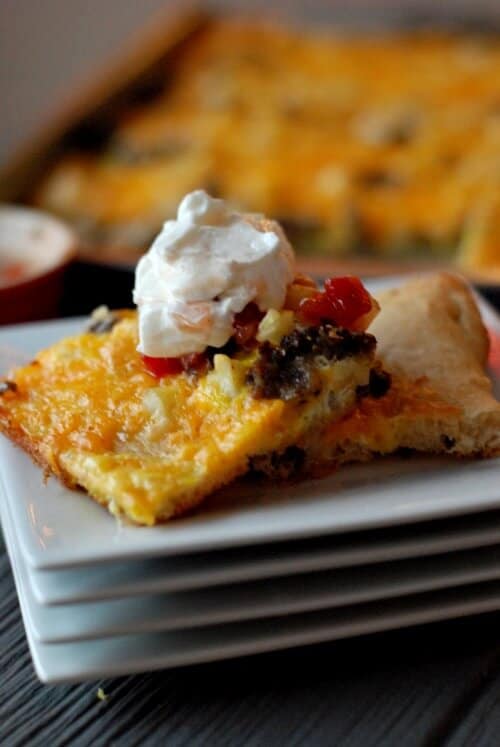 NEVER MISS A RECIPE! SUBSCRIBE TO MY EMAIL TODAY!
FOLLOW ME:
FACEBOOK | TWITTER| GOOGLE +| BLOGLOVIN | INSTAGRAM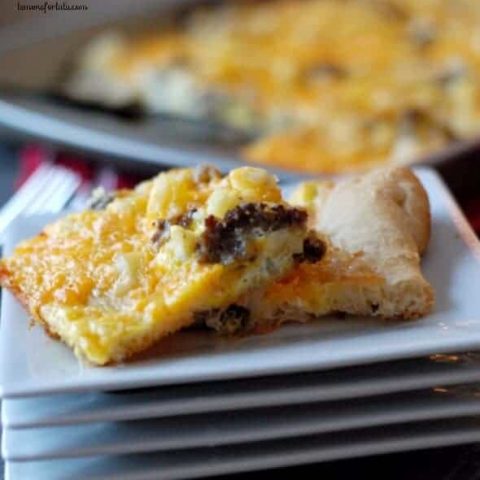 Breakfast Pizza
This breakfast pizza is cheesy and protein packed, calcium rich and delicious!
Ingredients
1 11oz package pre made pizza dough
1 teaspoon olive oil
1 1/2 cups frozen hash browned potatoes, thawed
1 pound pork sausage
6 eggs
1/2 cu milk
1/4 teaspoon pepper
1/2 teaspoon salt
1 1/2 cup shredded Monterey Jack cheese
1 1/2 cup shredded cheddar cheese
Greek yogurt, salsa if desired
Instructions
Preheat oven to 350. Spread pizza dough onto a 10 x 15 in. jelly roll pan, pressing up sides. Drizzle with olive oil. Prick with a fork and bake for 5 minutes.
Meanwhile, cook pork over medium heat until no longer pink. Remove and drain. Add hash browns to the same pan and cook just until they begging to brown.
Combine eggs, milk,salt and pepper in a small bowl.
Arrange sausage and potatoes over crust. Pour egg mixture over potatoes and sprinkle with cheese. Return pizza to oven and bake for 20 minutes or until edges begin to brown.
Nutrition Information
Yield

12
Serving Size

1
Amount Per Serving
Calories

365
Total Fat

24g
Saturated Fat

10g
Trans Fat

0g
Unsaturated Fat

12g
Cholesterol

154mg
Sodium

735mg
Carbohydrates

17g
Fiber

1g
Sugar

2g
Protein

21g
SEE THIS ON MY PINTEREST BOARD!
Myself and 12 other bloggers have teamed up with The American Dairy Association Mideast to bring you a "Big Holiday Potluck," ADA Mideast will donate $1 to Feeding America for every "like," comment or share each of the bloggers' 12 recipes receive on its Facebook page between Dec. 6 and 13. That's ALL you have to do to help feed America! Go to the ADA's Facebook page and "click", "like", help the cause.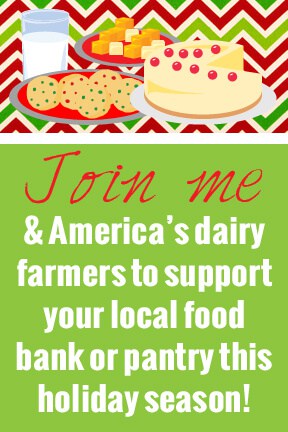 Participating bloggers are:
Did you know?
Milk Facts
• Milk is the single greatest source of three of the four nutrients the Dietary Guidelines identified as lacking in the American diet – calcium, vitamin D and potassium.
• Experts recommend three servings of low fat or fat-free dairy foods every day, yet most of us need to add one daily serving of nutrient-rich dairy to help meet recommendations.
• Dairy foods are a tasty, convenient and cost-effective way to power up with protein. On average, one serving of milk, cheese or yogurt provides eight grams of high quality protein.
• Milk is the No. 1 food source of calcium, vitamin D and potassium in children's diets.
• Chocolate milk is the most popular milk choice in schools. Studies show that children who drink flavored milk meet more of their nutrient needs; do not consume more added sugar, fat or calories; and are not heavier than non-milk drinkers.
Feeding America
• Dairy farmers are committed to the health and wellness of Americans, with an emphasis on child health, which includes addressing hunger and helping ensure every American has access to nutrient-rich foods, such as low-fat and fat-free milk and milk products. Join dairy farmers in Ohio and across the country in making sure everyone can enjoy a healthy meal this holiday season!
• Dairy foods provide nine essential nutrients that are important for improving overall health, and research shows consuming dairy foods is linked to improved bone health, especially in children and adolescents.
• However, finding and distributing a consistent supply of milk and milk products is a challenge for America's hunger relief system. Of the pounds of food available in food banks, only 5.3 percent is dairy.
• Today, more than 50 million people in America are food insecure. Of these, nearly 17 million (one in five) are children. These children have an increased risk of health and development issues, including obesity and poor academic performance.
• Feeding America can provide nine meals for each dollar donated.
Connect with American Dairy Association To Learn More!
facebook | website | twitter | Pinterest
Got Twitter?
Join me, the American Dairy Association Mideast and my fellow pot luck bloggers for a Twitter Party to raise money for Feeding America!
**This is a sponsored post on behalf of the American Dairy Association, Mideast. I was compensated for my time, however all opinions expressed are 100% my own!